How many times do you pick up your phone to scroll each day? According to statista.com, the average internet user spends over 17 hours per week on social media. As well as being a way to catch up with friends, learn what's happening in the world around us, and get involved in the latest trends, social media is a way of discovering brands, purchasing services, and engaging with businesses.
Social media is especially useful for professionals in the salon industry, as everything we do is visual, meaning we can showcase our work fantastically through social channels. In theory, setting up a social media account for your business and posting various images and videos of your incredible work in the salon should be a pull factor to draw in new clients. But there's more to it than that.
While the impact social media can have on your business is obvious, true success only comes when you're using the right channels in the right way to attract the right people. Here, we'll explain some social media best practices for all industry professionals. Then we will focus on how you can start using social media to help create a loyal and engaged following and how you can entice these followers to visit your salon and keep coming back.
First Things First; What is Your Goal With Salon Social Media?
Before developing a social media strategy, it's important to consider the ultimate goal. Social media offers a wide range of options for businesses. These include anything from increased brand awareness to online product advertisements and sales.
When it comes to the salon industry, social media offers three unique opportunities, no matter what sites you use. These opportunities include;
Brand Awareness
More Reviews
Extra Revenue Streams
Let's explain how each of these can be achieved, and when you should be choosing one over the other.
Brand Awareness
Branding is important for any business online, but is especially helpful to new businesses, or businesses who are only starting out with using social media. Through the use of images, videos, captions, comments, and more, you can create a corner of the internet that truly represents your brand and attracts new clients in.
Posting content that represents your company's vision or ethos is a fantastic way to increase the kind of followers (and hopefully clients) that you want in your salon. Devoting the time to creating a distinct social media presence means you have the opportunity to attract new business, drive up followers, and increase engagement all at the same time; sparking conversation and a sense of community around your brand.
This can be especially helpful in the beauty industry, where a major benefit of social media is the connections that it creates between fellow industry professionals. By creating a strong brand online, you can establish yourself as a trusted professional in the industry, and create unlimited new connections along the way. As well as establishing a sense of community, allowing your business, no matter how small, to be discovered for lucrative brand news, competitions, industry features, and more could help your salon grow lucratively.
Increased Reviews
94% of consumers say that positive online reviews would sway them when choosing a new salon to visit, meaning that having a glowing online reputation is a massive pull factor for new clients in your area.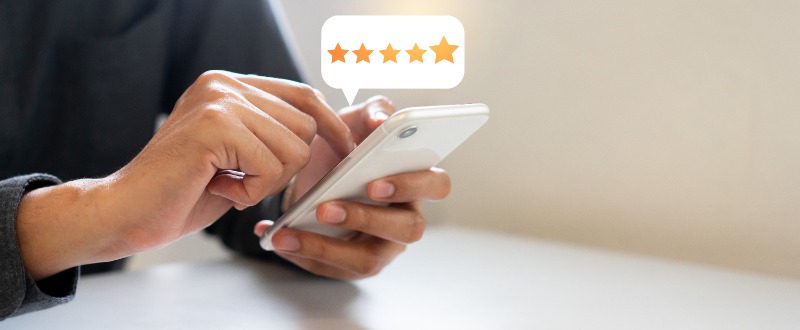 While many social media platforms don't show reviews directly (unless you're using channels like Facebook or Yelp), the way you respond to your audience and share their reviews from other sites can make a huge difference to how you are seen online.
For example, if you're using a social media platform that allows you to save highlights (posts that live on your page permanently and can be organised by category), saving some tagged client posts or five-star reviews can help entice new clients into your salon. Alternatively, if you're using a platform that allows clients to review on-site, ensuring that these reviews are public and replied to appropriately will also encourage new clients to visit and will help with general online visibility.
If managing an influx of reviews seems overwhelming, Phorest's Online Reputation feature can help; it organises all reviews in one place for you to manage. Plus, it's linked to Facebook and Google for quick and easy publishing.
Using social media to highlight your online reviews, contributes to your overall brand awareness. It's an especially smart move for businesses who are just starting to build an audience or are actively looking for new clients.
New Revenue Streams
One of the most lucrative ways of using social media is to make it easy for your followers to become paying customers. You can do this by directing them to your salon's online store, online booking widget, or an online gift card facility. If you have any of these features enabled via your salon appointment software, chances are that you can link them quite easily to your business's social media accounts.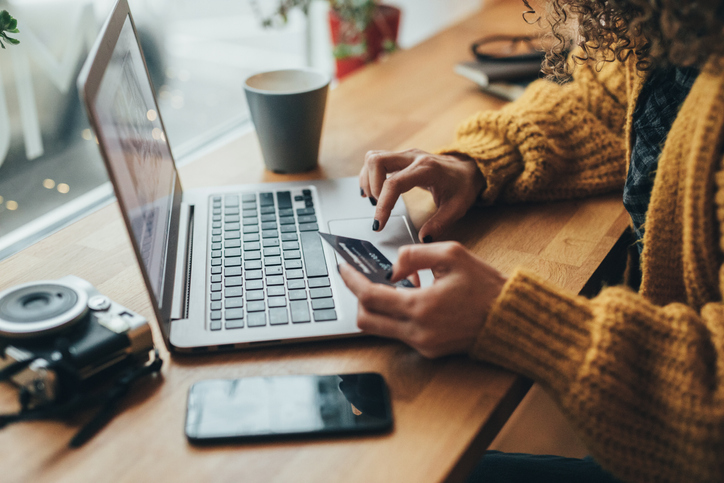 There's a huge pool of your existing and potential customers browsing social media every day. Offering them the chance to book services or purchase products directly from your social channels fast tracks their customer journey and increases their likelihood to follow through.
Plugging an online booking link, online store, or other revenue-generating tools that you use into your social media platform makes for an easier, quicker, and more convenient way of making money for your salon, and allows your clients to be more flexible with how, where, and when they book.
Now that you know what social media can do for your business, let's talk more about how you can achieve it
Understanding Your Audience and Where They Reside
After establishing your ultimate goal when using social media for your business, you can now think about the type of audience you want to appeal to and attract. While it may be tempting to start an account on every social media platform, knowing what channels your dream audience is using the most will allow you to place your focus on the channel/channels that will give the most payoff.
When trying to choose where to focus, think about whether your main objective is attracting new clients or engaging with existing ones to increase retention. Consider, too, the age range of your ideal clients and what social channels they use most regularly. Understand the desires of your audience; do they want to keep up to date on the latest trends, or are they looking for images of work from a salon that seems homey and comforting?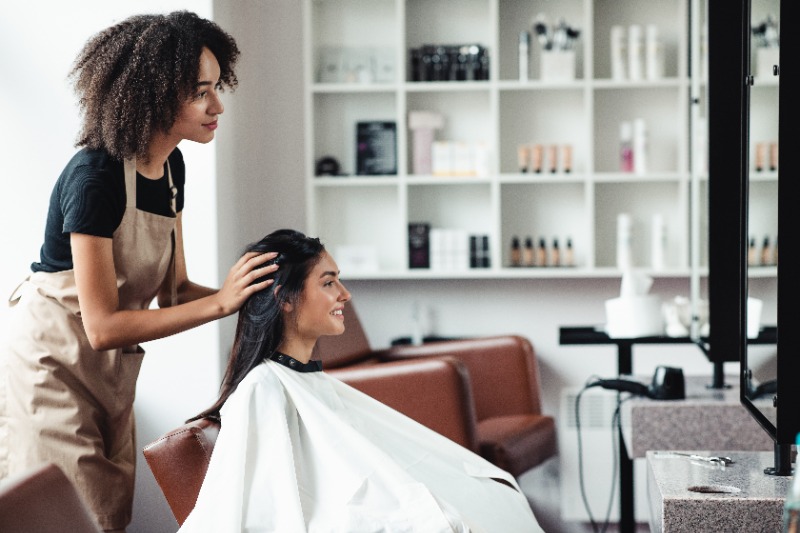 A good place to start is by analyzing your current perfect-fit clients. What are they like demographically? Where do they hang out online? What do you think drew them to your salon initially? Alternatively, creating client profiles is a great starting point. (Tips for doing this can be found here).
No matter what kind of content you're posting or what major goal you wish to achieve via a social media strategy, your audience should be at the forefront of your mind when making any decisions online.
Choose Your Channels Wisely
Unless you have a dedicated social media team in your salon, it's almost impossible to have a profile on every channel out there. Once you identify your ideal target audience, understanding where they spend their social media time should be the deciding factor in where you post the most content.
For salons targeting younger audiences, staying updated with the latest trending platforms can be beneficial. More mature audiences tend to stick to longer-established social media platforms and rarely change over to new ones (although there are always outliers, which is good to keep in mind). Once you establish how much time and effort you are willing to give to your online presence, and what the most beneficial channel/channels are for your business, the rest is simply maintenance work.
Top Tips for Using Social Media as a Salon Owner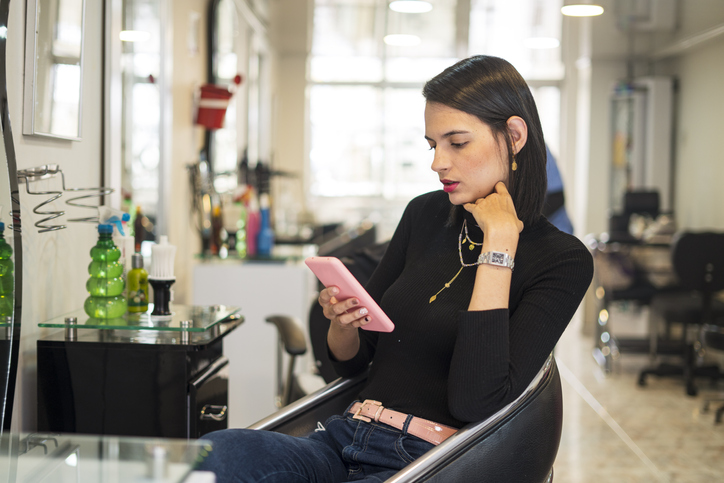 Now that you have a clear vision of the professional goals that social media can help you achieve, and what your ideal target audience looks like, it's time to talk about the ways you can use social media to smash your professional goals. While every social media platform has different best practices, below are some general guidelines on how to achieve online success in a practical, professional, and proactive manner.
1. Planning is Essential
You wouldn't create an email or SMS marketing campaign without planning ahead; even if it's only drawing up a rough idea of the service/product/staff member you're hoping to promote. Approach your social media strategy like this. While it's not always an explicit marketing tool, your social channels are a reflection of your salon business and should be given appropriate time and thought. Depending on your schedule, take a few hours each week or fortnight to jot down a social media plan that aligns with your professional goals.
If you need some help understanding what kind of posts you should be uploading, keeping SMART guidelines in mind is a good way to ensure you're on track and that there are genuine reasons for everything that you post.
This could include information on the type of content you hope to post, the frequency you'd like to post, or perhaps any seasonal offers and the dates that you want to promote via your channels. Planning your posts in advance allows for more streamlined implementation while also helping your social media platforms look more consistent, professional, and authentic.
Make an achievable plan. It's better to post infrequently but consistently than to post every single day for a period of time and then post nothing for weeks afterwards. Choose what works best for you and stick to it.
2. Post a Selection of Different Content
No matter what social media platform/s you're using, ensuring that the content you're posting is varied is a must. Nowadays, almost all social media platforms allow you to post time-limited "story" content, permanent image posts or highlights, video content, text, audio, and more. To keep your audience engaged, it's important to embrace all of these mediums and post content that regularly covers all bases.
As a visual industry, most salons will focus on image and video content more than text, as this is what most of your audience will expect and want to see. That being said, not all image and video content is created equal. There's an art to knowing what kind of content to post for what occasion. For example, if you've just finished an amazing bleach and tone that you want the world to see, posting a video or image on your main feed is a good choice to ensure that the visual is seen over and over again by people visiting your page. Alternatively, for a quick snapshot of past work, posting it as a story takes less planning and will go straight to the top of your audience's feed. While a story is time-limited (unlike a post), it's generally seen by more people, albeit short-lived. Before and after pictures are especially important in the hair and beauty industry as they showcase your work in a quick, enticing, and effective manner.
Choosing to fill your social media platforms with a range of different content types is the best way to build engagement, attract interest, and boost your online presence.
3. Engage With your Audience
Social media thrives on the online connections between people. If you take anything from this blog, one of the most important social media practices is to engage with and acknowledge your online community. This can happen through likes, comments, automated replies, tags, emojis, and more.
Think of your social media platform as a virtual, online representation of your real-life salon. Ignoring your audience's comments on posts or private messages is like ignoring a client when they enter the salon; it makes for a bad first impression. It makes you seem rude and avoidant, and chances are, the person who is being ignored will be unlikely to return again. By engaging and replying on social media you're showing your followers (and customers) that you care, that you're responsive, and that their feedback matters. This can help you build connections, earn more loyal customers and even attract new customers too.
In an ideal world, every business that uses social media would have a staff member monitoring the account and replying to any engagement promptly but we know that's not the case for the majority of salon owners. If you're time-poor, simply setting up an automated reply in your account DMs can make all the difference and help your audience feel heard.
Our in-house social media expert at Phorest has crafted the below example for you to copy and paste as an automated reply into your DMs, helping to keep those bookings coming in while showing clients that you genuinely care about their query:
Hey there, thanks for reaching out! 👋 Our business hours are from [add business hours here]. If your query is in relation to booking an appointment, our online booking is open 24/7. Please use the 'book now' option on our profile to book your appointment.

For all urgent queries, please call the salon on the number below.
☎️ insert phone number here
4. Update Regularly & Consistently
As mentioned previously, social media accounts thrive when they're updated regularly. Consistency is key. While not all businesses will have the time to dedicate hours to planning and posting each day, you must have some level of consistency in your social media strategy if you wish to grow your business online.
For some salon owners, this means posting long-term content once a week, but engaging with any comments or DMs received on a daily basis. For others, it means posting lots every day, but setting up an automatic DM reply diverting all queries to the salon's online booking feature or phone number. How you manage this will be unique to your salon and finding the perfect balance will come in time. Many professionals find that a high-quality salon scheduling system can help cut down hours of admin time, giving them more time to spend on tasks that directly increase brand awareness and revenue, like social media.
You don't have to be online 24/7 to keep your social media page looking professional, but you do have to be consistent. Taking time to ensure this will help your brand grow and your social platforms reach new professional heights.
5. Don't Become an Online Advertisement
Something that many businesses fall victim to when trying to cultivate a successful social media presence is treating it like an advertising platform. Think of how you use your personal social media profiles; are you likely to follow accounts that are constantly posting obvious advertisements and marketing material? We're going to guess the answer is no.
While social media can inadvertently help you advertise products and services, this should be done in a subtle manner. Rather than write a post listing the explicit benefits of a certain product, feature a high-quality video of a client who has had a treatment related to the product and mention the product in your caption. (Bonus points for adding in a "click to buy" link!). Similarly, don't use your social media to constantly promote competitions or special offers in the salon. While this is fine to post about from time to time, constant posting of this kind of content quickly gets boring and causes audiences to disengage.
Instead, play around with social media and find your unique voice. It's okay to have fun on these platforms. Be quirky, funny, and different. Let your unique brand personality shine through in posts, whether that's by using tongue-in-cheek references, cute emojis, or silly puns. From high-end, multi-location salon franchises to local indie hairdressers, every salon has a unique personality and social media allows this to shine through.
Your unique personality will spark people's interest and draw them in just as much as your high-quality content about all the fabulous services you offer.
You're All Set Up And Ready to Post; What Next?
While we've gone through a number of best practices regarding social media, when it comes to curating your own profile or accounts, remembering to be creative and unique is always a plus. Unlike a website or sales brochure, which are generally more serious, your social media accounts live on a wonderful part of the internet where you can let your true personality and authenticity prevail.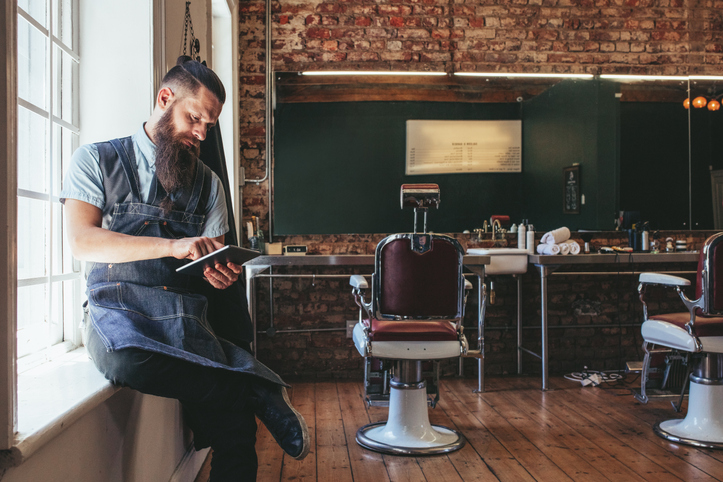 No matter what kind of business you establish yourself as; fun, kitsch, high-end, luxurious, serious… make sure to stay engaged with your community and be consistent; whatever that means to you.
Social media gives your salon the unique opportunity to build a brand, create a platform, and start marketing in a more effective way, generating reviews, and creating new revenue streams that will help bring your business to new heights.