Many people dream of setting up their hair or beauty salon. Turning that dream into reality, learning the ropes of business and people management, and making it work when your livelihood depends on it, however, can often leave salon owners overwhelmed by the weight of those responsibilities and hampered by feelings of self-doubt. If this sounds like you, don't worry, you're not alone!
Listen to the audio version of this blog, and subscribe to the Phorest Blog Podcast here:
We recently surveyed 1,000 salon owners around the world and found that almost half (45%) have seriously considered giving up at some stage throughout the process of setting up, running and growing their salon. Interestingly, the majority of those who thought about giving up did so when their salon was already well-established, with three or more years in business.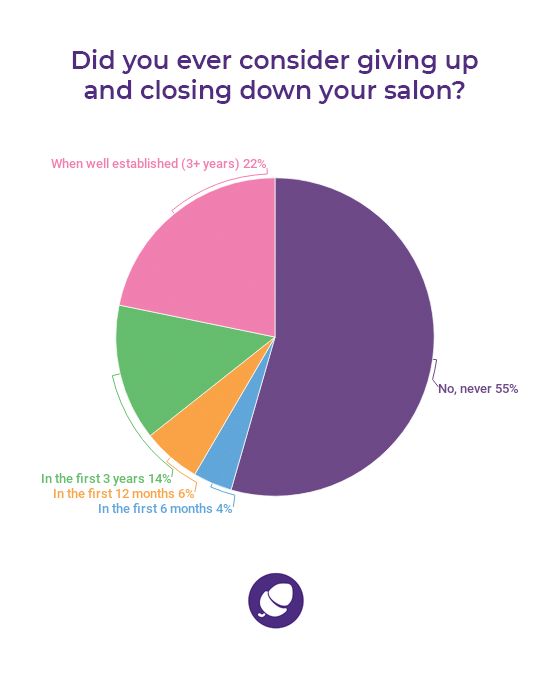 What aspects of running a salon are getting salon owners so overwhelmed they think about packing it in? Phorest's research revealed that almost a third of salon owners found hiring and managing staff to be the most challenging aspect of their jobs.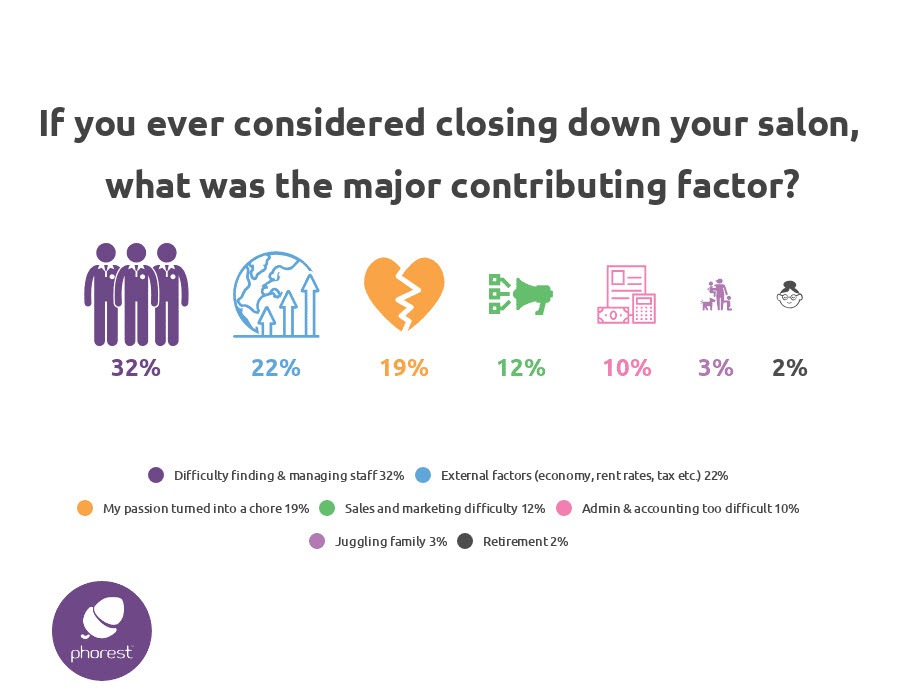 Following that, external factors like rent, tax and recession caused 22% to almost give up hope
19% hated that their passion for hair or beauty had become a chore,
12% found marketing their salon too taxing,
10% couldn't keep up with admin and accounting,
3% found it too difficult to juggle family with running a business,
and only 2% wanted to give up so they could retire.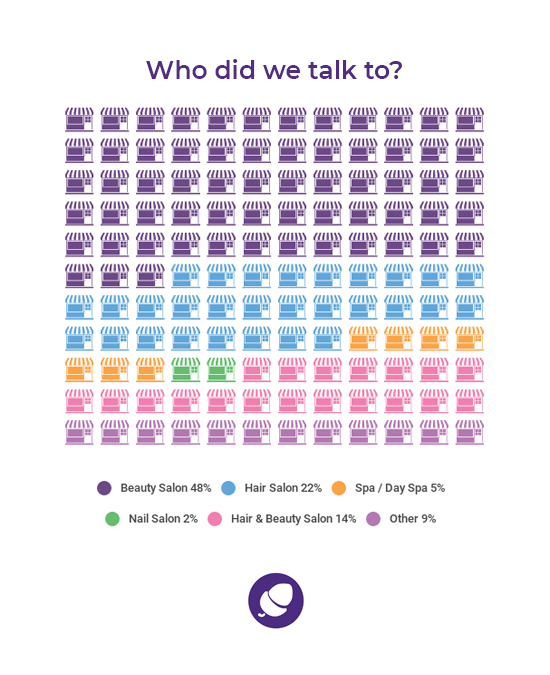 Next, we'll delve deeper into the mindset of salon and spa owners to find out what were the elements of setting up, running and growing their salon businesses they found the most challenging. We'll also provide links to some of our top related resources to help salon owners avoid or successfully deal with those challenging pitfalls.
Top challenges faced when setting up a salon business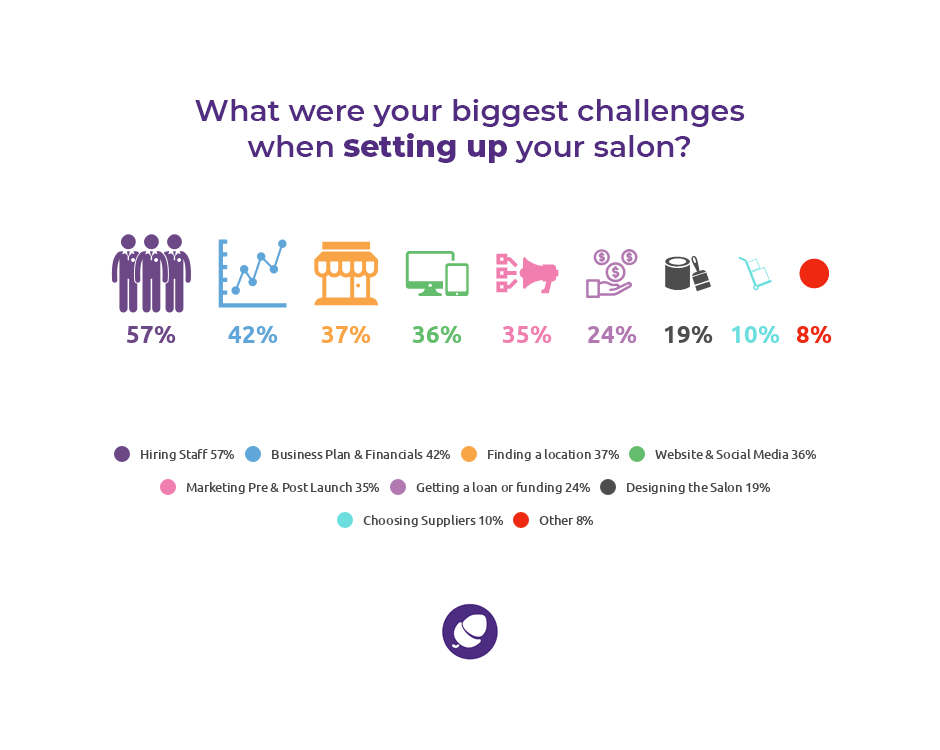 When setting up and launching their salon, by far the most difficult task identified by almost two-thirds of current salon owners was finding and hiring skilled staff. This was followed by creating a business plan and projecting financial figures (42% found this difficult), finding the right location (37%), building a website and a social media presence (36%), marketing the salon and getting the word out (35%), securing a loan or funding (24%), designing and fitting out the salon (19%) and finally, choosing the right suppliers (10%).
Top challenges faced when running & growing a salon
According to our research, the challenges faced in running and growing a salon are almost an even spread across three core areas: admin (cash flow, inventory, permits, etc.); HR (hiring staff, training, rosters, payroll, commission, etc.) and sales & marketing (loyalty programs, getting new customers, upselling, etc.).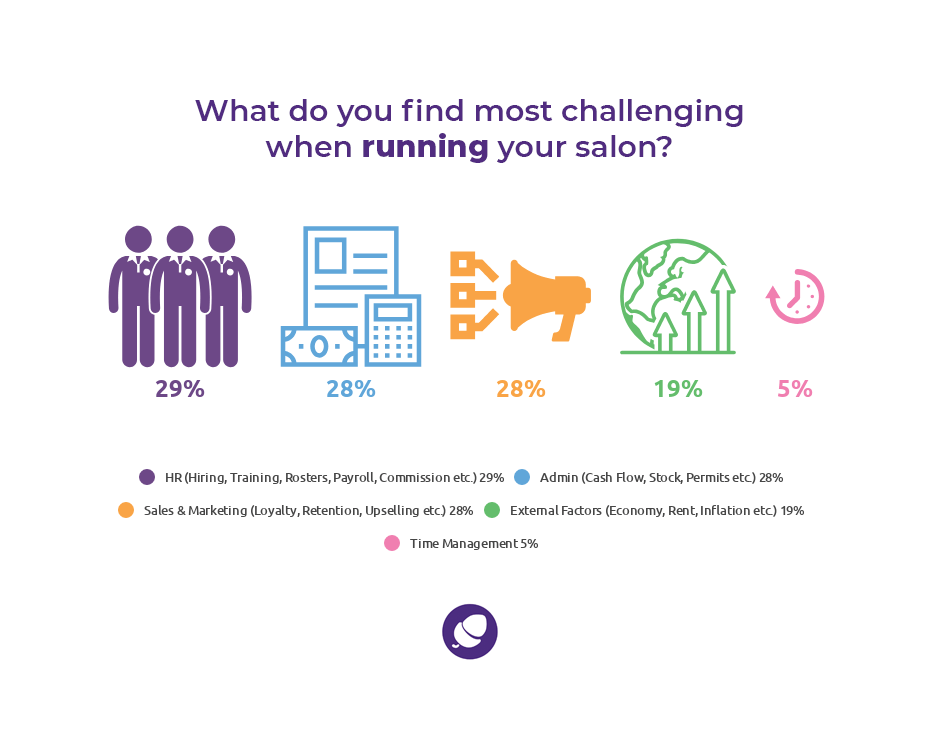 Looking deeper into those three areas, we found out the specific challenges of successfully juggling staff, customers and admin to keep a salon running smoothly.
Salon staff management challenges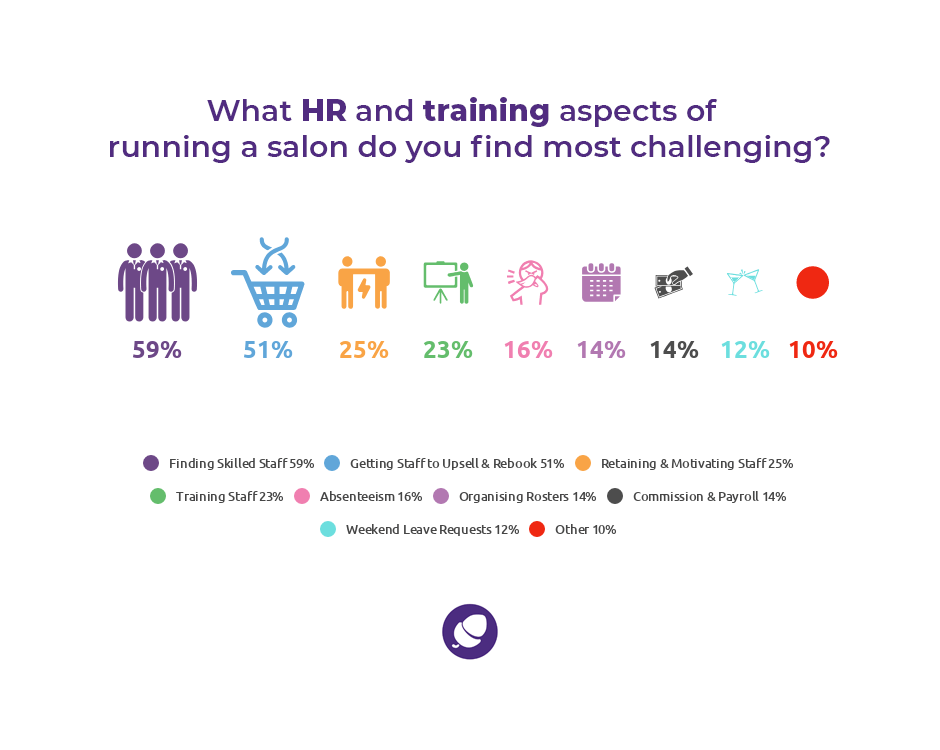 Most salon owners (59%) really struggle to find and hire the right staff. And even when they do find experienced hires, it's evident from our research that it is also a challenge to keep them and get the best out of them.
After finding skilled staff, the most pressing issue salon owners have is training their staff – both in technical skills (23%) as well as sales skills – with 51% finding it difficult to get staff onboard with upselling and rebooking clients. With the team not in line with management priorities, it's no wonder then that the next most pressing issue is motivating and retaining staff – identified as an issue by a quarter of salon owners.
Following this, 14% of salon owners struggle with planning rosters, particularly when it comes to absenteeism (16%) and weekend leave requests (12%). Another 14% find it difficult to keep on top of commission and payroll.
Salon admin & finance challenges
As any entrepreneur will tell you when dreaming of setting up their own business, the product or service they wish to offer is where their passion lies. Rarely, if ever, does the dream involve paperwork, invoice payments or accounting! It's no wonder salon owners have identified these aspects of running a salon as some of the most challenging.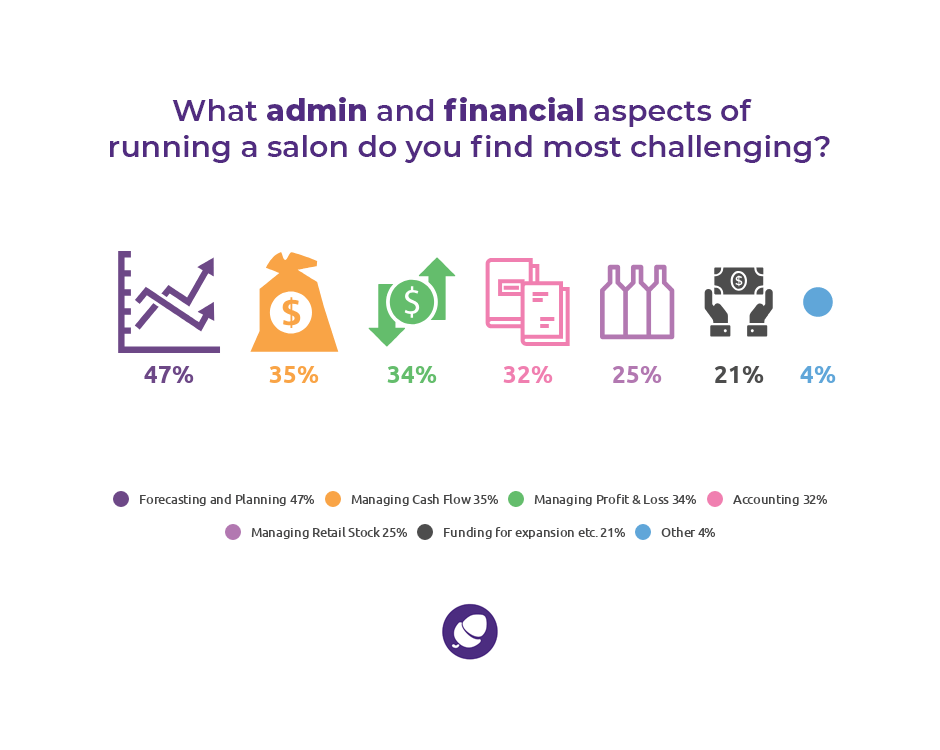 Almost half (47%) of salon owners find forecasting and planning to be difficult. Meanwhile, managing cash flow is another trying element of management identified by over a third of salon owners (35%).
Profit and loss reporting is dreaded by 34% of salon owners, while 32% find general accounting a daunting task. Managing retail stock was identified as a struggle by a quarter of salon owners, and 21% have found it challenging to raise capital to expand their business as they would like.
Getting these elements done right and promptly is crucial to the success of your business, so here are some resources to make admin and financial management less daunting.
Salon sales & marketing challenges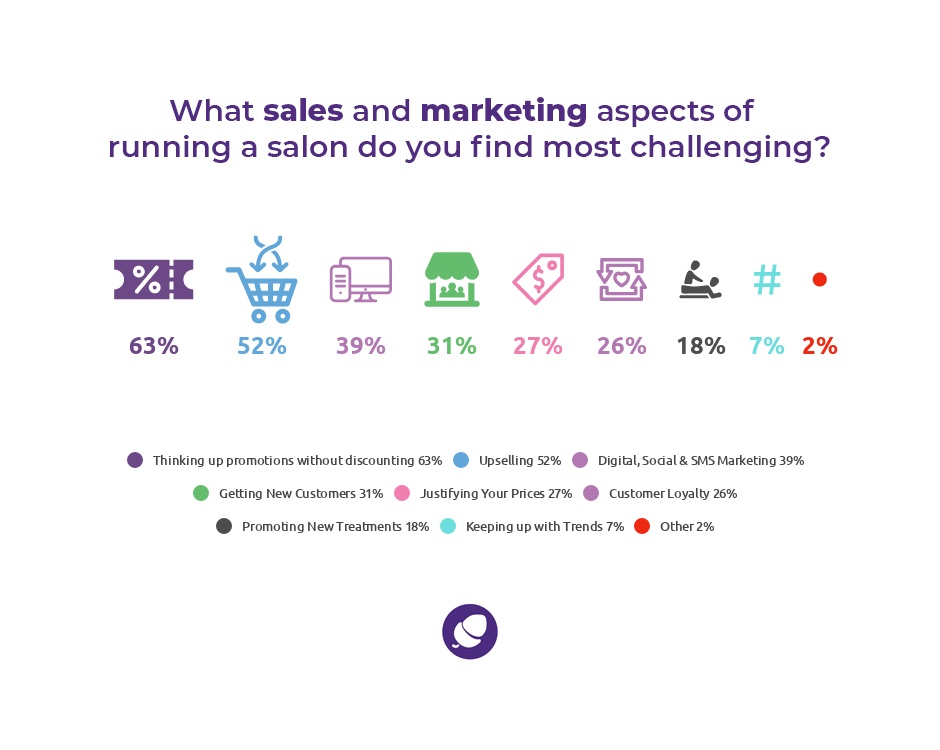 A significant area of concern for 63% of salon owners was coming up with exciting promotions to get their customers back in, without resorting to discounts. Following this, 52% found it challenging to upsell additional services or product to their customers.
Another 39% found digital, social and SMS marketing to be confusing, 31% didn't find great success in finding new clients and 27% didn't know the right way to justify their prices to their customers.
Furthermore, 20% found engendering customer loyalty to be a struggle, 18% found it hard to get the word out about brand new types of treatments and 7% struggled to continually create new services offering to keep up with emerging trends.
In summary
Our CEO, Ronan Perceval, had a great comment to share on the results on the survey: "Salon professionals spend a lot of their time lending a supportive ear to the clients in their chair, but when it comes to having someone they can lean on for support, being an owner or manager of an independent salon business can be lonely and isolating.
To help salon owners combat these feelings of despair and strengthen their skills as business leaders, we have set up several Phorest initiatives specifically designed to help salon owners tackle the challenges raised in our survey. Some of these include a free 6-Part Salon Management Course, as well as the Salon Mentorship Hub, where salon owners can book a free consultation with a topic expert of their choice. These initiatives are entirely free for all salon owners, not just for Phorest clients."
Got feedback? Let us know in the comments below or message us on Instagram!
Thanks for reading! #Togetherwegrow