When people get paid, they are 11X more likely to go on a shopping trip, making payday one of the best times of the month to ramp up your marketing efforts and encourage clients into your salon, clinic, or spa. Payday marketing can be especially advantageous during the quieter months of the year. The goal is to keep your salon top-of-mind when clients are planning their spending. When your customers are ready to spend that bit extra, it's the perfect time to reach out to them.
To benefit from this, why not send a campaign with a special payday offer or a quick message with a link to book online?
Don't overlook the revenue potential of payday marketing campaigns! Let's look at some easy strategies that you can implement immediately:
Use Phorest Ads Manager for an impactful social media reminder
Phorest Ads Manager empowers you to strategically insert your payday campaign where your clients are already spending a good chunk of their time, on social media. 59% of the world's population spend an average of 2 hours and 31 minutes on social media each day, making it one of the most important channels for you to use. Ads Manager allows you to create stunning, branded social media ads that are instantly recognisable to your clientele.
The sophisticated targeting capability of Ads Manager means you can pinpoint loyal customers who are more likely to spend their money at your salon. The result? You get more bang for your buck by smart ad spending and the resulting ROI from online bookings.
In this case study, the popular hair and beauty salon Zazou recalls how one of their most successful campaigns on Phorest Ads Manager yielded $27.42 for every $1 the salon spent.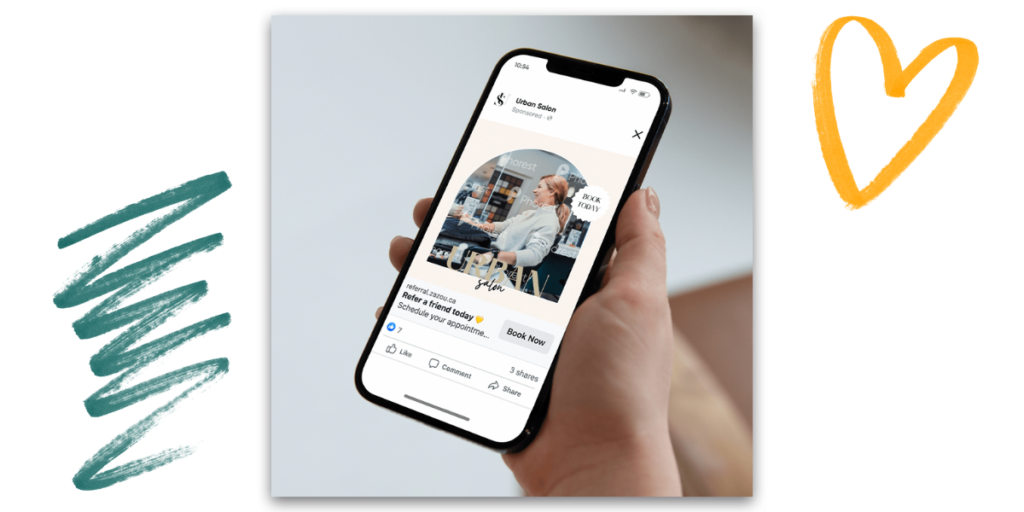 Reach your clients directly with an SMS campaign
SMS Marketing is a highly effective means of reaching your clients directly. With a 99% open rate, your SMS campaigns are guaranteed to be seen by the vast majority of your customers.
Using Phorest's SMS editor, you have hundreds of templates to choose from, including payday marketing messages that link customers directly to your online booking page or whichever URL you prefer.
Scheduling your SMS to be sent on, or close to, payday is highly likely to yield a revenue boost as a result of more clients booking online!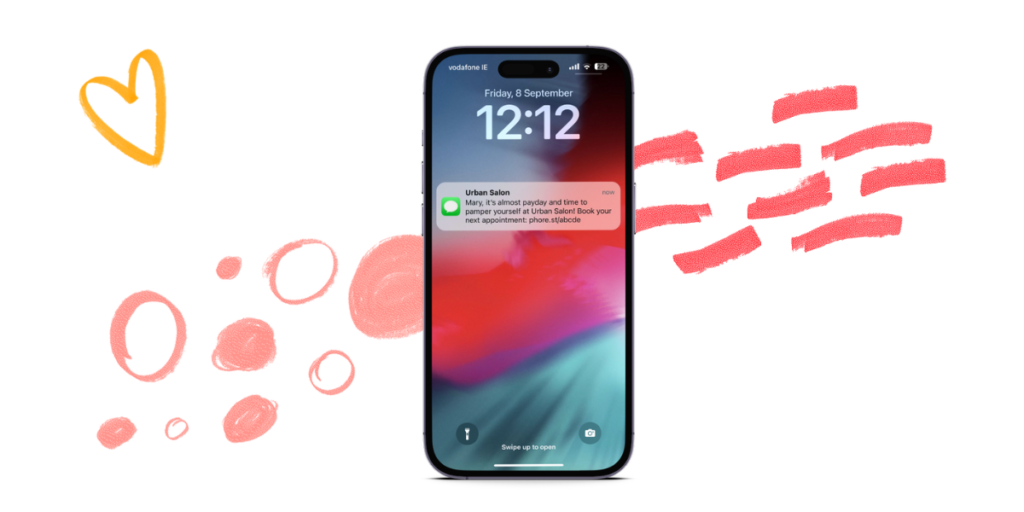 Email Marketing – for more detailed, visual messages
Email is a great way to get a longer or more visually impactful payday message to your clients.
In terms of content, the main advantage of sending an email campaign over an SMS campaign is that you can include images, multiple links, and more detailed information about upcoming offers. In essence, the longer form of email allows you to add more detail and propose more choices for clients to spend their hard-earned money on.
One of the most common reasons salons would choose to send an email campaign over SMS is the cost. Email is free, which is fantastic for salons on a tight marketing budget. However, there is a tradeoff you should consider before choosing which channel is right for you. Email campaigns have a much lower open rate of just 20% compared to SMS marketing, with 99%.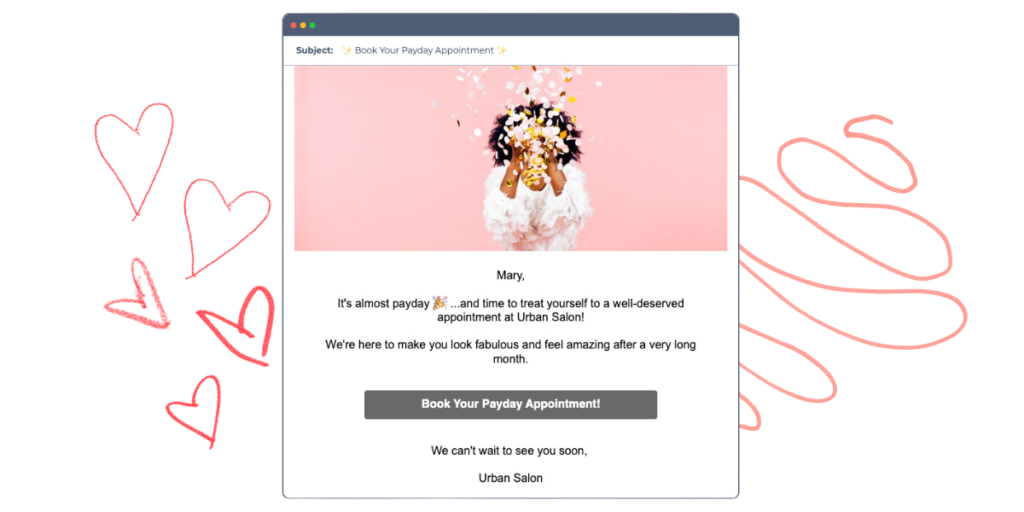 Doubling up – Use special offers to entice your customers to spend more during payday
Your clients might need more motivation to spend their money other than the simple fact that it's payday. Double up and entice them in with a special offer.
For example, you could add an extra incentive by offering 20% off all retail purchases made in-store on appointments booked at the end of the month. This extra incentive could be exactly what motivates your clients to take the next step and make a booking.
Eager to learn more about how you can boost revenue and grow your business using Salon Marketing? Download The Salon Owners Guide to SMS Marketing below.
eBooks
The Salon Owners Guide to SMS Marketing
Learn how to reach clients, boost revenue & grow your business with SMS marketing.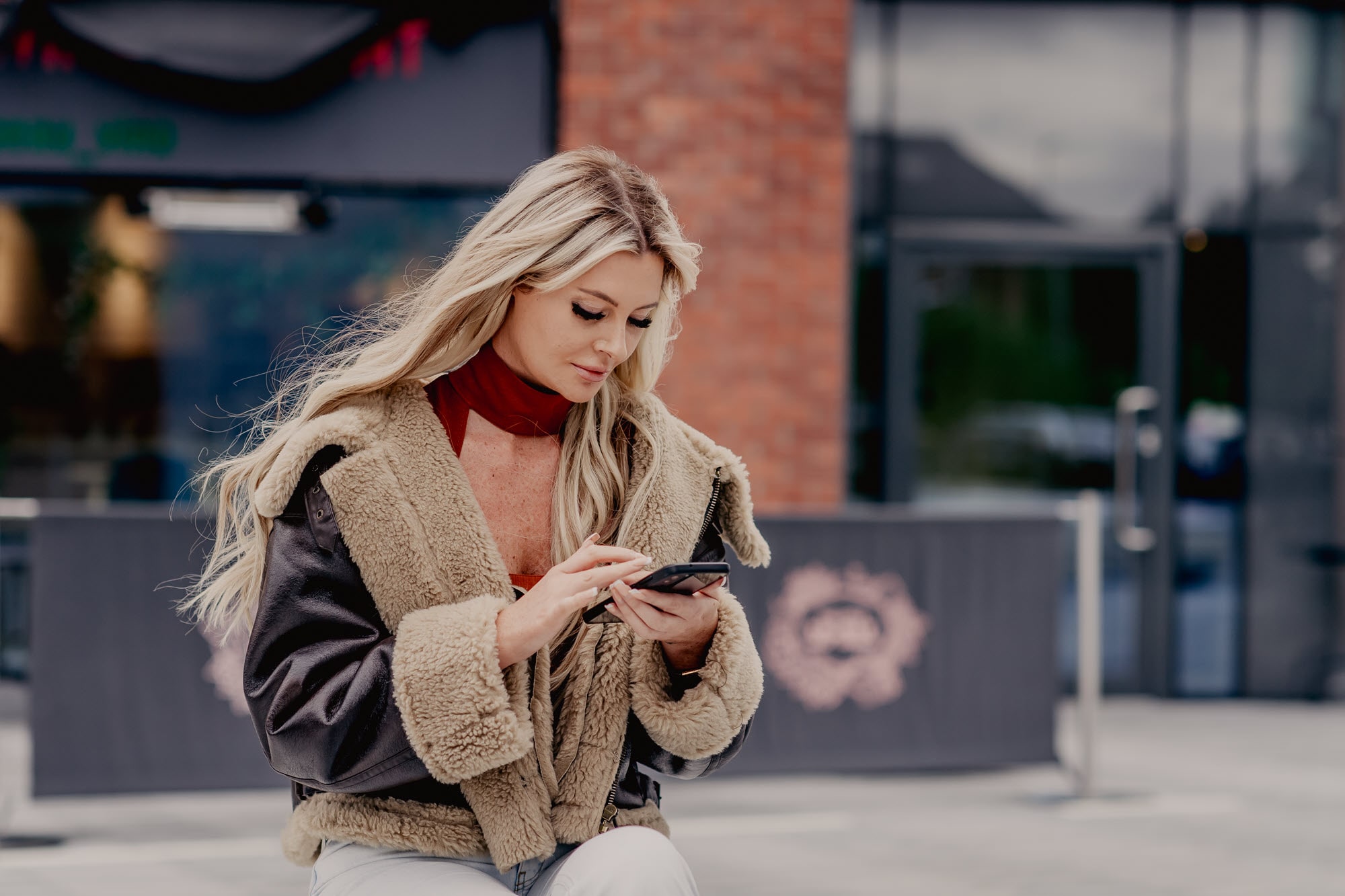 #Togetherwegrow