Everyday, without fail, I'm asked "Why should I invest in a salon appointment booking app if I already have a website? They can just go onto our site on their phone".  The single most important reason a hair salon app or beauty salon app is now a necessity is simply because that's exactly what your clients want.  An app.  Outside of calls and texts, 82% of peoples' time is spent on apps while only 18% is spent browsing websites.
The pinching, scrolling  and zooming required to get a standard website working on an iPhone is what drives people away from making that appointment or calling that number to get their style or treatment. It's annoying and you're making it harder than it has to be!
Here's what you need to know and the questions you need to ask before investing in a salon app for your hair or beauty salon!
1) Does the App 'Talk' to Your Software? 
Many salons invest in a salon app at a premium price that isn't connected to their software. 'So what' you ask? Let me explain.
What often happens with apps that are standalone: 
It's 9pm and Lauren's catching up with the latest episode of 'Keeping Up with the Kardashians'. She's chatting to her sister and she decides to book an appointment in your salon for shellac nails and a blow dry as a girls' day out. She books it in for Saturday for both of them at 3pm.  They're excited!
The next morning you go in and in your emails there's a request for the booking. You check your appointments and there's nothing available after 11:30am. You now have to ring Lauren to find out if 10:30 am suits her and her sister. She explains that she has to get back to you later as her sister is in work and can't take a call until 2pm (her lunch). She's disappointed as she thought they were already booked in. She calls back at 2:30pm and now those slots at 10:30am are filled, making her doubly disappointed.
Here's how it should have happened: 
When Lauren tried to book in at 3pm, a salon app that's integrated with your software like the Phorest salon app would have asked Lauren to select a different time. It should keep doing this until she picks a free slot without exposing your full appointment book to the client.
That appointment then should appear on your software without having to put it in manually. The only thing you need to do at this point is wait for Lauren and her sister to arrive at 10:30am on Saturday.
See how easy that was?  Being integrated with your software is a must for any hair salon app or beauty salon app. and is key to avoiding disappointed clients.
2) What Else Does the Salon App Do? 
Here's some really important features that make the difference between a gadget and a proper business-growing salon app. For example:
Appointments – can the client pick what stylist or therapist they want when booking an appointment? Does the app know what slots are available and what are not?
Gallery – can you upload images of your latest work  easily such as before and afters?
Team – is there a section where people can see who's on your team and read about their background, talents and achievements?
Services and Specials – can you easily change the price of services; push out special offers and change around or add new service without going back to the people who developed the app every time?
3)  Do I Get Technical Support and Marketing Ideas?
Two really important questions about your app have actually nothing to do with the app itself.
Are you getting technical support with the app? 
Are you getting support with the app? Is there a charge if you wish to get something fixed. Apps and the phones that power them change at a rapid pace. Make sure you have someone at the end of the phone if you need support or help with a technical issue!
How are you going people downloading the app? 
Having an app is great. Having an app that clients know about, download and use to make bookings is the even better. The simple difference between an app that's built, and an app that's built and used is marketing.  Ask whoever is building your app are they providing you with ideas and materials and tools to get your app out there? Otherwise, it's an uphill battle to get people using it.
In Phorest for example, every salon owner who has our salon app gets a marketing kit containing:
a) A window sticker and point-of-sale promotional brochures: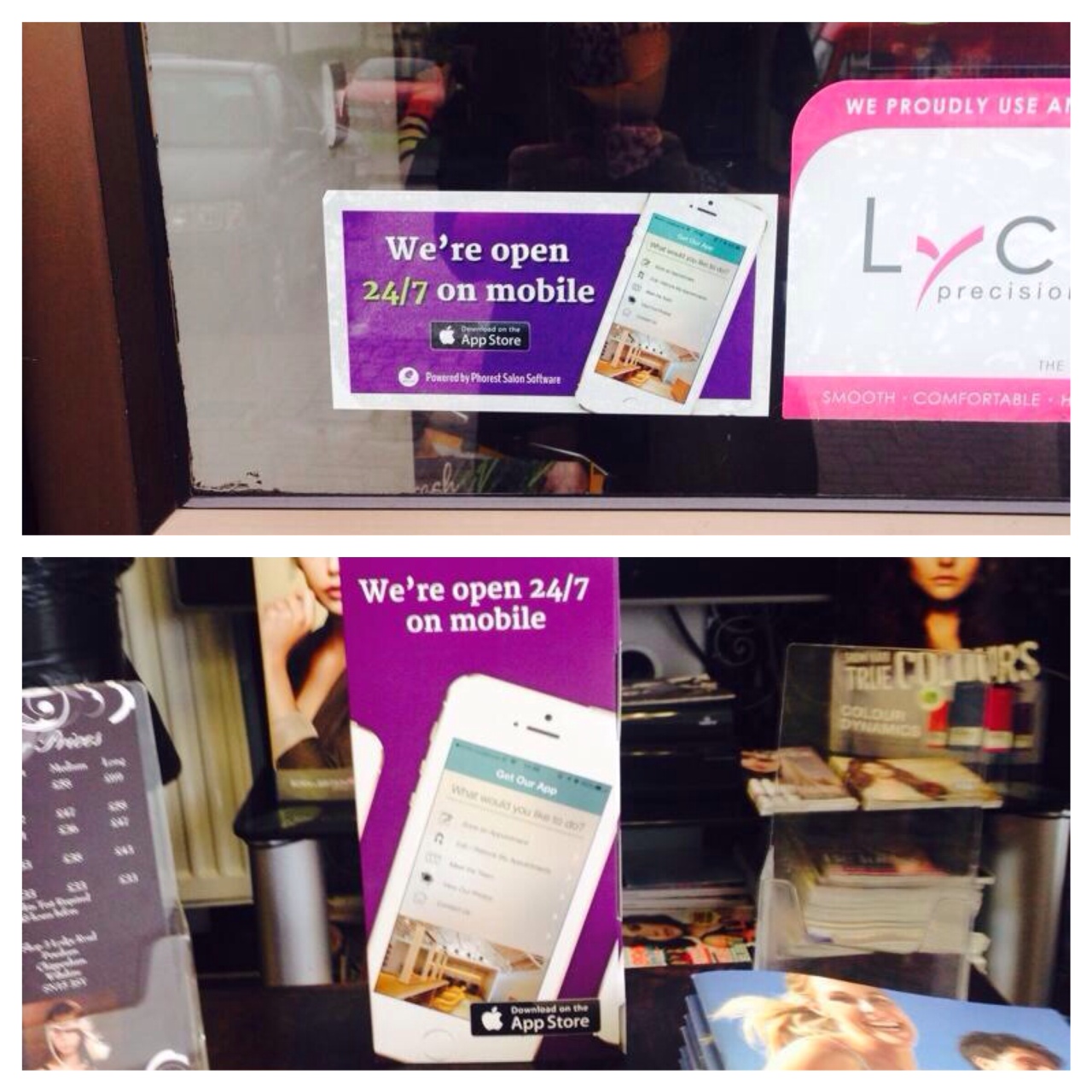 b) A bespoke video for your website, social media accounts and Youtube channel
 c) A press release for your local media and an SMS message to send out to your clients get them downloading with the tap of a screen
4)  What's the Cost? Actually… what's the value?
What's the cost of the app? Our app costs just £249/€249 up-front and a £99/€99 annual fee. When getting a quote just ask some simple questions to make sure you understand the value you're getting.
How much is it upfront?
Is there a monthly fee and if so am I getting technical support and marketing mentoring?
If I want to make changes to any information on the app is it easy? If not do I have to pay to get changes made?
If upgrades are coming in the future will there be a cost?
Knowing these will tell you exactly where you stand from a cost point-of-view – be sure to ask about all of the features as outlined above.
5)  What Device is it Available On? 
First and foremost, is it available on iPhone?  While there are lots of Android phones out there, over 85% of all bookings in salons as we speak are made on iPhone. People who are Apple-oriented are far more likely to download and make a booking through your salon app.
We're currently working on the Android app here too, but the iPhone must be the first port of call.
If the app is promised to be usable on Android and Apple then be careful. Make sure it's 'native' i.e. built as an app for Apple and Android. Many companies offer a responsive website that appears as an app icon on your home screen but it just links through to your website.  This isn't the way to do it as it can cause problems if you don't have internet connection and it can run a lot slower than well designed and developed apps. Plus you still have all that trouble with the pinching, scrolling and zooming.
I hope you find this guide useful, but as always drop an email to togetherwegrow@phorest.com if you have any questions about our app or app that you've already purchased. Happy downloading!