With the average amount of time people spend on their smartphones increasing every year, giving your clients a salon-branded app keeps your business front-of-mind while also making it easier for smartphone users to book appointments without having to search online.
In fact, with 88% of people spending more of their time browsing mobile apps than websites, having a salon app that is created especially for your business is essential to benefit fully from online bookings.
Apps Make Appointment Booking Quicker & Easier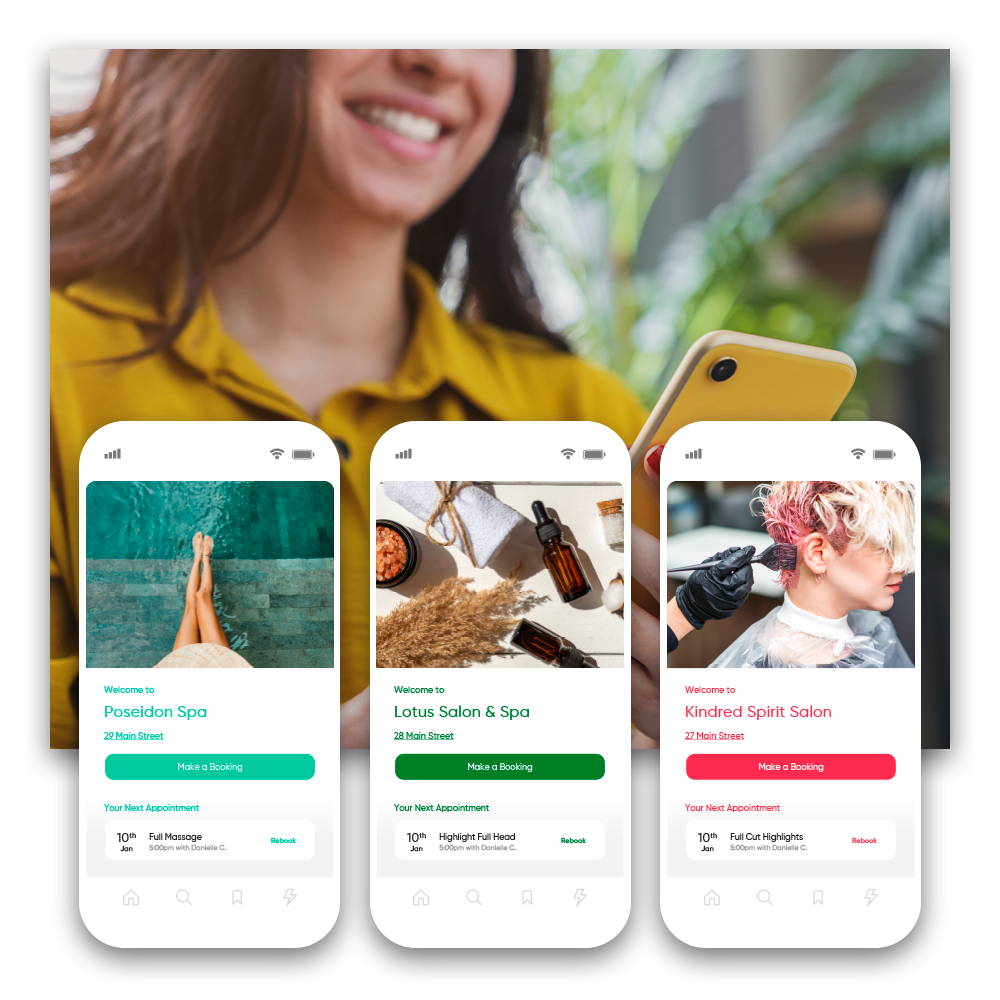 It makes sense why people prefer apps to websites. It takes, on average, 10 clicks from start to finish for a client to book an appointment on a salon app, vs. 13 on a website-hosted online booking system*.
While this may seem small, in a world where convenience is king, any type of time-saving is appreciated by your clients.
And this isn't the only benefit. Compared to websites, salon booking apps offer:
Faster load speeds

once downloaded, relying less on networks that could be slow in some areas, and offering on-the-go access

One-time logins

that stop users from having to input time-consuming username and password entries every time they want to use the app

Better UX interfaces

that are made specifically for mobile devices, meaning they're generally easier to use than websites.

The chance to market your business

by appearing on your clients' screens and keeping your salon front-of-mind every time they pick up their phones.
"When your clients download your salon app, it lives on their phone, with your logo used as its unique icon. This constant exposure to your branding will encourage your clients to book and interact with the salon more often, acting as a handy marketing tool. This simply can't be done on a website, where clients have to actively search the web to find you." -Daniel Hilliard, Phorest Feature Activation Specialist
Are you ready to give your clients what they want in the form of a salon-branded app?
*According to 2022 Phorest research
Here are the 5 questions we recommend you ask before investing in an app for your salon.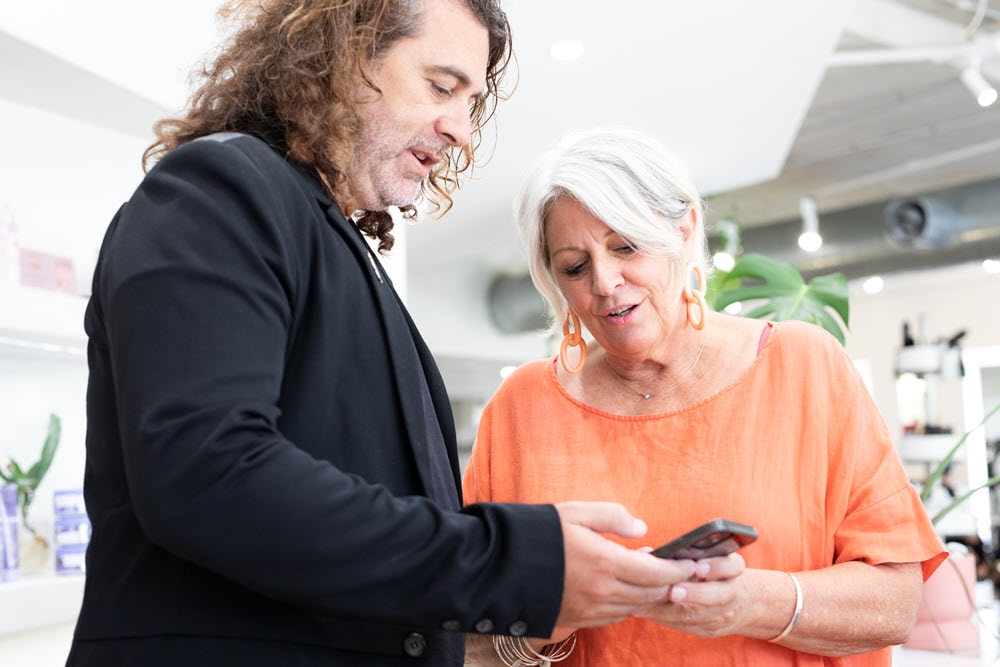 1. Does it "Talk" to Your Salon Software?
When investing in a salon app that allows appointment booking, it's absolutely essential that it speaks to your salon software. Not only will this make appointment booking easier for your team and your clients, but it also helps you avoid double bookings; as the app will automatically block out booked time slots. This creates a smoother and more organised service for everyone in the salon; including new clients.
With a system-integrated salon booking app, your clients can;
See their past treatment/service history

Receive marketing material

View your service menu right from their phone.

Only book appointment slots that are free in your calendar
2. What Features Does it Have?
Your salon-branded app should include features that make it a reliable business-growing tool, rather than just a gadget that hosts your online booking widget. Some of the features you should look out for include;
Appointment Booking Capabilities. This was covered in our first point; does your app allow clients to quickly and easily book available appointment slots? Over everything else, this is most important.

Past Treatment/Service Views;

oftentimes, clients aren't 100% sure what treatment they need to book. Being able to see their past treatments gives them the confidence to rebook their usual service at a click.
Loyalty Programme Points.

If you operate a loyalty programme, like Phorest's Treatcard, letting clients see their points right from the app gives them more incentive to schedule appointments, either to spend their points or to increase them.
Services and Team Menu.

Cash in on clients who want to try out a new service or who want to book with a particular member of your team by showcasing both of these in a straightforward and clear services and team menu, accessible from your app.
Gallery.

In such a visual industry, the ability to share pictures of your work is important. Invest in an app that allows you to upload images of past work, giving clients inspiration on what to book for their next visit with you.
Strong Personal Branding.

Don't let your business fall into the trap of looking like every other app on your clients' phone screen! A personalised salon app is key, and you should have the ability to upload your logo and change the app's colours to ensure it stays true to your brand's personality.



| Pssst; Phorest's salon-branded apps offer all of these features and more!
3. Is There Technical Support Available?
App and phone technology changes at a rapid pace, which is why it's vital to choose a company that provides support and advice on all things technical related to your app. As a busy salon, spa, or clinic owner, having an app should support your business goals, not hinder you with technical difficulties.
Similarly, after investing, it's important to understand how to advertise your app in a way that encourages your clients to download it. When you partner with a full-service software partner like Phorest, you can rest assured that marketing and technical support is always available. We offer:
4. Is the App Compatible With All Smart Devices?
With Android & iOS operating systems hosting most of the market share of smart devices (71% of people use Android phones while 28% use Apple phones), your salon-branded app should work seamlessly on both. For this to happen, it must be created as a "native" app; i.e., one that is designed specifically for use on smartphones/smart devices, and available to download from an app store, rather than just being hosted on a website.
Because certain tools, dimensions, and functionalities will vary depending on the type of mobile or smart device you're using, having a salon-branded app built by experts (and available for your clients to download from their usual app store) will give you that professional edge. Don't be enticed by cheap, glitchy alternatives made just for websites; they will dilute your brand authority and could compromise your clients' satisfaction.
5. Do I Have to Do Anything Myself?
Here at Phorest, we understand that salon owners don't have time to send over reams of information just to get an app built, however, you will need an Apple developer account to have your app on the App Store. Unsure how to do this? Don't worry, we're here to guide you through the process of enrolling and ensuring your app is available for iOS users.
When it comes to getting you up and running, we are dedicated to supporting you every step of the way. For new Phorest clients, that means bringing over everything we can from your old software to ensure a smooth transition, and for existing Phorest clients, it means duplicating your Online Booking information and bringing it into your shiny, new, salon-branded app for you; so that it's ready to go quickly and seamlessly. 
When you invest in one of our salon-branded apps, it's less hassle for you and your clients; allowing you to focus on delighting your visitors while we look after the tech side of things.
Ready For Your Business to Be Found in the App Store?
Now that you're informed on all the things to consider before purchasing a salon-branded app for your clients to use, it's time to pick the right provider. Phorest offers fully customisable, system-integrated, salon-branded apps that have been proven to increase bookings, generate more revenue, and nurture client loyalty.
For more information on how you can get started, or to speak to an expert, contact our grow team on grow@phorest.com.
Not a Phorest client, but want your own salon-branded booking app?
Book a Demo