It's always difficult to know where to begin when you embark on the first-time salon manager journey. There are so many things to focus on, that sometimes, making your marks with an established team can prove to be difficult.
The Top 10 Need-To-Know Tips For Every First-Time Salon Manager
1. Customer Complaints
A good way to find out what is happening within a salon is to look at the customer reviews – mainly the complaints, and how these are dealt with. If there is no log of complaint procedures, for example, that speaks volumes. To me, it means the salon isn't keeping a close eye on the complaint, not dealing with team members who are having the complaints, but also not creating best practice from it. And if they are, but aren't logging it, then there is an issue with the lack of procedures and management follow-up.
If there is a log of all complaints, what are the issues? is it mainly staff or maintenance; are there a lot of complaints or just a few? This will give you an overall feel of the business and how the customer is looked after. To keep all your reviews in one place, why not try an online reputation management tool like Phorest's?
2. HR Issues
As a first-time salon manager, one important thing to focus on is dealing with any pressing HR issues straight away. The team needs to see that you are efficient at resolving problems. I would ask the management team what needs attention and focus on this. If you don't have any management team, you can assess the situation with individual meetings and do these sooner rather than later.
3. Recruitment
Obviously, recruitment can be a lengthy process, but it is your bread and butter. Therefore, to set up the process straight away is key to your growth. If there is a vacancy, you must pay attention to it immediately. Ensure that the process in place at the time is efficient, and if not, put your own mark on it. For example, if there is no phone interview, make sure it happens from now on. In other words, create a procedure for managers to see.
Related | The Salon Owner's Guide to Hiring & Staff Retention
4. Budget & Targets
Analysing your budget and targets is key to your plan of action. Budgets can tell you everything about the decisions made within the salon. Is there overspending on products? Is the staff cost over 45%? To make an impact as a manager, you must achieve the targets. Therefore, it's imperative you study the figures, create your own understanding of the budget and look at forecasting for the forthcoming months. Every decision you make should be a financial one from then on; your budget is the key to your success.
5. Observe
Another good way of understanding the salon's dynamics is to observe and work as part of the team. At the reception desk, do some cleaning, wash hair, fold towels. Whatever it is, for the first two weeks as a first-time salon manager, being part of the team allows employees to forget who you are and behave the way they normally would. If you go into a team all guns blazing, you will upset and control rather than lead. Observing with the sole aim of making changes for the better creates a strong, long-term impact on the team and business.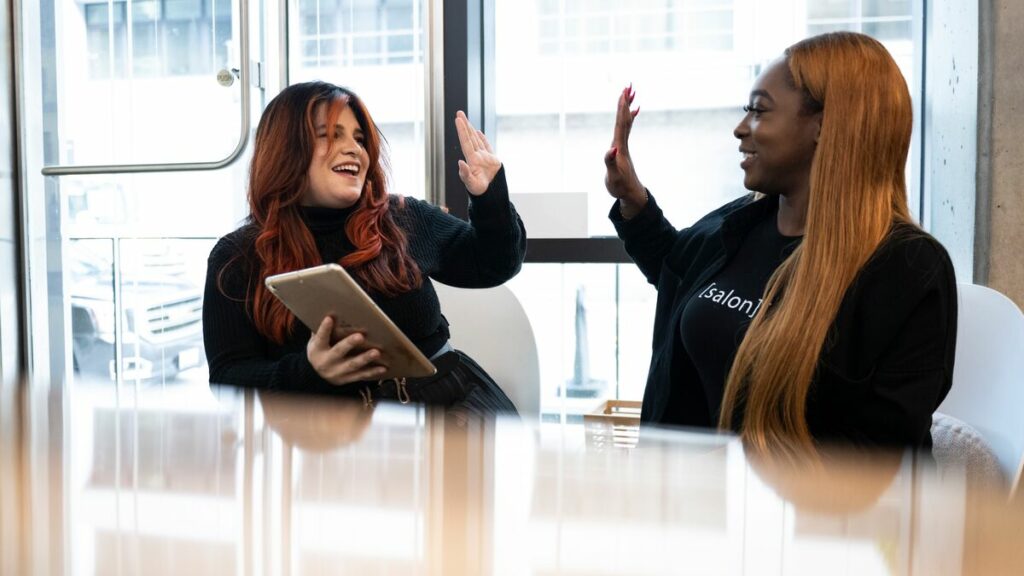 6. Create Your Vision
Your vision is the heart of your success. What do you want to achieve within your first year of employment? Where do you want the salon to be within that year? Winning awards? Generating 20% retail sales?
Whatever it is, make up a sentence for it and stick it above your desk. This vision, or mission statement, will be shared with your team in individual meetings. People cannot feel part of a goal if that said goal is only in your head.
7. Individual Meetings
Host individual meetings to communicate your vision to everyone and also to find out where each individual is at. Ask them about their vision, their expectations, and iron out any issues that might be happening to help you create a connection with your team. It is important that whatever their structure, you conduct these meetings regularly to keep staff morale high.
Related | How To Conduct Amazing One-To-One Staff Feedback Meetings
8. Check The Procedures
What procedures are currently in place in the salon? What do you have to implement for the smooth running of the salon? Creating procedures is a lengthy process, but from what you have observed, you will know what needs to be addressed with the team the fastest. Procedures will be the key to your foundation as a first-time salon manager.
9. Create A 90-Day Plan Of Action
With the observation that you have made combined with the issues that you have dealt with in the first 3 weeks, you are now ready to create your plan of action for the next 3 months. Be extremely detailed in what you want to achieve and always put a reason to why you are doing this and what outcome you expect to see. This plan of action will help you stay focused and create an impact on both the team and the revenue.
Related | The Ins And Outs Of Writing A Salon/Spa Procedure Manual
10. Team Meeting
Last but not least comes the team meeting. This is what will connect everything together. It is important to adopt the 3 P's (Plan – Prepare – Present), so you really engage the team in the changes you want to make, get them to embrace targets, KPIs and focus on new ideas for marketing. This meeting comes after 4 weeks of all the above and becomes the pivotal point of your leadership, from which you can start building staff management strategies into your everyday routine.
Good luck, stand your ground, and keep your head up!
Ready to partner with a Salon Software made with great salon leaders in mind?
Book a Demo
#LetsGrow – Valerie Delforge is a Commercial Trainer and Coach for the Spa, Beauty and Hair industry. Valerie specialises in creating specific workshops to support managers. Founder of Delforge + Co, she is keen to support the industry in achieving its best. For a list of procedures and coaching, visit Delforge + Co. or contact valerie@valeriedelforge.com.