According to research carried out here at Phorest in 2022, 77% of people now research online before choosing a salon to visit, so it's clear that having a good online reputation is vital. When it comes to curating an online image for your business, two things are important; the number of reviews you receive and the quality of the reviews you receive.

By professionally managing both of these elements, you can take control of how people treat, react to, and rate your business online. In this blog, we'll discuss how you can:
Supercharge your salon ratings
Encourage clients to leave online reviews
Understand how to deal with negative comments.
How Can I Get More Reviews For My Salon?
Something that comes up repeatedly as we talk to salon, spa, and clinic owners about their online reputation is the question; "How can I get more online reviews?" While everyone understands the importance of online reviews, it can be difficult to encourage clients to leave them. To boost the number of reviews you're receiving, we recommend:

Automating the process
Offering an incentive
Responding to and publishing reviews promptly
Phorest's Online Reputation Tool Does All of This For You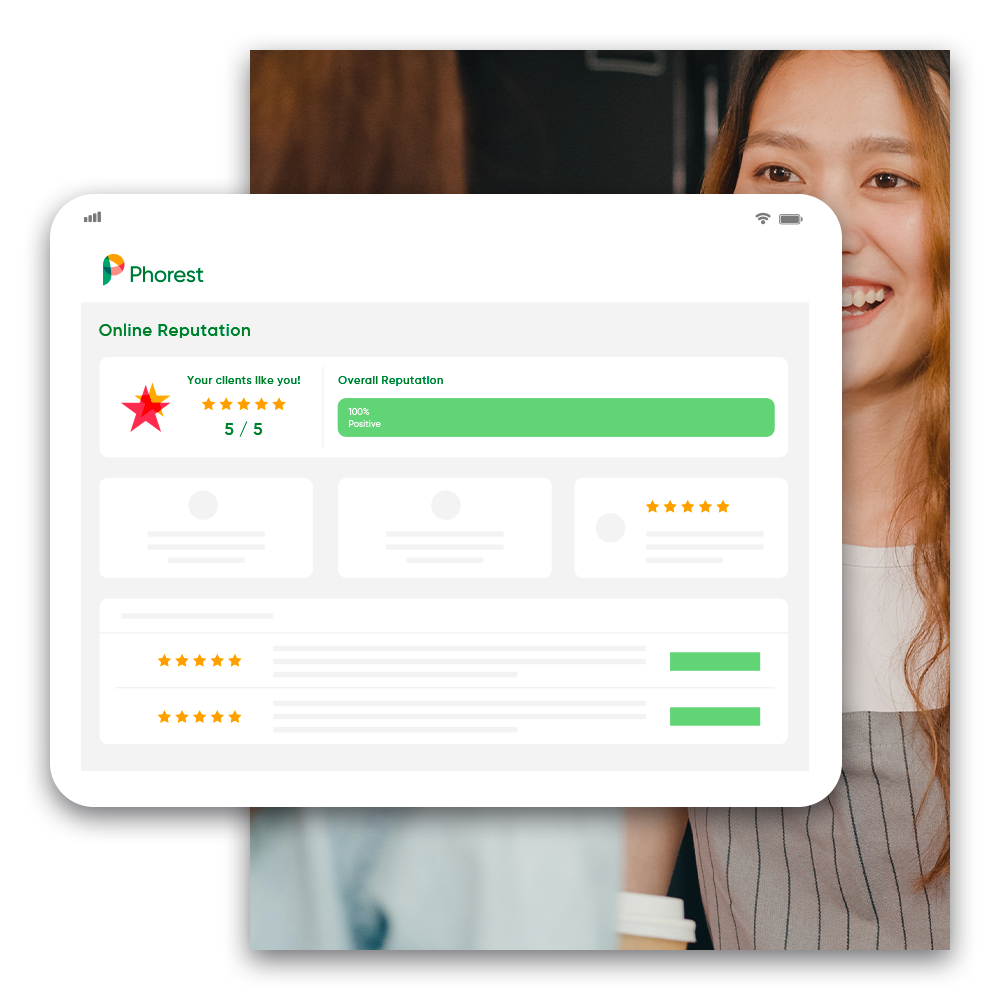 One of the easiest ways to achieve all three of the above points is by implementing a system that does it all for you, such as Phorest's Online Reputation Manager. Integrated with the Phorest system, this handy tool allows you to:

Send automated review request emails or SMS messages as soon as clients leave the salon
Collect and reply to all reviews in one place, within the Phorest system
Publish reviews online, to Google, Facebook, and Yelp, with the click of a button
By automating the review-request process and centralizing all reviews in one place before publishing them, you can save time and effort while constantly working to enhance your online reputation.
On using this feature, Natalie from Beautifully Gorgeous Salon notes; "We get lots of reviews, and they will be honest. If we have not met expectations, we get to know about it quickly, and we can take quick and effective action… it supports us not to lose them [the client] as a guest."
What Makes a Client Want to Leave a Positive Review?
While some clients will leave a review simply because they enjoyed their time at the salon, others will have to be convinced. Offering an incentive to these clients can help encourage them to leave you a good review. Examples of incentives for leaving a review include:

Rewarding bonus Treatcard points
Free samples on their next visit
A complimentary, add-on treatment on their next visit
Entry into a giveaway competition
If you do decide to offer an incentive to clients who leave an online review, you can advertise this via your automated Online Reputation review messages, in-salon advertising, or social media ads.
Be careful not to stipulate that it must be a positive review – the rules on some online review sites, and even in some countries, put a ban on incentivizing positive reviews. If you offer an incentive it must be for a review of any kind. However, with Phorest you can keep your negative reviews as internal feedback, and only prompt the 4 and 5 star reviews to post on sites like Google and Facebook, protecting your reputation.
Targeting Clients Online To Garner More Reviews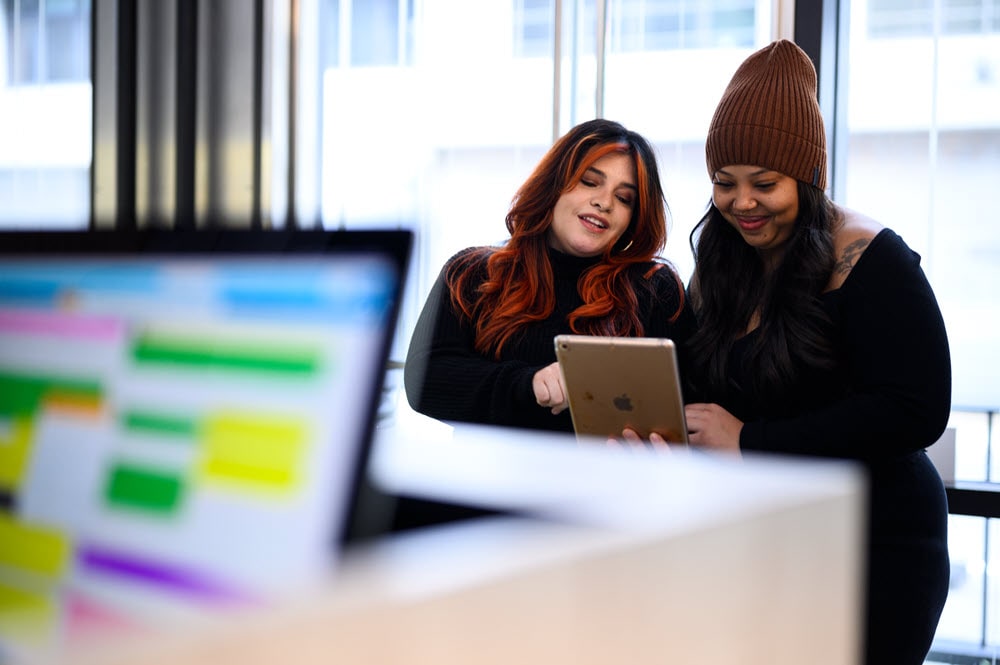 Another effective way to gather online reviews is to make it as easy as possible for your clients to leave them. One way of doing this is by targeting clients with social media ads. With people now spending over two hours a day on social media, setting up ads that offer them encouragement (like the incentives above) to leave a review, and directing them straight to your reviews platform, is a quick, easy, and effective way of boosting your business's reputation and visibility.
Clients are more likely to leave a review if the option is put in front of them, and doing so is quick and easy. If you want accuracy in campaigns like this, targeting is vital. Phorest Ads Manager is the only ad management platform that allows you to target your existing client base across Facebook and Instagram and request reviews, eradicating the threat of non-clients leaving reviews just to receive the incentive attached.
If you want to create, publish, and track social media ads to hyper-targeted audiences, Phorest Ads Manager is the best thing for it. And what's even better is that it's available to use right from your Phorest system.
| Related: Hear how Phorest Ads Manager has revolutionized how Zazou Salon & Academy advertizes their salon
| Learn How to set up Phorest Ads Manager on your Phorest system
Handling Negative Reviews
When making an effort to collect more online reviews, there is always the worry that clients will leave negative ones. While this can be upsetting, responding professionally, listening to the client's grievances, and seeing things from their point of view can help you respond appropriately and reduce the negative impact a review like this could have.
Here's How We Recommend Replying to Negative Client Reviews:
Respond promptly
Be polite
Share the negative comment with your team to highlight the situation and help build a customer-centric mindset within your salon.
If possible, contact your customer privately after responding online
If required, take action (in-salon or online) to rectify the grievances aired in the negative review
If the review is defamatory or untrue, you can request that it be removed from the site or platform it's posted on
While Social Media and Google reviews submitted on these platforms are live almost immediately, using a review management system like Phorest's Online Reputation Manager allows you to see negative reviews before they go live online, helping you to rectify the situation in private and giving you the option of not publishing the review at all if you would rather the conversation be kept between you and your client alone.
"Receiving a bad review always stings, but it's a valuable opportunity to enhance your customer experience and pinpoint areas where your business can do better. It's better to have a disgruntled but engaged client who is open to discussing things with you, rather than one who simply leaves and never tells you why." -Shauna O'Halloran, Head of Education, Training & Support at Phorest
Susan Roche, Owner of Newcastle Hair & Beauty Clinic has first-hand experience with the power of negative reviews. She said; "I was worried about negative reviews, but it has actually been a real area of growth for us. The first thing I do with a 3 star is I get on the phone, and usually, it's something tiny to fix, and you turn that client who, maybe had been a little bit dissatisfied, to being a client who was wowed, and she's straight back in."
Building an Online Reputation to Be Proud Of
Trying to build a repertoire of five-star reviews across the Internet can seem overwhelming at first, but when you know what you're doing and have a good system in place, the rewards are huge. Take Sisu, for example, a medi-aesthetics clinic that generated a massive 660 new five-star reviews using Phorest; 's online reputation. You can hear their story here.
Get ready to embrace the good salon ratings and handle the less pleasant ones in an informed and professional manner to preserve an amazing brand image that clients want to engage with.
Interested in learning more about how to boost your salon's online reputation overall? Why not download your free copy of The Salon Owner's Guidebook to social media today?
eBooks
Social Media Guidebook for Salons and Spas
Learn from top salons turning curious followers into loyal clients, with real examples and actionable tips to make big wins today!