With the Summer Collection well underway, it's time to get ready for our next launch; PhorestGo 2.0. Designed to be the ultimate companion for your salon team, we've revamped the PhorestGo app for better staff management, easier client communication, and more intuitive appointment booking.
Inspired by the feedback of hundreds of PhorestGo app users, PhorestGo 2.0 is not just enhancing the salon experience; it's revolutionizing it. And it's here as one of the stars of our highly anticipated Summer Collection.
In a Busy Salon, Every Moment Counts
In a modern salon environment, you need a technology solution that can keep up. Our famous tagline at Phorest is "Together, We Grow" because we've always made it our mission not only to help our salons grow their businesses, but to continuously improve our technology to grow alongside our clients.
PhorestGo 2.0 is your digital companion, available to help your team do their job from the moment you open the salon in the morning to when you lock its doors at night. Take PhorestGo2.0 on the go, after hours, if you need to. From monitoring your numbers to making a last-minute rebooking, it's your salon software in the palm of your hand.
At its core, PhorestGo 2.0 is the same app you know and love, but rebuilt and redesigned with a host of improvements that have made it even more powerful and intuitive for teams to use.
Ready to Improve Your Appointment Booking Process?
PhorestGo 2.0 is equipped with a range of scheduling features that make booking appointments so much easier, resulting in less stress for your team and an improved in-salon experience for your clients.
Say goodbye to endless scrolling to find available dates with our intuitive new date picker.
Reschedule appointments in seconds with simple drag-and-drop functionality.
Breeze through first-time bookings, rescheduling, and rebooking appointments with a more refined user interface.
Clients want to rebook before leaving? No problem; do it straight from the check-out screen.
With PhorestGo 2.0, the whole team stays in sync.
Our powerful home screen allows your staff to see their day at a glance, offering custom calendar views, flexible time blocks, and real-time updates. We've even color-coded appointments and included all the familiar icons from your Phorest desktop system for consistency and ease of use. Scheduling appointments has never been quicker and easier.
PhorestGo 2.0 is designed specifically to help make salon life easier for your team.
Like the original PhorestGo app, PhorestGo 2.0 offers flexible access levels, autonomous appointment scheduling, and high-quality reports. But now, it does so much more.
Avoid login woes with our "magic login" feature, ensuring your team never gets locked out due to forgotten emails or passwords.
Take complete control over breaks, with the flexibility to schedule anything from a quick five-minute breather to a hiatus of up to 12 hours and 55 minutes.
Supercharge commission and smash your upselling goals with the ability to add products, gift cards, packages, and additional services right from the checkout screen.
PhorestGo 2.0 is your secret to creating an environment where your team thrives.
Empower your team to lead with expertise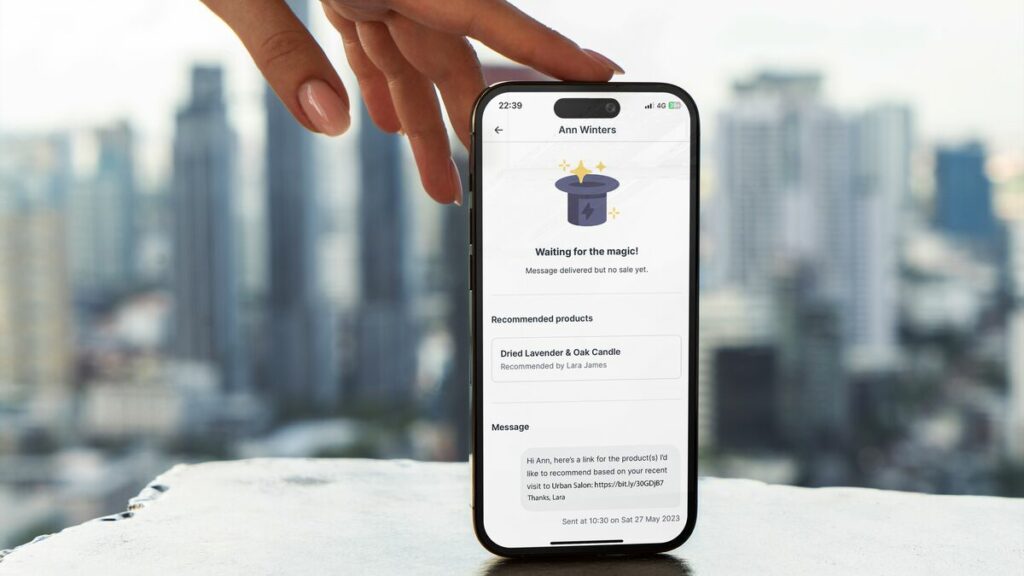 Team need help upselling to clients? PhorestGo 2.0 takes the awkwardness out of retail with its breakthrough feature, Expert Recommendations. Designed to help even the most sales-shy team members boost retail, Expert Recommendations allows your team to send their clients a link to recommended products on your online store directly to their phone after an appointment.
Expert Recommendations helps your team increase retail sales with ease. It also adds that extra flair to the client experience, making your visitors feel valued with personalized recommendations that they can purchase at the click of a button.
Speaking of the Client Experience…
Looking for a tool to enhance the in-salon experience? We've got you covered. PhorestGo 2.0 gives you access to all client details in one place, allowing you quick access to notes and preferences from the palm of your hand.
Similar to the Phorest desktop system, PhorestGo 2.0 links notes directly to your clients' profiles, allowing you to expand them and view any consultation form information, patch test results, and general preferences in detail or at a glance.
At every touchpoint of their salon experience, PhorestGo 2.0 empowers you to offer something professional, streamlined, and enjoyable to clients.
Here's what Kelly Shaw, founder of k:SPA has to say…
"The whole team at k:SPA use the new PhorestGo app daily. It has everything we need at our fingertips from our schedules to clients consultations, even payments & rebooking. It makes running a busy salon a much smoother process so we wouldn't be without it now."
Ready to try PhorestGo 2.0 for yourself?
Reach out to your Phorest Business Advisor to discuss how to use it to benefit your business.
See how PhorestGo 2.0 works up close, in detail in the Phorest Help Centre or download it using the QR code below.


The Salon Floor Series Episode 2: When Phorest Met Aneckha
The Salon Floor Series are short films where we meet real Phorest salon owners where they are at–on the salon floor– to understand how Phorest fits into their typical day. In last week's video, we met Tracey who shared how she's built strong client relationships over the years. This week, we're traveling to [salon]718 in New York, speaking to Anechka about how she has PhorestGo 2.0 in her hand from the second she starts the work day.
Phorest Salon Owners Summit attendees got a sneak peek of PhorestGo 2.0 in January
Want to be at the center of the action next year? Get ready to ELEVATE your business at Europe's premier industry event for salon owners, the Salon Owners Summit in Dublin, Ireland. Kick off the year with more groundbreaking product demos, chats with the Phorest development team, and a world-class ensemble of speakers and special guests. Plus, a chance to network (and party) with hundreds of other like-minded professionals from all over the world. What are you waiting for?
Book Your Tickets to the Salon Owners Summit 2024. Act fast to secure the best early bird price.
Are you summer ready?
Learn more about PhorestGo 2.0 and all the new features in our Summer Collection. #TogetherWeGrow
What Will You Learn Next?
Maintaining a social media presence is no longer just a nice idea; it's essential. However, it can feel overwhelming to find your perfect target audience, create engaging content, and expand your reach to potential new clients.
Phorest is no stranger to innovation. We continuously look for ways to tackle challenges that business owners face and to find new ways to make day-to-day salon management easier. That's why we're inviting you to join Zoé Bélisle-Springer, Phorest's Global Education Content Lead and PhorestFM Podcast host, for an online Think Tank session; Thought Leadership Talks on Social Media on July 17, 2023! Secure your place here.
Event Details: Summer Collection Think Tank: Thought Leadership Talks on Social Media
On Monday, July 17th, 2023, 2pm UKI Time / 9am EST
Duration 1 hour
What To Expect Three industry social media experts will each deliver 15-minute talks full of insights on hot topics to fuel for your future growth.
Featuring Guest Speakers:
Olivia Thompson (@omgartistry) — Can You Hear Me Now?
Kate Lynch (@thecreativesociety) — What Makes Buzzworthy Content?
Richard Gibbons (@boostmycustomers) — Sell the Transformation, Not The Treatment