You know from your clients that you have an excellent in-store reputation. But do the comments left about you online match the word on the street? We believe that by building and monitoring your business' online reputation, you're putting your salon or spa in the best possible position to get clients – new and existing – in more often, spending more. In this article, learn about the importance of monitoring what people say about you online and find out how the Phorest Online Reputation Manager can help you do exactly that.
Listen to the audio version of this blog, and subscribe to the Phorest Blog Podcast here:

Table of contents
Choosing, in a world too full of options
The importance of monitoring your salon's online reputation
How can you monitor what people are saying about your salon online?
Being proactive with reviews
Does your online reputation need a makeover?
The online reputation masterclass
Choosing, in a world too full of options
The more options we're presented with, the harder it is for us to choose. Restaurants well know this and that's in part why groups tend to have a special menu with only a few options. It reduces complexity for the customer to pick, and well, in the restaurant industry, it also reduces complexity in prep and cooking.
Today, whether it's to buy a new phone or book a spa treatment, we have so many businesses we can turn to, so many choices, that it's become second nature to look up and consider online reviews. We've come a long way from the simple thumbs up or thumbs down.
The importance of monitoring your salon's online reputation
When a potential client googles your salon's name, they're usually looking for a few things. They might try to find your address, your phone number and email, look up your services and prices, or simply take a sneak peek at your salon's photos. But, no matter where your clients look, they see reviews!
And not only do reviews help to define your online reputation amongst competing salons, they also contribute to increasing your Google business rating without the hassle of paying for SEO services.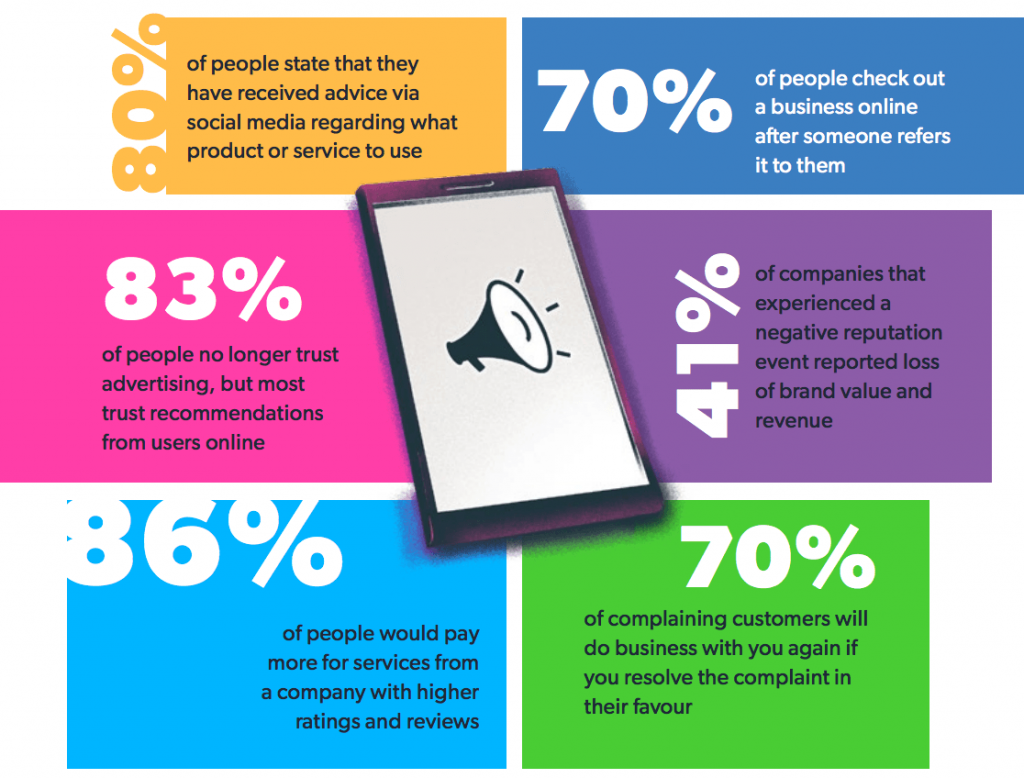 For more insights on the effects of online consumer reviews on purchasing decisions, download the FREE Phorest Online Reputation eBook here.
How can you monitor what people are saying about your salon online?
Most potential clients will check out reviews about your salon online before they book with you for the first time. How can you make sure that what they read will be accurate, fair and complimentary? Have control over this conversation?
Salon Today says it best: "You can't automate a haircut or highlights, and who would want to? But you can automate many of the things that make it more profitable to provide those haircuts and highlights, like boosting your online reviews and tamping down negative reviews before they burn out of control."
The Phorest Online Reputation Manager, on the Complete Advantage Package, lets you take control of how people treat, react and rate your business online. As Tomy Lulgjuraj, co-owner of 6 Salon puts it: "With Phorest's online reputation management, all we have to worry about now is doing great work and providing great service to all of our new and existing clients!"
Key features
Allows you to respond to positive & negative comments from one clean and clear dashboard
Increases your amount of 5-Star reviews through automated settings
Gets your salon to stand out from your competition online
Improves your salon's website ranking on Google (SEO)
Watch what Maggie The Salon had to say about the Online Reputation Manager
Maggie The Salon, who now has close to 400 Google reviews, started out with 9 or 10 before taking on the reputation feature from Phorest. Six weeks later, they were doing December numbers in April!
This could happen to you too! Get in touch with one of our helpful team today to learn more about the Phorest Online Reputation Manager and how it can help you manage, market and grow your business.
Being proactive with reviews
"From a psychological point of view," Laura Badiu of TrustYou explains, "knowing that your review has the power to influence the decision of other people can be a form of empowerment; you feel important and you know that your voice has an impact. Also, there's a certain sense of altruism when you think that your opinion and suggestions can help a business improve and achieve better results in the future."
A reassuring fact – since as business owners you are reliant on reviews for so many things, including ranking higher in Google search results. The harder part is encouraging this behaviour.
A few tips
After their appointment, send your clients an email or text message asking them to review you (this you can automate with Phorest Salon Software).
Encourage your staff to ask clients for feedback. Perhaps even incentivise your team by rewarding mentions of their name in reviews.
Share positive reviews on your social media accounts and put an emphasis on how you love reading them or how it helps you grow and better the client experience.
Start a campaign where you drive people to leave a positive five star review for your salon or spa on Google.
On the flip side, make sure you're also proactive responding to both good and bad reviews.
To get more online reputation management insights from David Linde & Gayle Fulbright of Headlines, The Salon, listen to Phorest FM Episode 123, and subscribe to the podcast here:
Now, about the bad reviews. When a customer is unhappy, it means that in some way, they are passionate about what you provide and good customer service matters to them. Transparency is vital, and you should treat the complaints of salon customers as a free critique. Why? Because without knowing, how can you monitor, measure and improve your services and, turn those salon customers back into happy advocates? Here are some steps to help you navigate the situation:
Respond promptly.
Take the issue offline and contact your customer privately.
Be polite.
Request that defamatory salon reviews be removed.
Take negative testimonials seriously.
See the good in a bad review.
Share the negative comment with your team and build a customer centric mindset within your salon.
The online reputation masterclass
From building a wealth of 5-Star Google reviews to managing how clients treat, react and rate your business online, this webinar is not to be missed!
Watch the hourlong masterclass on-demand and learn:
What your online reputation means and looks like
How to get hundreds of 5-Star Google reviews
What to do to ensure that your salon has the very best online reputation
How to automate the bulk of the work so you can focus on delivering a constant 5-Star experience for your salon or spa
Interested in learning more about how the Phorest Online Reputation Manager can help grow your business, or about getting online with a salon booking system that integrates into your website and social channels? Get a demo or a quote today!
And for any feedback or tips you want to share, let us know either in the comments below or tweet us @ThePhorestWord! (Pssst! We're on Instagram too!)
Thanks for reading! #LetsGrow