For the past 12 months, Verna Wall, Rich Cullen and the Phorest Research Team have been on the road visiting salons and on Zoom, starting conversations with business owners all over the world. They have been looking at the data and asking questions, all with a simple motive–to find out what the best salons are doing to be successful.
Now the dynamic duo take the stage at the Salon Owners Summit to share their findings.
All the best salons are doing the same three things.
They are:
Attracting dream clients
Client-obsessed
Open to flexibility
Close your eyes and picture your five favourite clients just walked in the door. Rich prompts the audience to think of the faces of these clients so you can consider who they are specifically. Identifying your current dream clients and understanding what makes them so valuable is the first step to attracting more clients like them.
Here are some of the most commonly cited characteristics of dream clients according to Phorest salons:
They leave loads of 5-star reviews
They are easy to rebook
They follow, like and comment on social media
They tell their friends and family about your salon
You can even use the reporting tools in your software to help you take this investigation further. For example, run some reports to filter your client list by average spending and rebooking rate.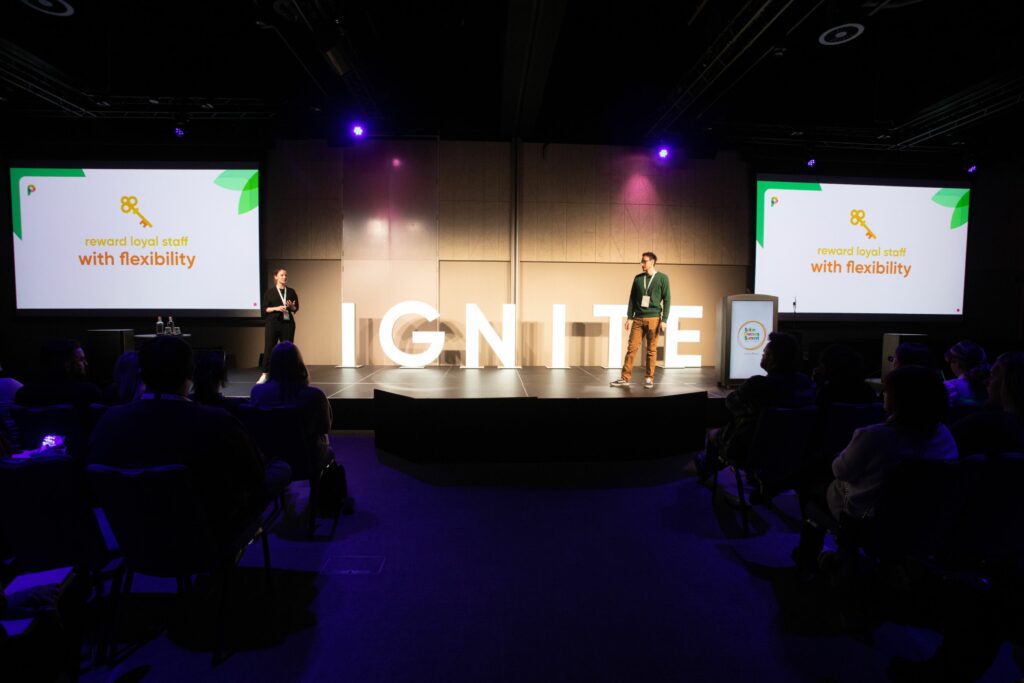 The next step is understanding who they are beyond how they behave as clients.
Who are they as people, and how is your business appealing to their needs? Eventually, you'll want to be specific to determine your niche. However, if you are just starting out, avoid being overly prescriptive about the types of people you assume are ideal clients. Instead, allow some time to let them reveal themselves to you.
When Verna and Rich spoke to Daniel, the owner of DKUK in London, he told them how he expected his clientele to be nearly exclusively art lovers like himself when he first opened his salon. However, with its novel concept, his salon soon drew in clients in a way he didn't anticipate. DKUK describes their salon as "haircuts in front of art." A contemporary art gallery and salon hybrid, they have removed all the mirrors and hung art pieces in their place.
Along with art lovers, this soon attracted interest from transgender and LGBTQ+ clients and those with body dysmorphia, anxiety or, for whatever reason, experience difficulties sitting in front of a mirror.
Learn More on the PhorestFM Podcast: Kristin Rankin & Lauren Wilde on Running Gender-Affirming Salon Spaces
In a Phorest survey with over 13000 hair and beauty clients,
68% of respondents said they rely on a family/friend referral or word of mouth when looking for a new salon.
When you are continuously attracting the right clients, the growth cycle repeats. The best way to get more dream clients is through referrals. Still, according to Rich and Verna, the best salons know that it is essential to support this cycle of referrals with your own brand awareness efforts. In other words, you must be visible in the places (online or physical) where dream clients spend time outside the salon.
One way to do this is through brand partnerships. Again, it's not an entirely new concept. However, it has evolved recently as the "shop local" trend has picked up steam since 2020. To illustrate, Rich and Verna direct the audience to the screen behind them for snippets of research calls and creative examples from Phorest salons.
Related: The Salon Owner's Guide to Social Media
Here are a few to give you ideas:
Offer exclusive discounts for members of the nearby gym, yoga and pilates studio (and even dentists' offices!)
Volunteer to support with hair and makeup for a community theatre group in exchange for promotion
Sponsor a local festival like Pride
Host a charity event, raffle or fundraiser for a good cause near you.
Here are more ideas from real Phorest Salons:
SJ Establishment in Adelaide, Australia, hosts a paint-and-sip party in their space as part of the Adelaide Fringe Festival
Barbers and Beer in Helsinki, Finland, partners with a local craft brewery to bottle and label their own craft beer to sell in their barbershop and give to patrons to try out when they are sitting in the chair
Togninis in Brisbane, Australia partner with a local charity, The Terry Towel, which take plastic out of the ocean and convert it into sustainable hair towels
Joesph Anthony in Philadelphia, Pennsylvania, is the preferred salon partner of the Philadelphia Eagles Cheerleaders, who often feature on social media when they visit for appointments.
Tropical Popical in Dublin, Ireland, partnered with the Nation Gallery of Ireland to respond to the collection with a nail art exhibition.
Play the long game by building brand awareness
These types of efforts are not a recipe for instant results. However, the positive impact on your salon's name recognition and reputation will build up over time. Sam James from SJ Establishment says, "It's that brand awareness. Do I get stacks of clients from it? No, but they are all local. It's about another way they can see us, another way they can judge us because we are being a part of the community and we are collaborating with local businesses."
After all that inspiration, Rich and Verna summarise the key action points you can try to attract dream clients.
Make a list of your top 50 clients
Ask them about their interests. Find out where they enjoy spending their time
Call a local business that matches your company values and fits with your dream clients.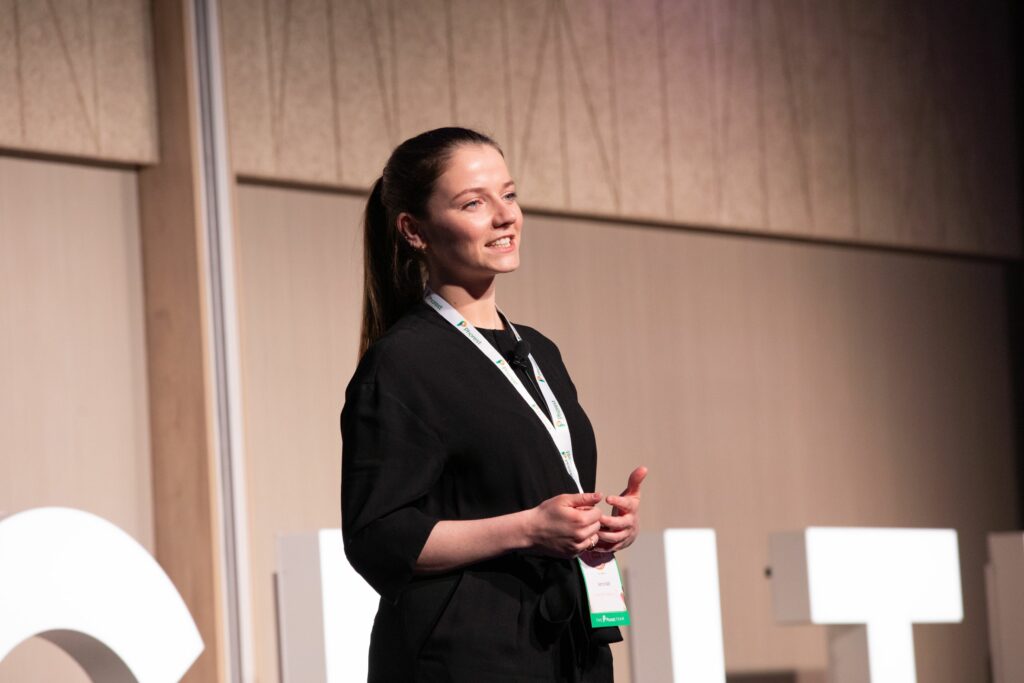 All the best salons are client obsessed
To open the discussion on this next point, Verna shares some of the 2022 Phorest Consumer Discovery Survey responses. In the survey, Verna and her team were particularly interested in the open-ended "Magic Wand Question," where they asked hair and beauty customers ", If you could wave a magic wand, what would you want to see from your salon?" Analysing the responses they received, the Phorest Research Team found that the most popular answers related to in-salon experience.
For example:
A coffee station
Prosecco/cocktails
Massage chairs
Better lighting
More space
A 5-star experience is a combination of thoughtful details
Verna shows the audience another recorded video call. This one is with Kristian Togninis, the owner of Togninis in Brisbane, Australia, who conveys the attention to detail he and his team put into every step of their client's journey through the salon.
"The way that I teach the staff how someone sees the salon when they come is that of a blind person. You are directing them around the salon to make them feel comfortable. And I think that gets missed a lot. Some will just go 'take a seat' or 'come through with me.' It's about using your verbal cues too…making sure you are using the client's name, making sure you are using your name, making sure you are explaining things along the way throughout the whole salon."
After all this work to attract dream clients and make them feel at home, you don't want to lose them with a lukewarm first impression.
Use your salon software to track the retention rate of first-time visitors to your salon–they are too expensive to let them walk out the door. This is why it's also vital that you make a lasting first impression. As Rich and Verna explain this, they roll another clip from Sam James of SJ Establishment.
Here is her go-to move for wowing new clients in her salon.
"I have little brown sustainable boxes. I have my sticker logo on them, and we do a $30 voucher..we always print them on a little postcard…looks really professional, says 'Welcome to Our Community. Please enjoy $30 off your next colour service when you return. And we have hair ties, lollies, and expandable face masks that I just get on Amazon or eBay and just change it around sometimes.. It's just a little goodie pack and some samples of some of the products that we have as well. And, yeah, it's really well received. People just see it as a lovely touch. I always say to people if you are going to do it, don't do it really cheaply. Like it just doesn't work. You need to actually make sure it feels like there is some value in there."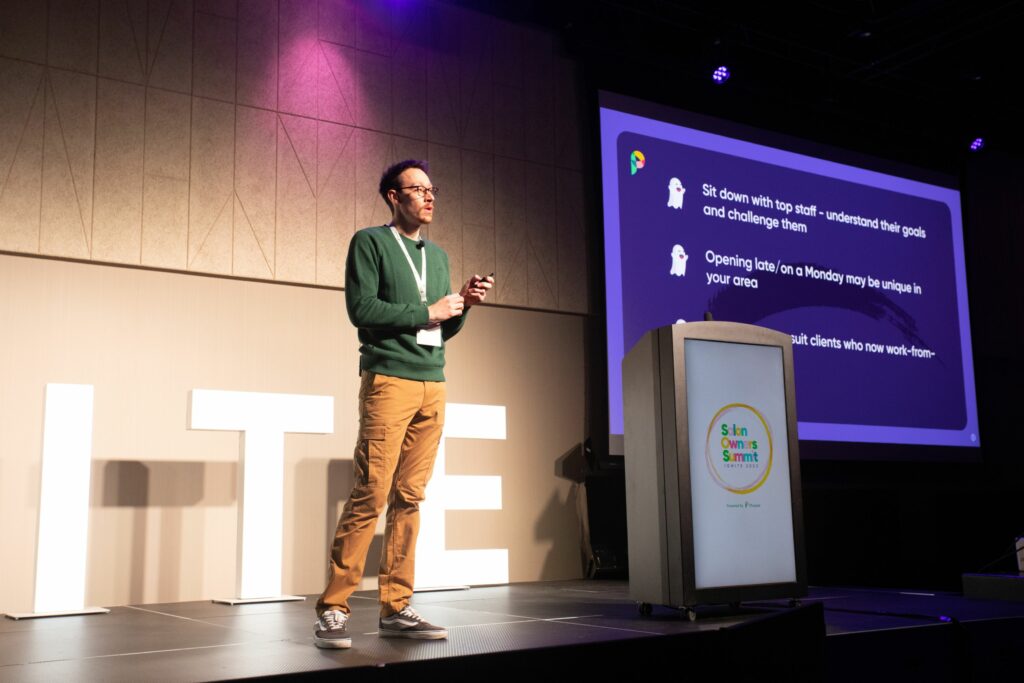 To conclude their talk, Rich and Verna transition to their third and final point: all the best salons are open to flexibility. Over the last 12 months, the Phorest research team asked salon owners and managers their biggest problem. The resounding answer? Staff retention.
With the popularity of self-employment growing among hair and beauty professionals, Phorest surveyed these staff members to learn more. As Rich explains to the audience, we asked them, 'what was the biggest reason for leaving your salon to become self-employed?'
There were four answers we got:
More autonomy
More money
More flexibility
More control of clients
However, flexibility was by far the most prominent answer. "That's not too surprising," Verna remarks, "a better work-life balance allows stylists and therapists to make plans with their friends and family who work the traditional Monday to Friday, 9 to 5 or those who have kids can have two-day weekends with their family without taking their four Saturdays off a year. But is there anything that you, as a salon owner, can do? The simple answer is yes."
Related: The Salon Owner's Guide to Staff Retention
Verna continues to describe how successful Phorest salons adapt. She says that "they are rewarding high-performing, loyal staff with increased flexibility to tackle that problem of staff retention." And with that, Rich and Verna begin to wrap up their talk at the 2023 Salon Owner's Summit. They finish with one last clip from a call with a salon owner that encapsulates this point. Before they play it, Rich interjects, "this is the clip that I think is the most important out of everything we said today."
Liam, the owner of Black Amber in Dublin, describes the pandemic has prompted them to try a new method for scheduling staff.
His voice echoes through the convention centre,
"Gone is the day when 80% of your business was between a Thursday and Saturday…what we've done at Black Amber now since Covid, we split the team to work on alternative days. And what we learned from that is, that really talented stylists, who tend to work predominantly off-request clients–no matter what days of the week they work, they will attract their clients in on those days. The clients that would normally come into them on a Saturday will still come into them on a Monday or a Wednesday or whatever other day. In our learnings from that, we looked at how much better it was for the business
… instead of going back to the pressure days where you were absolutely jam-packed and trying to fit in every client, now the business is actually spread across the week. So Monday is as busy as Saturday in how our business works now. It's made the salons more relaxed, it has created more flexibility for the team members because gone is the day when you had 4 Saturdays off a year. Now you can have Saturdays off on a regular basis. So it's given them a much better work-life balance."
Here are Rich and Verna's concluding tips for staff retention in 2023.
Which of these might you try out yourself?
Sit down with top staff to understand their goals and challenge them
Opening late/on a Monday may be unique in your area
Mid-week may suit clients who now work from home.
Trial more flexible hours with one staff member and monitor the impact
Keep Learning from the Experts
Read more of the 2023 Salon Owners Summit Recap
Feeling the Salon Owners Summit FOMO?
Want to make sure you're in the room to hear all the insightful talks next year? Pre-order your tickets for the Phorest Salon Owners Summit 2024.