It's one thing to dream about owning your own business, but converting those dreams into reality takes careful research and planning. Underestimate the costs of running a business, and there is no profit left. A salon/spa business plan helps to clarify your thoughts and ideas and can act as working document that you refer to (and tweak) during both the initial set up and the day-to-day running of your salon business. It can help you spot potential problems, mitigate their risks and act as a useful benchmark to track your progress. Developing your business plan once you're up and running helps you to step back and look at what's working in your business and what you can improve on.
Listen to the audio version of this blog, and subscribe to the Phorest Blog Podcast here:
Anyone Can Open A Salon, But Not Everyone Can Run A Successful One
Starting a business without a clear plan is like embarking on a journey without knowing where you're going! Consider your plan as a sat nav: it takes you on the fastest, safest, most sensible route.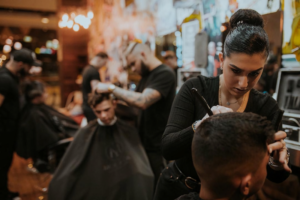 Imagine driving on the roads of a foreign country; one that you've never visited before. You'll follow the signs and get there eventually. One day!
In business, taking the longest route is time-consuming and expensive, and as a new salon owner, the two things you have least of are precisely that:
You need the shortest, fastest and cheapest way to get there. There are no shortcuts to building a successful salon, but there are smart itineraries.
Overcoming The Excitement & Making Focused Business Decisions
The excitement of owning your own salon can be so overwhelming that most salon owners look at a writing a salon/spa business plan as something boring and unimportant. Instead, they want to get straight into the fun stuff: designing the salon, choosing the location and setting up their social media.
Sadly, many salon owners have little business knowledge; they presume passion and skill are the only ingredients of a successful business. And while they are important factors, a lack of business skills can massively impact your success. It's one of the reasons so many salon owners close their doors within the first 5 years of opening.
Anyone can open a salon, but not everyone can run a successful one. That means you need two things:
Know where you're going
Know how to get there
What Will Happen If You Don't Plan?
How will you know that your salon's blueprints will be financially viable and work in the real world?
You need realistic expectations of how busy you will be and how you will cope during quieter periods. If you don't know where you're going, then you'll get bogged down with superficial, everyday things that will tie you in knots and stop your salon from growing. You might also seriously underestimate the costs of running a business or over-egg the financial forecasts. Finally, if you're thinking of getting funding, then a business plan is going to be mandatory.
And In Turn, If You Plan?
One of the many positives that come from having a salon/spa business plan is that you avoid the nasty surprises, can foresee possible bumps in the road and put a plan in place to better manage them if they do come up. In short, you'll prevent the business from taking control over you.
What You Need To Do Now
Get as much business help as possible. Ask friends, family and acquaintances that own a business for some insider tips.
Do a SWOT analysis. Find out where your strengths, weaknesses, opportunities and threats are.
Search for salon/spa business plan templates online. 

There are many different resources readily available to help you write your business plan, including mentors, books and internet searches.

Join Social Media business pages and groups. Don't be afraid to ask for advice.
Find a mentor. Business mentors are usually people with extensive business experience or with a specific skill set – say marketing or finance for instance.
Next, Create Your First Salon/Spa Business Plan
It might seem overwhelming at first, but it doesn't need to be complicated. Remember why it's so important and how it can help you work out your goals and the strategies you need to put in place to achieve them. Make sure you focus your resources and energy on what you need to do, rather than spreading yourself too thin.
Once you've got a business plan in place, it's a good idea to review and update it regularly:
Remind yourself of your goals and priorities

Assess whether your strategies are working
Adapt to any changes in your environment

Make the most of opportunities as they come your way
Should you require funding from a bank, you will need a detailed plan covering all financial forecasts. The bank could assign you a mentor as part of their service, or you might have to download a template online and work your way through it. Businesses have a far higher chance at getting funding if they have methodically gone through the planning process.
If the plan is just for you, a basic one-page document can suffice and consist of an executive summary (or a Lean Plan). It should contain the following:
A description of the problem your customers have
Your solution (your product or service)
Business model (how you make money)
Financial summary

Funding required
Related | A Quickstart Guide To Salon & Spa Business Permits In The UK
Final Thoughts
You should attempt to do this yourself. This is your dream; only you know its potential and how you want it to be.
A business plan is not a document you create once and store in your bottom drawer. It's a living guide that you should develop as your business grows and changes. Successful businesses review and update their business plans when circumstances change. If you're looking to learn more on opening a salon or a spa, check out my book 'Setting up your Hair, Nail or Beauty Business' which will guide you every step of the way.
For more great tips, check out our full resource on how to set up, run and grow a successful salon business.
Thanks for reading! #LetsGrow
Looking for personalised advice on writing your first salon/spa business plan? You can always connect with Julie on LinkedIn! Got general feedback or want to know how Phorest's salon & spa management software can help grow your business? Let us know either in the comments below or tweet us @ThePhorestWord! (Pssst! We're on Instagram too!)
---
Featured image shot on location of Leeson Beauty Lounge, in Dublin. © 2018 Phorest Salon Software.