We asked over 250 salons what their biggest challenge is when it comes to owning and running a salon. As you well know, venturing out on your own to start running a salon is risky and emotionally, physically and financially draining. But something so rewarding rarely comes without hard work and its fair share of challenges.
We asked 250 salon owners and managers two questions:
What's your biggest challenge when it comes to running a salon
What specifically about running a salon do you find most difficult
Here's what they had to say…
First things first. Who was answering the questions?
A mixture of salons answered the questions:
Beauty salon – 53%
Hair salon – 22%
Hair and beauty salon – 11%
Spas – 8%
Other 6% (e.g. barbers)
Of these salons, 60% were located in the UK while 40% were located in Ireland.
The biggest challenges – breakdown of the 250
When asked about the biggest challenges, there was three clear winners. Amazingly, this was the case in all types of salons – beauty faces the same problems as hair and as spas.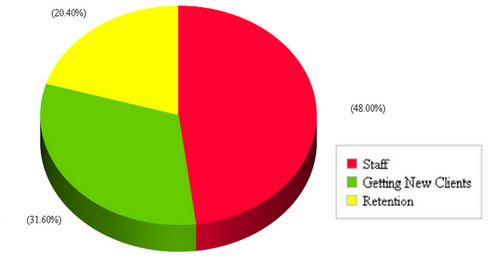 Over 48% stated that managing and motivating staff was the most difficult aspect of running a salon
Almost 32% stated that getting new clients was the most difficult aspect
Approx 20% listed that retaining existing clients was the biggest challenge
Other significant issues stated by salons were marketing (17%), time management (15%) and selling retail (11%).
To put that in context, managing and motivating staff is almost as challenging as getting new clients and retaining existing ones combined i.e. the greatest challenge lies internally within the business more so than in the marketplace.
What is it about these problems that are so challenging?
1. Managing and motivating staff:
Unsurprisingly, staff is the biggest issue. When asked specifically about the challenges, the following were the main pain-points:
1. Keeping them happy within the job and keeping them motivated
2. Getting them comfortable with selling
3. Avoiding confrontation when dealing with issues
4. Consistency of work from day-to-day
5. Dealing with absenteeism as a result of holidays, sickness, pregnancy etc.
2. Getting New Clients:
Interestingly you can see discounting, social media and general awareness were the biggest issues when getting new clients:
Coming up with marketing ideas outside of discounting
Advertising and Facebook not working in terms of bringing new clients through the door
Potential Clients knowing the salon actually exists
Discounting is always a temptation. The reality is though not every client wants the cheapest style or treatment and once you start discounting, it's hard to get back to a more profitable point and get them back to buy at the regular price.
Facebook is also a great tool to drive 'word-of-mouse'. The temptation is to just tell people how great your salon is and run special offers and competitions. But that's where the real value is on Facebook. We have a great resource for salons called 'The Salon Owner's Ultimate Guide to Facebook.' To find out how to get your copy, read last week's blog post.

3. Retaining Clients
Three main issues arose when talking about client retention.
Justifying prices to clients in comparison to cheaper competition
Justifying prices to clients who use home services
Staff not re-booking clients
Again discounting is causing problems. Lowering prices however is not the way to retain clients. Giving them a wow experience that gets them back more often is the fastest way to grow.
Phorest runs a loyalty programme called the 'TreatCard'. We recommend giving clients points for every euro spent. When they reach a certain amount of points they get a product or service for free. Here's the difference though, they only ever get a product or service they've never had before. Now your clients feel loved and rewarded and your retention rates improve.
Conclusion:
Thanks to all those who took part in the survey. We're going to be doing a series of posts addressing these three issues, particularly staff. Don't forget to subscribe to the blog so you don't miss out. Thanks for reading!
Were you surprised with the results? Tell us what your challenges are in the comments below.
Ronan Perceval is founder and CEO of Phorest Salon Software. Have a question for Ronan and the Phorest team on this post? Drop us an email here marketing@phorest.com
Why not request a demo of our salon software today? We can help you get more clients, back more often spending more!