Every great business owner in this industry has made many salon marketing mistakes – it's 100% normal. Testing by trial and error is a necessity: it's what will help you find out what marketing strategies work for your business.
From working with thousands of salons for over 10 years, we've observed, learned from and experimented with almost every salon marketing technique – from price to promotion to retail both online and off. Here are 5 marketing mistakes examples to avoid. Save yourself money, but even more importantly, a lot of time.
The Truth About 5 Common Salon Marketing Mistakes
# 1: Daily Deals


The guarantee of running a busy salon with little or no effort is almost too good to be true. Daily deals may get people in and keep your staff busy, but it's a false economy in its whole. Daily deal sites are essentially a virtual salon.
Let's say a potential client receives an email offering them 65% off a facial, you may think it's a great opportunity to get them in the first time and then the next time, they'll purchase the facial at full price, right?
Wrong. That same client will receive another offer for a facial some weeks later for a different salon. In reality, the daily deal site owns "your" customers, and is just using other surrounding salons' facilities.
In the end, you make virtually no money and can alienate loyal clients by giving strangers discounts instead of rewarding those who've been sticking with you for years.
The Reality

Thousands of daily deals have been put through Phorest Salon Software over the years. The highest number of returning clients we have seen is 3%, while the average is only 1%. It's easy to understand why daily deals are at the top of our list of salon marketing mistakes!

The Solution

Couple your amazing customer service with a loyalty program. Doing this will drive referrals and increase retention rates. That's what grows a salon year-on-year. Read more about the importance of salon client retention in this article, or click here to view an infographic on the matter.
#2: Discounting On Facebook

Salon marketing mistakes on social media can be very common!
Status update: 50% off this, half-price that for a "limited time only". Many salons have gotten deep into the discounting game on Facebook and their business page has become a mini-deal site in itself.
A few problems arise from this. First, people won't engage with your content if it feels salesy. Then, Facebook will show your content to fewer people over time. Soon, you'll notice your account feels as empty as your content; content which will only be seen by about 2-3% of the people who like your page.
In addition to the above, you're cutting your margins, devaluing your service and diluting your brand. A page that continually promotes discounts creates the impression that it's a struggling salon.
The Reality

By always cutting prices you damage your salon's reputation and a end up with a Facebook page that gets little engagement.

The Solution

Provide amazing content that makes you look like an expert – everyone wants to feel they're spending their money with the best. Click here to download a free copy of Phorest Salon Software's Ultimate Guide to Facebook. Alternatively, if you do need to run a special offer, choose ideas that don't undermine your prices. Click here for some examples.
#3: Adding Your Salon To A Listing Site

There are loads of salon listing sites out there. You search by area and then click through on your chosen salon.
There are pros and cons to these sites, and they need to be handled with care. When someone sees the listing site in your salon and searches on the site, they will also see your competitors. Our feeling here in Phorest is that yes, you can list your site on them, but don't promote them in your salon. If they are already in your salon, don't give them the opportunity to find out who else is close-by.
Also, important note: many of the listing sites don't integrate with salon or spa software. In other words, when someone makes a booking, you have to manually enter the appointment and in some cases call the customer back last minute with an alternative date or time as they've booked at night for the following morning.
Having your own online booking on your website or a salon app solves this problem, and helps you get discovered without being surrounded by the competition.
The Reality

The listing site works for clients who have never heard of you. If you promote it in your salon however, you are only increasing the chances of other salons being found.

The Solution

It's fine if you want to be listed but having your own online bookings is way more efficient regarding driving business. Promote your salon, not the listing site. To find out how to get the most out of an online booking feature, check out this article. Also, here are our top 9 favourite ways to market the feature.
#4: Advertising In Local Press

You probably get a call every week from your local newspaper asking you to advertise. While the local media are great for gossip, local news and a great way to promote your business via PR, don't fork out cash for column inches. Why?
Let's have a look at the example below: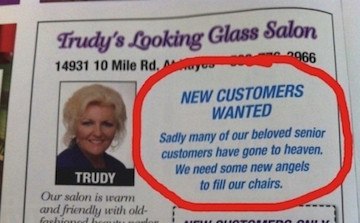 First, you are targeting a very broad audience. Second, some studies show that you are 10X less likely to read an advertisement than an actual article.
Why pay more for the less efficient method?! Instead, ring the paper with a great story about your business: an anniversary, an award, etc.
The Reality

When it comes to ROI (return on investment), local press advertising is one of the many marketing strategies to avoid, especially for a salon owner a small budget.

The Solution

Write a press release about something newsworthy going on in your salon and contact your local paper with it. To ensure your efforts are seen, shared and clicked on, have a look at how to write an effective press release for your salon.
#5: Using A Coffee-Type Loyalty Scheme For Your Exclusive Services

The last but not least on our list of simple, but costly salon marketing mistakes is one about loyalty schemes. Many salons use coffee-type loyalty programs: "Buy four facials and get the fifth one free."
While you are rewarding clients, you are just discounting a service the customer was willing to pay full price for in the first place. Over time, this decreases your client's average spend.
The Reality

Coffee-type loyalty schemes basically just discount services your client would have paid in full anyways.

The Solution

Run a loyalty program based on points. This way, when you build up points, you are rewarded with a product or service that you've never had before. This rewards and upsells. For more information on building a successful loyalty program, have a look at this 3-min read.
With all this information, it would just be normal for you to have questions! Why not tackle Facebook advertising best practices for a start?
Watch our Phorest Academy Facebook Masterclass today!

Thanks for reading!
#LetsGrow
---
Editor's note: This 'salon marketing mistakes' post was originally published August 7th, 2014. It has since been updated for clarity of format purposes.