Following the smash success of the first #30Days2Grow challenge last July, we are back with brand new challenges that all aim at growing your revenue and your client base! Kicking off on April 1st, 2018 and continuing throughout the rest of the month, we are galvanising the industry in a one-of-a-kind challenge and just like last year, we're inviting salons across the world to join! Will you and your team accept the 2018 #30Days2Grow salon challenge?
Listen to this episode of Phorest FM during which, one month after having completed the challenge, Lilac Miller, salon owner of Sleeping Beauty Inverness, looks back on the experience.
The 2018 #30Days2Grow Salon Challenge
#30Days2Grow is a free initiative which aims to help salons grow their businesses and their average bills through a series of daily challenges & tasks which participants will carry out over the course of the month of April. This challenge involves no cost. Proposed tasks are designed to make you money – not take it away!
Every day, from April 1st to 30th, we will provide participating salons with a simple, easy-to-execute challenge designed to get their clients coming back more often and spending more. Don't worry; along the way, we will be providing you with exclusive tips, ideas and templates on how to accomplish each task.
Sign up here: www.30days2grow.com
Related

Why Did We Create The Challenge?
"Competition is fierce. Expenses have gone up. All this in the middle of a deep discounting culture!"
What you just read was the premise for the #30Days2Grow salon challenge, and why we put together a fun and unique way to help you grow your revenue by implementing some super easy ideas and helping you put your salon to the forefront of your clients' minds.
Who Can Participate & Is There A Group For People To Exchange?
Salon teams from all around the world! Participation in the 2018 #30Days2Grow salon challenge is open to both clients and non-clients of Phorest Salon Software. Teams don't need salon software to participate. And yes, we have a Public Facebook Group with 500+ members who all took part in last year's edition of the challenge. You won't ever feel alone, trust us! Sign up here: www.30days2grow.com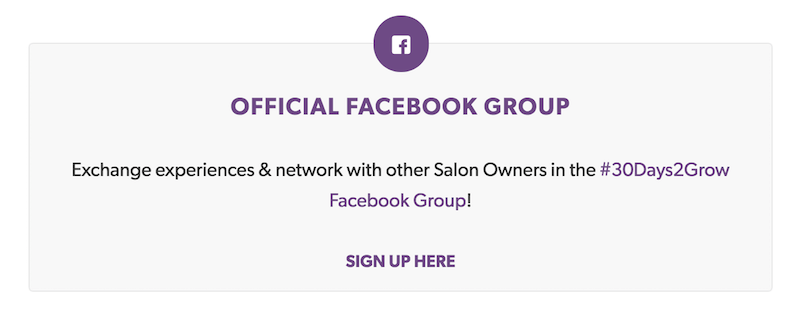 Challenge yourself and join thousands of other salons to kick off spring with success! Then, come April 30th, let's look back in amazement at all the growth and progress we have made!
Registration and participation in the #30Days2Grow Salon Challenge are free. All you need is a little bit of drive, motivation and hunger for success! Sign up here: www.30days2grow.com
Got feedback? Let us know either in the comments below or tweet us @ThePhorestWord! (Pssst! We're on Instagram too!)
Thanks for reading! #LetsGrow