As many of you know, the Phorest team is always open to helping out clients with their salon business questions in any way we can, and a recent request for some website advice got us thinking. What exactly are people looking for when they visit a salon website? And how can you make sure customers choose your salon over a competitor if they're shopping around?
Listen to the audio version of this blog, and subscribe to the Phorest Blog Podcast here:
Surveying our social community
We put the question out to all the salon owners on our social community, and we got plenty of interesting feedback (we've blurred out names and pictures for privacy).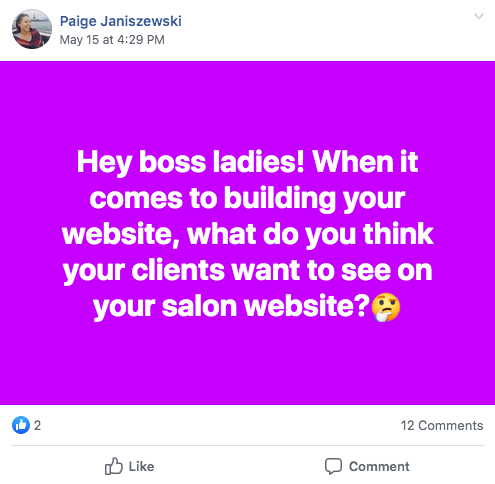 Many thought clients would be interested in the salon's story and values, as well as information about the salon owner and the staff.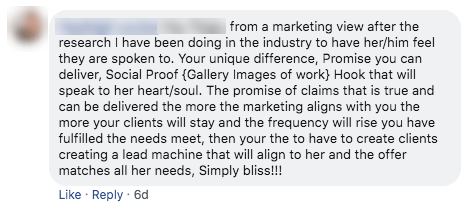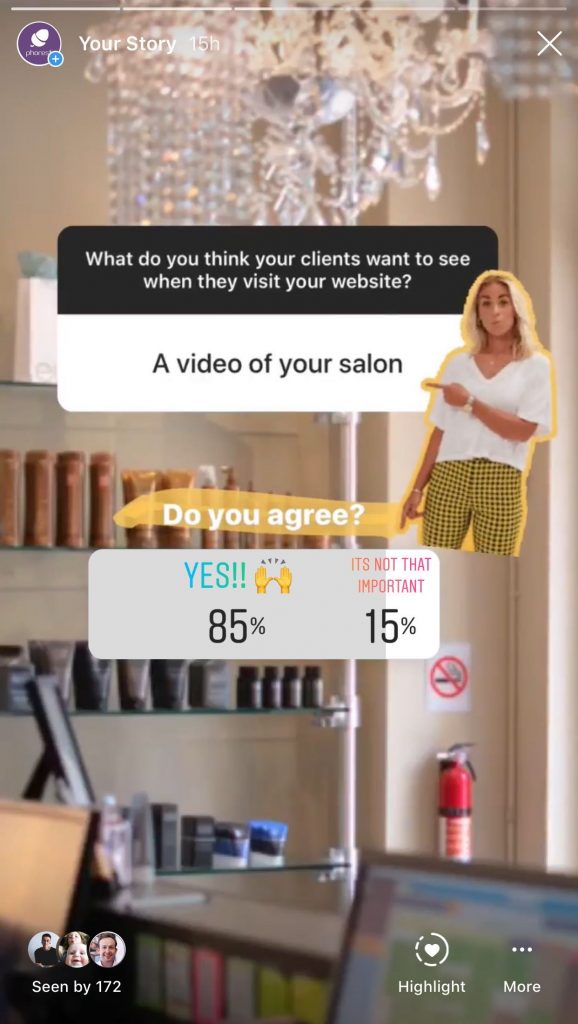 Others thought the service list or menu was the most important thing on the website, as well as making sure the pricing was up to date.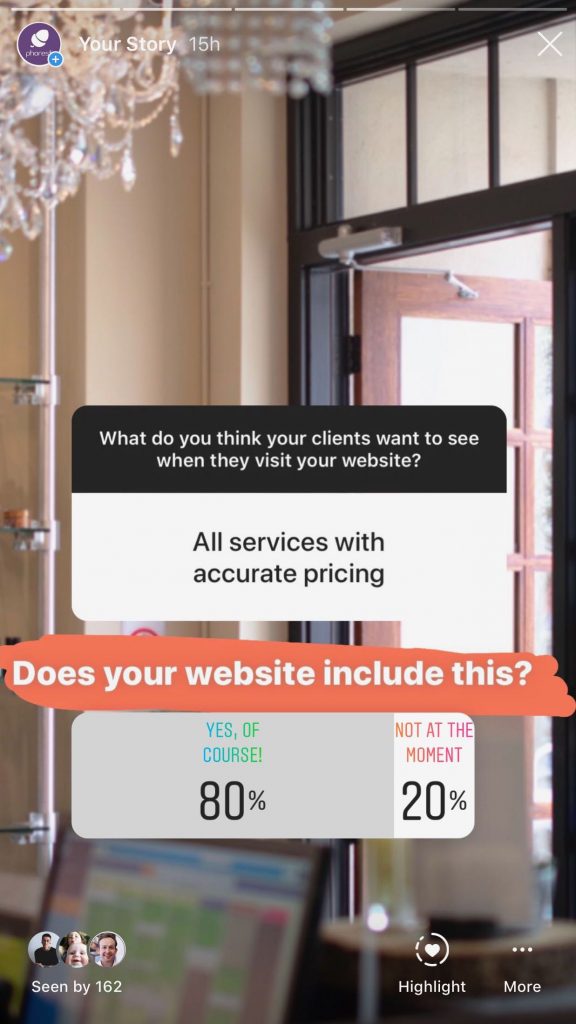 We got so much feedback from salon owners that we decided to compile it all, and put it to real life salon clients to let them choose their priorities. These are the results!
What features are important on a salon or spa website?
We broke our questions down into two categories. First, we asked what features or pages people wanted to see on salon or spa websites.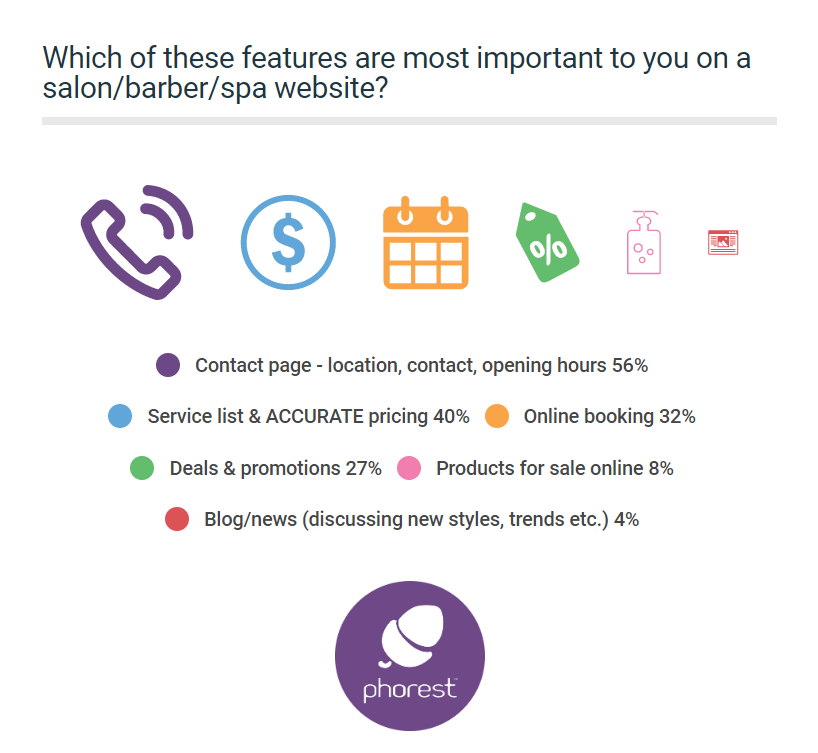 Contact page with location(s), contact info and opening hours
At the most basic level, what people really want from your salon website is a good contact page. Somewhere where they can find your location(s), contact information and opening hours. 56% of respondents chose this as the number one thing they wanted to see on a salon website.
While it might seem like a no-brainer, it didn't actually come up in the responses we got from salon owners. More, a surprising number of salon websites aren't doing it right. Checking 100 salon websites revealed only 25% had a map of their location on their contact page, and only 62% prominently displayed their opening hours.
Service list and pricing
Identified as the second most important feature on a salon website was the service list and pricing. 40% of respondents wanted to check the services offered before making a booking. Additionally, many respondents commented on the importance of keeping prices transparent, accurate and up-to-date after being taken aback by a large bill at the end of a previous salon visit.
Online booking
Online booking is becoming increasingly vital for salons, with 32% of salon customers flagging it as important to them. This is confirmed by our most recent research, which shows that 46% of bookings happen online, when salons are closed. Phorest offers Online Booking linked seamlessly to your salon or spa software, centralising all appointments in one system.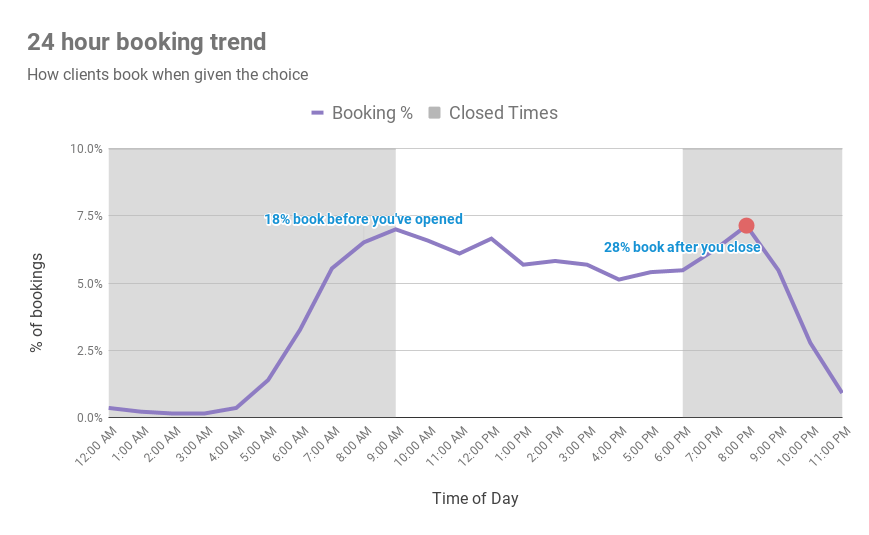 Even more interestingly, when we look at the age breakdown of respondents, 36% of millennials (age 25-34) and a whopping 43% of Gen Z (age 18-24) say they want to see online booking on a salon website. What age bracket do most of your salon clients fall into?
Recent research shows that millennials are earning more than ever before, and enjoy spending their cash online. So if you're looking to attract these demographics with ever-growing disposable income, it could be time to get online booking live for your salon!
Deals and promotions
Of those who say they regularly attend spas, 26% of respondents said they check a salon's website for any upcoming deals and promotions before choosing their booking date. If your competitor has an updated promotions page on their website and you don't, it could mean you're potentially losing over a quarter of new clients who are shopping around.
Products for sale online
With many salon websites now investing in rolling out e-commerce stores, this is an interesting one. Only 8% of respondents say they look for products for sale, with many adding that they prefer to buy either in the salon or on discount product websites like Strawberrynet or Amazon.
Blog and news on the latest trends
While very few people (4%) say they actively seek out blogs or news on the latest trends on salon websites, don't be discouraged; they're still a worthwhile addition to your site. Blogs are still a fantastic way to demonstrate your expertise, get more traffic from search, and improve your organic rankings.
What information is important to include on a salon website?
Next, we asked exactly what information people wanted to find when they visited the pages on your website.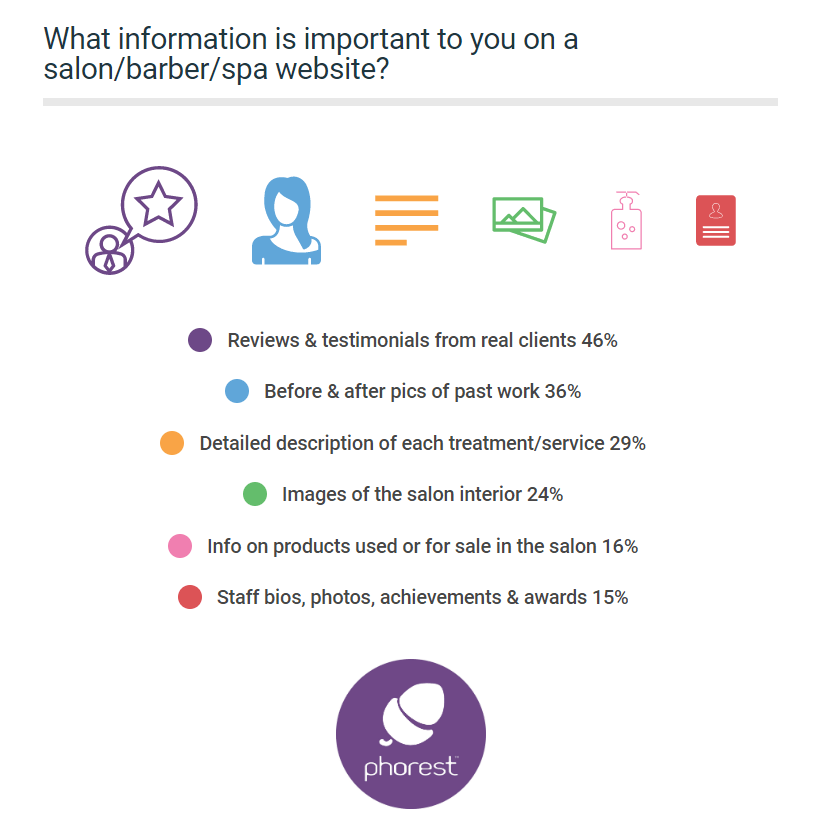 Reviews & testimonials
Above all else, 46% of potential customers say they want to find out if a salon is the right one to choose by seeing what other people think about it. To do this, many people will look up reviews about you on Facebook, Google and Yelp. However, you can make it easier for them (and keep them on your website, so they don't leave without booking). Simply add a feed of your reviews from these sites to yours.
While you may be worried that might mean a bad review could slip through the net and end up displaying on your website, fear not! Recent research shows that people put more trust in businesses with online reviews averaging between 3.6-4.4 stars. As long as you're seen to kindly respond to all your reviews and look to right any wrongs, you'll still be able to win a potential new client's trust. And if your online profiles could do with a boost of 4 and 5-star ratings and reviews, don't forget that Phorest's Online Reputation Manager can help you do just that!
Before & after pictures of past work
Once again, a top priority for 36% of people looking at salon websites is finding more proof that you're as good as you say you are. Fortunately, you have more control over what you display on your site with before & after pics. Make sure your staff are using the Phorest Go app to take and store before and after pictures of their clients. Once they do, you'll be able to search through the photo gallery weekly and upload the best of the best to your website.
Detailed description of treatments & services
There are so many new trends in the hair and beauty space that you can forgive customers for struggling to keep up. While salon websites show a list of their treatments and services, 29% of respondents would like to have a little more information than just the service name.
Many people, for example, won't know the difference between a mink lash full set and a baby Russian fill! Adding a description of what the treatment involves, its duration and the products used can mean the difference between a bamboozled customer leaving your website and a new customer excited to book their first shiatsu massage with you.
Images of the salon interior
A day at the salon or spa is usually a significant spend and a real treat for clients. It's only natural that they want to see where they'll be spending their time. Invest in some professional photography to make sure your salon looks its best online!
Information on products used or for sale at the salon
Salon clients were also interested in viewing information about the products used in treatments and for sale at the salon. Very few websites include this on their website, but the people have spoken, and 16% of respondents still look for this information in hopes of being able to buy those products online.
Staff bios, pictures, achievements and awards
Despite many of the salon owners we talked to identified 'information about the owner' as something they thought clients wanted to see, it was surprising to see only 15% of respondents agree. It's clear that the salon owner and team's background pales in comparison to the before and after results that they create; the proof really, is in the pudding.
Who did we talk to?
Finally, below, you can see the breakdown of respondents and the types of salons they frequent.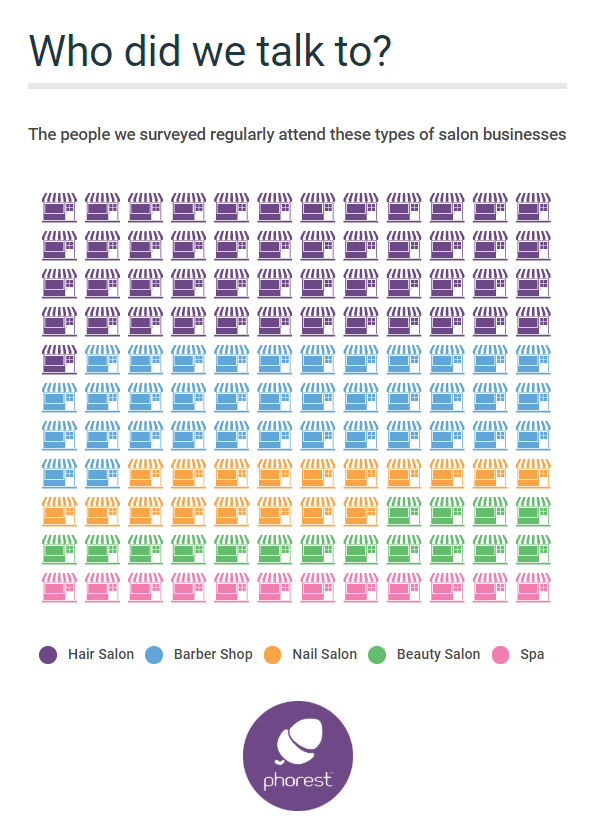 So that's it! The roadmap you need for your salon website!
For more great tips, check out our full resource on how to set up, run and grow a successful salon business, or check out more online features of Phorest such as Online Booking or our salon and spa booking apps. Alternatively, book a demo to see how our salon & spa management software can help your business grow.
How do you think your site stacks up? Was there anything that surprised you on this list? Let us know either in the comments below or tweet us @ThePhorestWord! (Pssst! We're on Instagram too!)
Thanks for reading! #LetsGrow