Your software, your way. The Winter Collection, like everything else at Phorest, started from conversations with real business owners and their teams. All year round, the doors are open to feedback and ideas for the kind of new tech they'd like to see. Our Phorest community is growth-minded and pushes us to innovate ambitiously–just the way we like it! 
We are proud to say our Winter Collection is shaping up to be the biggest launch of new features in Phorest history. So, each week, for the next five weeks, we will break it down for you, feature by feature, so you don't need to worry about missing a thing. This week we are starting with the headline act of the Winter Collection, the Phorest Ads Manager. 
If you run a hair and beauty business, you'll know that maintaining a social media presence is no longer just a nice idea. It's essential. Social media has become the primary platform where crucial industry discussions begin. Nowadays, businesses rely on social media to boost brand awareness and keep their community engaged. Social media is also increasingly the first port of call for clients searching for a new brand or where they expect to keep up with those they are already invested in.
Are you using all the tools available to make the most of the social media opportunity?
Social media is often touted as a universal "free" marketing tool, which is why paid social can sometimes feel like uncharted territory for many small businesses. However, those who know, know. Running social media ad campaigns is a powerful way of using social media to directly advance your business goals. And it's quickly becoming one of the most popular marketing tools available. In 2023, global spending on social media advertising is projected to reach $207.10bn
Why is paid social worth it? Paid social is a shortcut for reach.
The average internet user now spends 151 minutes per day on social media. This means that if you are struggling with clients ignoring your marketing efforts in other channels, for example, leaving your emails unread, you are more likely to catch their attention when they have their daily scroll through Instagram or Facebook. However, no matter how much work you put into crafting the perfect social media post, the number of people you reach organically simply cannot compete with the number you can reach with a paid campaign.
Unlock the potential of social media advertising with Phorest Ads Manager.
The Phorest Ads Manager is an industry-first innovation to help hair and beauty business owners and their teams navigate social media advertising. Based on Phorest research, too many salons, spas, and clinics are not taking advantage of the benefits of paid social campaigns, either because they lack the time and resources to manage it themselves or because they find it overwhelming to know where to start. The Phorest Ads Manager closes this gap so no one needs to get left behind.
Launch high-impact campaigns on Facebook and Instagram from the comfort of your Phorest system.
No social media manager? No problem.
Whether you have never run a single paid ad yourself or have been doing it for years, the Phorest Ads Manager has what you need to run polished and professional campaigns to generate revenue for your business.
100s of Templates to Customise
Create ads too good to scroll past. Phorest Ads Manager templates are a solid starting point for building your ads, designed by Phorest's expert in-house team.
Precise Targeting
The Phorest Ads Manager uses your unique client data to target the audience you want on Instagram and Facebook.
Monitor How Your Investment is Paying Off
Set your budget and timeframe and see your return on your ad spend. Inside the Phorest Ads Manager, you can track your reach, impressions, click rate, and how many bookings your ad campaign brings in.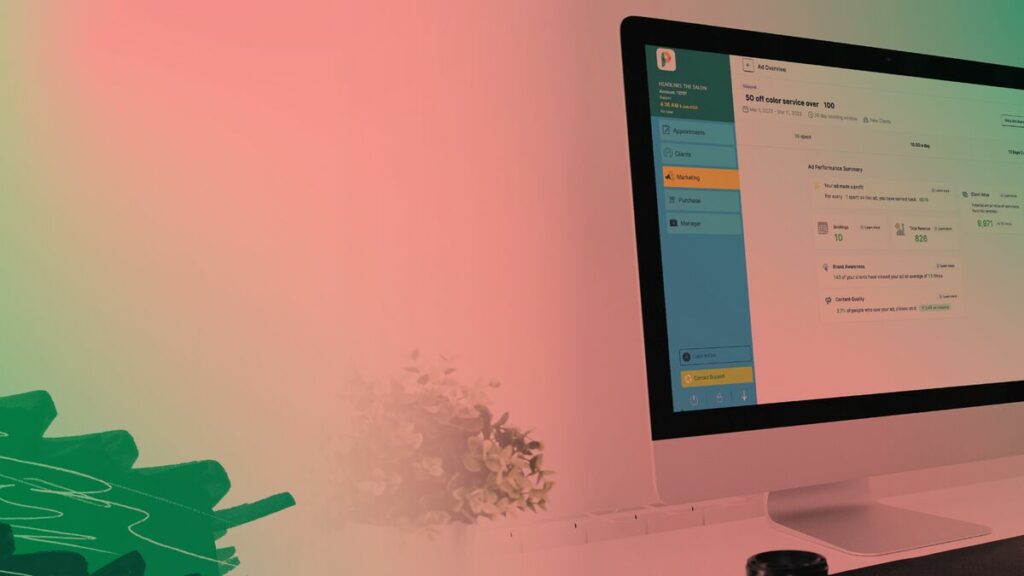 Find Dream Clients. Target Existing Clients. Recover Lost Clients.
The Phorest Ads Manager enables you to target three distinct client groups:
Brand-new clients
Your existing clients
Lost clients
Strategically target these audiences with a campaign that is most likely to have an impact. Promote an introductory offer or free consultation to new clients or a new type of service to existing clients. Want to increase bookings overall? Try a campaign that will appeal to both.
Phorest Ads Manager in Action | Avalon Salon in Chicago spent $140 on two campaigns to target their existing clients over 10 days. These ads were seen by 1386 existing clients and brought in 85 bookings amounting to $4818 in revenue–a 34 x return on investment!

Don't let lost clients slip away.
Lost clients are those people who used to be your regulars but haven't booked in the last 6 months. Phorest's Client Reconnect tool is ideal for reaching out to drifting clients via SMS, but now you don't have to stop there. Tempt them back with a special offer in a well-placed social media ad, thanks to the Phorest Ads Manager.
Phorest Ads Manager in Action | Headlines The Salon ran a campaign targeting lost clients with a total cost of $104 over 10 days. It was seen by 958 of their lost clients, resulting in 12 bookings and $921 in revenue.
Ready to try the new Phorest Ads Manager for yourself?
Reach out to your Phorest Business Advisor to discuss how to use it to benefit your business. See how Phorest Ads Manager works up close, in detail in the Phorest Help Centre.
Once you book them… retain them with a top-notch experience
Phorest has solutions to help you optimise every aspect of your client experience. So you can stress less and give them your best. Your outstanding customer service and our cutting-edge tech are a match that will help your business achieve its full potential.
The Salon Floor Series Episode 1: When Phorest Met Tracey
The Salon Floor Series are short films where we meet real Phorest salon owners where they are at–on the salon floor– to understand how Phorest fits into their typical day. In this first video, we head to Brisbane, Australia, to meet salon owner, and co-founder of Togninis, Tracey Tognini, to learn about how they have built long-lasting relationships with their clients.
Phorest Salon Owners Summit attendees got a sneak peek of the Phorest Ads Manager in January.
Want to be at the centre of the action next year? Get ready to ELEVATE your business at Europe's premier industry event for salon owners, the Salon Owners Summit in Dublin, Ireland. Kick off the year with more groundbreaking product demos, chats with the Phorest development team, and a world-class ensemble of speakers and special guests. Plus, a chance to network (and party) with hundreds of other like-minded professionals from all over the world.
Book Your Tickets to the Salon Owners Summit 2024. Act fast to secure the best early bird price.
Are you ready to wow this winter?
Learn more about Phorest Ads Manager and all the new features in our Winter Collection. 
#TogetherWeGrow