Social media marketing is a powerful tool that all businesses should be utilising to reach larger audiences and promote their brand. However, with so many businesses using social media, it can be difficult to stand out from the crowd. That's where social media hacks come in.
Social media hacks are simple, effective strategies that can help you get the most out of your social media marketing without having to spend too much time creating content or strategising. In this blog post, we'll share five salon social media hacks that are proven to help you achieve social media marketing success.
Use High-Quality Visuals in All Content
Whether you choose to post mostly photos or videos or a mix of both, visuals are one of the most important aspects of any social media channel. Your audience is more likely to engage with visuals that are eye-catching, clear, and creative, so it's important to make sure your posts are always ticking these boxes. While it's not expected that everything you post deserves a spot in an art gallery, your visuals should reflect the positioning of your brand – so a premium brand must always be represented with high-quality visuals. Try to always get the basics right; a clear background, natural lighting, and high-quality sound (if using video) are all a must.
| Check out The Hair Space Galway's Instagram for some high-quality photo and video inspo!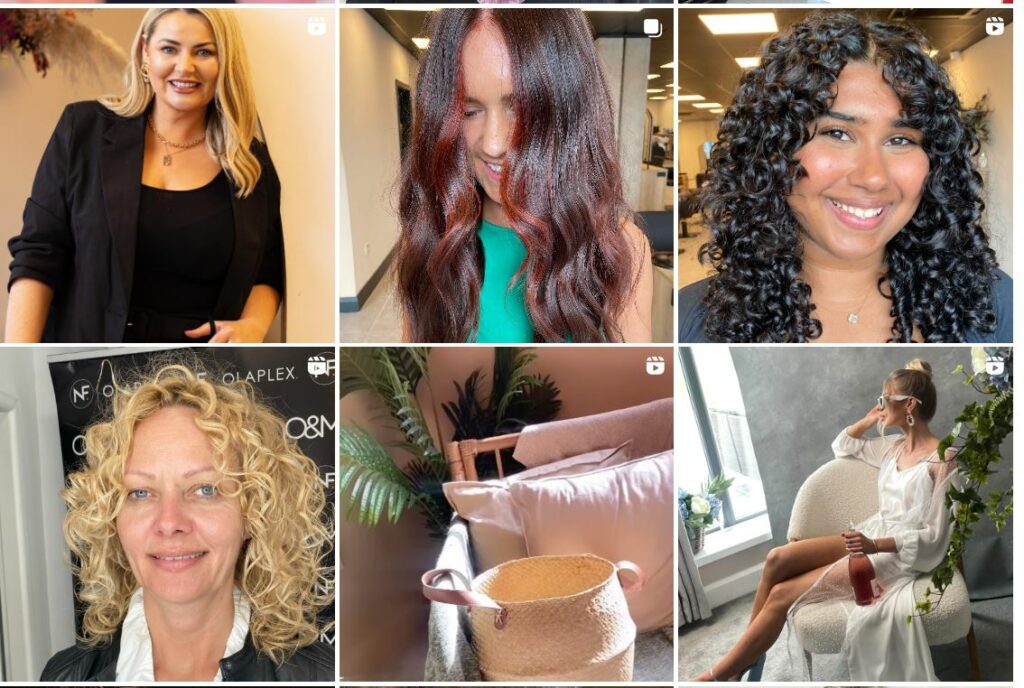 Unsure where to start with your visual content? Why not check out our guide to taking high-quality salon photos to start?
Post Regularly
Posting regularly is a tip that any experienced social media marketer will recommend! The more you post, the more likely people are to see your content. As well as that, social media algorithms tend to favour accounts that post more regularly to non-followers, meaning the more you post, the more likely you are to be shown to new audiences and attract new followers. Aim to post at least once a day on social media, but if this is not possible, sticking to a consistent schedule is the next best thing. When you post regularly, your business will stay top-of-mind with followers, making them more likely to visit your salon regularly and engage with your content.
| Haute Headz Salon in the US does this fantastically, posting across their main feed and stories multiple times a week to ensure they're always front-of-mind for clients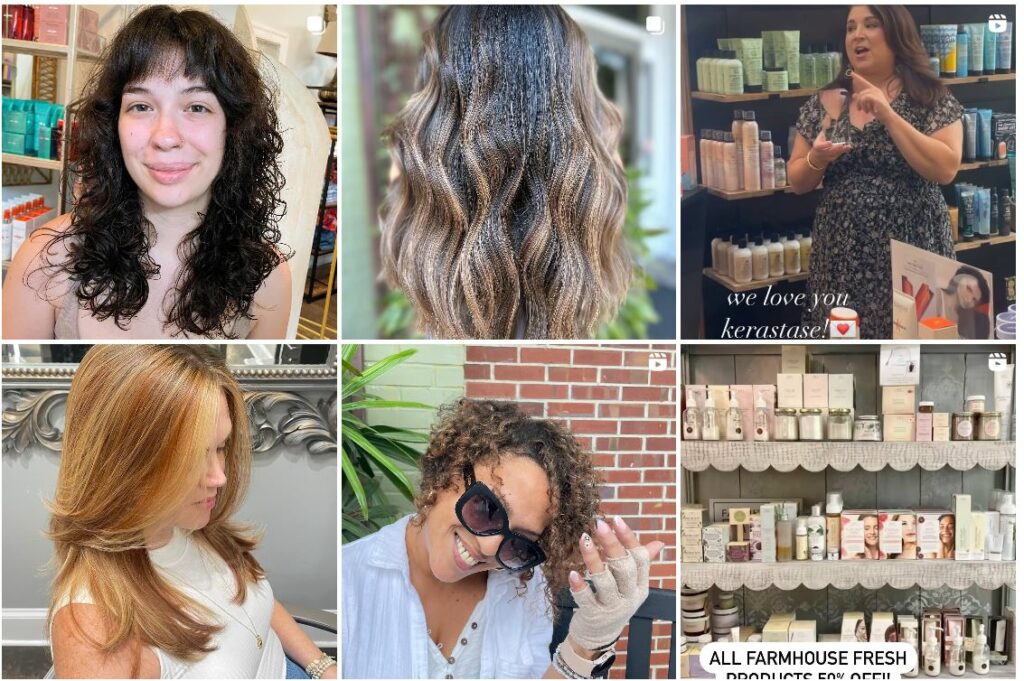 Build your Portfolio & Share it Online
The salon industry is a highly visual one, and sharing pictures of the work coming from your salon team on social media is a great way to show off your skills and attract new customers. When devising a social media strategy, creating a portfolio that showcases your salon's best work is vital. Using high-quality photos/videos of your team's work and adding relevant hashtags to the captions will help people find and engage with your content.
PhorestGo makes it easier to share on social media. With PhorestGo, your team can easily take and upload photos of their work and share them online with just a few clicks.
| Mimi Et Mina in London has an impressive portfolio of weave and textured hairstyling images and videos displayed beautifully on their feed, giving clients a real feel for the vibe of the salon before they even visit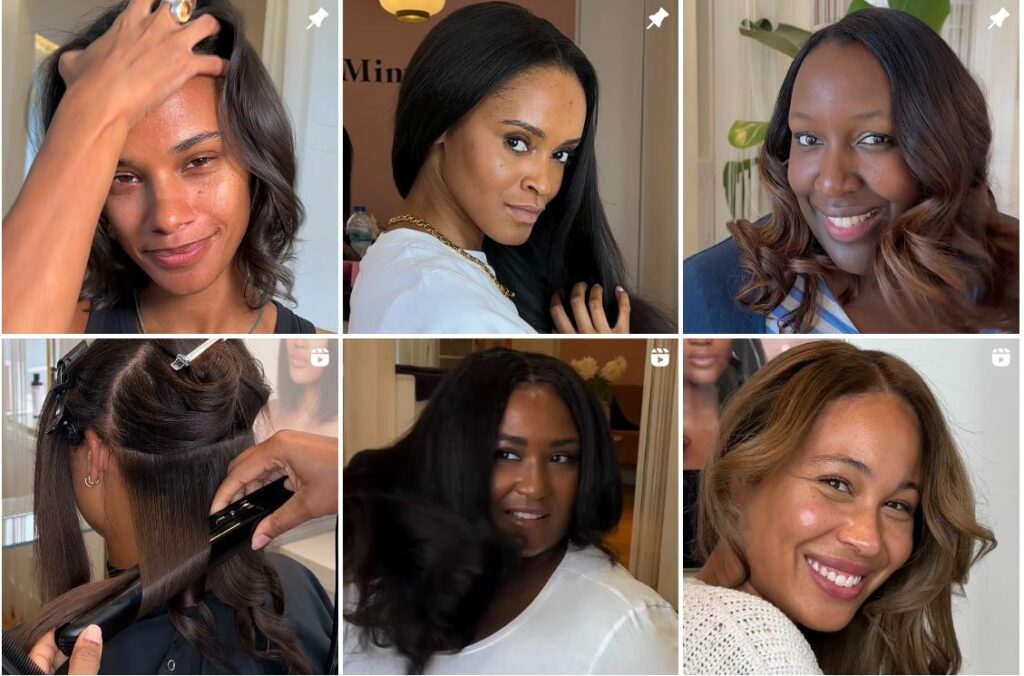 Engage with the Wider Community
It's in the name; social media is meant to be social! One of the biggest mistakes that businesses make when it comes to social media is that they use it solely as an online advertising tool. While this is, of course, part of the benefit, following, engaging with, and chatting with other industry professionals in the social media space can help you build a following and authority in your field. Make sure to regularly spend time liking, following, and messaging your peers to become part of the community that will help you build your brand and business far into the future.
Use Social Media Analytics
Social media analytics can help you track your progress and see what's working well for your business- and what's not. Use analytics to see which posts are getting the most engagement, which keywords drive the most traffic, and what areas you could improve on in the future. This information will help you fine-tune your social media marketing to get even better results, and can also help you devise future social media strategies that are more likely to be successful.
Some of our favourite social media analytics tools include:
Making Your Salon More Social
Social media is a powerful tool that can be used to reach a large audience and promote your salon business. By using the social media hacks in this blog post, you can get the most out of your social media marketing efforts and reach more customers with ease, while fostering a thriving online environment that your brand can flourish in.
Interested in learning more about how social media marketing can help grow your brand and business? Download our Social Media Guidebook for more in-depth insights now!
eBooks
Social Media Guidebook for Salons and Spas
Learn from top salons turning curious followers into loyal clients, with real examples and actionable tips to make big wins today!