Dear hair and beauty industry professionals, I'm guessing things are beginning to get busy for you as the build-up to Christmas gets underway! Our goal with Phorest has always been to provide independent salons with the best salon marketing tools in the world – tools that were traditionally reserved for only the biggest salon chains. And I think on many levels we have gone a long way to achieving that:
improving salons' google rankings through Online Reputation
providing salons with a branded app in the app store
helping salon owners get their clients back more often, spending more with the TreatCard
… and more.
Listen to the audio version of this blog, and subscribe to the Phorest Blog Podcast here:
Create stunning emails: Say hello to Phorest's Email Marketing Editor revamp
There is one marketing area of the Phorest Salon Software product that has never quite been at the level we wanted it to be: the Email Marketing Editor. Twice we have built this section of the product from scratch, and twice it has been the poor relation of dedicated email tools such as Mailchimp. Despite that, more and more of our clients were sending emails through the system. So early on this year, we sat down and decided that we would completely redesign our email editor so that it would be the envy of other products and enable Phorest salons to send beautiful emails to their clients that made their salon branding pop.
Watch the video preview below:
Create amazing images with filters
A great image can make or break a good marketing campaign. It's also no secret that it's challenging to find good quality, royalty free images – let alone to make them look professional and personalised to your brand (unless you have expensive marketing and image editing tools). With this in mind and for the redesign of the email marketing editor, Phorest has made a partnership with Unsplash. This means that you, as a Phorest client, now have a searchable library of over half a million free high-resolution images available to you at the touch of a button. Not only that but once you find an image that you like, you can now edit the image and overlay text, designs and filters. All the powerful tools professional marketing teams have, now at your fingertips.
Spell check
A good marketing campaign is nothing without great content. Which means that if you don't have a marketing or writing background, it can be hard to tell if your content is up to scratch especially if you're dyslexic which, as we know, is quite common in our industry. Again, just like with images, Phorest has partnered with a tool called ProWritingAid to solve that problem for you. This is a professional tool writers pay for to automatically correct things such as spelling, grammar, dyslexia specific grammar mistakes and even just readability and writing style. As you write your content in the new email marketing editor, you'll get tips and recommendations to make your message really pop, without needing to buy these professional tools.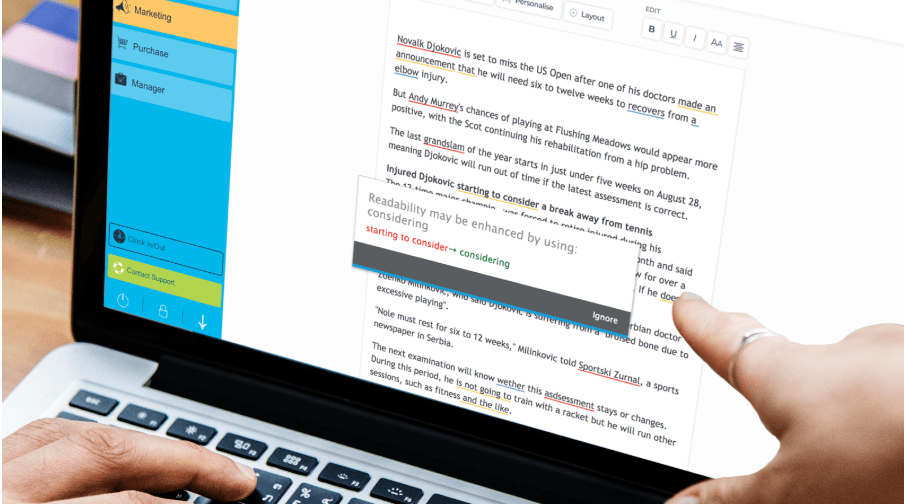 Return on investment: See exactly how many people opened, clicked or booked from your email
Finally, once you've sent your campaign to drive bookings, Phorest has developed market leading performance tracking to help you see exactly how the campaign performs and how your performance compares against similar salons. We're completely transparent, showing you exactly how many people opened or clicked the email, how many people booked and how much money ended up in your till as a direct result, we'll even list every client who booked, how much they spent and the services they booked in for. You'll know exactly where the money is coming from.
The best and most important part? Email will continue to be free to use in Phorest on any package. So if you are using and paying for another email tool, then you may want to try Phorest's redesigned email marketing editor and save some money! 🙂
Are you a Phorest Salon Software client? The new email marketing editor is now live in your Phorest system (click here to read the product email update). To access it, click on the new banner at the top of your marketing area. As always, feel free to let us know what you'd like to see in your Phorest Salon Software. Ideas can be submitted here.
Got feedback? Let us know either in the comments below or tweet us @ThePhorestWord! (Pssst! We're on Instagram too!)
Thanks for reading! #LetsGrow