In recent years, short-form video marketing has exploded in popularity for businesses in almost all industries, with bite-sized videos captivating audiences and offering a unique way for companies to advertise their offerings. Incredibly, in research conducted by Hubspot, it was unveiled that:
91% of businesses use video as a marketing tool

92% of these say that video gives them a positive ROI

87% say that video marketing has a positive impact on sales.
These stats, combined with the fact that 92% of internet users regularly watch video content, make video marketing a goldmine of opportunity for your salon, spa, or aesthetic clinic. Here are our top tips on how you can use this to your advantage.
What Type of Videos Can I Make?
When it comes to creating video content, the type of videos, and platforms you choose to host them on, will depend on your business goals. Do you want to share some long-form educational content with fellow industry professionals? Advertise your brand to a broader audience? Show your existing clients what it's like to work in your salon?
The type of video you create and the platform(s) you host it on will all contribute to your achievement of these goals.
Long-Form Videos
Typical Length: several minutes to several hours
Best For: In-depth tutorials & comprehensive product reviews
Used on Platforms: YouTube, Instagram's Main Feed
Short-Form Videos
Typical Length: a few seconds to a few minutes
Best For: short tutorials, product reviews, or behind-the-scenes footage
Used on Platforms: TikTok, YouTube Shorts, Instagram Reels/Stories
Live Videos
Typical Length: happen in real-time
Best For: Q&A sessions, in-depth tutorials, product demos
Used on Platforms: Twitch, Instagram Live, TikTok Live
What Sort of Videos Are People Interested In?
Now that you know the basics of video marketing, let's explore what kind of video content people are interested in, and how you can achieve this in your clinic, salon, or spa
Showcase Your Work
This one's self-explanatory, but in an industry as visual as ours, showing your work to an audience is essential for recognition. Short-form videos are a fantastic tool to showcase your salon or spa business' skills and creativity, highlighting the incredible work you do in a clear and engaging manner. Capture before and after videos, shots of products being used, and videos of your happy clients to offer a glimpse into the magic that happens behind your salon, clinic, or spa's doors.
One salon doing a great job of showcasing their work in video format is Beauty Suite Tuam, a medi-aesthetics clinic based in Galway, Ireland. Using Instagram Reels, the team combine clear videos of treatments in progress and treatment results with trending music to create engaging, eye-catching videos that showcase the feel of the clinic and the quality of the treatments that they offer.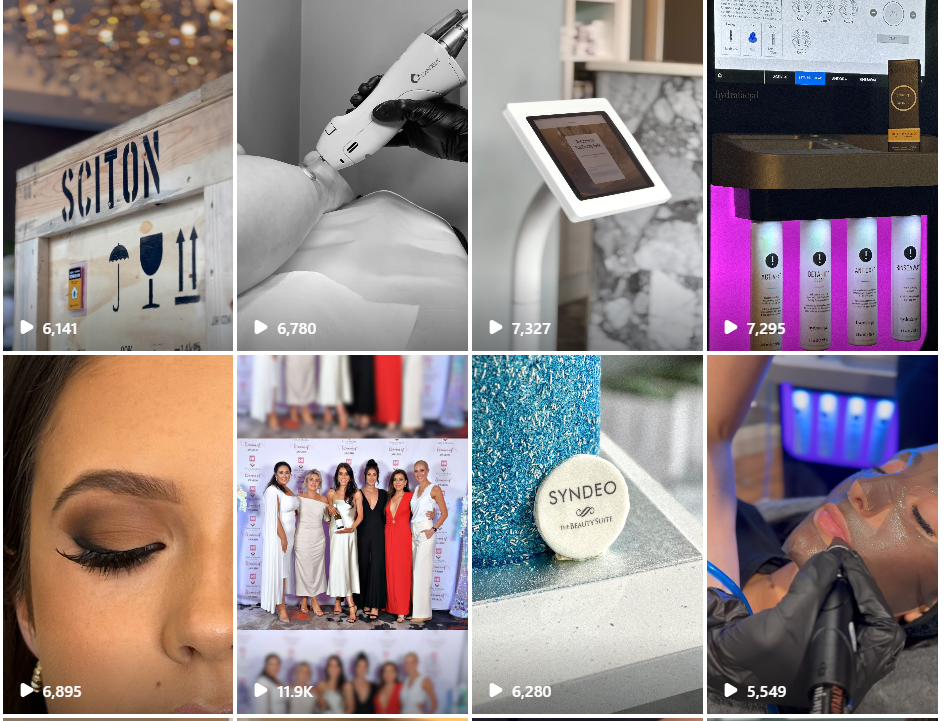 Platform Your Products
Eager to boost retail sales while also encouraging your clients to start using professional products? Why not video some product tutorials? Product demos are suitable for both long and short-term video content and can help you showcase the benefits and application of products in a more visual and straightforward manner than photos or writing could. Better yet, include a link to your online store in the video captain and make it easier for your audience to buy as soon as they see your video!
Go Behind The Scenes
When browsing online, your audience doesn't want to feel like they're being sold something; they want to be shown something. Give viewers a taste of your brand and the personalities that make your salon, spa, or clinic so special by creating some short-form "behind the scenes" videos. Whether you decide to film quickfire questions with your team, jump on some TikTok dance trends, or recreate a trending meme, going behind the scenes can encourage your audience to engage more with your brand and can help you build a bigger following.
Beautique Salon in Loughborough, UK, does this masterfully, creating high-end, well-shot videos that give the audience a clear view into the life and soul of this full-service beauty salon. Whether inviting viewers into the massage rooms for a behind-the-scenes look into their relaxing treatment offerings or showcasing various team outings, Beautique Salon clearly shows the ethos of its brand and business personality through video.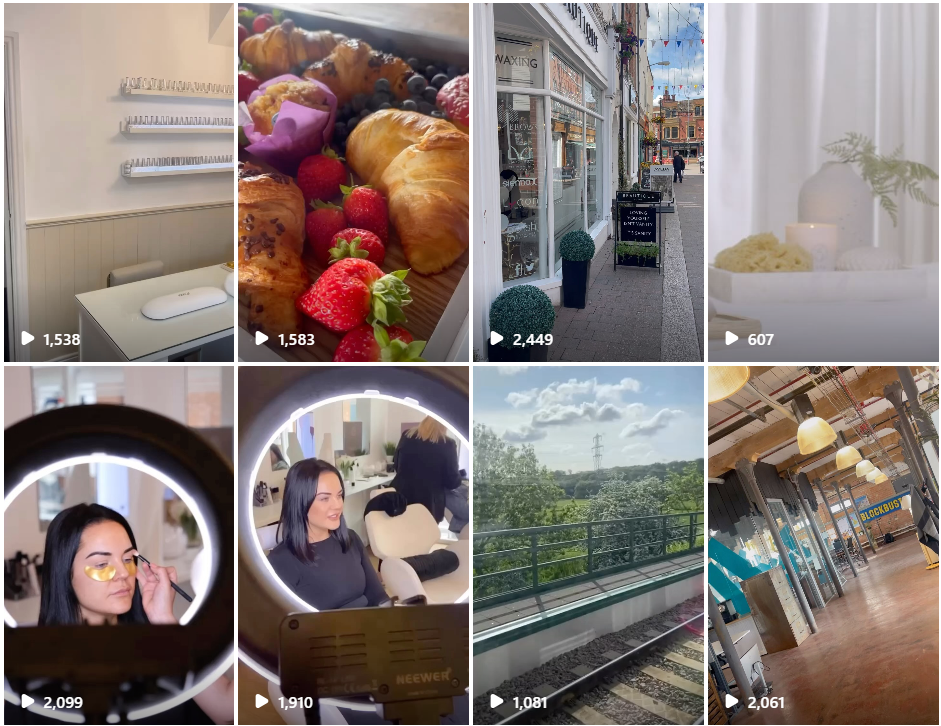 Film Tutorials
If you want to grow your online presence and bring awareness to your brand, filming tutorials can be a fantastic way to do so. Hair and beauty-related content is one of the most popular topics across social media, with an estimated 62% of women following influencers in this genre. Include your business in this arena by using your skills to create videos that show your audience how to achieve popular hair or makeup looks, or similarly, by explaining how to have an at-home spa experience that draws on professional techniques. Use your skills to your advantage!
Interested in getting some inspiration before filming your first tutorial? See what's popular across social media apps by searching trending hashtags or keywords like:
#hairtutorial

#makeuptutorial

#nailtutorial

#beautyhacks

#beautyroutine
Encourage Client-Generated Content
With so much competition out there, sometimes the best publicity comes in the form of social proof. Take videos with clients, and ask clients to create videos themselves that include them talking about their trip to the salon, or that show the results of their treatments. Similarly, compile online reviews, testimonials, and client selfies in video format and share them across your social media channels (with permission, of course!) The more real-life results that your online audience sees, the more likely they will be to trust your brand and business.
Andrée Marie, founder of Maison Style Hair in London, UK, utilises pictures and videos of her clients artfully, pairing eye-catching videos of her clients mid-service while she narrates the process to viewers. By creating video content like this, Andrée showcases her hairdressing skills and dedication to customer service, while simultaneously giving the audience a clear insight into exactly what it feels like to be at the salon as her client.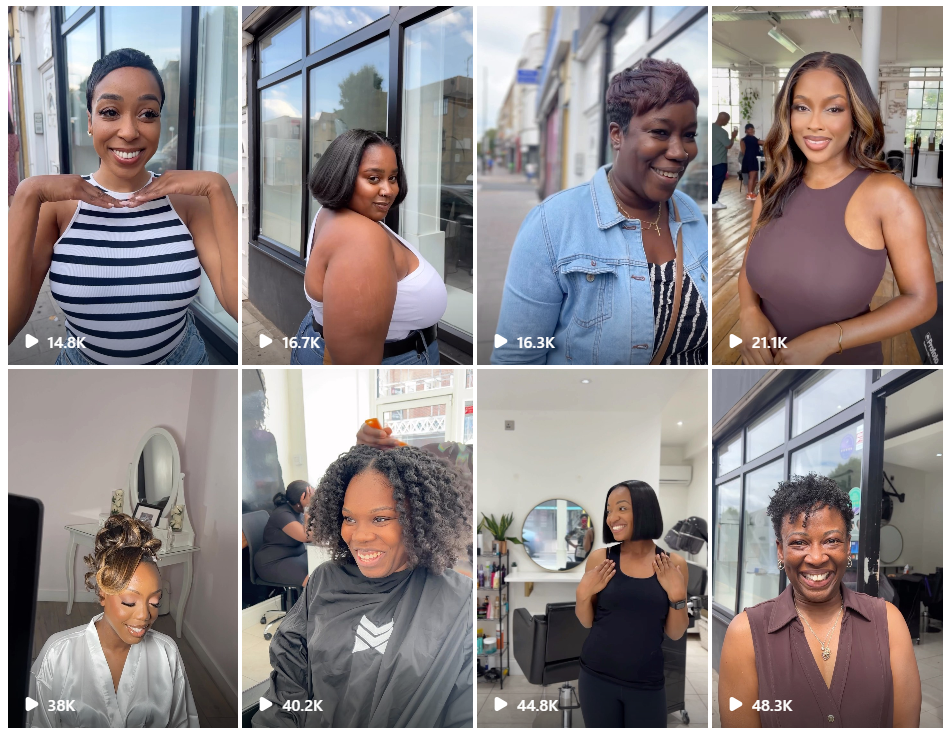 Keeping Best Practises Front of Mind
Like any social media marketing tool, it's okay to have fun and let your brand personality shine through when creating videos for your business, but be sure to stay professional and adhere to these guidelines, too.
Respect Privacy and Gain Consent

to feature in videos

from your team, clients, and any other people around you while filming. Some people do not want to be filmed, and this should be respected. 

Remain Professional and True to Your Brand.

While creating videos should be a fun process and should allow your brand's personality to shine through, be sure to keep things professional; don't mock clients, act aggressively, or do anything you wouldn't do in the salon, spa or clinic floor. 

Familiarise Yourself with Copyright and Licensing Laws.

Only use content that you have the right to use, or that falls under fair use criteria in the platform you are sharing your video on. Similarly, ask for permission before sharing other people's video content. 
By keeping these guidelines in mind, you can create video content that engages your audience and builds trust, maintains brand integrity, and avoids any reputational issues.
Similarly, like any social media posts, keep your video content varied and consistent, mixing up the themes, topics, and types of videos you create. Speaking at the Phorest Salon Owners Summit 2023, social media expert Sophia Hilton warned; "Don't make your socials become a sea of the back of people's heads!" The same applies to video.
Ready for Action?
Whether you're beginning your video marketing journey or are a filming whizz, we hope you can take something from these tips and create a video marketing strategy for your clinic, salon, or spa that helps build your brand, engage your audience, and turn over a healthy return on investment.
Ready to supercharge your social media strategy and learn more about video marketing? Why not download your free copy of The Salon Owner's Guidebook to Social Media below?
eBooks
Social Media Guidebook for Salons and Spas
Learn from top salons turning curious followers into loyal clients, with real examples and actionable tips to make big wins today!