Despite it being as trying as a year can be, 2020 has shown the industry's resilience and given salon owners worldwide new strategies and tactics to look at their business. It has also given many the chance to look at performance metrics from a different angle. However, it seems that every time you pick up the phone, a new city is approaching a lockdown. Again.
The modern salon was not built for social distancing measures. Salon architects and designers honed their craft to maximise the floor plan and include as many profit-generating stations as comfortably possible. Salons who would have been used to double-booking and packing guests are seeing profit per square foot, profit per hour, and other metrics associated with maximising income go out the window with government mandates restricting capacity.
So whether you're on the edge of your seat waiting for your government's next announcement or already in your home office, we'd like to share some easy ways to maximise each salon visit.
A considerable change in customer behaviour
Upon every shutdown and reopening, salons' front desks end up having to juggle appointments — old and new — with a hefty waiting list, managing hundreds of clients desperate to get in and feel normal. What's more, is this harsh reality: clients who used to come bi-weekly are now often lucky to get an appointment monthly. Those who came in every six weeks are now looking at every three months. Vish, an intelligent colour scale that integrates with Phorest, forecasted a higher cost per client back in June 2020, and preliminary research has shown this to be the case. Salons are experiencing a 175% increase in their colour costs, servicing customers that suddenly have a lower client frequency.
Listen to CEO and co-owner of Foresight Factory, Meabh Quoirin discuss consumer trends and insights that are changing the hair & beauty industry's foreseeable future, and subscribe to the Phorest FM Podcast here:
When your client frequency is plummeting, and you can only have 60% of your typical appointment book, you have to keep a close eye on your average ticket. Salons should be maximising what each client in their business is spending, not only to make up for the lower capacity but also the value of the space they take up. Quite frankly, time is more valuable post-lockdown.
For all of these reasons, the first reopening post-lockdown (especially) was beyond eye-opening for salon owners around the globe. All typical key performance indicators went sideways but two: profit per service and number of services performed.
Element Salon: adapting to setbacks, maximising profit per service
Salons had a choice when reopening; they could continue business as usual or ensured they made the most profit on each client. At Element Salon, a tech-savvy salon that has implemented both Phorest and Vish, capacity decreased by 40% from November of 2019 to November of 2020. However, instead of seeing their revenue decrease by just as much, owner Jason Facio used Vish to capture extra product charges for extensive regrowth. In doing so, he increased his profit per service by 34%.
Although restrictions meant 40% fewer clients for Jason, it didn't mean a 40% hit in profit. With his expert problem-solving, he was able to minimise profit reduction to just 18%. When restrictions loosen and capacity returns to normal levels, the Element Salon team will be able to make an extra £58.4K by controlling the amount of product used per service and additional product charges.
Vish technology as an aid
The solution? Get clients to spend more in your business every time they visit. Vish has been helping salons do just that, with systems that cater for fair price adjustments. Using Vish, salons weigh their colour and figures get stored in their colour management system. After the service, the bowl is weighed again to track precisely how much colour was used.
It's simple for stylists, and the ability to track every ounce of colour — dispensed and used — gives owners the power to control how they charge for colour services. It also ensures that excess colour doesn't eat away their profits. In fact, upon joining Vish and capturing every single service, owners see an average 15% increase in colour revenue.
With technology and data to back themselves up, Vish salons feel more confident about pricing changes. They've also implemented standard price increases and created new revenue streams with an online store, curbside pickup and pre-order retail grab bags.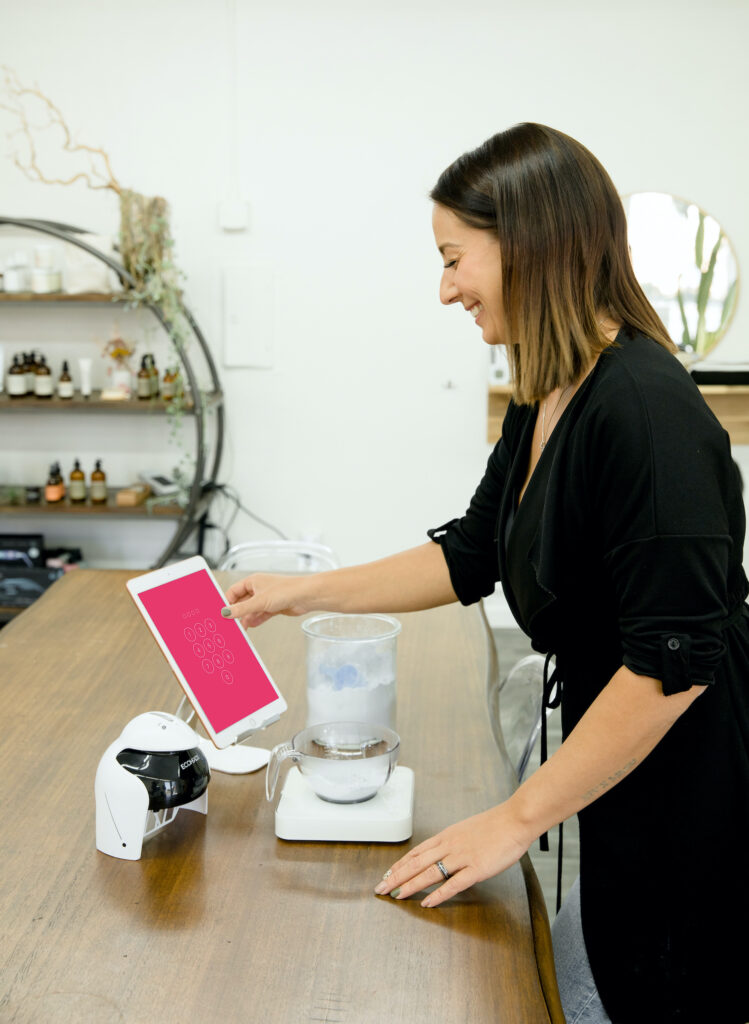 What next?
How you respond to adversity is important not only for your business's vitality but also for the team's morale and commitment.
When Jason Facio, owner of Element Salon, set up rules for charging clients when additional colour was dispensed for a service, it helped offset inventory costs. It was also easy for the team to communicate the charge to clients because of the precise nature of the scale and system. Jason's problem-solving mindset, combined with tools and automations, helped the Nashville, Tennessee four-site salon group recover from lockdown quickly. In the process, he's even learned key lessons in managing their business year-round.
The pressure on our industry during this no-touch, six feet apart era will hopefully coming to an end in 2021. As we say 'so-long' to the strangest, most stressful year this generation has seen, below are a few things to put on the to-do list for the upcoming months:
What does success look like for you this year?
Want to learn more about how Vish can help you maximise every client visit? Click here to book a demo!
Got feedback? Let us know either in the comments below or tweet us @ThePhorestWord! (Pssst! We're on Instagram too!)
Thanks for reading! #TogetherWeGrow