On day 2 of the Salon Owners Summit, Sophia Hilton once again took the main stage, this time to facilitate a workshop covering all things branding and marketing MOT (moment of truth) for salon owners. Equipping each audience member with a branded workbook, this talk was an interactive one, with Hilton sharing practical salon marketing advice with the audience that could be implemented almost immediately in their salons. 
Beginning the workshop, Hilton explained how the world of online marketing is ever-changing and no longer follows a predictable formula as it did some years ago. Similarly, clients' expectations have changed. While it used to be enough to offer a different service from your competitors, or simply be better at doing a certain service than your competitors were, modern salons now "have to be different and do better". Despite this being quite a bold claim, Hilton remained optimistic that all salons can and do offer something different and better from their competitors; it's letting customers know that's important.
Getting the Audience Involved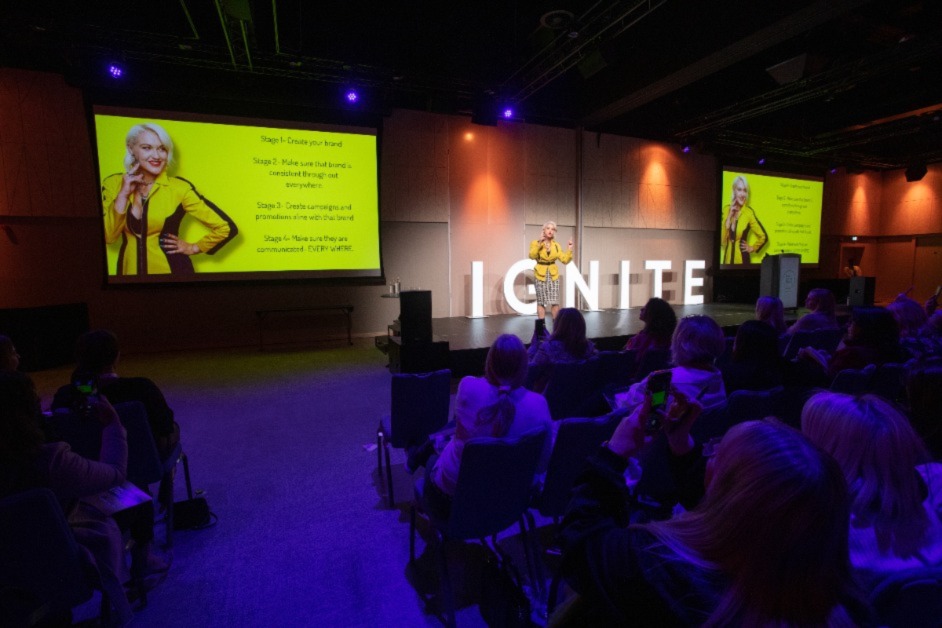 To prove her point, Hilton encourages the audience to open the first page of their workbook and answer the questions given. These include everything from; "my brand in three words" and "my brand colours" to "my brand's core values"… The questions aim to help the audience to delve deeper into understanding the very essence of their unique businesses.
What soon became clear as the audience was completing this activity was that many people members weren't 100% sure what their business' branding was, what their core values were, or what their business represented.
To help the audience overcome this and create a stronger brand for their salons, Sophia began to delve into her four-step branding check-list:
Your Salon's Exterior
Making your salon's exterior look like it represents your brand is a basic but extremely important part of marketing. Checklist in hand, Hilton and the audience discussed the importance of exterior elements like:
Your salon's exterior wall colours matching your brand colours
The inclusion of clear contact details, opening hours, and social channels outside
The importance of eye-catching window displays
How your salon should look like a salon, and not have people wondering what it is you do when they pass by in the street

Your Salon's Interior
Similar to her point about making your salon's exterior look like it represents your brand, Hilton goes on to explain that your salon's interior should do the same. From the colours on your walls to the products you use and decorations you hang, clients should have a strong sense of what your business stands for and represents as soon as they walk in your salon door.

Your Salon's People

In such a human-focused industry, ensuring the people that you employ are living and breathing your salon's brand is important for attracting loyal clients. To ensure your people are accurately representing your brand, ask:

Is your team speaking in an appropriate tone and language for your brand? Is your brand business-like or casual? Friendly or formal?
Are the clothes your team wears suitable for your overall brand? Are you a uniform salon or do you prefer to keep things casual? Do your team look like they work together, judging by the clothes they wear, or is it a bit disjointed?
How does your team react in a crisis? A strong team who are confident in how they should act at work will stick together and ensure your brand is kept at the forefront even when a client complains or something goes wrong.

If your team isn't living and breathing your brand values while at work, it could be that they're an unsuitable fit for your company, or (more likely) it could just be that you're not being clear enough about what your brand is exactly. If this is the case, Hilton explains, it's your responsibility as a leader to invest in training and teach your team about the importance of a brand.

Your Salon's Social Media
The final part of Sophia's branding checklist covered the importance of social media for brand consistency, asking the audience whether:

Their business socials contained posts that let their personality shine?
They responded to comments and DMs daily?
They clearly displayed services and booking links in their bio?
They linked their social media pages to their website and across the salon interior?

Warning the audience to not let their salon's socials become "a sea of the back of people's heads", Hilton then encouraged a brave audience member to volunteer her own business Instagram to be audited in real-time, with insightful suggestions made on how to improve it.
After a few minutes of social media auditing, an array of detailed questions and answers, and many people in the room speaking up to thank Hilton for her teaching, the workshop ended with a round of applause and a feeling of inspiration and empowerment regarding all things branding.
Keep Learning from the Experts
Read more of the 2023 Salon Owners Summit Recap
Feeling the Salon Owners Summit FOMO?
Want to make sure you're in the room to hear insightful talks like this next year? Get your tickets for the next Salon Owners Summit!