Running a successful salon or spa business involves way more than just providing a service. In our years of getting to know you, Phorest understands that creating an excellent customer experience is an art. From forming personal connections with guests to keeping your environment clean and inviting, so many factors make up the total package. While not every client will recognise all you do in the background, earning a 5-star review is the culmination of a tonne of hard work. No matter how many industry awards you win, nothing tops what your clients have to say.
This is why Phorest looks forward to announcing our Client Experience Award winners every year. In order to qualify, Phorest salons must have maintained an average rating of between 4 and 5-stars, from at least 60 online reviews for 12 consecutive months.
This is no small feat, especially this year. Congratulations to all our 2021 winners. Your clients love you!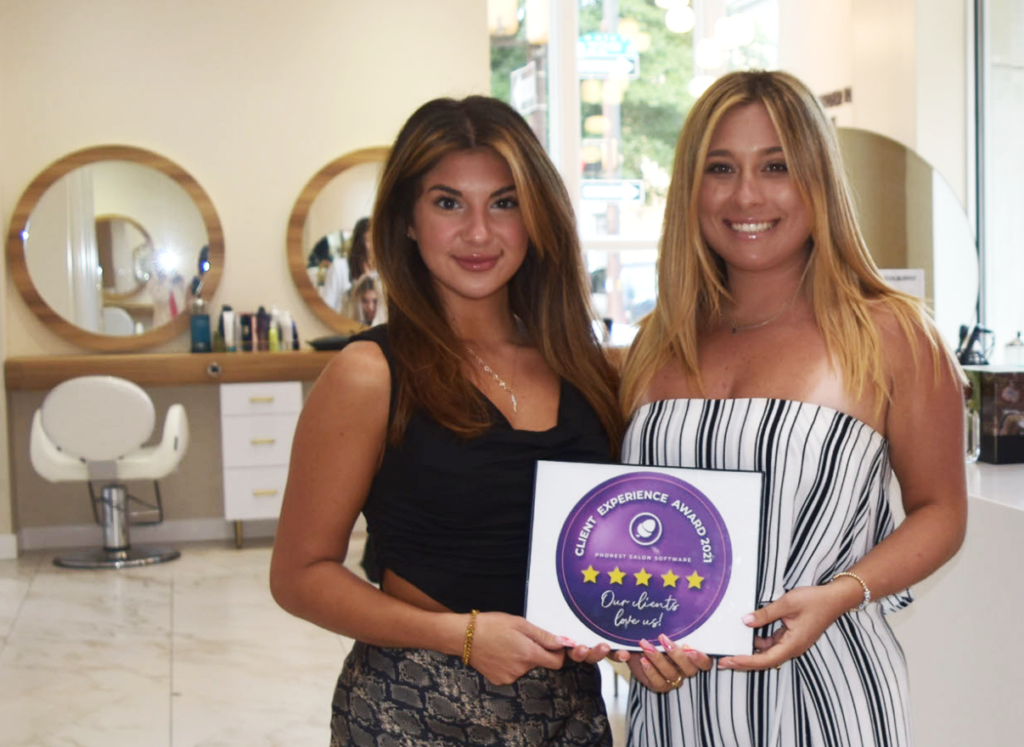 You're a Winner! What next?
First, it's time to celebrate.
2020 and 2021 have been challenging years, but you pulled through. In fact, you excelled! At Phorest, we never cease to be amazed by our salon and spa community. We hope that the Client Experience Award can be an opportunity to appreciate all your efforts and teamwork. Don't let the occasion pass without doing something nice for yourself and the team to celebrate, even if it's only small.
The Client Experience Award is also a chance to thank your clients. Don't forget to express your gratitude on social media to those who took the time to review your business. Most people who leave a review understand how important they can be and would love to share in your success.
Try a post like this one from Salon 703, in St. Louis, USA. Check out this post from the team at Mia Bella Skin Boutique in Australia.
Or share a heartfelt video message with your followers.
Then, it's time to reflect.
Think about what has gotten you here. Audit your business reviews for consistent themes. Highlight these to your team. Are your reviews reflecting your salon's service values? Could you pull out some of the stand-out reviews from the year to discuss internally? These can be really motivating, especially when they include shoutouts to specific team members.
Finally, time to strategise.
Your Client Experience Award is also an asset for marketing your business. The sticker itself is perfect for displaying in your salon or spa, but you can always take it a step further. Add it to your printed marketing material, your website, or ads for your business. You might even run a promotion or marketing campaign to celebrate your regulars or encourage more clients to leave you reviews.
Keep the good reviews flowing. Phorest's Online Reputation Manager is a powerful automation tool to help you stay on top of online reviews. This guide has everything you need to know to get started.
Here's what some of the 2020 award winners from our Phorest Family have to say:
"This is my first year with Phorest and my first award. What we focus on is more of the customer service and then eventually you end up getting the great review. I think because we are a spa, we tend to help people with their skin. We really just focus on making sure their entire experience is memorable."

Marcia Mehrali, Owner of Beneath The Surface Spa, CEA 2020 Recipient
"I am very proud of my employees. Because it is not a matter, of course, to continuously deliver such outstanding performance! Transporting this evaluation to the outside world and thus making our quality clearly visible to the customer is a must nowadays. Thanks to Phorest this is super easy to implement and an absolute added value for us as a team."

Carina Zinßler, Intercoiffure Straub, CEA 2020 Recipient
"This is our fifth year in a row to get [the Client Experience] award, but we never take it for granted. It is a huge honour because it's not an award you apply for, or pay for or sign up for. They're actually to do with our customers giving us 5-star reviews."

Muireann McDermott, The Hair & Beauty Quarter, CEA 2020 Recipient
Phorest would love to hear from our 2021 winners. Tag us on social media using the hashtag #clientexperienceaward. We're on Instagram, Twitter, Facebook and LinkedIn.
If you'd like to be featured on an upcoming celebratory episode of the PhorestFM podcast, send an email to our host Zoé Bélisle-Springer at phorestfm@phorest.com using "Client Experience Award 2021 – Phorest FM Feature" as the subject line.