Ever wish you could replicate your favorite clients and just have them visit your salon or spa over and over again? You know the ones we're talking about; those who visit regularly, don't mind paying full price for services, regularly try new products, and are, generally, a ray of sunshine to work with!
Loyal clients are the people who keep your business alive. In the professional hair and beauty industry, it is far cheaper to focus on retaining an appointment book of dream clients than it is to work on constantly attracting new ones. As Paul, owner of award-winning Zeba Hairdressing explains; 
"If a color client comes in four times a year, and we can help her increase that to just one more visit a year, we increase her turnover by 20%. You can't get 20% new clients, but if you get clients to come in just one more time a year, you can increase your turnover significantly." Encourage multiple clients to do the same thing and you increase your turnover massively.
While most salons and spas understand the importance of client retention, knowing where your business currently stands and creating actionable processes to boost it can be difficult. To help you increase your client retention rate and weave it seamlessly into your business's day-to-day procedures, we've researched what clients want and how you and your team can offer this.
What Keeps Clients Coming Back?
To understand why clients return, it's important to know what they enjoy about your business over others, and what they expect from a trip to the salon or spa in general. Interestingly, for many salon and spa-goers, their reasons for returning have little to do with the service they're buying, and everything to do with the overall experience they receive.
In research conducted by Phorest, we asked over 1,000 consumers from across the globe what the main factors are that keep them returning to their salon or spa of choice. The top answers were:

Price
Relationship
Convenience

How can your business offer this?
Adding Value They Can't Get Elsewhere
While price was one of the top reasons for consumers staying loyal to their salon or spa of choice, this didn't necessarily mean that people want cheaper services. Rather, they want to spend their money somewhere that they feel that they get value for their money. Salons and spas have many ways of adding value to their service and treatment offerings, including;

Implementing a Salon or Spa Loyalty Program
A loyalty program is a fantastic addition to any professional hair or beauty business, as it encourages client retention while also boosting customer satisfaction, drawing in word-of-mouth referrals and giving you something that helps your business stand out from the crowd. As well as this, when used properly, a salon loyalty program can help you introduce new services to clients who wouldn't normally avail of them. In Phorest research, we found that a massive 27% of salon clients returned and paid full price for a service initially introduced to them as a "treat" on their loyalty card. If that's not value, for both you and your clients, we don't know what is!
Offer Packages For Clients to Avail Of
Packages are an incredible way of giving value to your clients while also increasing your business' bottom line. No matter what kind of salon, spa, or clinic you own, combining different services together in one package is a great way of encouraging clients who would usually only purchase a single treatment to spend more and try out new treatments or services that they could grow to love in the future. While every business will have a different way of creating package options that work for them, why not try grouping your most popular service with one or two slower-selling services? Alternatively, create seasonally-themed packages, and advertise them during the seasons they relate to. For some salons and spas, adding complimentary products as part of a package deal is a great way of introducing clients to your retail offering while pushing both service and product sales. How you structure it is completely up to you!

Enhance Your In-Salon Experience
When asked by the Phorest research team; "If you could wave a magic wand and change something about the salon or spa you visit most regularly, what would it be?", many consumers' answers related directly back to the in-salon experience. When we consider value for money, think about what kind of experiential value your clients are getting from visiting your salon. If your spa is advertised as a relaxing haven, does your decor, music choices, and lighting style reflect this? If you're marketing your hair salon as a place where diversity and inclusivity are central, are your team, service offerings, and advertising images reflecting this? Align your salon experience with the things that your loyal clients rave about you for. Whether that's decluttering your front desk, redecorating the space, or introducing new customer service policies, every business can offer something unique about the experience that they offer to clients who visit. It's this "can't get elsewhere" experience that will draw clients back in again and again.
Build On The Relationships That Fuel Our Industry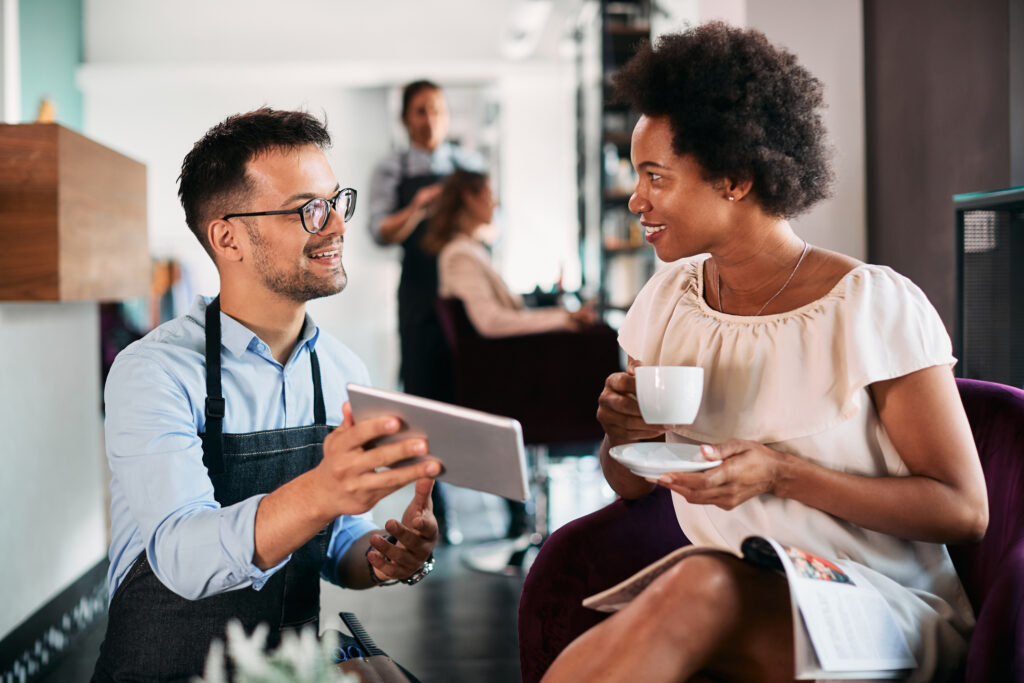 As an industry fuelled by personal connections, it's no surprise that clients' relationships with their service providers influence why they remain loyal. While many salons and spas offer the same services and treatments, not all of them offer the same warm, friendly, and caring environment where clients feel welcome.
While many relationships will develop organically between your team and clients, as a salon owner, it's important to ensure your team is adhering to concrete, pre-set customer service standards that make your business a positive place to visit as a whole. When top-class service is woven into your overall brand (rather than just given by a few select team members), it dissuades clients from following their usual service provider to a new salon should they ever leave your business. This is important to avoid large-scale client drop-offs. Here are some of our top tips on how to make your business a place where clients visit regularly to feel cared for, heard, and valued.
Implement A Customer Service Policy
In any client-facing business, having a clear and obvious customer service policy is a must. Not only does this ensure the same level of care for clients no matter who they come into contact with in the salon, but it also sets expectations for staff and ensures everyone is "working off the same page" when providing their services. Before creating your customer service policy, decide what's important to your staff and clients. Do you want your salon environment to feel formal or relaxed? Tranquil and quiet, or high-energy and loud? It can be helpful to hold a meeting with your team to discuss this; after all, they're the people who service your clients every day and truly understand their needs and desires.
Once you've ascertained what's best for your team and clients, work together to create an internal code of conduct that covers everything from how to greet visitors at the door to ways of dealing with unhappy clients. If operations are kept consistent throughout the salon or spa, clients are more likely to return back, confident that they will receive the same high-quality service each and every time.
Don't Underestimate The Importance of Communication
Communication is everything for developing strong professional and personal relationships. Streamline communication in your business by reaching out to clients regularly in the form of personalized messages to their phones and email. These messages can include everything from relevant marketing campaigns and personalized deals to SMS appointment reminders, review requests, and reconnection messages when they haven't been in for a long time.

By using your salon software to automate and personalize these messages, you can ensure you're reaching out to clients in a friendly, warm, and non-invasive manner, reminding them that you value their visits to the salon and want to stay in touch. Similarly, make sure to use digital client notes to jot down important things in your clients' life; from an event they told you about to their partners' and kids' names, and reference these while they're in the salon to show you genuinely care about them and what they have to say. That personal acknowledgment is everything to people, and goes a long way when encouraging clients to keep coming back to your business over competitors.
Make Your Salon or Spa A Safe & Accessible Place; For Everyone
With over 1 in every 6 people experiencing a disability, having an inaccessible business simply isn't an option anymore and immediately stops a huge portion of clients from visiting you. Make your salon a safe space for everyone by educating yourself and the team on ways to make your business more accessible for people with both physical and mental disabilities, as well as for minority communities. Accessibility will look different for every business depending on your location and physical space; for some, this could include the introduction of silent services or autism-friendly evenings for clients who may find sensory processing difficult, while for others it could include hiring an afro hairstyling specialist if you don't already offer this service.
Many salons have now introduced genderless services and pricing based on hair length to make their space more welcoming to trans and non-binary communities. In a similar sense, consider how easy or difficult your space is to access for people with physical disabilities, and ensure your team is trained on how to continue offering top-class customer service to clients who may be deaf, blind, or have a hidden disability. Making your salon a safe and accessible place for all shows that you value equality and will encourage clients who feel the same back in.
Streamline Your Salon Booking Process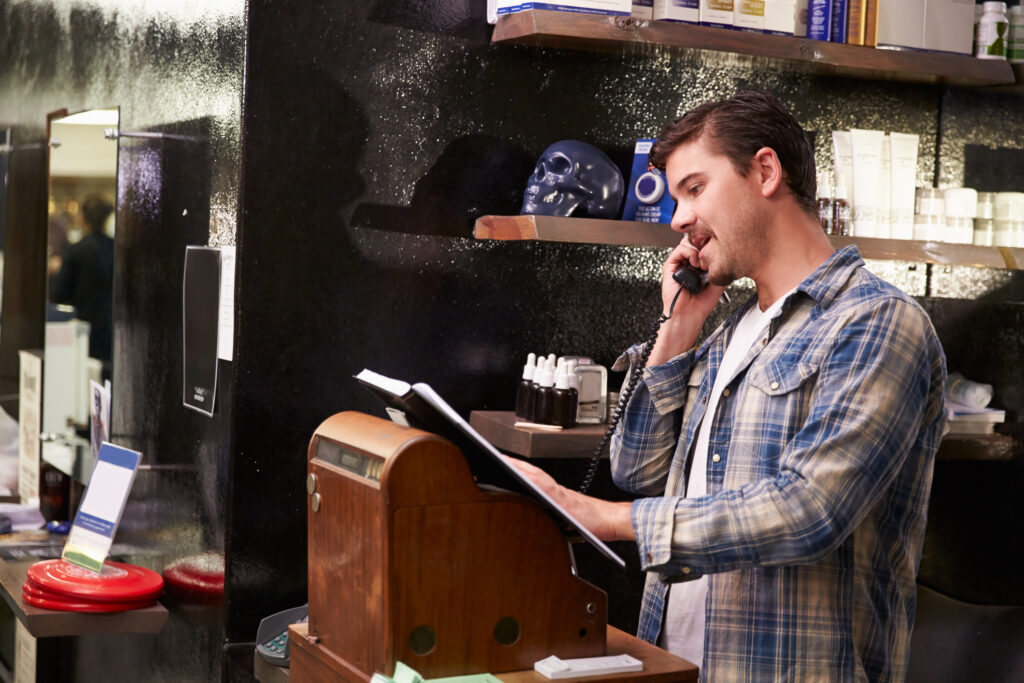 A trip to the salon shouldn't be difficult! And in today's digital-first world, your clients are prioritizing convenience more than ever. Modern consumers don't want to wait around on hold when booking appointments and don't want to be limited to a set timeframe of how and when they can book. Implementing a salon software solution to streamline the booking, reminder, and check-out process for your clients helps you offer a great service and increase retention by a long mile.
Online Booking Makes The Most of Your Calendar
With one-third of online bookings happening outside of salon opening hours, and no-show rates 49% lower for appointments scheduled online, not having an online salon booking system means your business is missing out on massive amounts of revenue. For your Gen Z and millennial clients, their whole world exists online. It's where they chat with friends, work remotely, learn, purchase products, and schedule appointments. If your services are not available online, you're isolating a whole demographic from booking. It's that simple.
Set up online booking for your salon or spa, and connect it to your website, socials, and Google Business Profile to allow clients to book from anywhere at any time. Go the extra mile and get a salon branded app, where clients can book directly from their phones. While online booking's main goal is to get more appointments scheduled into your calendar, it's also a fantastic way of advertising your services, and can reduce no-shows and late cancellations by collecting card details and deposits while a client schedules their treatment. In terms of client retention, the ease with which a client can book, combined with the ability to see their past services and your entire service catalog at the click of a button, makes your salon one that's worth coming back for.
Don't Wait For Clients to Rebook; Do It For Them!
Having an in-salon rebooking strategy is one of the most lauded ways of increasing client retention, and for good reason, too; it works. Make rebooking part of your client's check-out process by training your team on how best to approach the subject. Rather than asking a client when they'd like to rebook, or avoiding asking completely, staff could say; "To keep your color looking great, we should probably refresh it again in six weeks; would that suit you?"

Similarly, if in-salon rebooking isn't working for your salon or spa, why not make use of automated reminders on your salon software? Phorest offers two options here, either;

You can set up reminder messages. Personalized reminders will automatically send to clients after X amount of time since their last appointment, encouraging them to rebook by providing them with a link to your online booking platform or phone number.
OR
You can use Client Reconnect to identify lapsing clients that haven't visited in their normal timeframe and are at risk of not returning. After receiving this list, Client Reconnect allows you to send a personalized SMS or email to each one, inviting them back in and cutting out the awkwardness of cold-calling or them forgetting to rebook.

While in-salon booking strategies are a great way to increase your client retention rate and should be utilized, huge advances in salon software solutions mean that you can now implement digital rebooking strategies alongside them for even better results.
Make Use of Marketing Campaigns to Increase Spending & Visits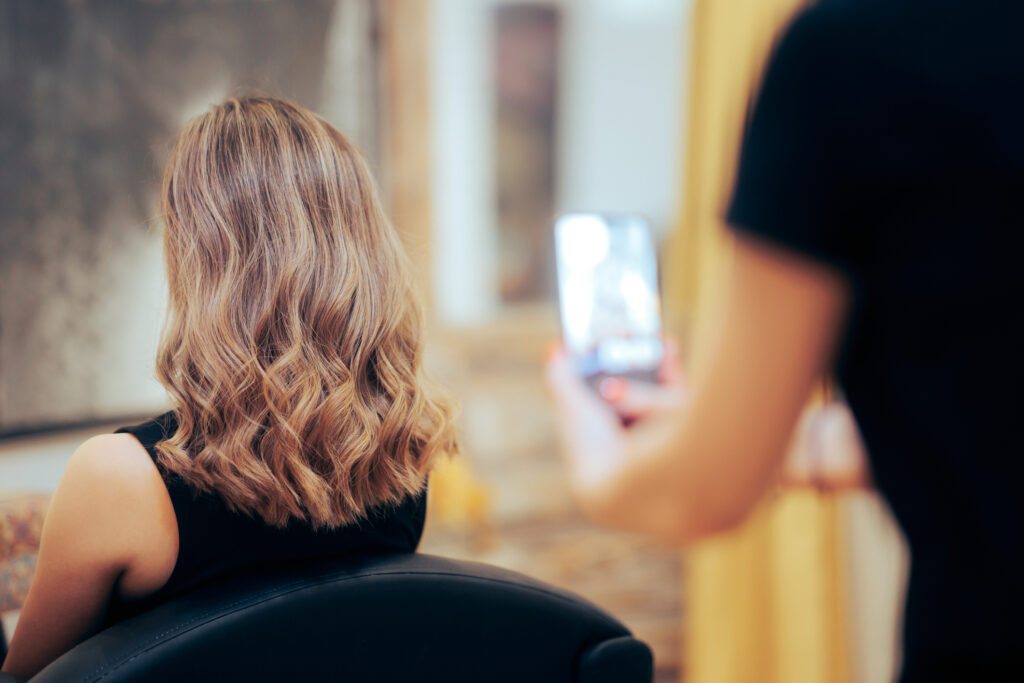 Digital salon and spa marketing allow you to attract clients in and book appointments that they may not have even been previously considering. That being said, there's a fine line between helpful marketing material and sending spammy SMS and email messages that annoy your clients and drive them away. One of the best ways of walking this fine line is by ensuring all marketing campaigns you send are only being sent to the right people at the right time. Hyper-targeting is essential to see ROI; in the form of both revenue and retention.
When creating a new campaign, make sure you have a goal in mind; are you trying to sell some extra products? Increase the number of appointments booked for a particular staff member or service? Create a campaign that focuses solely on that goal, and add a CTA button that allows the client who is receiving the message to fulfill the goal, if interested. Similarly, use your salon software to segment client groups that you know would be interested in the campaign and only target them. For example, if you're a hair and beauty salon that wants to advertise Olaplex products, sending the campaign to clients who have previously had a color service is far more beneficial than sending a campaign to your entire client list or grouping your audience by age or location. Similar to what we explained earlier in the blog about clients wanting to see more value for money in the salons and spas that they visit, marketing campaigns can add that extra value.
Weave Client Retention Strategies Into Every Part of Your Business
No matter how you decide to work on increasing client retention numbers, one thing that's vital is to weave your strategies into all aspects of your business. Client retention is something that should be worked on long-term and form the foundation of how and why you introduce particular processes or policies in the salon. Similarly, there are a number of salon KPIs that can be used to measure client retention, from a simple client retention percentage to your rebooking rate, staff request rate, same-day rebooking rate, and more. These figures can all be accessed at the click of a button via the reporting suite in your Phorest salon software system.
Alongside the figures, strategies, and processes you can implement to increase client retention, sometimes it can be helpful to also ask for direct feedback from your clients. When your dream clients are in, don't be afraid to ask them what they like about the salon, what keeps them coming back, and what you can improve on. If you're not comfortable doing this face-to-face, creating a Google form or an in-salon anonymous comment box asking your clients for their honest opinions can be a great way of seeing what you're doing well vs what needs to be changed.
By adding value, nurturing relationships, and ensuring it's easy for your clients to engage with your salon at all touchpoints of the visitor experience, you can create a loyal community of your dream clients. You've got this.
How are you going to increase client retention in your salon or spa this year? Let us know in the comments below or on Instagram.
Thanks for reading! #Togetherwegrow