When clients enter your salon, what's their first impression? Are they greeted with a lengthy queue of waiting guests, or perhaps an empty, unmanned reception desk? Do you spend your days rushing back and forth from behind the chair to the reception desk in an attempt to check clients in and pay clients out while also trying to complete your services and offer great customer service? Is your receptionist sat at their desk 9-5 but feeling overwhelmed trying to juggle phone inquiries with in-person check-ins and sales?
If your front-desk experience looks anything like the above, it's time to make some changes. Fast. That's why we've created PhorestGuest.
What is PhorestGuest?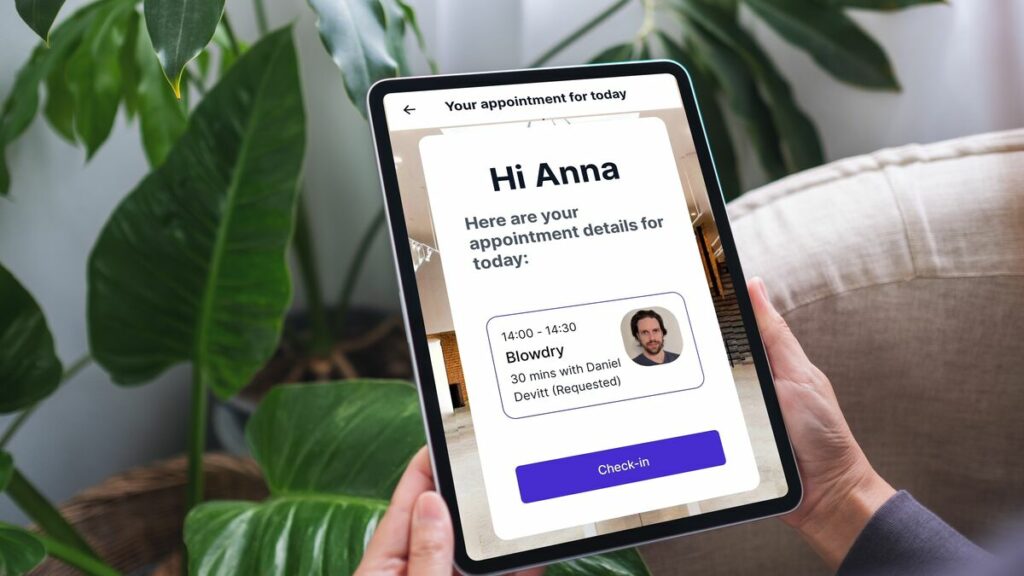 After months of intensive industry research combined with asking Phorest Salons what improvements they'd like to see in their salon, one recurring theme was that all-so-important front-desk experience. From hair, nail, and beauty salons to barbershops, aesthetic clinics, and spas, one thing all salon owners were struggling with was the clunky, disorganised nature of checking clients in once they arrived. Some salons have chosen to transition away from the reception-desk model entirely, while others have struggled recruiting front desk staff or distributing check-in duties among stylists and technicians.
We created the PhorestGuest client app as a way to streamline your front desk experience. Now, when clients arrive, they can check themselves in.
Here's How It Works
From your client's perspective, it's very easy to use. On the screen, they will see a message welcoming them to your salon. Once they type in their phone number, the app will display the details of their appointment, including a photo of the staff member they are booked in with. Then all they need to do is click the big check-in button.
After they check in, PhorestGuest automatically notifies the staff member assigned to this appointment with a push notification to their phone or smartwatch. This helps your team manage their time better and means you never accidentally leave a client waiting at reception unacknowledged. It's also customisable, meaning you can switch up the branding to match your unique salon's aesthetic.

Plus it eradicates those dreaded queues and crowded reception area full of guests growing impatient.
Independent Check-In Saves You Time to Focus on What Matters Most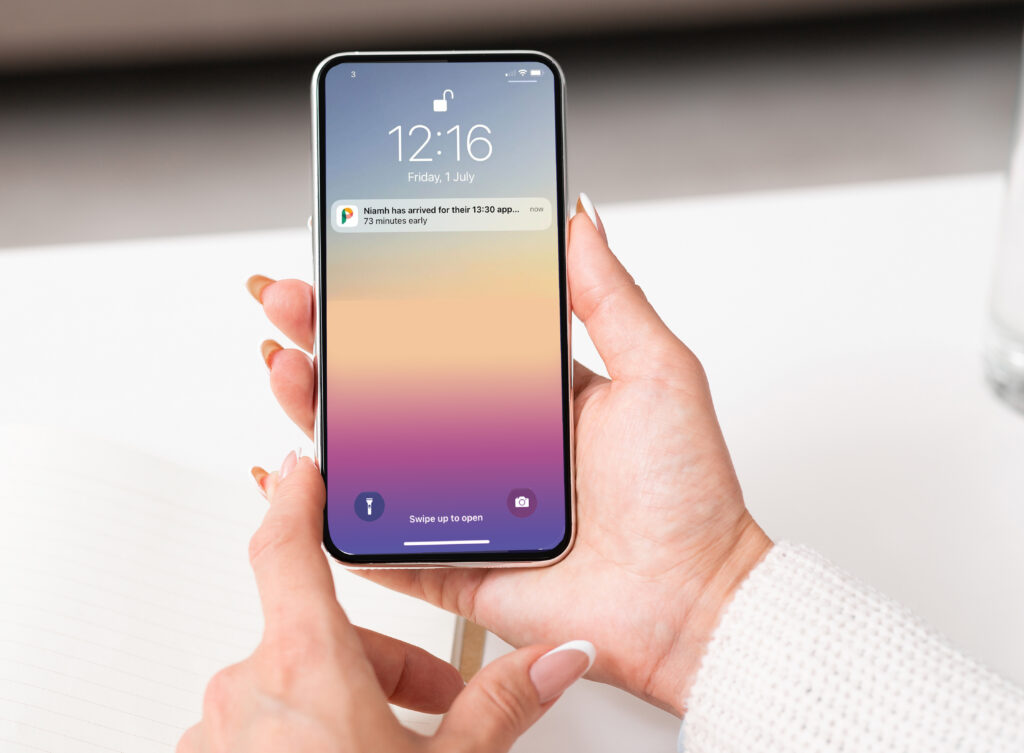 One of the most obvious benefits of PhorestGuest is the massive time-saving benefits it offers. Salons and spas across the world waste hours every week at the reception desk checking clients in manually while also trying to juggle bookings, queries, and retail sales.
Providing a self-service check-in means that you can cut out manual check-ins completely, freeing up huge amounts of manual admin so your reception team can focus solely on bookings, retail sales, and excellent customer service; all the things that make clients want to visit, and return to, your salon.
The time-saving benefits are further increased for salons that don't have a receptionist, allowing the beauty professionals in your salon to focus on offering their services from start to finish without the need to run back and forth from the reception desk to check in people manually. It's simple, intuitive, and time-saving technology for you, your team, and your clients.
Time is Money
It's a cliché, but it's true; time is money. With the time you save using PhorestGuest, your pro beauty team can focus more on salon revenue-driving activity, like chatting to clients about the products they'd recommend, and providing top-class customer service without the interruption of having to visit the reception desk for check-ins.
Similarly, if you currently operate a front desk team, allowing clients to check in autonomously means that your team are spending less time fumbling around at the front desk and more time selling retail stock, scheduling appointments, organising rosters, drawing reports, and creating eye-catching marketing campaigns; all the things that will help your business (and revenue) grow.
For salons who wish to move toward a desk-free salon, PhorestGuest offers a perfect alternative. With just a smart device required, you can give visiting clients the VIP experience and manage queues and check-ins with ease, while simultaneously making more room in the salon for an extra booth or retail stock and start increasing profits substantially.
Creating a Modern, Client-Focused Salon Experience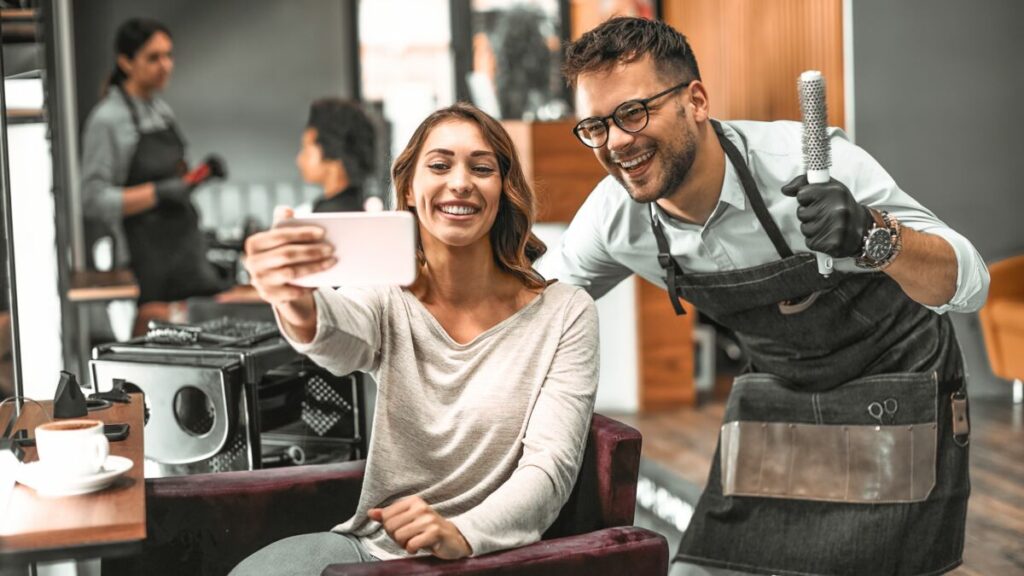 While PhorestGuest offers a range of obvious time and money-saving benefits, another advantage is that it can help you to transform your salon into one that places modernity, innovation, and client experience at the heart of everything you do. With 11% of consumers saying that they would like their regular salon to upgrade the overall experience provided, offering a self-service check-in is a unique and beneficial starting point that shows your business is a step ahead of the rest. Combining this with a sleek interior, top-class customer service, and a sleek payment and check-out system such as a PhorestPay card terminal or cardless checkout will help your salon stand out from the crowd and give clients an experience to remember.

Related | Inflation, the Experience Economy & New Data Insights to Keep Your Clients Coming Back, 17 Salons Who Transformed Their Space into a Unique Destination
As consumers seek out faster, easier, and more tech-focused ways of doing business, PhorestGuest is your way of giving them this and freeing up time to focus on the things that matter to your business; the top-class customer service that keeps your clients coming back in, over and over again.