With 288 million active users each month, Twitter provides you with an ideal opportunity to easily gain insight into the worlds of some of the top beauty industry folk.  We have sifted through tons of these users to bring you what we believe to be 10 of the best beauty Twitter accounts.
While we're chatting about Twitter, have you downloaded the Salon Owner's Ultimate Guide To Twitter eBook yet? If not, Click Here.
Ellen Kavanagh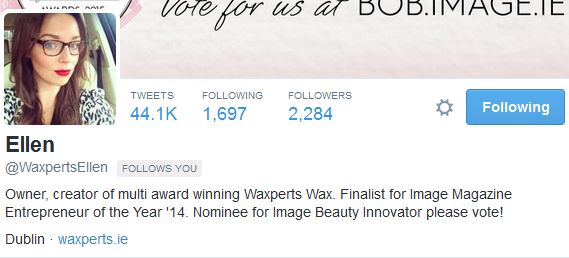 Twitter Handle:
Occupation:
An expert in hair removal, Ellen owns Waxperts Wax along with her friend and business partner, Trish O'Brien. Waxperts is both a dedicated waxing salon and the only Irish depilatory wax manufacturing company.
Why:
If Ellen's being the creator of a multi-award winning brand is not enough to merit a follow, you will be swayed by her humourous, personable approach to business tweeting!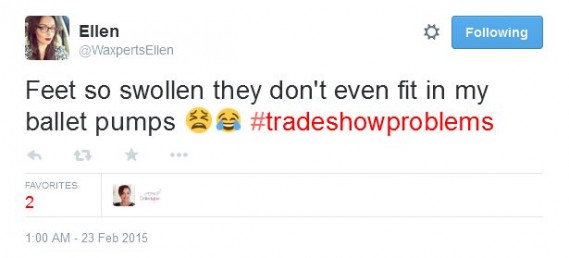 Marissa Carter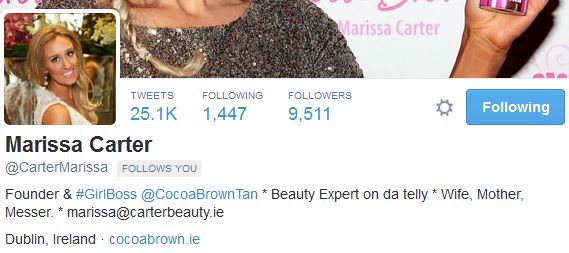 Twitter Handle:
Occupation:
Not only the founder and creator of revolutionary tanning brand Cocoa Brown,  Marissa is also a regular media contributor and is one of the most well-respected beauty spokespeople in Ireland.
Why:
Having won multiple awards for her entrepreneurial success, Marissa is a truly inspirational business woman. Like Waxperts' Ellen, Marissa knows exactly how to balance being personable and professional and her twitter feed is proof that sometimes business can benefit from a little touch of pink!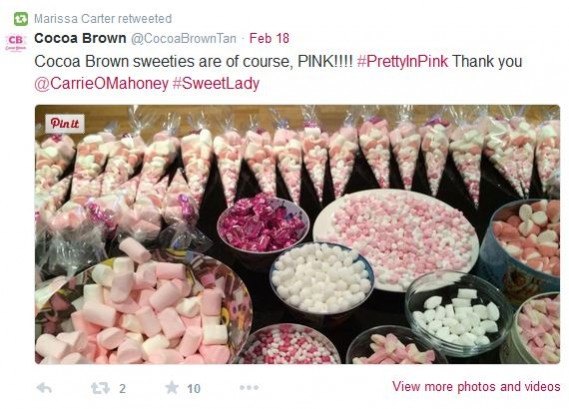 Sam Pearce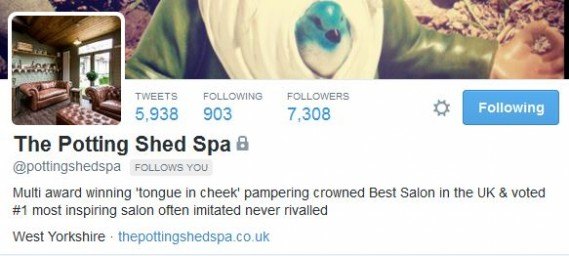 Twitter Handle:
Occupation:
Sam Pearce is the owner of the UK's most inspiring salon, The Potting Shed Spa. On a personal level, Sam has been recognised as an entrepreneurial mum in business who has created the biggest impact in the shortest space of time.
Why:
The Potting Shed Spa's indulgence is married with a great sense of humour. Follow Sam's account for a feed that perfectly reflects this combination.

Andy Rouillard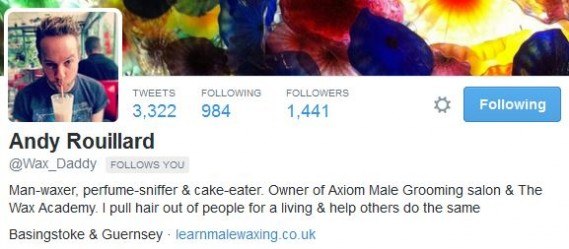 Twitter Handle:
Occupation:
Declared by Men's Health to be "Britain's top male waxing specialist," Andy Rouillard is an award-winning training provider for salons, spas and colleges.
Why:
As a trusted authority in the art of 'manscaping,' we think that you should follow Andy on Twitter for information on his training events as well as plenty of tongue-in-cheek waxing-related tweets.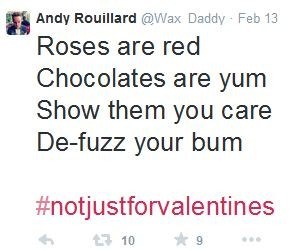 Eve Oxberry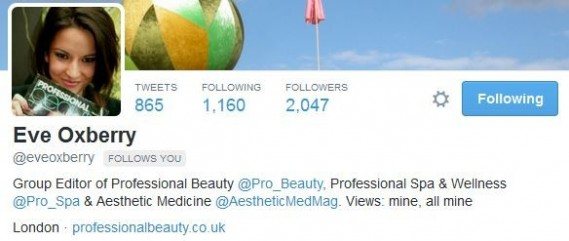 Twitter Handle:
Occupation:
Editor of Professional Beauty Group
Why:
As editor of Professional Beauty magazine, you may be assured that Eve's feed is filled with industry relevant tweets. Indeed, this is one of the most industry focused beauty Twitter accounts. Just try not to be too envious of her frequent treatments and product reviews- all in a day's work for this busy lady!

 Lucy Douglas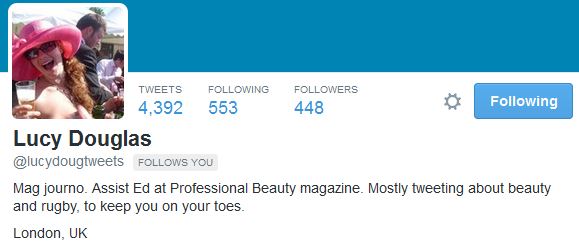 Twitter Handle:
Occupation:
Assistant Editor of Professional Beauty Magazine
Why:
Much like editor Eve Oxberry, Lucy tweets frequently about industry events, treatments and products. Be sure to follow Lucy for engagement with an industry insider (and the odd rugby tweet!).

Gina Akers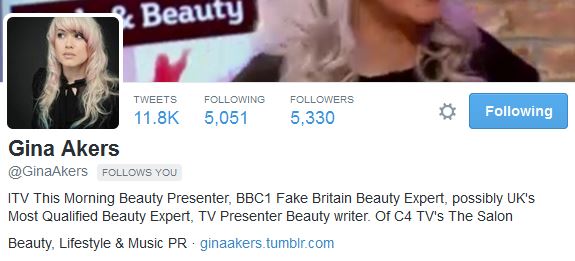 Twitter Handle:
Occupation:
(Possibly!) the UK's most qualified beauty expert, Gina is a  T.V. and radio presenter, freelance journalist, and PR and press officer all in the beauty industry.
Why:
 Gina's tweets and retweets reflect her wide range of roles and interests within beauty media. From up-dos to professional events her twitter feed encompasses pretty much every aspect of the beauty industry.

Susan Routledge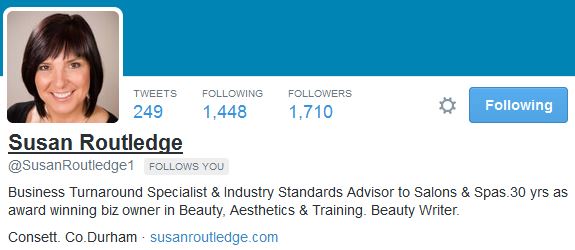 Twitter Handle:
Occupation:
Susan is a multi award-winning business owner, consultant, author, speaker, business investor and recovery specialist with extensive experience in the beauty, hair, spa, & medical aesthetic sector.
Why:
Follow this account for little nuggets of wisdom from one of the most experienced, respected people in this industry!

Antonia Mariconda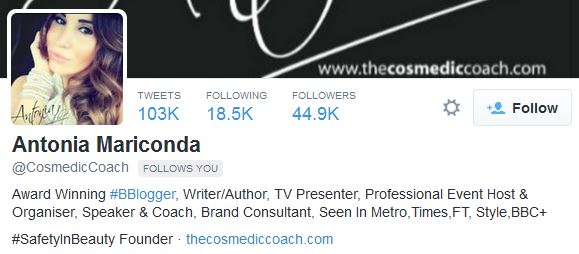 Twitter Handle:
Occupation:
Antonia is an award-winning health & beauty writer, blogger, event presenter & host, beauty brand consultant, T.V. presenter, speaker & educator.
Why:
Antonia mixes more personal health and beauty advice with professional industry event live-tweeting.

Sophy Robson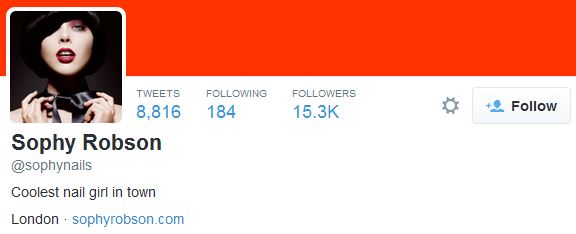 Twitter Handle:
Occupation:
Sophy Robson is the premier nail artist in the UK.
Why:
Having worked doing nails for magazines such as Vogue and with celebrity clients that include Kate Moss and Cara Delevingne, Sophy is a true inspiration to anyone looking to make a name for themselves in the beauty industry.

So there you have it, 10 of the best beauty Twitter accounts! Why not check them out now and follow your favourite feeds.  Next Sunday, we will have 10 top hair Twitter accounts for you to peruse at your leisure!