Last Sunday, you may have read our post on the Top 10 Beauty Twitter accounts.  However, if Facebook is more up your street, this week's post is designed to give you some must-have tips on how to optimise your salon Facebook pages.
We have collated what we consider to be 8 of the best hair salon Facebook pages and have identified elements from these pages that you can incorporate into your own!
Please note: If you would like to check these salon Facebook pages out in full, simply click on the corresponding images.
(And for some concrete tips and practical, simple ideas on how to ensure your Facebook page succeeds, then click here to access The Salon Owner's Ultimate Guide To Facebook ebook today)
Salon Facebook Pages Images: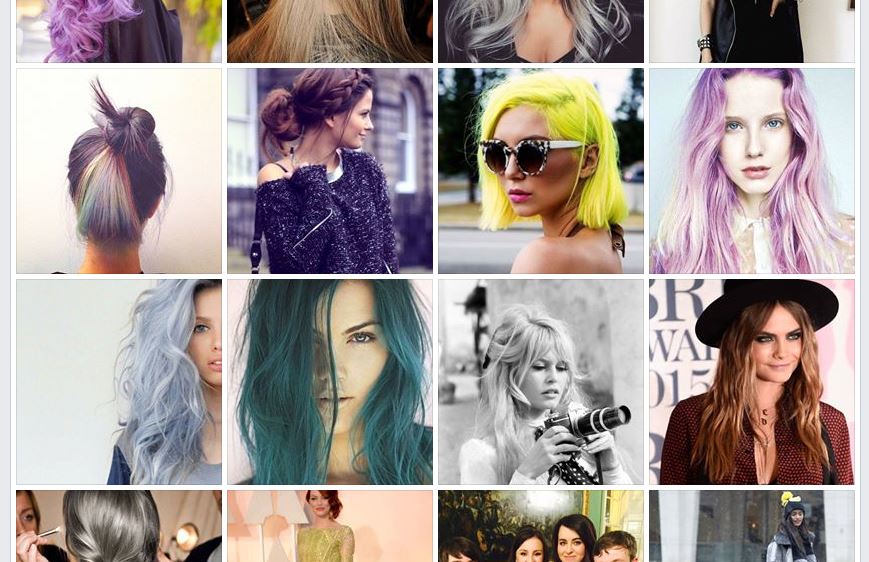 Who: Sugar Cubed
Likes*: 2,260
Sugar Cubed encompasses "the best in urban street style, mixed with creative flare and design."  Established to cater to a somewhat younger, more fashion-conscious demographic, Sugar Cubed salon's aesthetic is reflected in their Facebook photos. Frequently updated with the latest fashions in hairstyles and colours, this feed is a lesson in "what's hot" right now in the hair world.
Why not try uploading some vibrant images to your feed today and watch your "likes" grow?!
Instagram Feed Tab: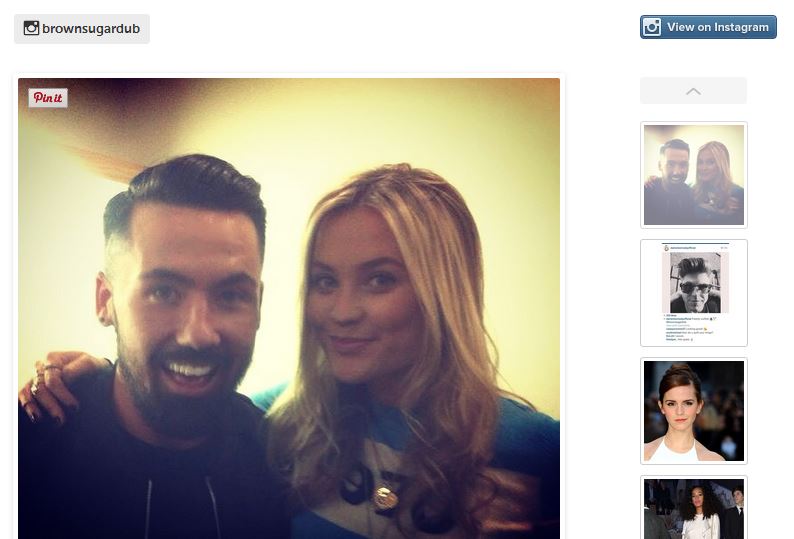 Who: Brown Sugar
Likes: 8,987
Like their little sister, Sugar Cubed, Brown Sugar's cool reputation is evident in their salon Facebook pages. Both Sugar Cubed and Brown Sugar have added links to their Instagram accounts on their respective Facebook feeds. This feature can provide you with a very simple means to directing page visitors to your other social media accounts.
Cover & Profile Photos:
Who: Black Amber
Likes: 1,691
First impressions matter, and your cover and profiles photos are your time to shine on Facebook. Black Amber salon perfectly illustrates how both of these photos should complement each other. Using the profile photo as a space to pop up a clear image of your salon logo leaves you with a larger space for, as seen with Black Amber, a professional team photo.
Before & After Photos: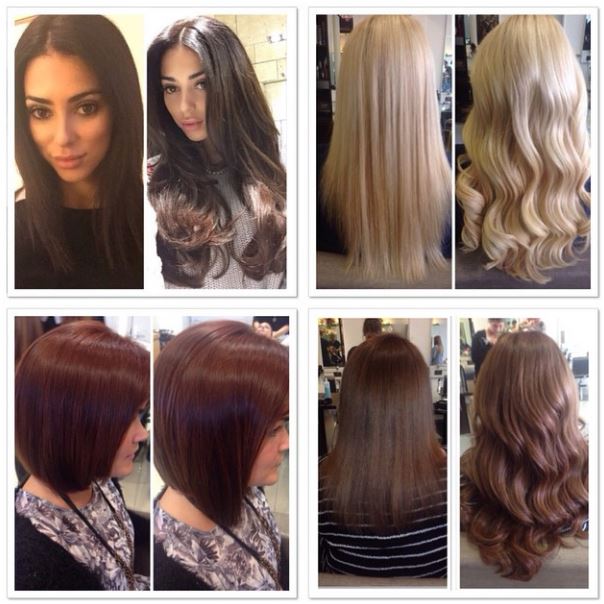 Who: Ceira Lambert
Likes: 46,451 likes
Aside from this salon's unparalleled reputation with hair extensions,  another reason for their Facebook popularity could be their constant  before & after photo posts. Before & after photos are a simple way for you to make a lasting impression online and it follows that Ceira Lambert's images demonstrate the transformative effect a visit to her salon can have on clients.
To see how you can take high quality before & after photos check out our previous post on that exact topic here!
The "Events"  Tab: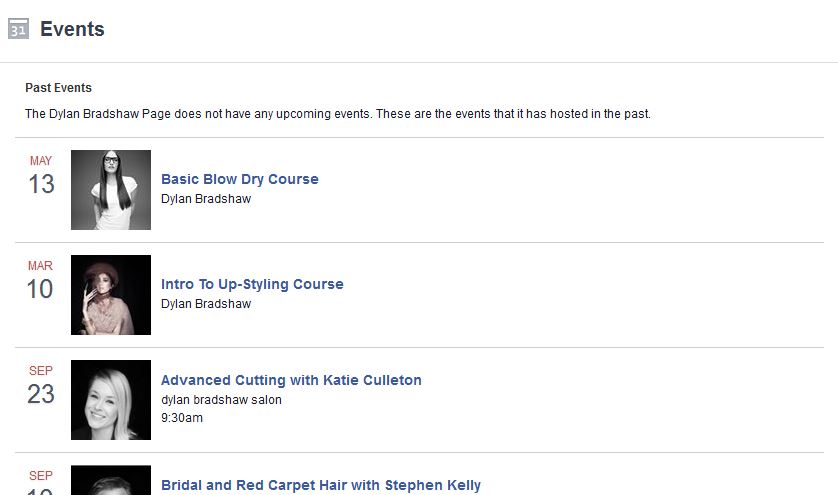 Who: Dylan Bradshaw
Likes: 8,797
Your salon Facebook pages come with an ever-customisable "tabs" feature and the team working on Dylan Bradshaw's page have fully utilised their "Events" tab. If, like Dylan Bradshaw, your salon runs regular training days (or even promotional nights) this tab can provide you with an easy way to advertise such occasions.
Price List: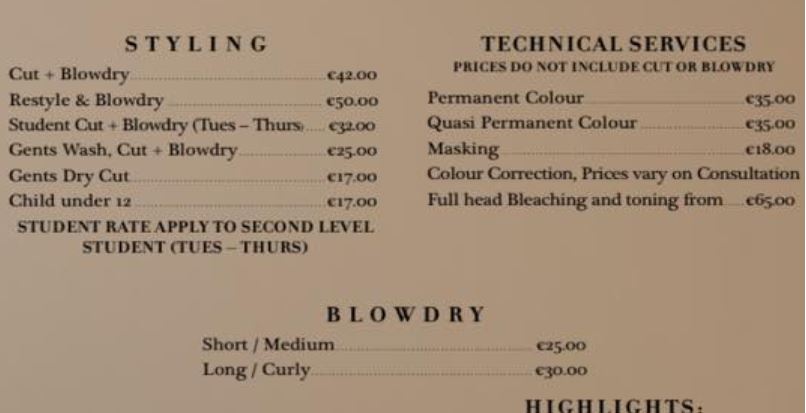 Who: Hair by Nigel & Co.
Likes: 5,632
Having a clearly visible Price List on your Facebook Page might sound obvious, but the majority of your potential clients will stop off here before checking your website. Having easily viewed prices on your page may encourage potential clients to book appointments quicker considering the fact that they did not have to search long and hard for your service costs.
The "About" Tab: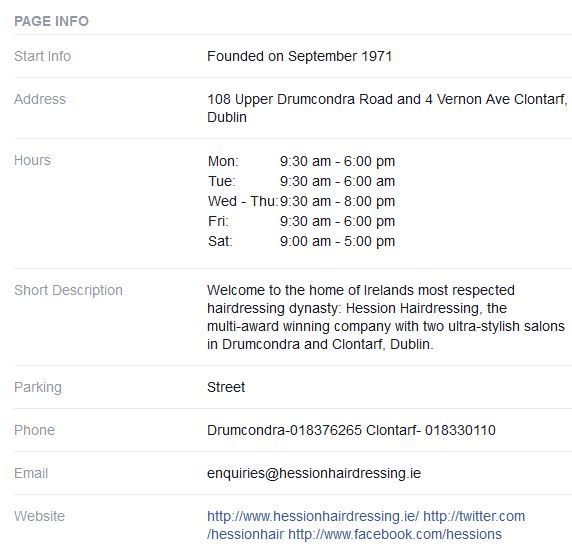 Who: Hessions
Likes: 4,716
The "About" Tab is a feature on salon Facebook pages that can be often overlooked.  Look to Hessions' page for an example of  what details to put in this section. The most important information is, of course, location and opening times but a simple note on available parking shows how that they want to make any potential client's visit to the salon as relaxing as possible.
Reviews: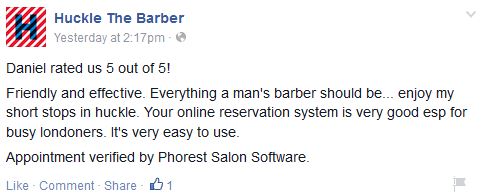 Who: Huckle The Barber
Likes: 1,093
With Phorest Salon Software, you can share your client's reviews on Facebook. Honest, real-life reviews are crucial in attracting new clients and, ultimately, this feature can act as a modern form of word of mouth! See Huckle the Barber's page for an unbeatable example of a salon using reviews to spread the word about their high levels of customer service.
See how you can integrate Facebook reviews with Phorest salon software, and in turn, increase referrals here!
We hope that you have found our list of fantastic Facebook features useful. Why not put one or two of them to practice today? Let us know how you get on!
Furthermore, remember that , if your feed is frequently updated, and you show interaction in the comments, this can encourage people to like your page as they know that you will provide them with interesting, valuable content on a regular basis.
* all "likes" figures accurate at time of writing
Not on Facebook, or not quite maximising your salon page potential? Why not download our excellent eBook here: