Who said that gift-wrapping in the salon had to be a monotonous task? The holiday season is great for selling retail products, so why not capitalise on that and go an extra mile! After all, 'tis the season of caring – and we know just how much you care about your customers. If you're looking at providing a salon or spa wrapping service for your retail products, why not take a look at some of our favourite gift-wrapping ideas this year! 
Related | David Barnett's Proven To Work 3-Step Retail Selling Technique
Phorest Salon Software's Top 7 Christmas Retail Gift-Wrapping Ideas

1. Make It Sing
Let's say you're feeling very merry; a music-inspired gift-wrapping paper could be a lovely additional touch for your salon. It's simple, doesn't cost a whole lot and could tie in perfectly with your Christmas salon playlist!
What you will need:
Music gift-wrapping paper
Christmas-inspired string
Nature ornaments
Tape

2. The Eco-Friendly Gift Wrap
For all you eco-friendly, vintage shop hopping enthusiasts, old shirts can work really well if your goal is to stand out or make a statement! Check out this tutorial to learn how to perfectly wrap it (they say it takes 10 seconds!).
What you will need:
Vintage shirts or t-shirts (in good shape)

3. Rustic, But Elegant
Looking for something simple, yet elegant? Get yourself a big stack of brown wrapping paper, faux berry spray and one-colour ribbons. Quick, simple and effective. One of the best gift-wrapping ideas for busy salons and spas who have a dedicated station to provide a wrapping service.
What you will need:
Brown wrapping paper
Faux berry spray
Ribbons
Tape

4. Jingle Bell All The Way Home
Another simple rustic-inspired idea, except you add a small bell to the string keeping the whole wrapping together!
What you will need:
Brown wrapping paper
Small bells
String
Tape

5. Arts & Crafts
As a kid, I was quite into arts and crafts, and my mother would keep me busy creating unique gift-wrapping paper. One year – I must've been 10 or 11 – we laid out a lot of white paper on the sitting room floor, and I'd dip my small hands in paint, only to then make a print of them on the paper. I made a bit of a mess, I'll admit it, but my wrapping paper caught everyone's attention. With that in mind, I'm very conscious about the time you have in the salon, so why not simply opt for newspaper wrapping? If it's in good shape, it stands out. Plus, you recycle instead of buying new, and all you have to do is to use cute little rustic ornaments to top it all off.
What you will need:
Newspaper (has to be still in good shape!)
Rustic ornaments
Markers
String
Tape
Name tags (can be cut-out cardboard)

6. Travel Bucketlist
Remember the days we used physical roadmaps to get around new places? Do you promote eco-friendliness in your salon? If you said yes to those two questions, well this might just be the perfect gift-wrapping idea for your salon or spa. Use those old roadmaps (who needs them anymore when we have Google Maps?!) and breathe a new life into them! Use some thin white ribbon as the finishing touch and don't forget to add a small tag for your customer to fill out!
What you will need:
Roadmaps
Ribbons or string
Tape

7. The Classic Plaid Patterns
What's great about this classic gift wrap is its versatility. No matter who the gift is destined for – woman or man – it works. If you're running low on staff or time in December but still want to offer a gift-wrapping service, this is a good option for your salon. All you need is tartan wrapping paper and some ribbons or strings. Easy as 1,2,3!
What you will need:
Tartan wrapping paper
Ribbons or string
Tape
Rustic ornaments (optional)
Related | Salon Christmas Gifts: What Should I Buy the Team?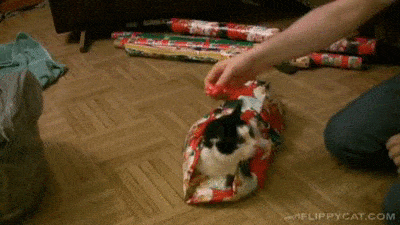 May you find the internal force to remain as calm as this cat during the manic season. 😉
Got feedback on these gift-wrapping ideas? Tweet us @ThePhorestWord! Thanks for reading!
#LetsGrow