A few weeks ago, we published a post giving tips on how to create outstanding Instagram posts for your salon. We also asked you if you would like to see more posts on Instagram related apps you could use and the response looked like this (!!!!!) :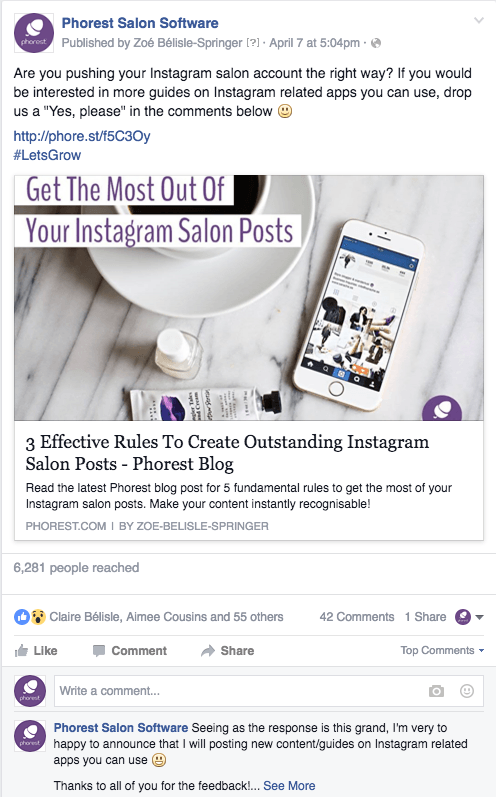 Ask and you shall receive: today we'll explain how you can schedule your salon weekly posts for the time when your followers are most active!
Scheduling your salon weekly Instagram posts
Finding it hard to sit down for 10-15 minutes everyday to post something on your Instagram salon account? What if we told you there's a way to schedule your posts for them to go out at optimal time (getting you more engagement)?
Say you know what you wish to post a week in advance, well instead of feeling the burden of interrupting your daily tasks, with Prime you take maybe 30-45 mins of an evening watching Netflix to schedule all your salon weekly content!
So what's Prime?
Prime is a relatively new app on the App Store (no announcement regarding an Android release yet, but we've got another option for you – see that further down). When you first install Prime, it processes your Instagram account, determines when your followers are online, their activity, their relation to you and… wait for it… WHEN you should be posting your content!
It gives you a personalised time for you each day of the week, while also giving you alternative times so you can post more than once a day or whenever suits you best.
The app is free, and lets you schedule as many posts as you want – including the option to add a caption!
Setting up Prime & Creating your first scheduled post
First, download it in the App Store: https://apple.co/1SDkW8E
Then, enter your Instagram account details and let Prime do its analysis. Here's a little walkthrough of the app once the analysis is over:
Click here to view on mobile.
[slideshare id=61515611&doc=handguidetoprime-160429193833]
Android users: this one's for you!
Unfortunately, new apps rarely get released on iOS & Android at the same time. However, there is a cool free Android compatible app you can use to schedule your salon weekly posts: Later (formerly Latergramme). The only thing you won't know, unfortunately, is the exact time when your followers are most active, hence when is the most optimal time to publish to Instagram. Later is available as an app, but also has more functionalities when you access it through on a web browser from computer.
You can download Later from the Google Play store.
Here's a little walkthrough of Later: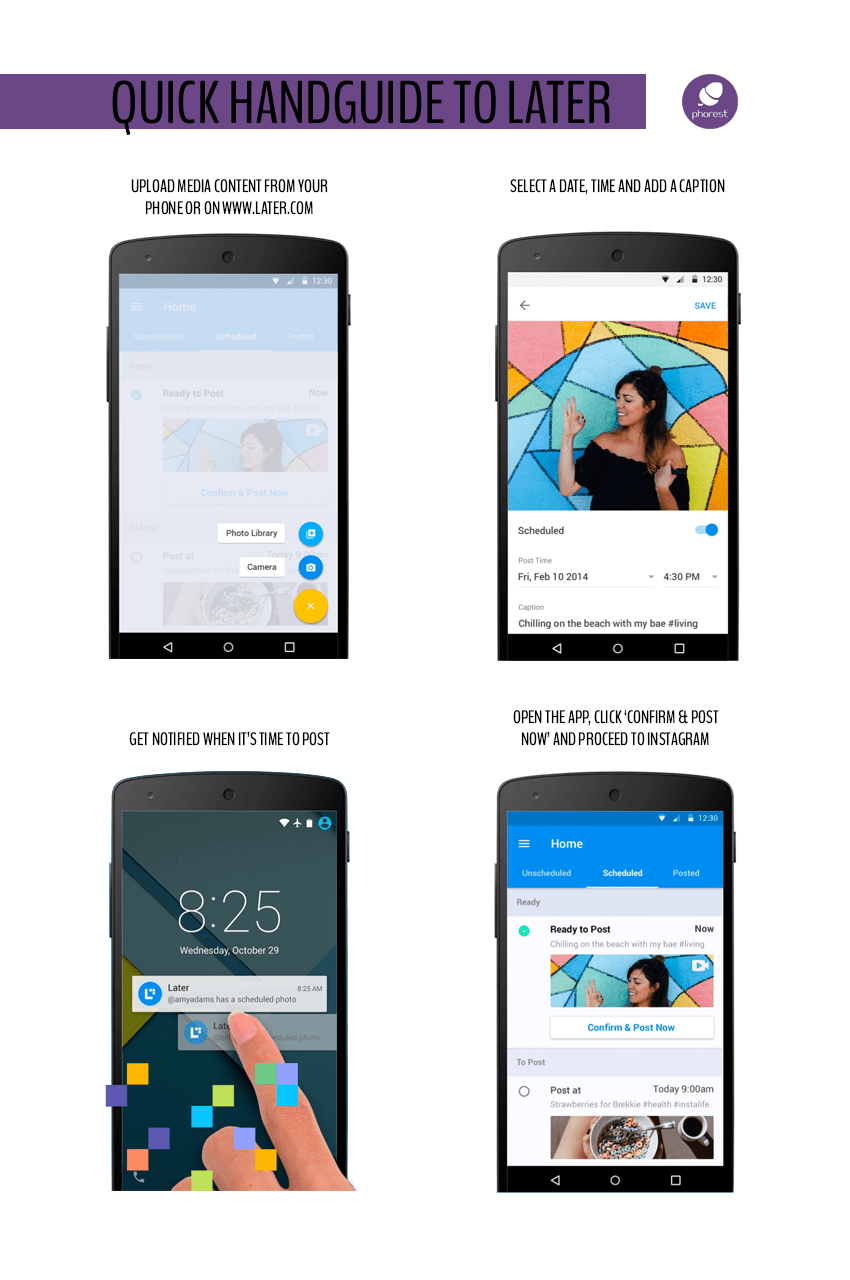 Are you enjoying these apps walkthroughs? Drop us a line in the comment or simply email us your main Instagram concerns so we can help you overcome them: marketing@phorest.com.
Thanks for reading,
#LetsGrow