As lockdown measures in many regions have eased, a new challenge emerged for salon owners: widespread staff shortages. Retention and recruitment are inextricably linked. This makes growing and developing your current staff more important than ever. Phorest Salon Software has developed a new mobile solution to help. Staff Goals is designed to empower salon staff to reach their full potential.
Providing clear direction for your staff's efforts is vital to keeping them motivated. Staff are more likely to be engaged when they know where they stand, and what they are working towards. Proper goal setting is also key to a thriving employee-manager relationship.
Phorest's new Staff Goals feature will ensure that you are setting S.M.A.R.T goals. This acronym dates back to a 1981 article in Management Review by George T. Doran. However, it is still one of the most commonly used frameworks today. It's a classic for a reason!
S.M.A.R.T. stands for:
Specific
Be detailed about what needs to be accomplished.
Measurable
Quantifying goals removes ambiguity and makes them trackable.
Attainable
Be realistic about the parameters that exist. Use data from My Performance and Phorest Reports for context. You can also check out Phorest's Free Staff Benchmarking Tool to get a rough idea of average KPIs in your country.
Relevant
Have a clear understanding of why you are setting this goal and what role it plays in the overall success of the employee and the business.
Time-bound
Create a deadline to stay on top of your goals. Having both short-term and long-term goals is important, but don't let them stretch out indefinitely.
Staff Goals Takes Staff Performance to the Next Level
Earlier this year, Phorest released Staff Performance. This allows staff to monitor their own KPIs such as revenue, transactions for services, product retail and client booking. Staff Goals expands on this. Now that staff have a picture of their performance, they can seamlessly set goals for themselves against these key metrics.
You can set Staff Goals for:
Retail product sales
Service sales
Client visits
Rebooking Rate
Average Total / Retail / Tickets
Creating a new Staff Goal only takes a few taps. After selecting a metric, the staff member or manager sets a target and timeframe for achieving it. Once they have set the goal, graphical displays inside the Phorest Go app adjust as they advance. Just made a retail sale? Hooray! The progress bar for your Retail product sales goal updates instantly.
Staff members also receive push notifications to keep them motivated as they work towards their goals.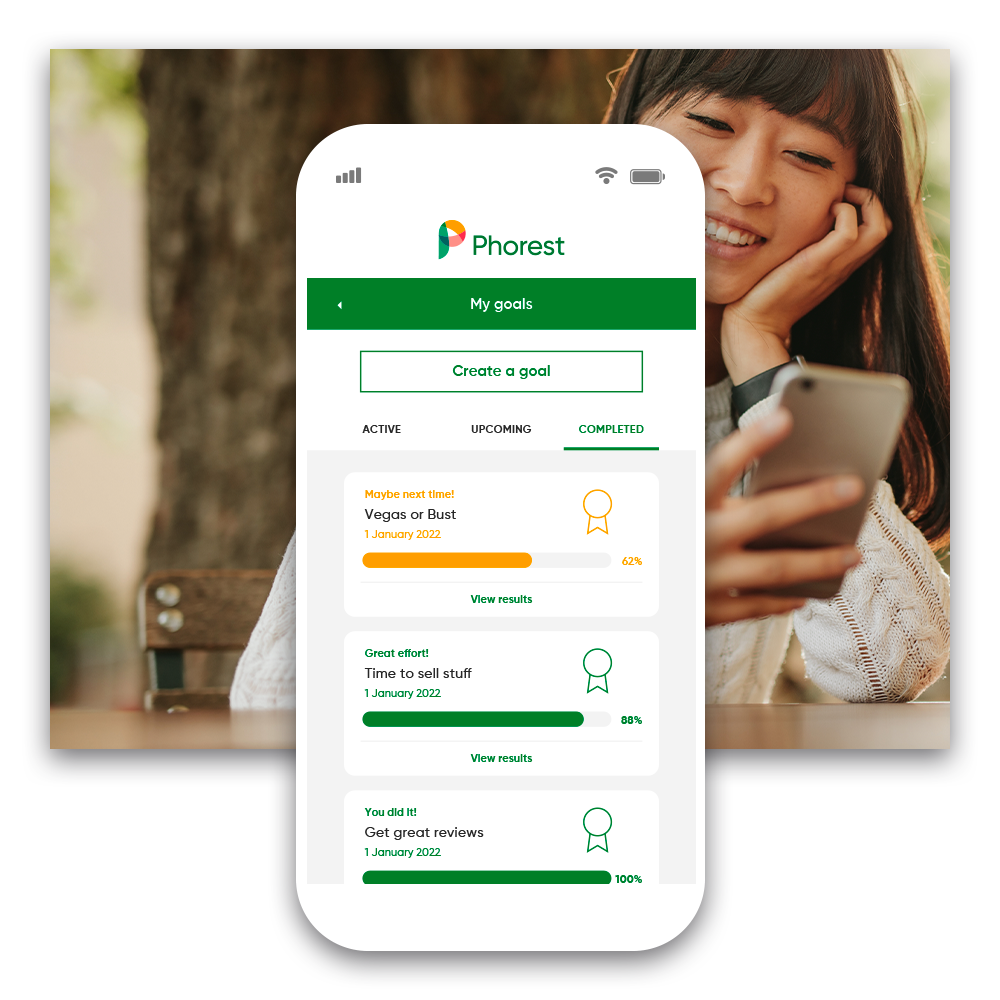 Staff Goals is satisfying for staff to use
Even when you have your dream job, not every day will feel like a dream. There will always be times when repetitive tasks and the customer service grind can wear a person down. With Staff Goals, Phorest wanted to create something that staff enjoy using. Staff Goals can be a dose of daily inspiration for the big picture. Plus, the gamified elements help make the challenges more fun.
You don't even need to be a 'numbers person' to use Staff Goals. In fact, it was designed with the spreadsheet-phobic in mind. Staff Goals makes data friendly, digestible and visually appealing. This way staff can take charge of their own KPIs and see exactly what it will take to reach their next promotion, level, or commission target. Staff Goals is also perfect for upskilling and introducing, those who have expressed interest, to new business responsibilities.
There is also the option to assign a custom award to each goal. This is the perfect opportunity to recognise staff for their hard work. Whether that is a complimentary service in the salon, a pizza, an extra day of holidays–or maybe the whole team will learn a TikTok dance! Whatever it is, make it specific to what your team enjoys. Or, if the staff member is setting it themselves, a welcome excuse to treat themselves.
Use manager view to collaborate
The Manager View allows the manager to see the ongoing progress of all of their staff members' goals. They simply need to select the staff member from a drop-down menu. Staff meetings and one-on-one performance reviews just got more mobile. With the Staff Goals feature enabled, all you need is your phone and the Phorest Go App.
But it doesn't always need to be so official. Because both management and staff have 24/7 access through the Phorest Go app, you have more opportunities for continuous feedback and praise.
The Staff Goals feature contributes to a culture of learning within your salon
It also inspires your staff members to become personally accountable for their career progression. Most importantly, Staff Goals can remind staff how integral they are to the success of the business. Pandemic burnout among employees continues to be a real threat for many industries, including ours. In addition to supporting your employees' well-being, giving them a sense of purpose can be what makes them want to stay.
The Staff Goals feature is exclusive to certain Phorest subscription packages. If the feature is not included in your package, please contact your Business Advisor today to learn how to upgrade.
Still looking for the perfect software partner for your Salon? Phorest would love to meet you. Book a free demo with our team today.