Working as a split team due to COVID restrictions might limit innovation in some salons, but at Trim Salon in Dublin, Ireland, the opposite happened. Enter Vish, an integrated colour management system.

The ethos behind Vish was to develop a system to eliminate salon waste – it works by measuring colour on the scale and then reweighing the bowl after application. Vish calculates exactly how much product was used and refines the formula so that at the client's next visit, you only mix how much is needed with all the information stored in the salon's system. The best part? It integrates seamlessly with Phorest, which Daire has used and loved for more than ten years.
Building the Buzz
Daire Byrne, the owner of Trim Salon, recounts how during the lockdown, half her team was using Vish due to the division, while the other half was not. However, it wasn't long before news of the amazing results half of her team was achieving with Vish soon made it over to the other half of her employees. Suddenly the sleek-looking Bluetooth scales and iPads on the colour bar were a much-wanted addition by everyone on her team.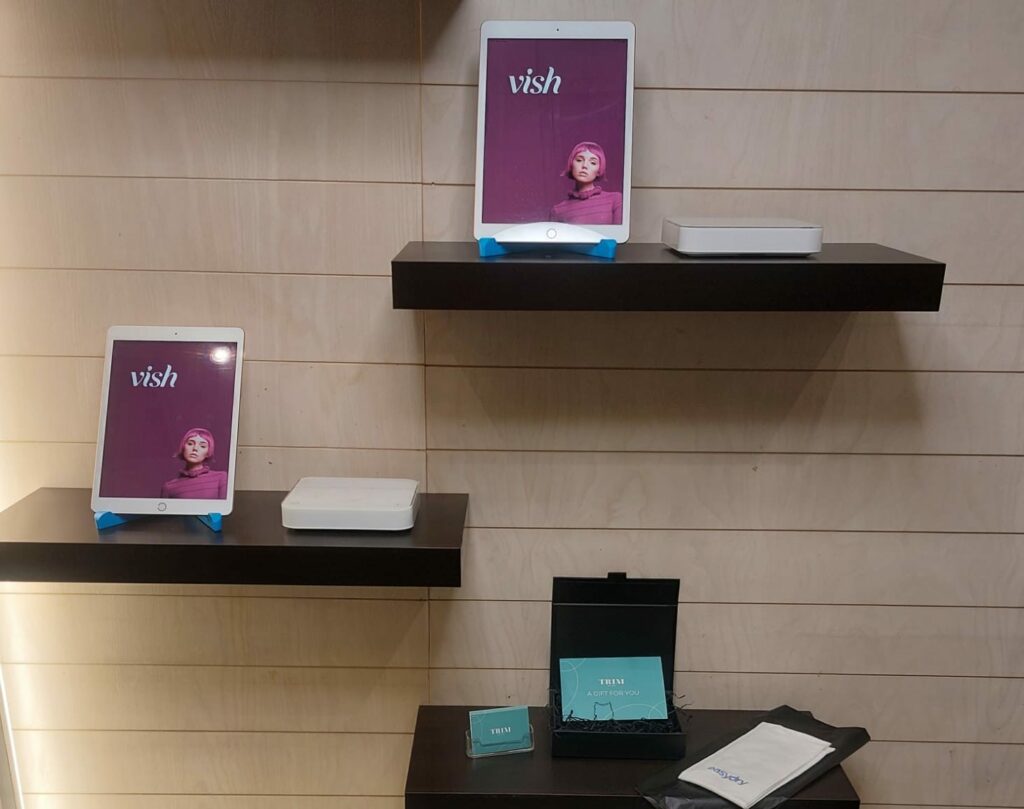 Salon Success with Vish
"I discovered Vish through a Phorest webinar during the lockdown, and I thought 'that is exactly what I need' – it boosts sustainability and locks in profit. One conversation with Vish and I was on board with two scales and iPads on my colour when the salon reopened," reports Daire, who made the most of the lengthy restrictions imposed on Ireland by strategically reviewing processes to build greater sustainability into her business. "But I knew I couldn't force it on the entire team straight away," Daire adds.
Instead, she went for a phased integration, first using the Vish colour management system herself, making sure to tell the others just how much colour product she was saving. Within weeks, the other team that manned the salon during the rest of opening hours was asking her about it.
Intelligent Integration
"What surprised me was how much better the results were because they were consistent and accurate. The formula is just there, stored in Phorest and Vish, and accessed at the colour bar through the Vish app. No more panicking about writing down or searching for formulas when you are frantically busy," adds Daire, who opened her first salon in 1983 and has been committed to innovation ever since. "I think that's what really sold it to them. The integration with Phorest is streamlined, automatic, and crucial to reducing waste and improving results."
The Vish 'Why'
Daire likens what happens in non-Vish salons to a chef making way too much food and throwing the excess away. "It would bankrupt the restaurant, yet it is tolerated in hairdressing," she says. "The industry throws away so much, and not just from what is left in the bowl. Over-application is a huge yet hidden problem, but thanks to the data in Vish, you can see who is over-applying, allowing you to discuss it with them in an authentic way. Showing the data and starting the conversation with 'You are using…' has a lot more impact than 'I think you are using…'. You can prove it.
Better Color Results
"And the best thing is, once they reduced their mixes, they could see they were getting better colour results."
Daire has become an expert at reading data in the Vish Dashboard, especially as it helps her control stock more efficiently. It measures the amount of colour used to the tenth of a gram, making it easy to see what needs to be reordered and when. It's that same data that shows her colour order costs have decreased by 22% since she started using Vish even though the end of COVID restrictions has seen client numbers grow. Her phased implementation may have taken a bit longer, but ultimately it worked for her and her team.
Calculate your colour profit potential with Vish.
This article was originally posted on getvish.com