The industry is likely never to go back to the way it operated before COVID-19. As salons and spas progressively reopen, they are also shaping a new normal. However, with social distancing protocols in place, maintaining an engaging customer experience might feel slightly challenging. From cleanliness procedures to booking appointments and selling retail, various processes are undergoing considerable changes.
What if collectively, as an industry, we rose to the occasion and made the lifelong dream of owning, managing and growing a successful salon business benefit from these changes? Oddly predictive, we kicked the year off with a post titled 'Thinking Differently: Your 2020 Blueprint For Salon Growth' which we concluded with a quote from George Bernard Shaw:
"Progress is impossible without change, and those who cannot change their minds cannot change anything."
In times of uncertainty, you can either freeze, seek opportunities and advantages, put yourself on auto-pilot, fight back or use your creativity to shape what comes next. What will your story be? If there's ever been a time to innovate and create a truly unique, top-quality experience for your salon clients, that time is now.

Welcoming clients back and adapting to a new reality
Some of the obvious changes to your salon might include the removal of the waiting area and reading material, only allowing staff to handle retail products and no longer serving beverages or taking walk-ins. Maybe you'd rather clients prepay their appointment to avoid unnecessary contact at the front desk.
Whatever it is, salons and spas will need to adapt to this new reality shaped by health and safety rules, but also clients, who may have traded their "fear of missing out" for a "fear of going out."
Identifying the gaps, clarifying and prioritizing the problem
The first step to figuring out how to optimise any process is to put some time aside to think.
Examine your post-reopening customer journey and make a map of what it looks like.
Make a list of any evident gaps and pain points you can identify that are due to new rules and regulations. Ask your team if they spot any other ones.
Clarify each gap or pain point in a sentence or two. Someone who knows nothing about your business should be able to understand the problem by reading that description.
Establish priorities (what you will tackle first).
Reframe the problem
The tough thing about feeling stuck is taking that first step in a new direction, pulling apart what exists and creating a new reality. Let's say your front of house is overwhelmed by calls during opening hours, making it difficult for your staff to give their undivided attention to the clients in the salon coming up to the till to pay for their treatments or services.
The human problem behind the business problem: your front of house staff is doing their best, but feeling overwhelmed.
An unspoken truth about the situation: clients want to be reassured they won't get lost in your salon's reopening process.
What you need to achieve: find another channel where clients can get the same level of reassurance enabling front of house staff to bring increased value to the in-salon customer experience.
Shaping actionable solutions
For each pain point, consider if technology could enable a solution you wouldn't have thought of before. In this case, activating online bookings and/or a waitlist on your salon appointment software, in addition to setting up a Facebook Messenger bot to answer the most frequently asked questions would reduce the call volume. If technology can't help, what can you do differently in your shift rotation, etc.?
Maybe there's something else you can think of — don't settle for your first stream of consciousness. Brainstorm 3 to 5 ideas on your own for each paint point.
Then, assemble groups to work with, and ask every team member to come up with 3 ideas that could help solve the challenge at hand. In this case, perhaps get your front of house staff and a manager involved in this particular brainstorm.
Make combinations based on what everyone has come up with and shape concrete plans.
Ideas to play around with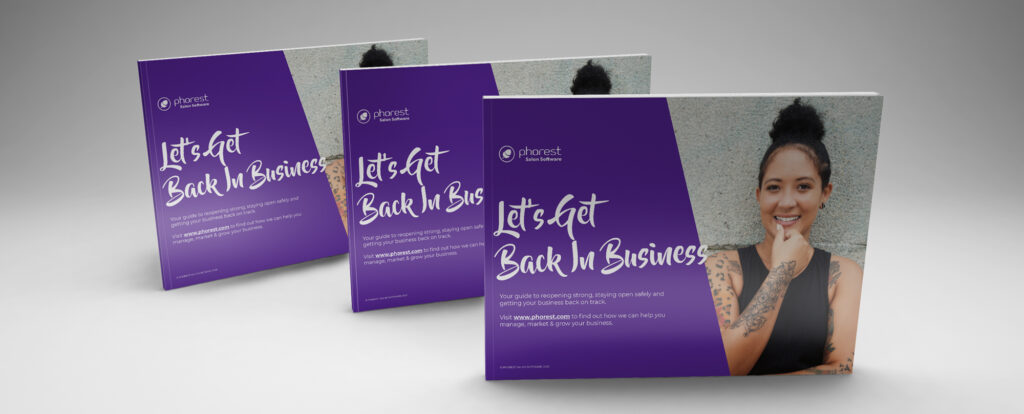 Test your solutions and challenge assumptions
A solution or strategy might work one day, but that doesn't guarantee it will work again the next. Imagine you were driving through the country, it's nice and sunny, so you're driving at the indicated speed limit. At some point you hit this one patch with high winds and rain. Would you reduce your speed and adapt your driving to the situation? Of course you would. It's the same in business. For every new context should be a new strategy.
When a situation is ever-changing, the solution must also be adjustable. This is why you need to stay disciplined, set the stage for your team and clients, test the solution and measure the results (with data whenever possible).
Ways to get staff buy-in
When things feel chaotic, people naturally turn to their leaders for guidance. If you're in a leadership position at the salon, you've probably experienced this first hand when COVID-19 first hit, and businesses were forced to close to help fight the spread of the virus. However, now that salons have reopened under strict government guidelines, getting staff to get behind new procedures again, can prove a bit trickier than it usually would have been pre-COVID. That's why clear, communicated expectations are crucial right now.
That, along with showing both empathy and gratitude for their collaboration in the process.
Some other ways to get buy-in from staff in this context would be:
To have staff remember and write down what was motivating their drive for delivering world-class customer service before all the changes started to happen.
Share everyone's motivation within the team to lift spirits.
Recognise wins and good work, even if it's in your team's WhatsApp or Facebook group.
Keep track and show your team the impacts of their efforts (whether that be on your salon numbers and/or their individual ones).
Tackle a new challenge, or refine the old problem
Your solution seems to be working? Then you know to add a section to your SOP manual. Standardising the procedure will make sure you can keep moving down your list of pain points without having to constantly go back to fix the first thing you tackled.
Remember this though: just because the solution has made it into your book of procedures, doesn't mean it can't be improved or revised. Keep observing, learning and adjusting.
Webinars to watch
Got feedback? Let us know either in the comments below or tweet us @ThePhorestWord! (Pssst! We're on Instagram too!)
Thanks for reading! #LetsGrow