Sometimes, SMS booking reminders just aren't enough to get a client to show up. And while it's crazy to think it's possible to completely eliminate no-shows, there are ways to reduce their frequency to the real emergencies only.
Listen to the audio version of this blog, and subscribe to the Phorest Blog Podcast here:
1. Track & Analyse The Reasons Behind No-Show Events
Do you get more no-shows at certain times or days?

Do certain clients make it a habit of not turning up?

Are some team members getting more than others? If so, can you identify a trend or a pattern?
The more you know about the reasons for your clients not to show up, the better you can define your salon's policy. Track which clients aren't so reliable. It will help you decide whether you should be flexible with them or not. If you're using Phorest Salon Software, take notes on the client's card and set up the system to prompt you with a message indicating a recurring no-show history.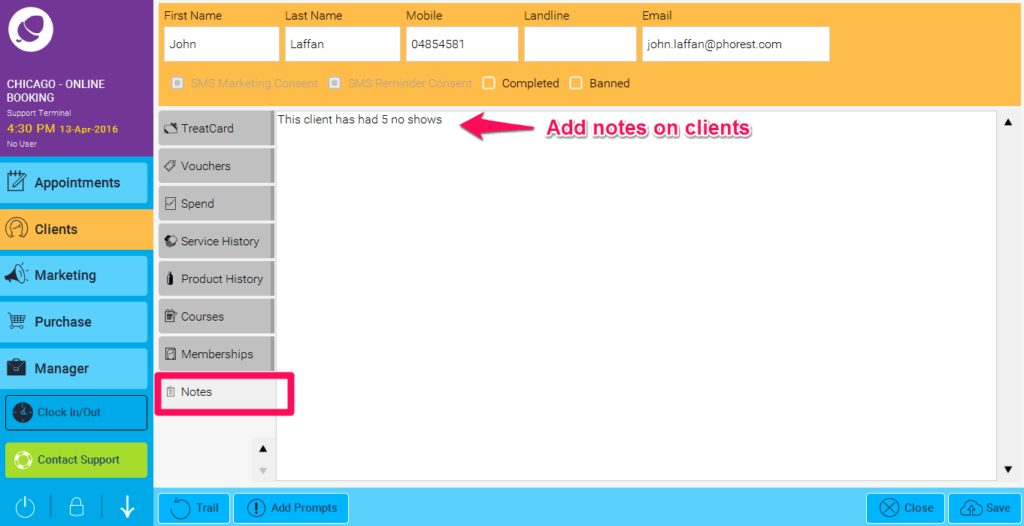 2. Define Your No-Show Policy, And Call A Staff Meeting
Clients, just like anyone, do occasionally get caught up in situations that are out of their control; the real emergencies. When there's no solid reason though, the big picture is simple: you're not only losing money, but also, your time is not being respected.
So, how do you wish to handle no-shows? Will you charge 50% of the treatment price? 100%? Or will you perhaps implement a 3-strike rule?
If you're not too sure what to say in your policy and want to look at different options before making up your mind, why not join the LetsGrow Facebook industry networking group and ask around? Bear in mind, your policy doesn't have to be complicated, nor does it have to be long. It just has to be clear.
Next, don't forget to educate your team, especially your team at reception. Explain where you're coming from, and why you're implementing a no-show policy. Clients will be a whole lot more accepting of it when receiving professional explanations. You should also prepare a script that you can add to your SOP manual for staff that feel uncomfortable spinning it off in their words.
3. Communicate Your Salon's New Procedures
Did you set up a 3-strike rule? Will you be taking deposits from clients going forward? Whatever you have decided to introduce as new house rules, make sure you communicate in a clear and professional manner. If you fail to do this, you can expect a few angry calls in no time. Set up a notice in the reception area, put it up on your website and social media and mention it when clients book over the phone.
4. Send Appointment Reminders
Did you know that 62% of no-shows occur because clients forgot about their appointment? Send a quick email and/or SMS reminder – which if you're using Phorest Salon Software can be automated. You'll be amazed at how radically you'll have reduced the amount of no-shows you used to have.
5. Reduce Costs Incurred By Salon No-Shows With Online Bookings
An online booking system like Phorest Salon Software's has proven to drastically lower no-shows partly because it gives the client some control over their bookings and partly because the deposit required for making an appointment is usually a deterrent for not showing up. Instead of being cancelled, appointments tend to be rescheduled. Alan Stewart from Rainbow Room International relates on Phorest FM, Episode 43 (from 26 minutes 51 seconds):
However, if the client still doesn't show and you have the right policy in place, you can rightfully charge a no-show fee.
All in all, for a no-show policy to be successfully implemented, you must first track and analyse common reasons for clients not to turn up, define your policy and communicate it to your staff and clients. But remember to have some level of flexibility. Although you want to enforce your policy, some situations require compassion and understanding! To learn how to do this with Phorest Salon Software, click here.
Got feedback? Let us know either in the comments below or tweet us @ThePhorestWord! (Pssst! We're on Instagram too!)
Thanks for reading! #LetsGrow
---
Featured imaged shot on location of GMALE Barbers, in Dublin. © 2017 Phorest Salon Software. This post was originally published in April 2016 and has been updated for accuracy and comprehensiveness.