Liz Earle MBE delivered a fantastic talk on day two of the 2023 Salon Owners Summit – taking the audience through her impressive career to date as a journalist, researcher, TV presenter, founder and entrepreneur, and sharing her wisdom and learnings along the way on how she built her brand. Opening her talk, Liz spoke about what had attracted her to speak at this Phorest event and referenced the words she read on our website – words we live by here at Phorest.
"We don't have a job. We have a purpose. It's to help salon, spa and clinic owners like you succeed."
Throughout her storied career, Liz said she has had many 'jobs', but has been striving to follow her purpose too, saying: "The only way to succeed in business, truly, is to be purpose-driven… without purpose, I think we set ourselves up to fail."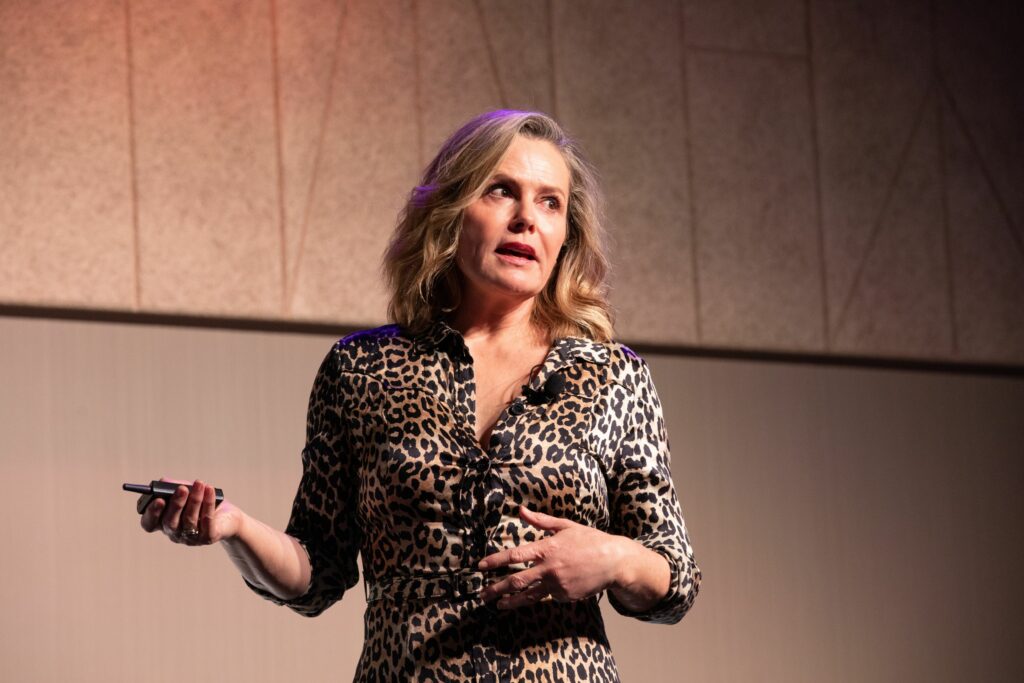 Listening to Liz take us through her career was truly fascinating.
There were so many takeaways – here are just a few that stood out:
1. Align your brand with your authentic self
After interviewing a well-known TV chef in his early years and finding he was a sweet and mild-mannered man, only to see his persona morph into a 'mean' guy a few years down the line, it made Liz realize the importance of aligning your brand to your true self – anything else would be exhausting to maintain.
2. Find your niche and align it with your interests
With an interest in wellness and natural ingredients, Liz began to make her own homemade beauty products and started to share these recipes during her TV presenting roles.
This led to a conversation with a close friend who worked in the hair industry. She noticed a shift in the brands available in the hair industry. Previously the hair products on the market were on two ends of the spectrum – either you bought a litre of low-end shampoo in the supermarket, or you went to your salon and bought extremely high-end products. There was no in-between.
Then celebrity hairdressers like John Frieda and Trevor Sorbie began to develop 'masstige' hair products – prestige for the masses – and Liz's friend spotted this gap in the beauty market. Seeing Liz making a name for herself with her homemade beauty products, she suggested Liz put her name to a 'masstige' beauty line, and between them, this was the beginning of the Liz Earle Beauty brand.
3. Service is why people come back
Liz is extremely proud of the awards won during her time with the Liz Earle Beauty brand – winning awards not only for product, but for service, and she stressed that service is why people come back. If you can connect with people, show your personality and authenticity, that resonates with people.
4. Stay close to your passion
Inevitably, as your brand grows bigger, you will start to get pulled away from the thing that began as your passion – you'll get pulled into meetings on legal, distribution, marketing. For Liz, this wasn't where her passion lay, so she decided to sell her Liz Earle Beauty brand and to begin a new venture more aligned to her passion. This may not be the path for everyone, but entrepreneurs tend to like this nimble and agile way of building up a new business.
5. Sleep is one of our biggest business assets
Far more important than MBAs and degrees – a good night's sleep is crucial to running a successful business. We can't make a good business decision on a poor night's sleep.
6. Trust your gut, and treat it well
Liz stressed the importance of trusting your gut when it comes to decisions such as hiring your team. On paper, candidates can seem like the perfect fit, but trust your intuition if something feels off in an interview. You can teach people skills, but you can't teach them ways to think or work ethic.
Interestingly, Liz explained that 'trusting your gut' is not just a saying. It has been discovered that we have neurotransmitters in our gut that communicate with our brains via the vagus nerve. So, in fact, our gut gives us signals much quicker than our rational brain. And we need to learn to take care of our gut microbiome. Wellness is not just about the products we put on our skin, but what we put inside our bodies too – something Liz learned when a nutritionist cured her eczema after a dermatologist couldn't.
7. Both women and men need to become more educated about menopause
Menopause is not an optional life stage – every woman will go through it, but it is not discussed very often in the media. Both men and women need to be more informed about it as employers. She explained that hairdressers, in particular, can help to inform, identify and educate their clients about menopause and perimenopause. Hairdressers can spot things like thinning hair and mood changes in their clients, and with the right education, can direct people to get help from their GP.
Keep Learning from the Experts
Read more of the 2023 Salon Owners Summit Recap
Feeling the Salon Owners Summit FOMO?
Want to make sure you're in the room to hear insightful talks like this next year? Get your tickets for the next Salon Owners Summit!