An industry-first innovation and revolutionary marketing tool, the Phorest Ads Manager might just be your new best friend! Say goodbye to the guesswork of social media advertising. Phorest lets you focus on what you do best – running your salon and making your clients look and feel fabulous! The Phorest Ads Manager is the only tool in the market that can track the number of offline and online booked appointments linked to your social media ads. Yes, that's right, it is the only tool available that will give salon owners and marketers a crystal clear picture of your return on investment.
But what does that mean, and how do we do it?
It means that even if someone calls the salon instead of clicking "book now", our system can track the sale to your ad. Phorest matches the client's email or phone number with their Facebook or Instagram account to see if they viewed the ad. As a result, you know how many appointments your ad has generated, something no other ad platform can offer. As our Chief Product Officer, Paddy, is known to say, it's a "GAME-CHANGER" for the salon and spa industry.
Phorest has designed this powerful tool to meet the unique needs of salon businesses while delivering outstanding results. And now Phorest salons have it at their fingertips.
How does the Phorest Ads Manager Work?
With Phorest Ads Manager, you don't need to be a marketing guru to run successful social media advertising campaigns. Phorest guides you through the entire process in a few simple steps, from crafting an eye-catching social media ad to targeting the right audience. Phorest Ads Manager does all the heavy lifting for you! Creating and monitoring your social media ads is easy, giving you more time to focus on your passion and lead your dream team.
The Phorest Ads Manager works hand in hand with Meta to allow you to create and monitor social media ads directly in your Phorest system. We have removed the typical complex interface and created one tailored for salon owners, streamlining your experience and ensuring you're always getting the most out of your campaigns and optimizing for higher click-through rates, conversions, and return on investment.
Why is Phorest Ads Manager amazing?
1. Results You Can Measure
Knowledge is power. With Phorest Ads Manager's comprehensive reporting and analytics, you have the insights you need to score a real return on your investment and grow your salon business. Keeping track of your campaign's success has never been easier with our super slick dashboard. You can monitor key metrics, such as impressions, clicks, and conversions, at a glance. And since we can track the appointments customers book both online and offline, you'll know when your ad is working.
2. Target Your Ideal Clients
You might have a fantastic ad, but if you target the wrong audience, you will not see a return on your investment. The Phorest Ads Manager simplifies the process of targeting your ideal clients using advanced targeting capabilities that are not available anywhere else in the world! How do we do this? We leverage data directly from your Phorest system to ensure your ads are seen by the right people at the right time. Not only can we target your existing client lists with targeted ads but we can also target people who we think, based on their behaviors and location, would be dream clients for your salon and have the potential to become regulars.
3. Time-Saving Wonder!
We all know that managing social media campaigns can be a complex task, taking precious time away from running your salon. But with Phorest Ads Manager, you can bid farewell to the endless hours of optimization. We provide all the tools you need for precise client targeting and effortless ad creation.
4. Ad Creation Made Simple
Unless you are a graphic designer, designing captivating ads can be challenging and time-consuming. We eliminate this headache by providing over 100 customizable, professionally designed templates and attention-grabbing captions tailored specifically for salons like you.
How Does Phorest's Ad Targeting Work?
With Phorest Ads Manager, you can target three different groups of clients:
Overdue Clients
Existing Clients
New Clients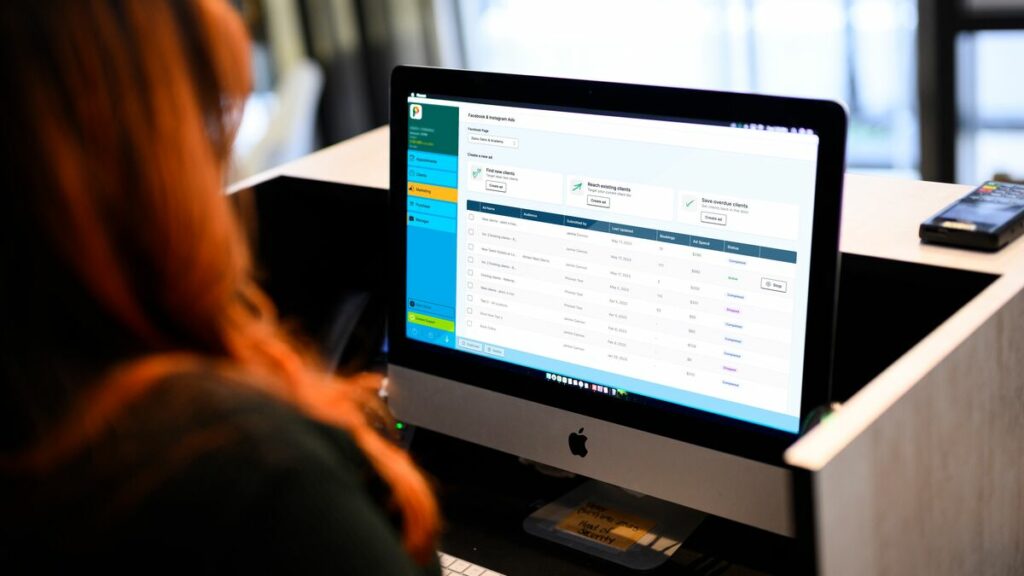 How do we decide which client falls into the use case? Let us explain:
Overdue Clients: These are the clients in your list who haven't visited your salon in the last six months but have had at least three bookings with you in the past.
Existing Clients: Your ad will target all clients in your client list and not just clients who have made a booking.
New Clients: Your ad will target people who are not on your client list but who are similar to the top-spending clients. Use this option to entice new clients into your salon with the aim that these will eventually become some of your top-spending clients.
Remember, running social media ads sporadically or just for one type of audience typically won't give you the results you desire. It is essential to be consistent and run ads targeting multiple audiences. We recommend that you run an ad targeting at least two audiences consecutively, with one of these being your existing clients, to see the best returns.
Are you ready to join the future of social media advertising today?
Phorest Ads Manager is a salon industry GAME-CHANGER that will save you time, make ad creation a breeze and deliver measurable results. Unlock the potential of social media ads and take your marketing efforts to new heights.
Ready to experience the incredible power of Phorest Ads Manager? Contact your Salon Success Manager at growteam@phorest.com