As American guitarist and songwriter Tommy Shaw once said, "timing is everything". Oh, and it really is – especially in the competitive world of email. My colleague Chris Brennan once wrote a blog post outlining the best practices for writing a marketing email for your salon, but one thing we haven't covered since is the best send times for salon email campaigns. And because today is officially the first day of December, we'll focus on optimal holiday send times.
The Competitive World Of Email Marketing

Now, I don't know about you, but personally, I've been bombarded with promotional offers over the Black Friday/Cyber Monday weekend.
Such a cluttered inbox led to very little opens and clicked-throughs from my part – I sent the majority straight to the trash or my spam folder (just being honest here). So what exactly made me open some of the emails I received – and how can you, as a salon owner benefit of the insights?
There were 3 main things:
the subject line (appealing or not)

the day I was sent the email (less chance of me opening emails over the weekend)

the time I was sent the promotional offer (morning, daytime, evening)
To help you benefit from actual statistics though, we did our research and along the way found this really amazing research HubSpot made on email send times (you can't be sending off emails based on my preferences now, can you!). Here's what we thought was the most relevant information for your salon email campaigns during the festive season.
Read This If You're Planning Salon Email Campaigns Over The Holidays…
The Best Time To Send Email
Hubspot's study implied analysing over 20 million emails delivered over a 10-month period resulting in the following findings. Before getting into the best days, HubSpot's research determined the best time to send an email during the week was between 10:00 AM and 12:00 PM, with a peak observed at 11:00 AM.
For the best chance of engagement over the weekend, Sunday 9:00 PM wins over Saturday 11:00 AM.
Sending A Campaign Around Christmas Time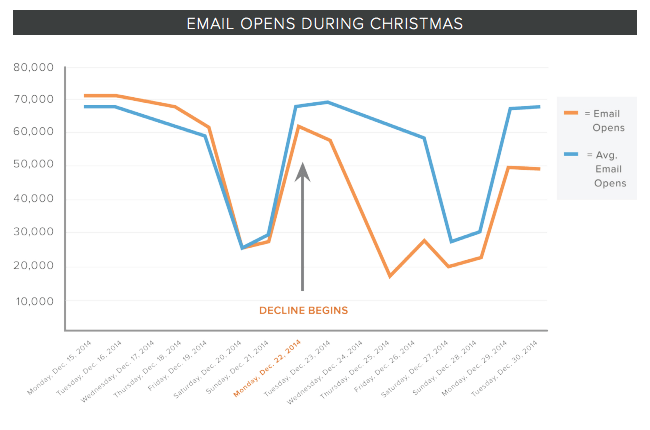 Email opens are 6% higher than usual during the week leading up to Christmas
Email opens experience a massive dropoff starting on Monday, December 22nd continuing throught the beginning of the new year
42% less emails are opened on Christmas Eve
72% less emails are opened on Christmas Day
The week after Christmas is still bad for email engagement (around 35% less emails are opened than usual days)
Takeaway: Try to send your salon email campaigns out the week before Christmas. If, however, it slips your mind, try December 22nd, 26th and 29th.
Sending A Campaign Around New Year's Time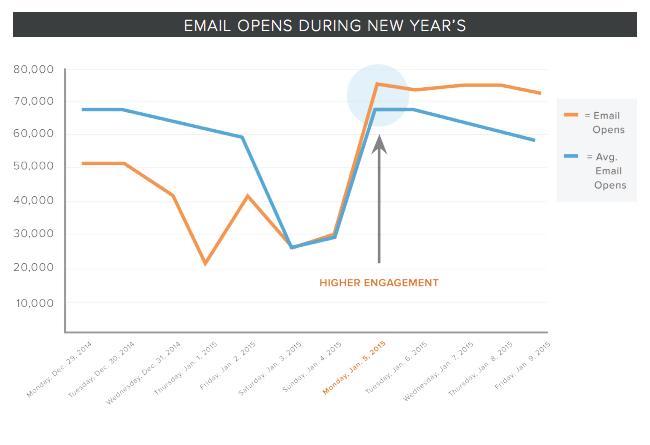 Email activity is still low around New Year's
37% less emails are opened on New Year's Eve
62% less emails are opened on New Year's Day
Engagement picks up again by 12% starting around January 5th (start of the business week)
The first Thursday after the start of the business week sees a peak in email opens
Takeaway: Email opens are the highest once people go back to work. Avoid being caught up in the festive noise and schedule any salon email campaigns for the first Thursday after New Year's.
Don't Go Just Yet!
Grab your FREE salon email marketing campaign ultimate cheat sheet!
To get all the tips & tricks in one place and never let another of your salon email marketing campaigns go unnoticed, download your cheat sheet today for free!