You know that Christmas feeling… the bad one! Everybody is tripping over themselves at the till trying to put through payments, process vouchers, make appointments and answer the phone. It just can't be done. Clients can end up feeling frustrated while the team begin to get irate which results in bad customer service. We have something that's really going to relieve the stress during this manic period.
Now imagine this – every person on your team can be a mobile receptionist and no matter how busy you get, they can easily handle all payments from anywhere on the floor on iPhone or iPad. Well that's just what Phorest has just released.
We have an uber-slick iPhone and iPad app that looks great when dealing with clients on top of carrying the professional touch of being ultra efficient and organised. Here's a 30 second teaser video: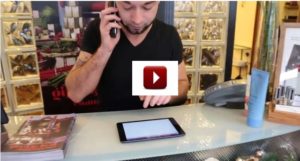 3 great reasons you should get this:
Relieve queues during busy periods – deal with clients anywhere on the floor

Price items with your phone right at the retail section of your salon. No more,"Hold on please until I check the price" when asked by a client in a rush i.e. never miss a sale!

Create a cutting-edge image and a new standard of customer service. Be a leader in your field
There is a once-off cost of £250/€250 for the app and it can be used on as many devices as you wish.
Ronan Perceval is CEO and Founder of Phorest.com, a leading international provider of salon software. UK: 0207 100 9290 Irl: 01 874 7800 e: letsgrow@phorest.com