Every year, it's the same struggle: there's so much to get done before Christmas.
Between the daily salon routine, the increasingly busier days, the SMS and email campaigns to send out and social media channels to update, it's so easy to feel overwhelmed. I bet you've started to wonder when you'll be able to find the time to sleep… But then it dawns on you: your competition is probably already putting their strategy together to maximize business this festive season.
Let us help you slow down and enjoy the simple things: here are our November salon marketing ideas! Get your salon ready to boost profits, build brand awareness and increase retail sales with this exclusive 'Festive Season' one-stop salon and spa marketing toolkit!
Your November salon marketing ideas toolkit includes Festive Season SMS & Email templates, original salon Voicemail Greetings to encourage online bookings, a Christmas Marketing Planner & Posters!
Be Strategic
There are many ways to market a salon for the festive season, but before getting deeper into that, I want to make sure I stress a few crucial points.
First and foremost, decide where your opportunities are and choose 2 or 3 growth categories you wish to focus on:
Frequency of visit

Average client spend

Referrals

Client retention and loyalty

New client generation
You could have all the ideas in the world planned for your salon, if they're not supporting your ultimate goal, why are you even putting time and effort into making sure they all come to life?
Then, make a calendar and decide who's in charge of what. To help you out with this, we've included a Marketing Planner in your toolkit. It's literally begging to be filled out. 😉
Finally, set a budget to avoid any post-December surprises and stick to it!
For the rest, have fun it's the season of giving and smiles!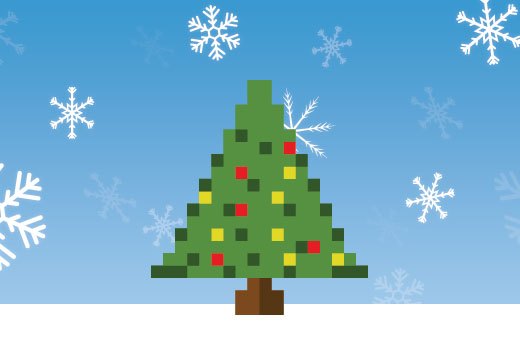 November Salon Marketing Ideas To Avoid Last Minute Panic Attacks
While social media is massively important – and we'll get to that in a minute – focusing on solely one channel is a synonym to "fatal marketing error." Instead, deliver your marketing messages using not only social but also in-salon/spa materials, SMS and email campaigns, advertising, your website, etc.
Social media

The first thing I want to highlight here is scheduling some time to pre-write social media posts and find imagery while it's still time and not mad (read insane) busy.
Of course, promote your offers, promotions, and online bookings there, but I want to draw your attention to another cool thing you could do. Host a Facebook Live in which you could have a therapist giving a tutorial on how to use certain retail products. Why? Because then it's easy to promote Christmas retail packages at the end of the tutorial and have people realize that you do have gifts to cover every loved one on their list!
Sneaky? Maybe. But I can assure you that it will work. Just don't forget to stock up beforehand. 😉
For additional social media ideas, make sure you have a glance at Christmas competition ideas highlighted in the article below!
https://www.phorest.com/blog/sales-marketing/christmas-salon-marketing-plan/
SMS & Email Marketing
I'm not going to stress this enough; preparation is the key to getting great results throughout the Christmas holidays. A good way to push your offers & promotions out is by scheduling SMS and email campaigns to be sent out to your clients. If you have the time, set up a few and target different audiences.
We've already created a few Christmas-oriented SMS & email templates which you can find in your November salon marketing ideas toolkit, but make sure you have a look at these 4 extra winter-season SMS templates.
Let Your Colours Shine Through
Christmas Offers: Posters & Visuals
Picking the right color in visual advertising is crucial – it affects buying behavior. Below are a few colors associated with what they make people feel. Something handy you might want to keep in mind when creating your visual campaigns this season.
Red: evokes strong emotions, has discount/deal connotations

Silver/Gold/Black: evokes luxury, prestige and sophistication

Lavender/Pink/Purple: known to be appealing to women salon clients

Blue: gives a sense of trust, reliability and calm

Green: associated with eco-friendly and organic, but also calming and easy-on-the eye
In your marketing toolkit, you will find 2 posters you can add offers & promotions onto and then share on social or email to clients. If you have a hard time with them, drop us a line at marketing@phorest.com & we can help you design a little something. It is the season of giving after all. 🙂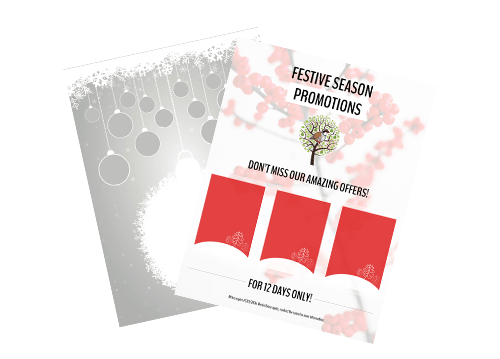 Salon Photobooth
One fun thing you could to get your clients to engage with you is set up a salon photobooth. People looove selfies and extra content for their Instagram accounts. Why not capitalize on the opportunity and ask them to tag you in their brand new picture (& look)? 😉
Or, make it even cuter, set up a polaroid station with instant photo print. Polaroids make fantastic souvenirs! They're small, fun and you can write a nice little word to your client!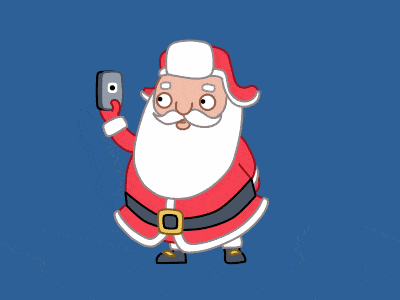 Update Your Salon's Voicemail Greeting
This might sound obvious, right, but I'm the first to forget to activate my email auto-responder when I go on annual leave. Well, believe it or not, updating your salon's voicemail greeting to accommodate for closed business days can make all the difference. Two words: Online Bookings.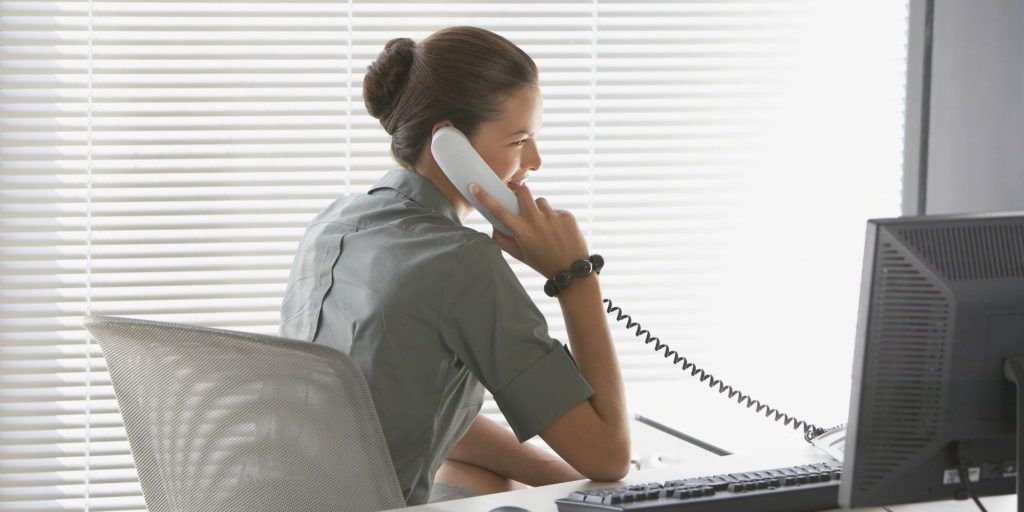 Imagine this:
Marie has an emergency hair problem on Christmas day or St. Stephen's Day. She rings the salon in complete utter panic, right? But she didn't know you were closed, let alone when you'll be open again.

Scenario 1 (Regular voicemail greeting with no mention of an online booking possibility)

Marie is still in panic, she decides to ring other salons, and hopefully find someone to help her out. > You've most likely just lost a loyal client.

Scenario 2 (Updated voicemail greeting with invitation to book online)

Marie is still in panic, however she decides to immediately get her computer and book the first available appointment. This, to her, is reassuring. > She'll wear a beanie for the next few days, but she is confident that her favorite stylist will be able to pull off another "miracle"!
That's just one example of the many things that could happen. Advertising your seasonal promotions and holiday opening hours on your salon/spa's voicemail is another great way to reach out to your customers!
To cover this, make sure you have a look at our 2 Festive Season Voicemail Greeting templates in your November salon marketing ideas toolkit. And for more information about voicemail greetings, check this article out.
Extra: One Last Fun Marketing Idea
Saturday, November 5th, 2016: "Love Your Red Hair" Day
Traditionally, red hair is associated with "fiery personality that is ruled by its passions, a strong-headed person who knows what they want and how to get it." The history of red hair has had its share of myths, to be honest. But without getting into all of that, why not celebrate your red-headed clients on the day? Here are two quick ideas:
> Hair/Beauty salon: Create a unique hashtag (#LoveYourRedHairDay), Instagram red-haired client before & after posts on the day, ask for your customer's handle and tag them in the picture
> Spa: Offer a few extra TreatCard points on the day for red-headed customers, promote it like as a "token of our appreciation."
The key to running a successful festive season in your salon or spa is preparation. Don't let another Christmas stress you out; start planning now! For those wondering why we haven't covered Christmas gift cards strategies in these November salon marketing ideas, it's simply because we'll be putting a blog together specifically on that subject in the next few weeks.
If you would like more tips for getting your clients flooding through your doors beyond festive season, then you're going to love this Client Retention eBook! Download it today!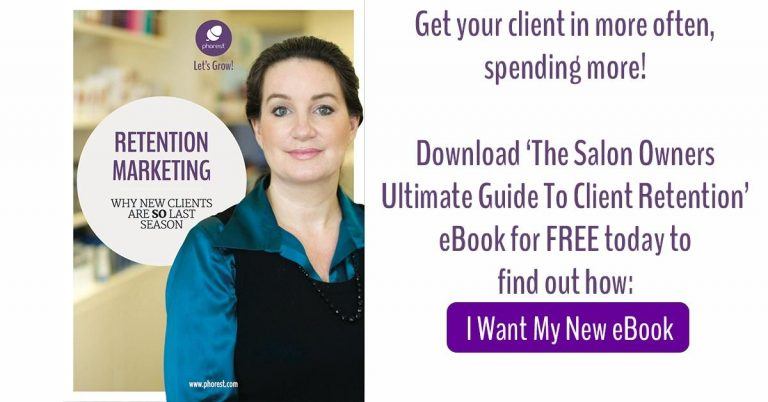 Download your November salon marketing toolkit here: