For the past few months, salons around the world closed their doors to help manage and contain the COVID-19 pandemic. We are now starting to see hair, beauty, barber and spa businesses in various countries getting back in business as restrictions are lifted across Europe and the US.
In the US, many hairdressers, barbershops and beauty salons across the country have already opened their doors to clients, with Georgia being the first state to allow salons to resume trading on April 27th. Those who remain closed look forward to reopening over the next few weeks. In the meantime, the reopening process has been raising some concerns and anxiety about both what lies ahead and what the 'new normal' will look like.
Phorest Salon Software wanted to dive a bit deeper and see what aspects of reopening are getting salon owners concerned and how they plan to handle getting back in business.
Salon owners' concerns about reopening
After recently surveying 160 salon owners, we found out that salon owners' number one concern about reopening has to do with their staff's safety (35%). Another significant area of concern (30%) is the potential gap between the revenue the salon will be able to generate versus the overheads they have to pay. Salon owners are least concerned about communicating with clients (6%), indicating that they have been using tools to stay connected to their customers even during the lockdown.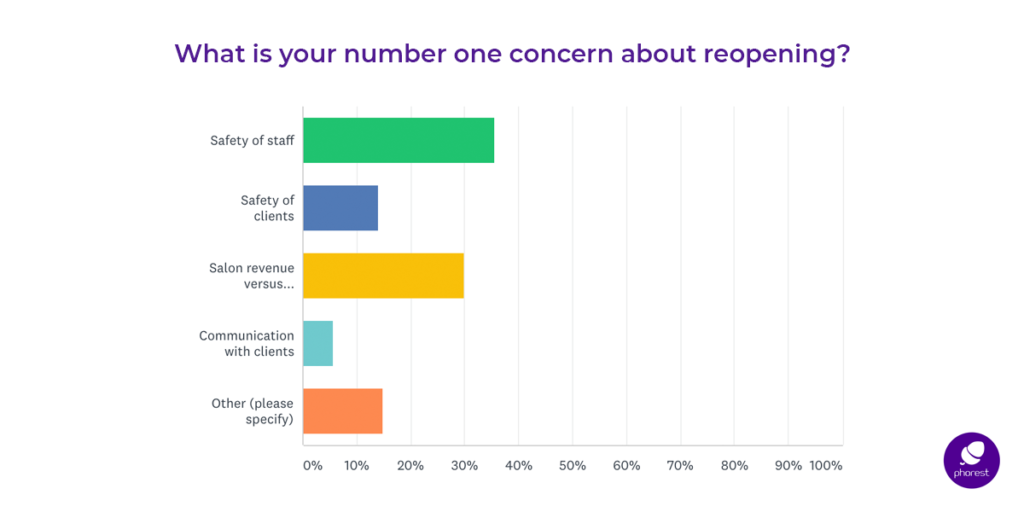 On average though, those surveyed rated their overall confidence in getting back in business safely as 7.3 out of 10.
What do salon owners plan to do when reopening?
Besides government guidelines and social distancing rules, salons also need to decide what their 'new normal' and day-to-day operations will look like upon reopening.
Opening days & hours
When asked how many days a week they were planning to open once the restrictions were lifted, the majority (68%) of salon owners answered five or six days per week. Another 20% of the surveyed participants said they planned to open their salons for the full week, while the minority (12%) said four or less days.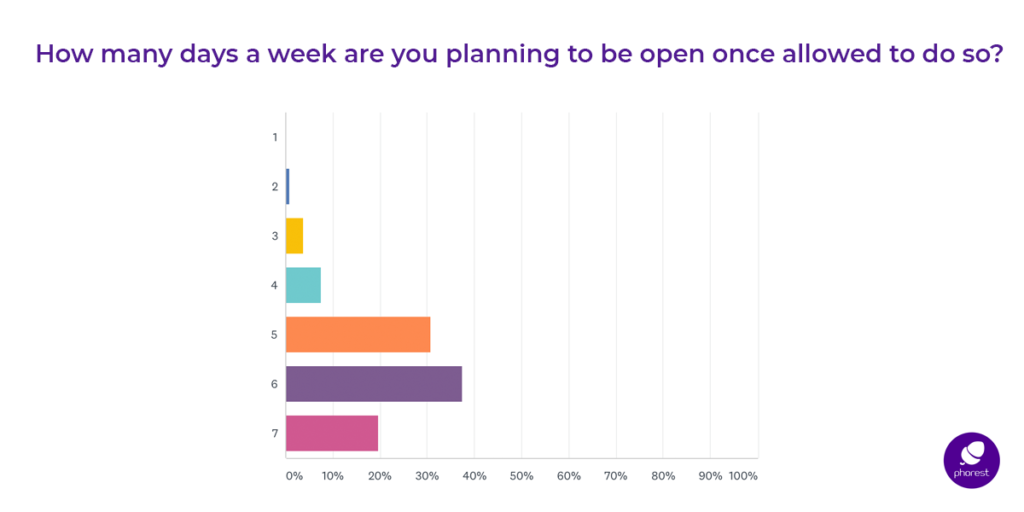 As salons expect an influx of bookings upon reopening, 41% of the survey respondents plan to lengthen their opening hours to cope with the demand. Of those surveyed, another 34% see themselves doing extended hours only temporarily — namely for the first 2 to 4 weeks. On the other hand, 24% of the surveyed salon owners answered that they will operate their salon as per their pre-lockdown opening hours.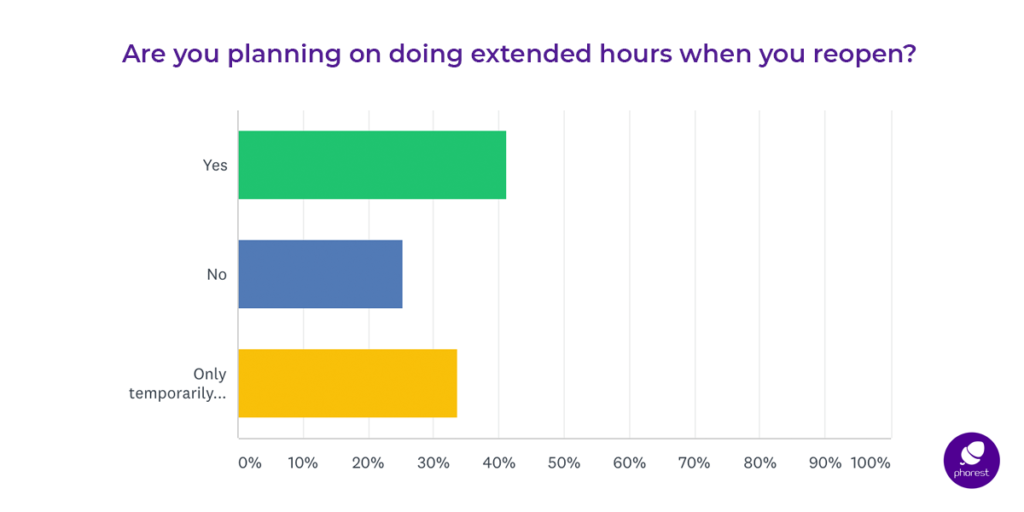 Rostering and treatment menus
Phorest's research also revealed that the majority of salon owners plan to have at most 0 to 2 (34%) or 3 to 4 (36%) staff working in the salon at the same time, while 20% of salon owners will have 5 to 9 employees working on-premise. However, this hugely depends on the business' size itself as the salon owners need to make sure that all social distancing rules are met to keep staff and clients safe and healthy.
Salon owners have also been rethinking what services and treatments they'll offer once the restrictions are lifted. Due to safety, hygiene or time constraints, 47% of the surveyed salon owners plan on offering restricted services and treatments when reopening their doors, while 20% plan to provide the same as they did before COVID-19. However, 34% are still on the fence about cutting back on their offering and will likely wait to see what their competitors do. Either way, their main concern remains the wellbeing and safety of both clients and staff.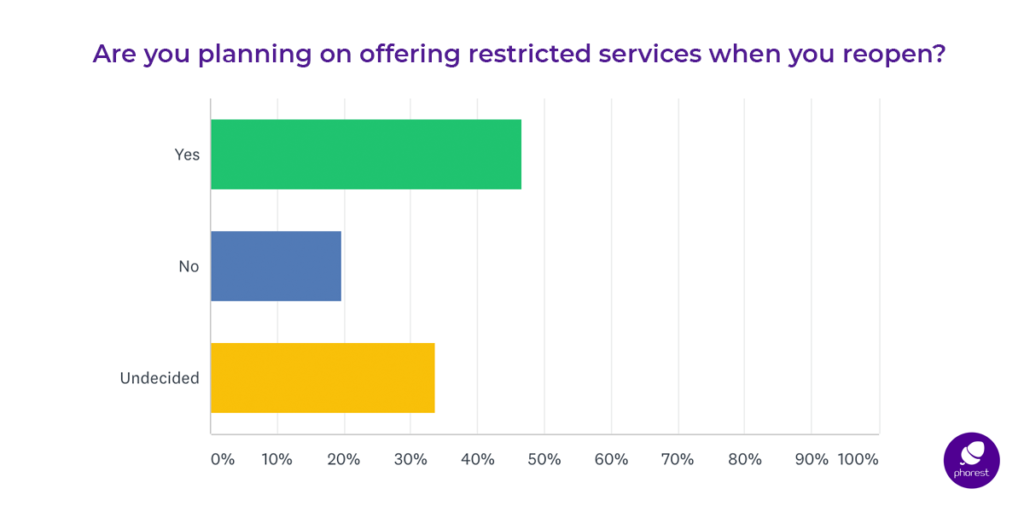 Waiting list management
We then asked salon owners to specify how they were going to manage their waiting list and what criteria(s) they would use to schedule the first weeks of appointments.
First of all, it's important to mention that regardless of their rebooking strategy, most salons will no longer be accepting walk-ins and spontaneous bookings.
That being said, the majority of surveyed owners agreed they would first reach out to all the customers who already had an appointment cancelled due to temporary closure, and reschedule them accordingly. These salon owners also stated that clients who had weekly or monthly standing appointments would stay in the books. The next clients to get appointments would then be loyal clients, followed by customers on the waiting list. The remaining available spots in the diary would go to new customers on a first-come, first-serve basis.
Some of the salon owners surveyed indicated that they would prioritize clients that had either purchased gift vouchers or helped the salon financially during the lockdown or had prepaid programs and treatments. One of the surveyed salon owners even thought about reserving the first hour of the day for elderly clients or those at risk.
Online bookings
To better keep track and control of appointments being made, most salon owners stated that for at least the first few weeks, they would only be taking phone and email bookings, after which they'd turn on online bookings again. In the meantime, some salon owners plan to send an email with new salon opening hours, guidelines and expectations to their clients.
Gap times
Last but not least, a few salon owners also mentioned that they plan to leave 15 to 30 min gaps between appointments to both ensure social distancing and have enough time to clean stations.
The Phorest Reopening Toolkit
The Back in Business toolkit from Phorest has everything every salon needs for a safe reopening, including email and SMS templates, wellbeing practice guides for the new normal and data and advice from those who have been there before. Click here to download our comprehensive guide to reopening while catching up on blogs, podcasts and Government advice for salons.
Phorest clients can also now use brand new appointment control features, client filtering options, COVID-specific messaging and Online Booking banners. A full list of Back in Business features can be seen at a glance below.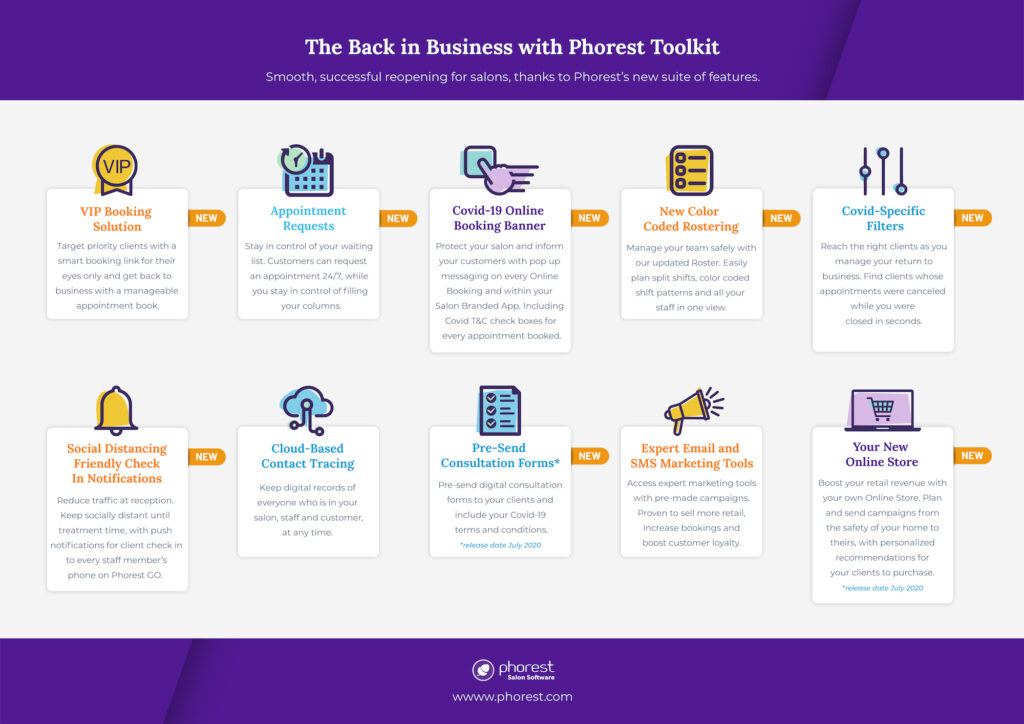 Got feedback? Let us know either in the comments below or tweet us @ThePhorestWord! (Pssst! We're on Instagram too!)
Thanks for reading! #LetsGrow