Over the past few weeks, states across the US have made positive steps towards easing lockdown restrictions, allowing people and businesses to safely return to some degree of normality. The reopening of salons came in different phases in different states. Still, there's one commonality: the celebration of the comeback and surge in demand for appointments across the country.
Let's be honest. There were a few reasons people missed their stylists and beauticians so much during the lockdown, and it wasn't all to do with grown-out roots, chipped nails, and shaggy beards. While a trip to the salon makes you look great physically, it also builds confidence, human connection, and plays a vital role in positive mental health. Hairdressers and beauticians not only guide their clients through major life events, such as births, marriages and divorces, but their attention and care also have a profound effect on people's moods and wellbeing. A scheduled hour of self-care offers some balm for the soul in a hectic, fast-paced world.
Listen to Meabh Quoirin's full interview and subscribe to the Phorest FM Podcast here:
Phorest Salon Software recently carried out research to find out how consumer beauty booking habits have changed as a result of COVID-19 and salons being temporarily closed. The following anonymized data was gleaned from approximately 1,400 Phorest salons and spas across the US between June 26th, 2020 and July 2nd, 2020, and compared with the same period last year.
Post-lockdown beauty habits in the US
Salons using Phorest Salon Software across the US noted their salon appointment books contained an impressive 70,177 cut and styling appointments between June 26th and July 2nd, 2020, bringing this type of booking top of the list in performed services. It looks as though getting those dead ends chopped was the number one priority for many consumers across the states when their salons reopened.
In that same week, coloring services totaled 39,293 appointments — closely followed by coloring appointments without a finish. When comparing these stats to the same period last year, there was a total of 2,514 more hair treatments performed. This upward trend could hint at video conferencing-visible procedures taking higher priority than the usual summer favorites.
Interestingly, the demand for threading services decreased year-on-year, moving from 5th place in 2019 to 8th place this year. Also, Americans saw less need to make appointments for manicures or lash extensions. This may be due to them having more time at home, hence more time to acquiring these skills by watching tutorials on YouTube or Instagram.
Despite a few treatments changing in order, the top 10 beauty treatments booked in 2019 are still America's top 10 post-lockdown beauty treatments. Looking specifically at the total number of services performed between June 26th and July 2nd compared to the same time last year, we can see an increase of 30%, with a whopper 51,179 more appointments than in 2019.
With all the social distancing measures and guidelines in place to keep staff and clients safe and healthy, the average visit duration and time per client increased by 8 minutes, from 75 to 83.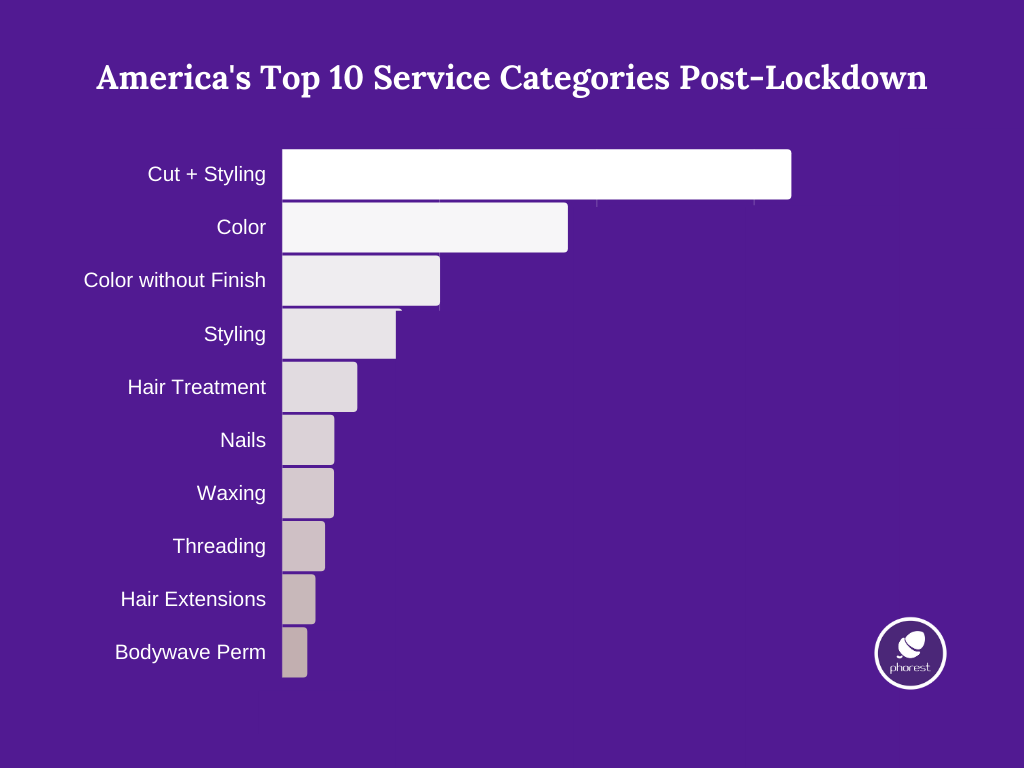 Appointments for specific services
Let's take a more granular look at the hair treatment services carried out this year compared to the same time last year. While highlights were the top requested service, both single-process color and gloss treatments also saw an uplift in demand. With roots growing at an alarming rate while salons were closed, many ladies chose to embrace change and opt to enhance the natural growth with ombré post-lockdown. The demand for ombré services increased from 209 appointments last year to 700 this year. Unsurprisingly, there was also an uplift in the number of color corrections done compared to the previous year.
Male beauty habits post-lockdown
Although there were many attempts at DIY haircuts, American men were also in urgent need of grooming once salons reopened. Between June 26th and July 2nd, 882 men across Phorest salons joined the rush to secure their grooming appointments. Nail appointments also increased post lockdown, while waxing, face, and eye-beautifying appointments booked were less booked than in 2019.
Gift card purchases secured appointment slots
It seems that showing salons a little love during the lockdown went a long way for many clients. Indeed, 37% of people who bought an online gift card to help their salon stay afloat secured a precious appointment for the prime reopening week, i.e., June 26th to July 2nd.
Beauty booking habits across different US states
To dive deeper into American's booking habits, we focused on Phorest salons in 5 specific states: New York, New Jersey, Pennsylvania, Florida and Texas.
New York
Unsurprisingly, it was hair services that dominated the top 3 categories of appointments completed between June 26th and July 2nd. During that same week, single-process color treatments were performed 1,658 times in New York salons, and highlights were done 736 times.
But if getting DIY haircuts and dye jobs fixed as soon as possible was a priority for New Yorkers, they were more hesitant about treatments requiring more intimate contact.
With exotic vacations on hold, being body beautiful was less of a concern in New York. Only 110 waxing services were carried out on this particular week compared to 303 in the same week last year. Laser hair removal procedures also lost their place on the post-lockdown list, moving from 2019's 11th place down to 29th.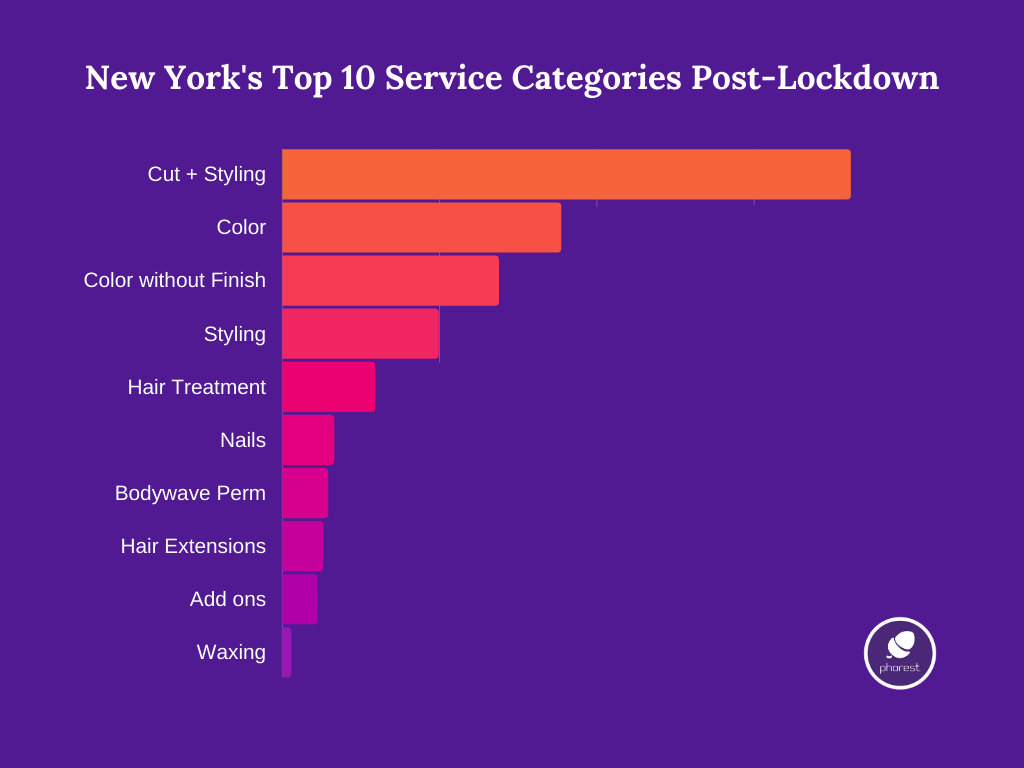 Although getting a professional haircut was of equal importance to 2019, the total number of beauty appointments booked by New York men decreased from 395 to 273 compared to the same time last year.
Compared to the other four US states observed, salons in New York have seen the highest increase in average visit duration, at 13 minutes.
New Jersey
Similar to New York, hair treatments took the most requested spots in New Jersey salons. Single process hair services were by far the most booked treatment post-lockdown (862 appointments), followed by highlights (561) and gloss treatments (229).
However, people in this state seemed to also be more conscious about their bodies, with waxing, feet, and hands-beautifying treatments (including nails, manicure, and pedicure) being of higher priority post-lockdown than the same time last year. On the other hand, threading dropped out of the top 10 most requested treatment list.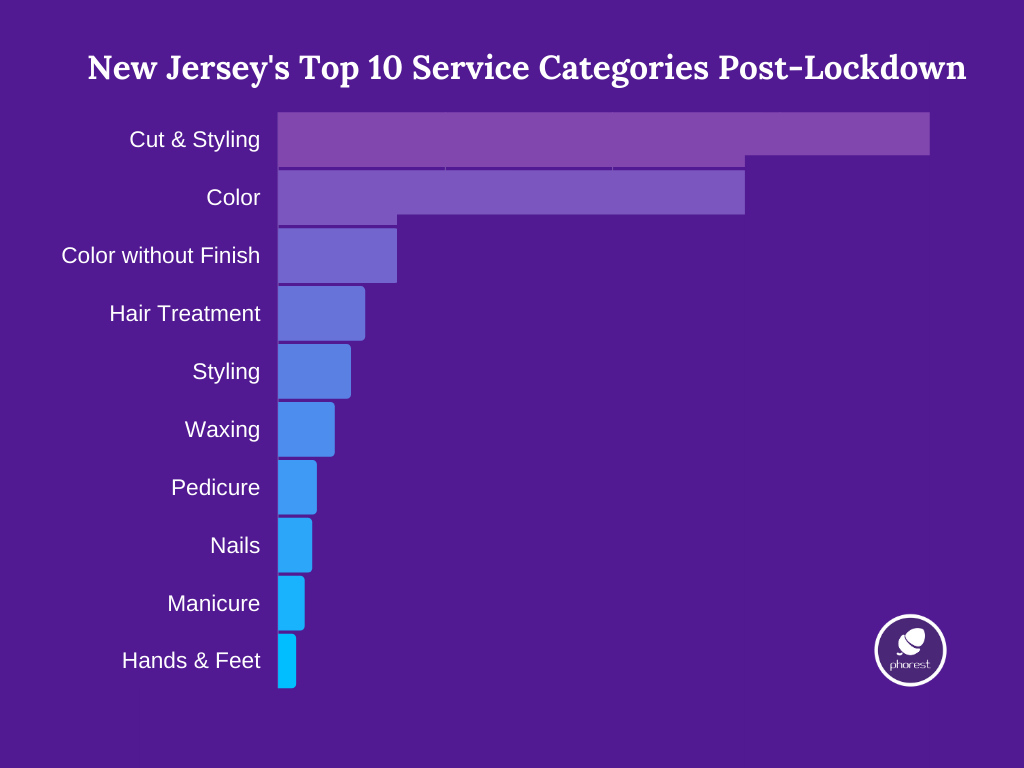 In total, New Jersey's reopening week saw an uplift of 43% in treatments booked (precisely 4,238 more) compared to the same period in 2019. Since the easing of restrictions, salons in New Jersey have spent, on average, 7 more minutes per client to ensure a safe environment for staff and clients alike.
Pennsylvania
In Pennsylvania, getting a professional haircut, color, and styling done was top priority post-lockdown. As per the states of New York and New Jersey, single-process color and highlights were the top two treatments of choice, with gloss hair treatments placing third. Color services without a finish doubled compared to the same period last year.
Besides hair-related treatments, people were also keen to get their waxing, manicures and pedicures appointments into the calendar.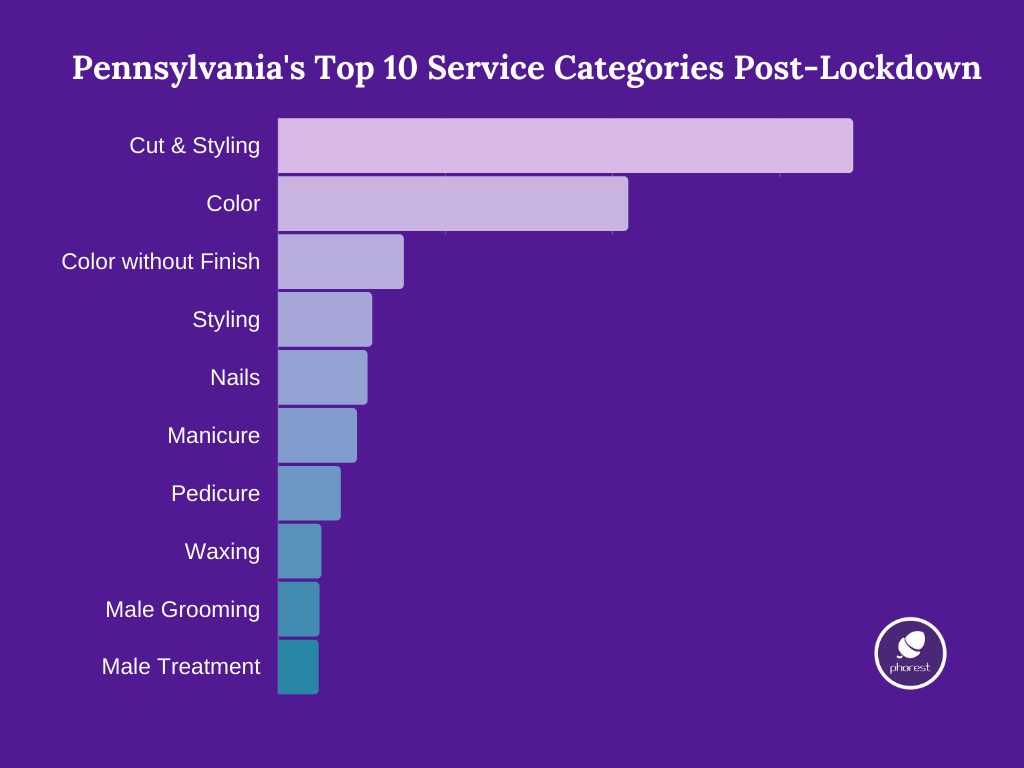 Men living in Pennsylvania seemed to be more conscious of their looks post-lockdown: there were 369 more male appointments performed on Philadelphia's reopening week than last year. An interesting fact to note, while men were eager to get their hair spruced up at their favorite barbershop, they were equally interested in getting their nails done.
Since reopening, Pennsylvania's salons have spent on average 8 more minutes per appointment.
Florida
Between June 26th and July 2nd, hair services were also a top priority in Florida, with cut and styling, coloring, and coloring without finish appointments coming in positions one, two, and three, respectively. Although people got more experimental and confident with cutting each other's hair during the lockdown, going to the hairdresser was something the people of Florida were eager to get back to.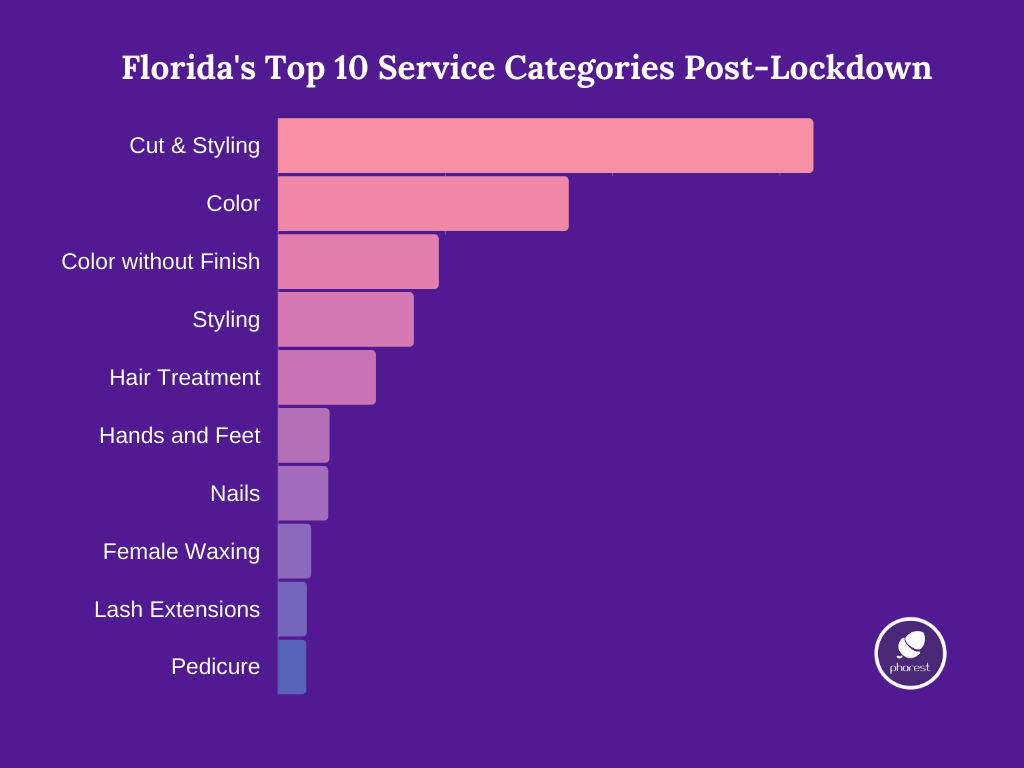 Less popular were with threading and lash extensions appointments decreasing by half post-lockdown, compared to 2019. Interestingly, however, there was a 39% increase in the number of male waxing treatments during that week.
Since reopening, Florida salons have spent, on average, 5 more minutes per client.
Texas
In Texas, a total of 4,695 cut and styling appointments were carried out between June 26th and July 2nd. Coming in second were hair color treatments, followed by hair color treatments without finish with a total of 1,333 services performed that same week — appointments for getting a professional ombre look doubled.
Beauty essential and waxing services then came in sixth and seventh place, both seeing more bookings compared to the same period last year.
People living in Texas seem to have had less interest in brows and lashes post-lockdown, with demand for eye-beautifying treatments moving down from 2019's 6th to 10th place.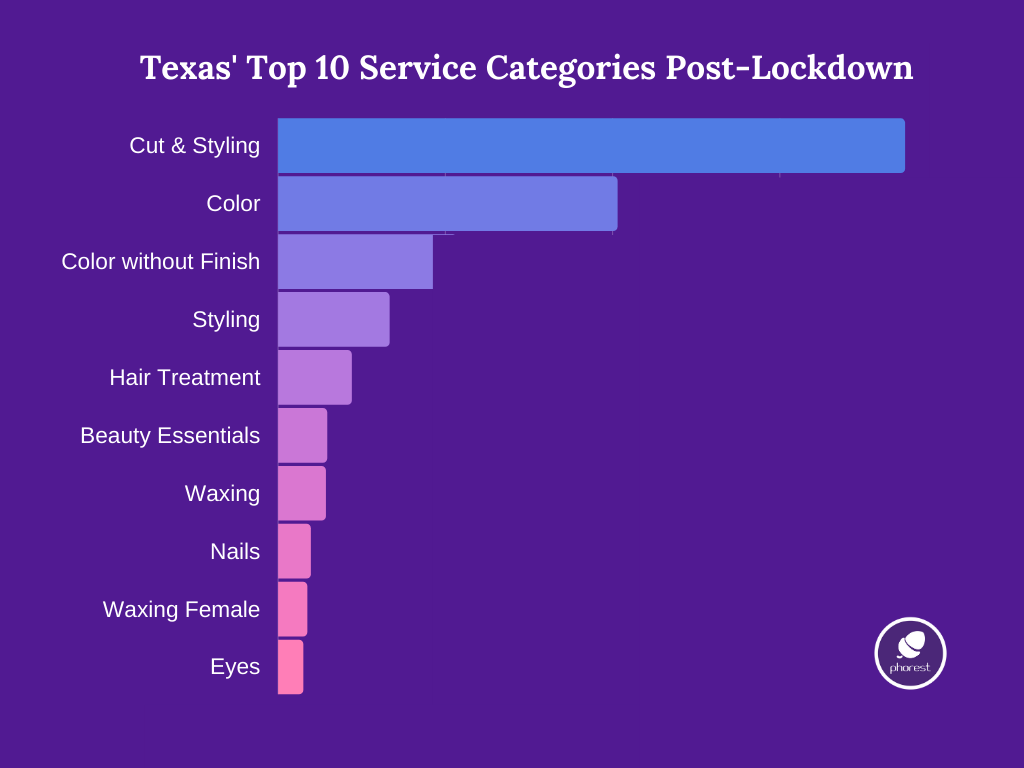 For the men of Texas, the demand for grooming increased by 60% and waxing services by 57% compared to last year.
Salons in Texas have spent, on average, 10 more minutes per appointment post-lockdown.
The new normal?
With lockdown measures easing across the US and salons slowly getting back in business, it will be interesting to see what changes stick. Only time will tell if these booking trends become the new normal or simply the result of clients being away from salons for longer than usual.
If the COVID-19 lockdown has highlighted anything, it has been the essential role that salons and spas play in communities across America — they make people look good, but more importantly, feel great! For more information on our resources for salons, such as our beauty and hair salon apps, salon online booking system, integrated payments, marketing material and more, get in touch.
Got feedback? Let us know either in the comments below or tweet us @ThePhorestWord! (Pssst! We're on Instagram too!)
Thanks for reading! #LetsGrow