PhorestPay: Card Terminal & Cardless Payment Processing for Salons & Spas
A slick checkout experience for your customers, with no end-of-day headaches for you
One seamless system for taking payments from your clients. Cardless Checkout is the simplest way for your clients to pay, from the front desk or from the chair, while integrated card terminals save you time and prevent errors.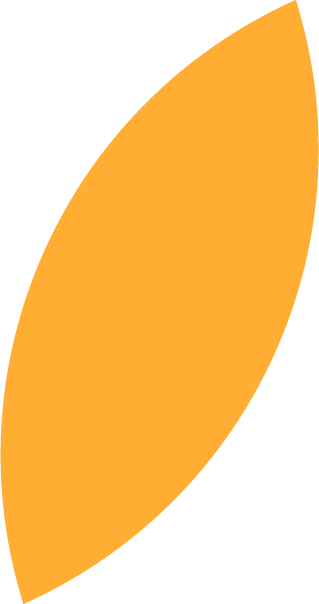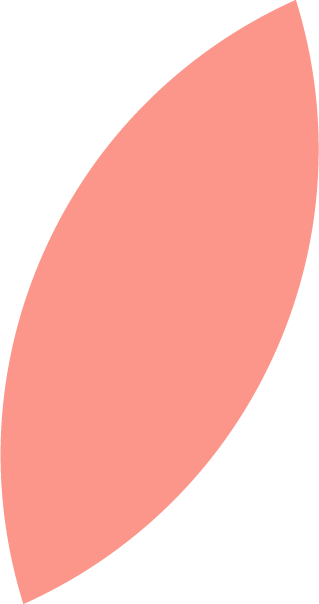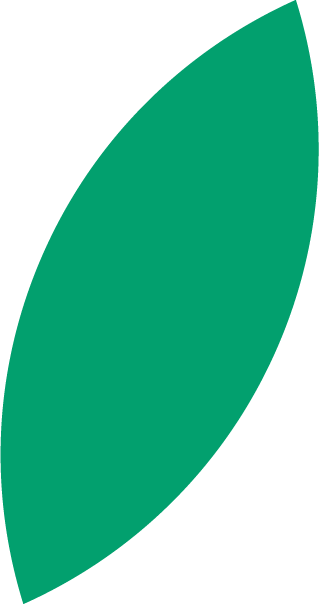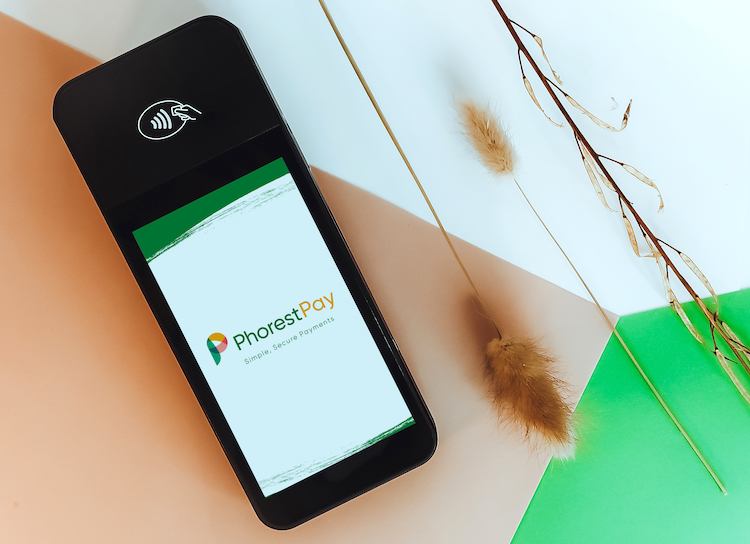 Why PhorestPay?
No More End-of-Day Headaches When Cashing Up
Simplify your reconciliation - save 30 mins per day!
Cardless transactions and integrated card terminals mean you won't need to manually enter the total to pay into the system, reducing the frustration of cashing up at the end of the day, and with less chance of making a mistake.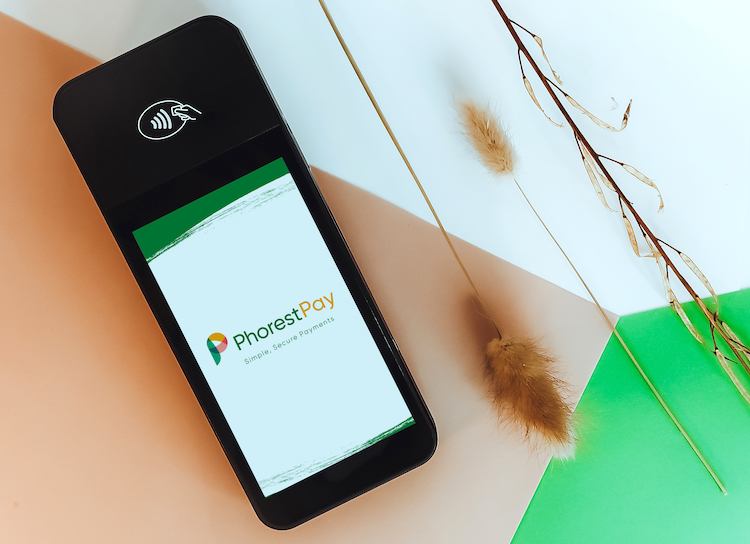 Protect Your Salon From No-Shows
Save card details to your client records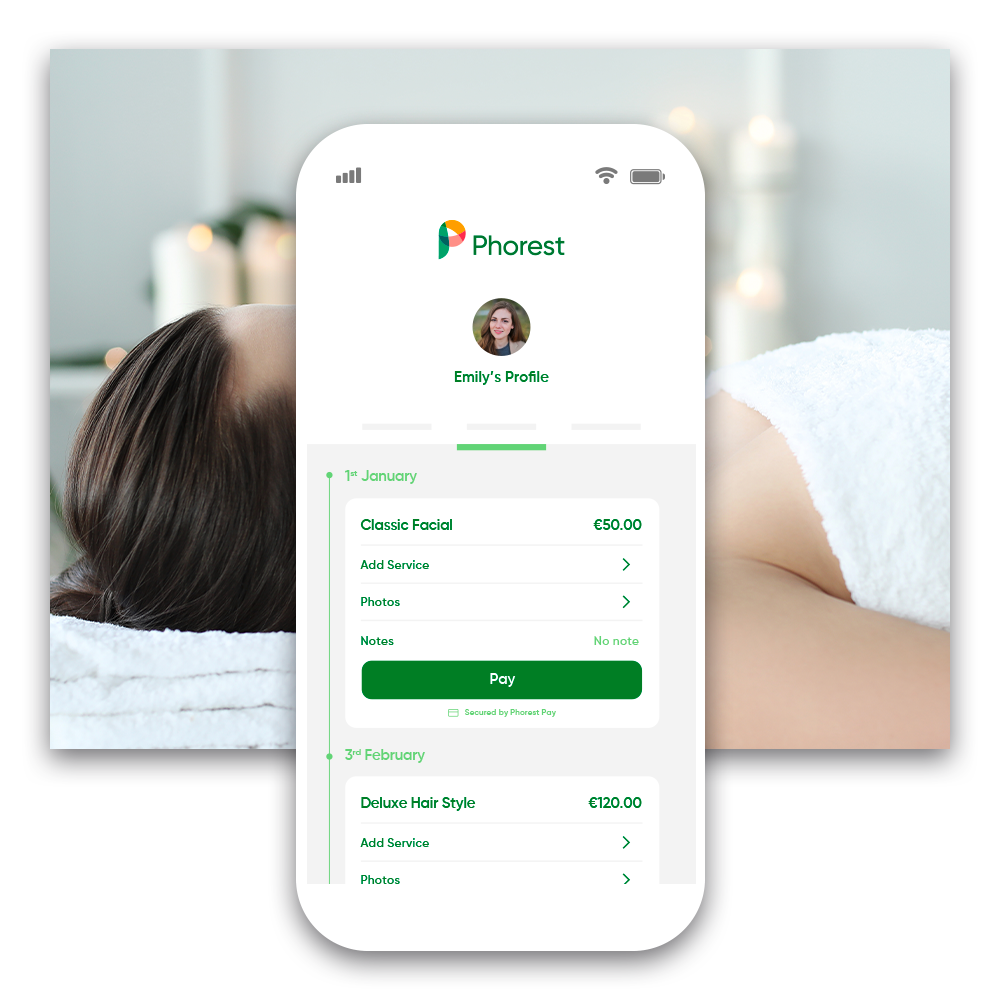 Speedy Payouts and Refunds
No more waiting around for transactions to process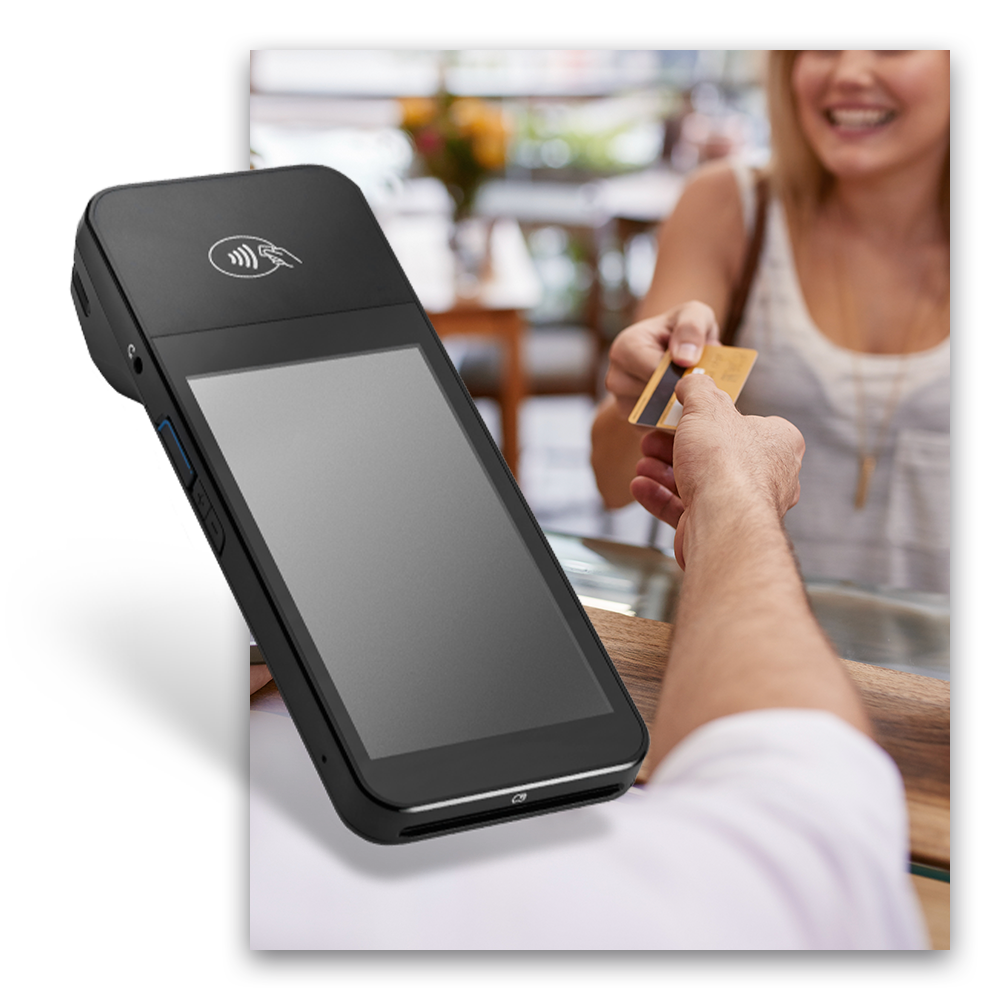 Increased Tips for your Employees - Hooray!
Simple tipping prompts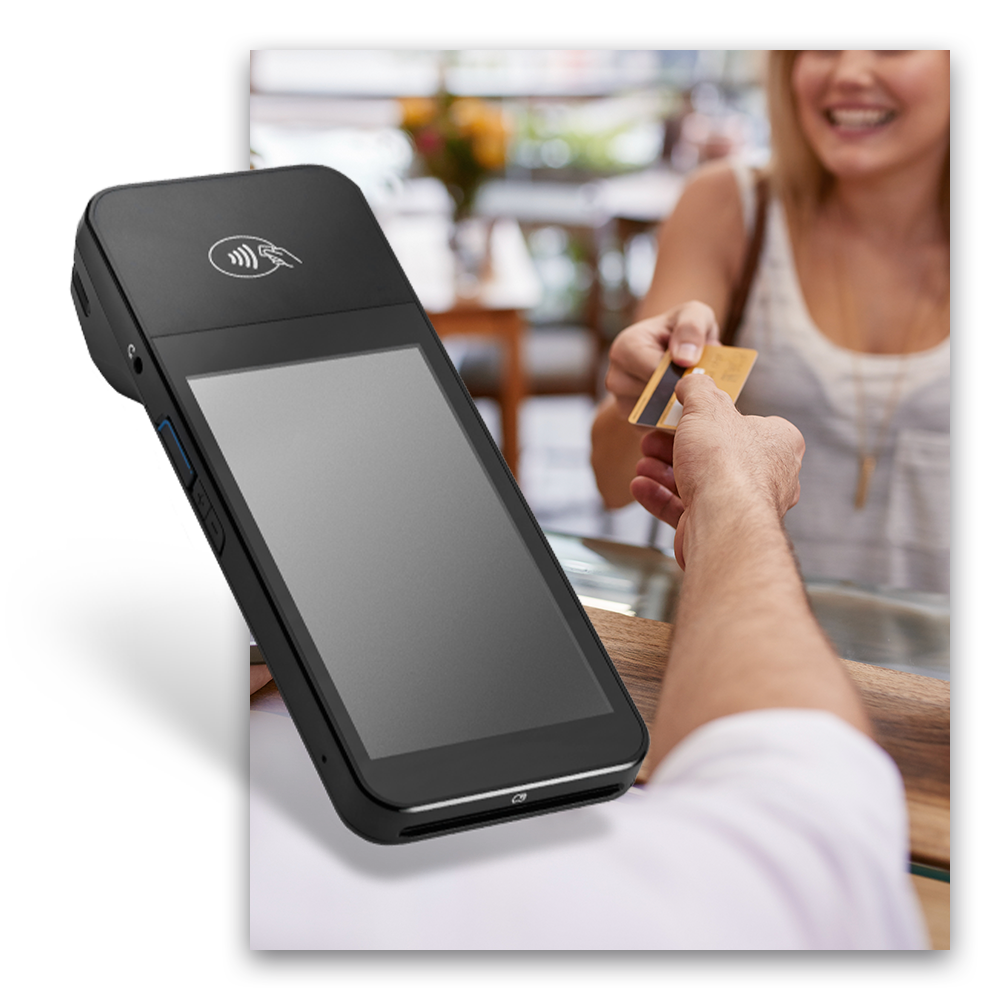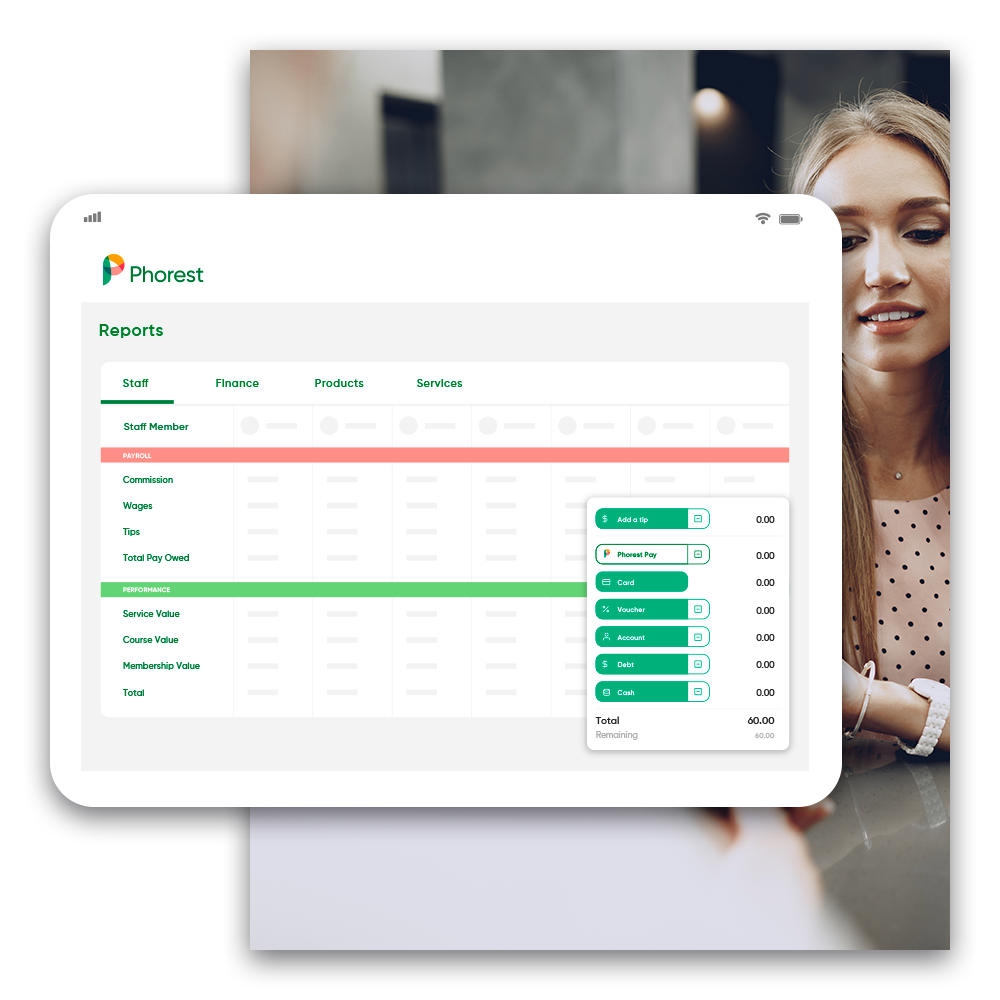 PhorestPay in your salon
Card Terminal & Cardless Payment Processing
An all-in-one integrated payment solution
Phorest combines our powerful POS software with a slick, touch-screen card terminal, giving you a full package for your front-of-house. Cut down on admin and eliminate the need to enter transactions twice, with payouts hitting your account within 1 day.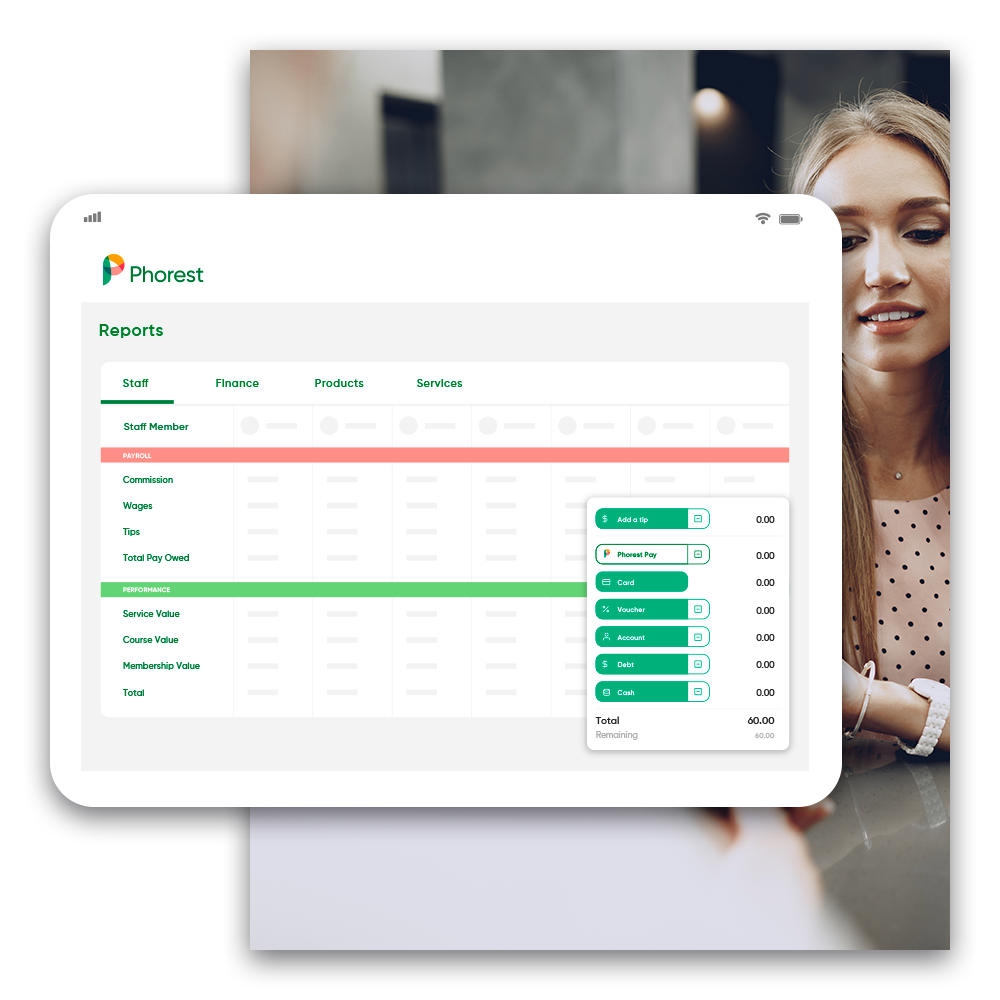 No Need for Cards or Cash at the Front Desk with Cardless Checkout
Speedy check out with stored card payments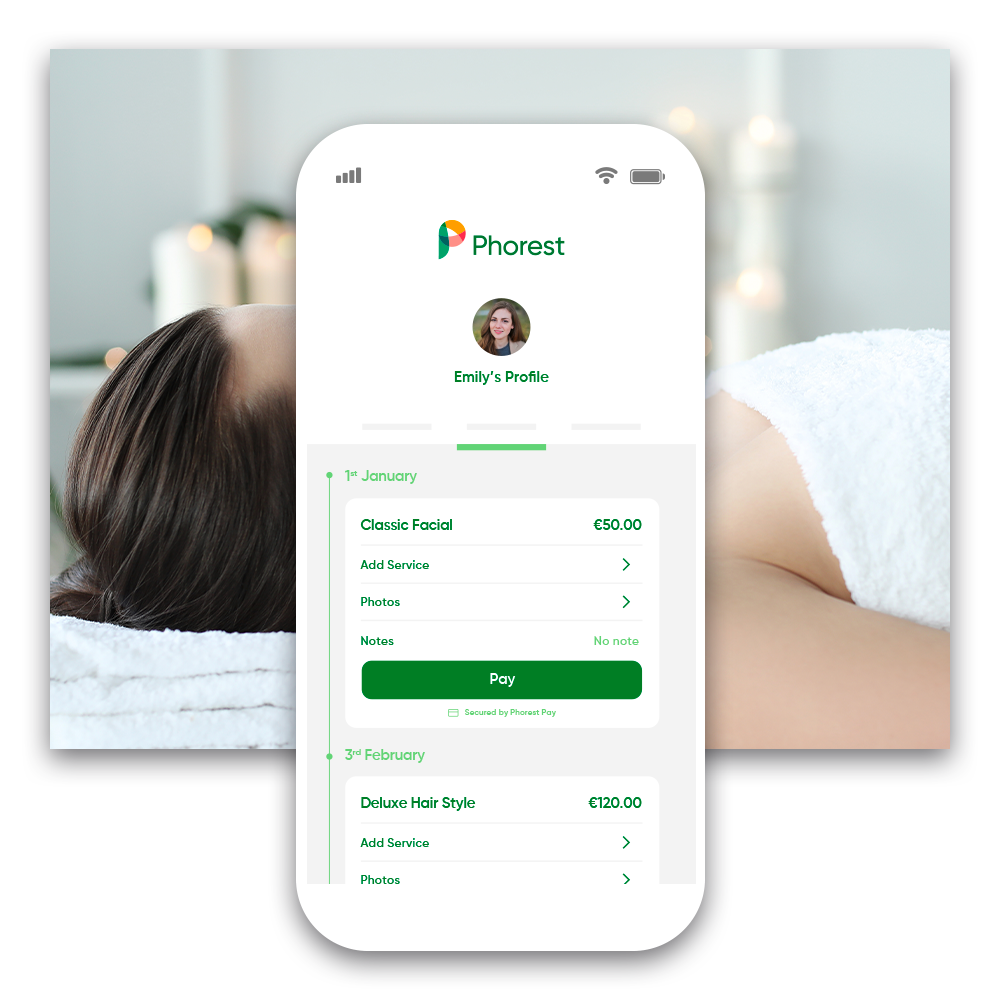 Industry-Leading Security Standards
Every transaction is processed securely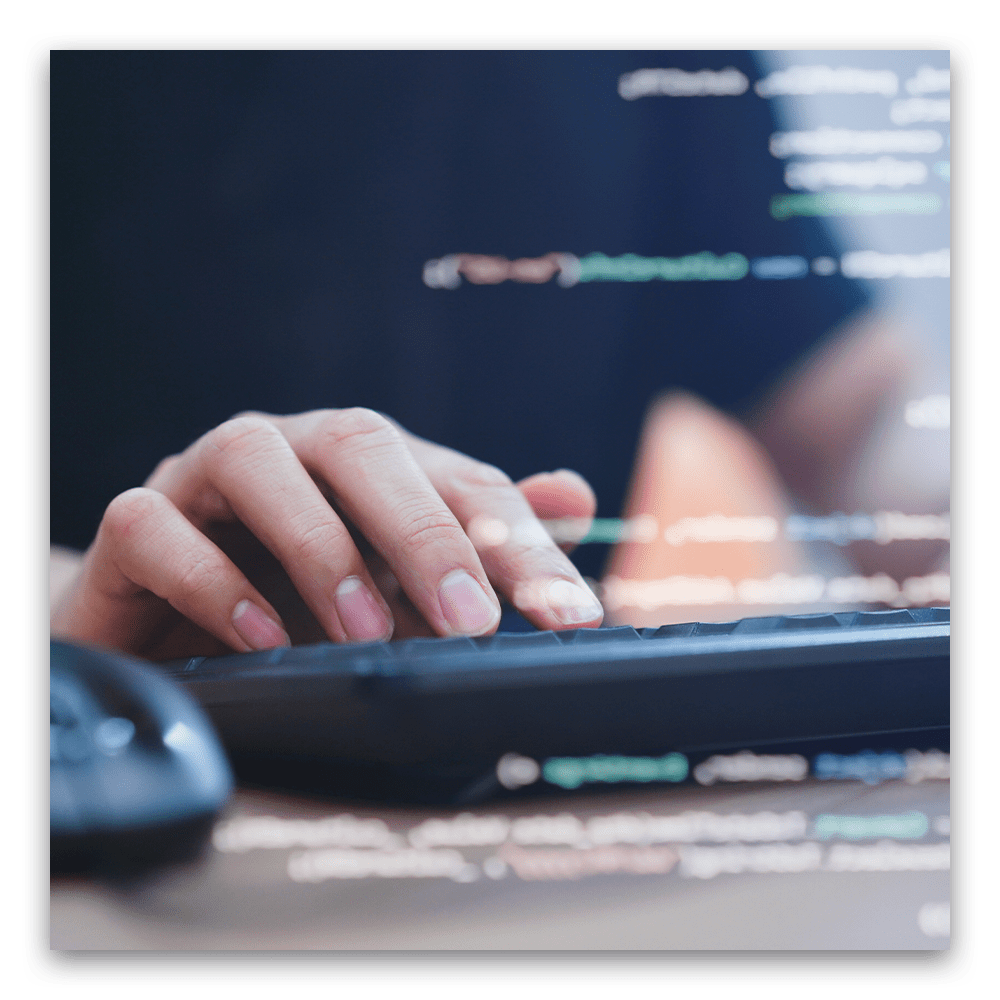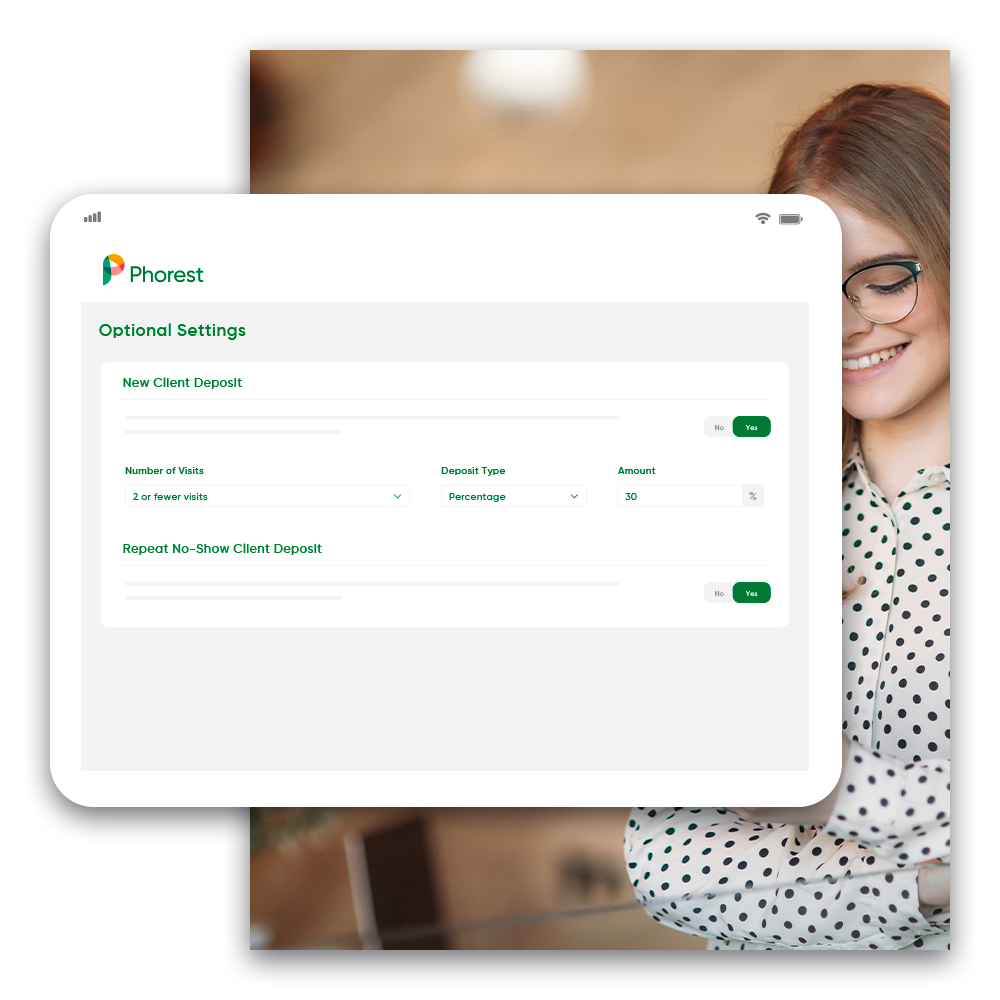 More ways to take payments
Smart Online Deposits
Never be left with an empty seat again
Collect deposits from those who book online, and set different deposit levels depending on who's booking. Set larger deposits from higher no-show risks, such as new clients or those who have been no-shows in the past. And you have the option to charge the full cost of the service if the client doesn't show.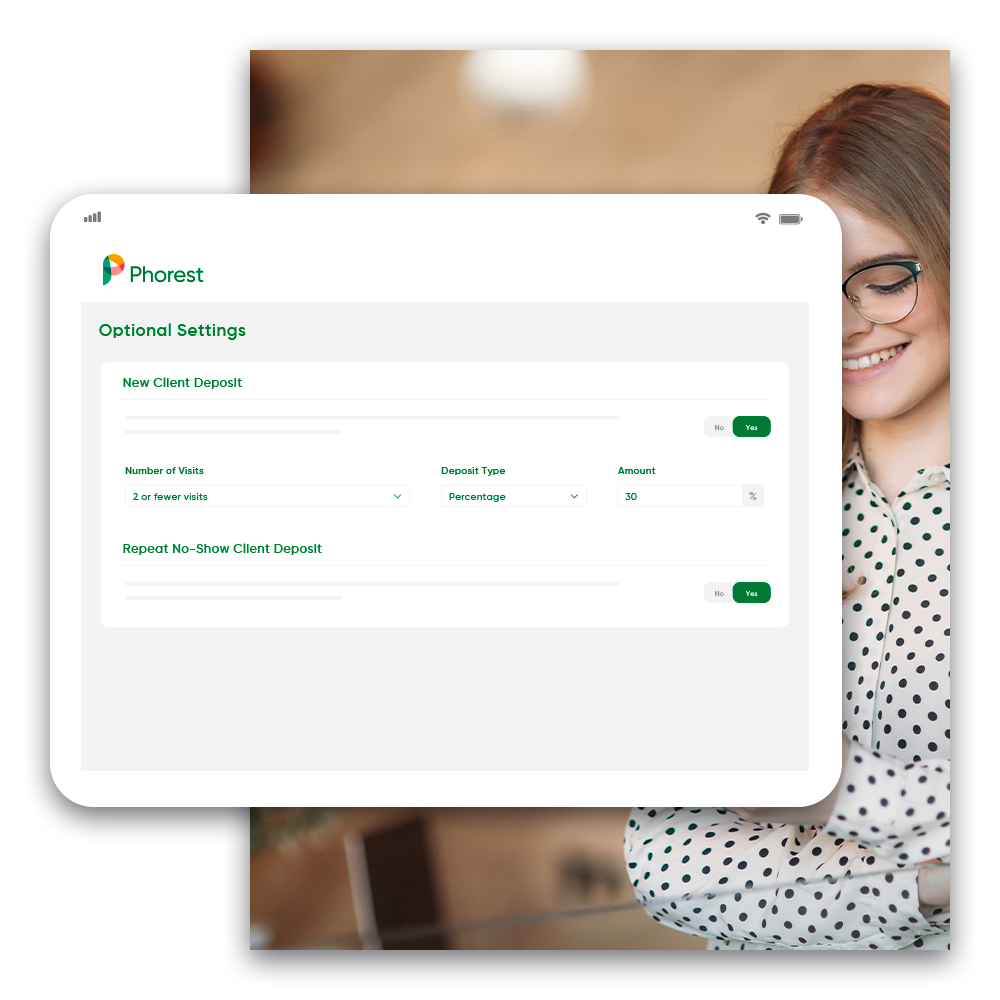 Sell Gift Cards Online, Even When You're Closed
24/7 revenue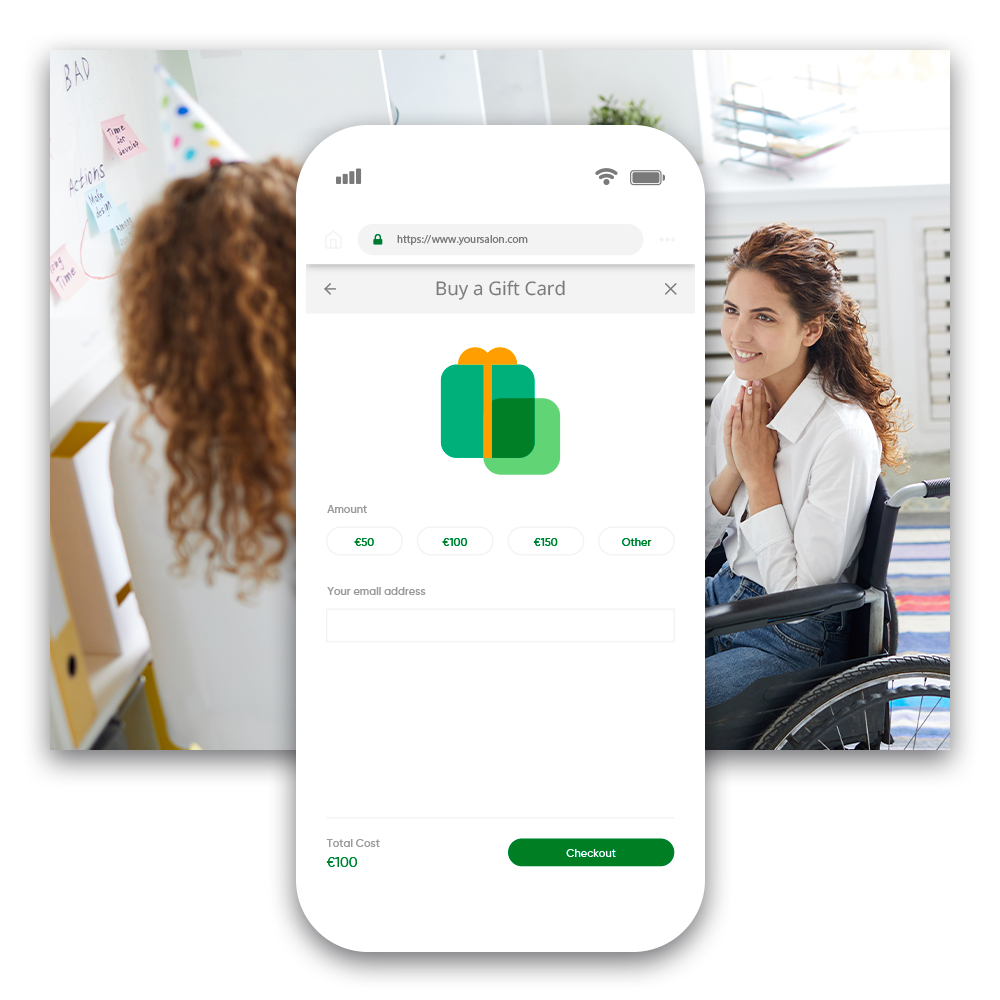 Sell Products Online Through Phorest
Set up your online store with a few clicks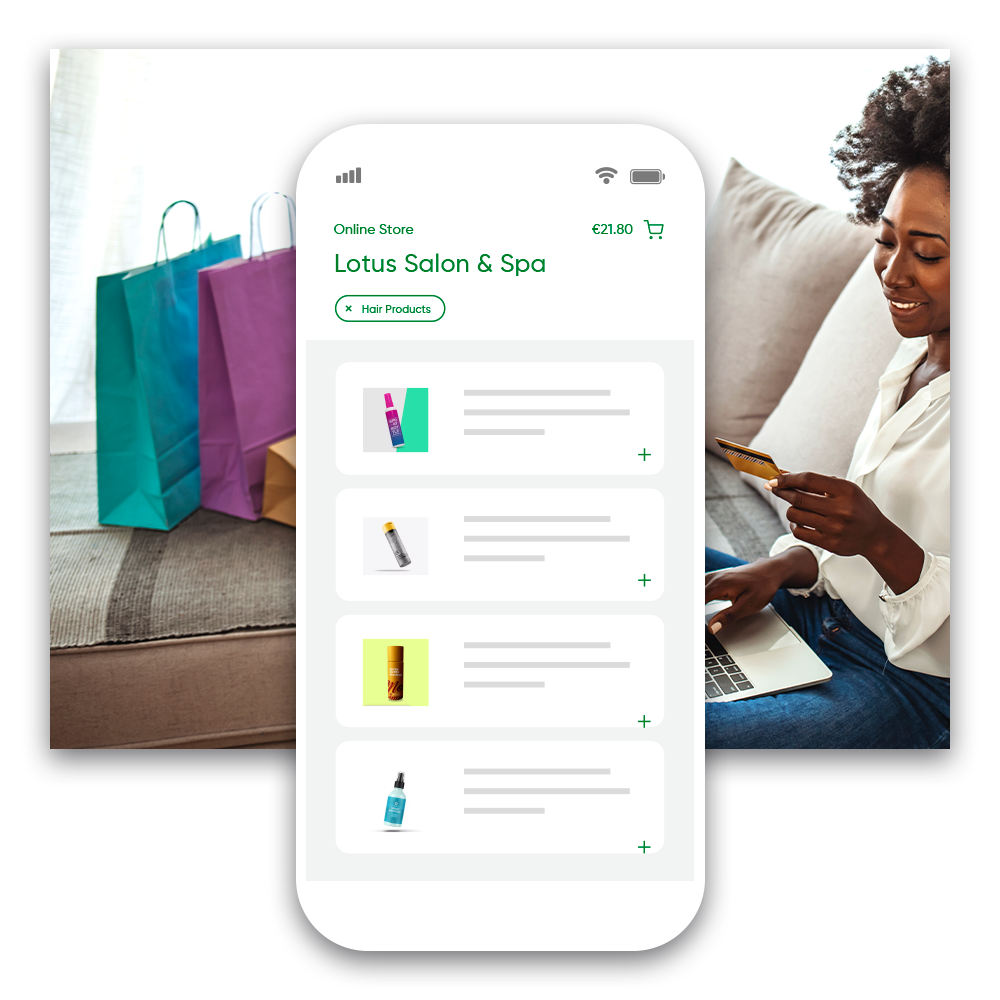 On average, Irish salons save 12 hours and €204 per month using an integrated terminal
What could you save?
"Cardless Checkout allows us to take care of our clients much more efficiently, and especially with Covid guidelines, the transition from salon service, to payment, to salon exit is so much smoother. Our re-bookings are more prominent too, as our clients don't have to spend time 'paying', instead allowing them to focus their attention to their next appointment! We are loving this new feature, as are our clients!"
Kim, Manager
Aviary Beauty, Ireland
"I am super impressed with how the PhorestPay Card Terminal has made our end of day procedures so much easier! All our payments are synced, and having a fully integrated system means there are no errors and everything is so straightforward."
Pamela
Renaissance Hair & Beauty Bar, Meath Ireland
"Cardless Checkout has notably sped up the payment process at reception for us, and clients appreciate the safer experience. It is quick, easy and convenient!"
Sara, Owner
Essential Therapie, London
"Clients love the PhorestPay card machine as its very modern. It syncs everything automatically which means there are no mistakes made when counting up at the end of the day. Everything balances at the click of a button. It's also more environmentally friendly as there are less paper receipts."
Renata
Lemons Beauty & Hair Salon, Dublin Ireland