Thinking about going "back to school" yourself to become a better marketer? Look no further. Instead of choosing one particular subject today, we have gathered all the September marketing salon education classes that we offer at Phorest! Learn at your pace for free and most importantly, at your convenience (work, home, on a daily commute).
Without anything further, here's what is coming up this September.
September Salon Education Classes
Phorest Academy was set in place a while back for anyone wishing to perfect their marketing skills. As you might know, we conduct two webinars every month: the Facebook Masterclass and the Client Retention Webinar.
Launching October 17th for the first time, we are going offer you a third one covering all the basics and the marketing strategies behind Snapchat (the newest within the giant platforms)!
Facebook Masterclass Webinar
In this Phorest Academy Facebook Masterclass presented by Chris Brennan, we shall be going through the four crucial areas for Facebook success:
– Facebook Insights Best Practice
– Boosting Your Posts Like A Pro
– Activating Your 'Book Now' Button
– Putting Together A Successful 'Likes' Campaign
MONDAY, SEPTEMBER 26TH, 2016 | SIGN UP HERE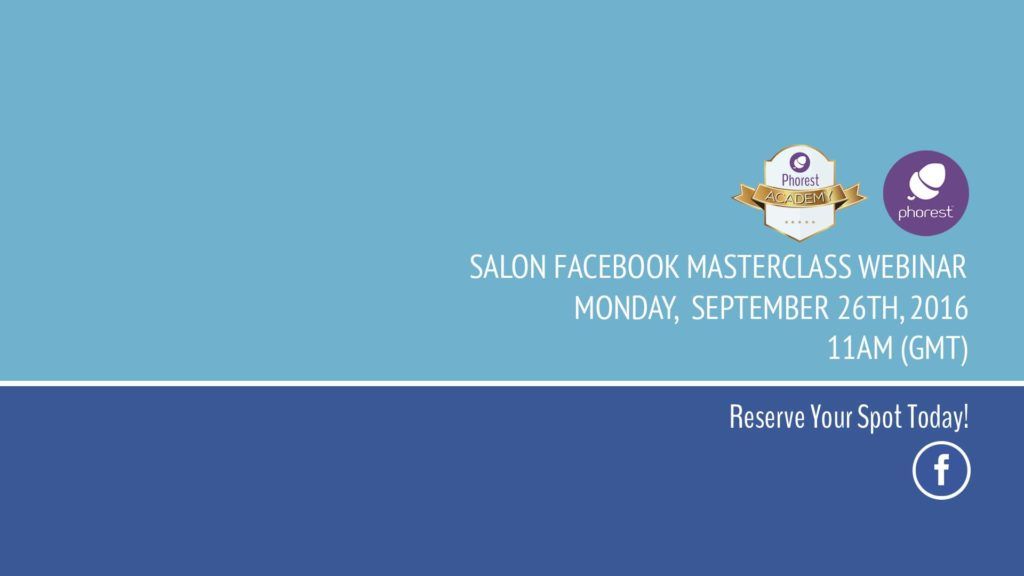 Client Retention Webinar
If you missed this Monday's Client Retention Webinar, then you will want to register to the next edition, October 3rd!
In this Phorest Academy Client Retention Masterclass also presented by Chris Brennan, learn how you can get your clients in more often, spending more. Not only that but also see how to:
– Leverage Your Staff To Support Client Retention
– Master Client Referrals To Build Thriving Return Business
– Put Together A Lucrative Loyalty Scheme
– Get Your Salon To Do All Of This Client Retention Work For You!
Let's grow your client base like never before… we'll show you how!
MONDAY, OCTOBER 3RD, 2016 | SIGN UP HERE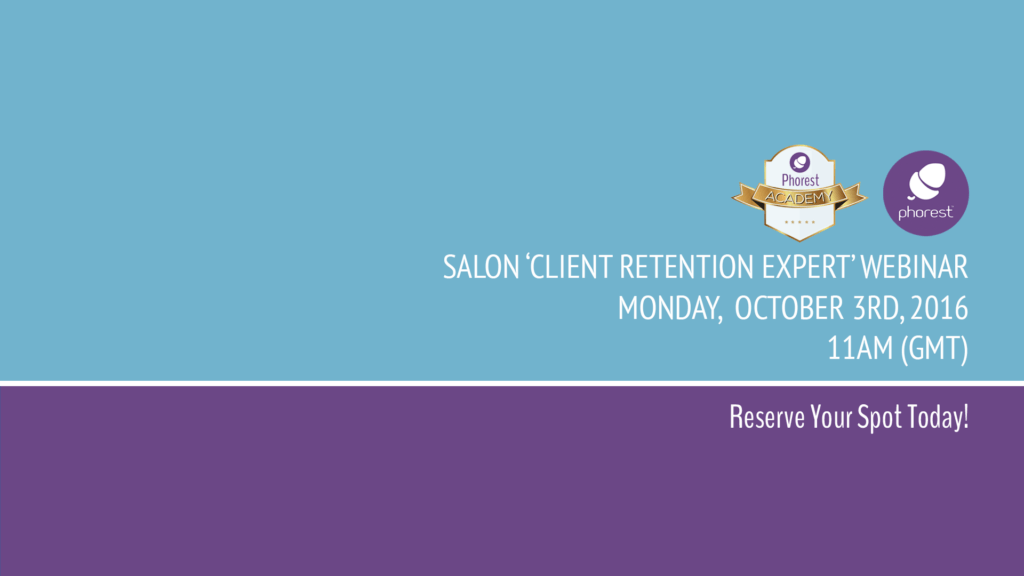 ---
September Salon Marketing Ideas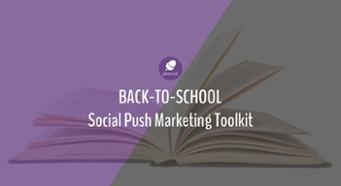 This month's Phorest marketing toolkit includes a few ideas around social media presence and brand awareness to steer customers your way during the Back-To-School frenzy. To read more about these ideas, click here, or if you simply wish to download your FREE toolkit, click 'I Want My Marketing Toolkit' below.
---
Upcoming Trade Shows And Seminars To Attend
Pro Beauty North (Sept. 18-19, 2016)
Last year, Professional Beauty North welcomed over 15 000 beauty professionals to Manchester Central. This year, the salon event is back to showcase the latest innovations in beauty products and services. Additionally, at this salon event, professionals from the beauty industry with be updated on forthcoming beauty trends and education. Come find us at stand E29 that weekend! 🙂 And for an ultimate pocket guide to make the most of Pro Beauty North 2016, check out this article.

Pro Beauty Dublin (Sept.25-26, 2016)
Inspiration for your beauty business. Professional Beauty Dublin is back again this year at the RDS Dublin on 25-26 September 2016. Register for FREE tickets and find us on stand E48!

Seminars
Salon education classes aren't only on the web! Chris Brennan, Phorest's Content Manager is doing seminars at this year's salon event Pro Beauty North and Pro Beauty Dublin!
Pro Beauty North: Running a Tight Ship
Sunday 18th September, 3-3.50pm
Chris Brennan, Content Marketing Manager, Phorest;
Valerie Delforge, Founder and CEO, Delforge + Co;
Adam Chatterley, Founder, Salon Business Secrets
"Improving your salon's customer experience is the first step to get more clients in and keep them coming back. In this session you will be talked through how a good booking system can have a big impact on helping you improve your customer experience, keeping your diary full at least a month in advance."
*
Pro Beauty North: How to handle social media complaints
Monday 19th September, 2 – 2.50 pm
Chris Brennan, Content Marketing Manager, Phorest
Dealing with complaints is never pleasant but by sticking to a few simple rules you can make the process much easier for yourself and you client! Chris Brennan will give you practical and actionable tips on how to handle client complaints on social media the right way.
*
Pro Beauty Dublin: Phorest's Moments Of Magic
Sunday 25th September, 3 – 3.30 pm
Chris Brennan, Content Marketing Manager, Phorest
Creating moments of magic in your salon to get clients in more often, spending more.
---
Extra: Phorest Ebooks
For those of you who prefer taking salon education classes in the comfort of your salon, we have two ready-to-download eBooks and another one to be released this month!
The Salon Owner's Ultimate Guide To Facebook (DOWNLOAD HERE)
The Salon Owner's Ultimate Guide To Client Retention (DOWNLOAD HERE)
The Salon Owner's Ultimate Guide To Snapchat (DOWNLOAD HERE).
---
Never miss another opportunity to perfect your marketing skills with our salon education classes, subscribe to our mailing list today!
Thanks for reading,
#LetsGrow