Social media in our day in age is mandatory for a salon. However, if you're already finding it hard to have a full-time salon receptionist, there is probably no way you have someone taking care of your social media pages and salon Facebook messages at all times.
On one hand, about two weeks ago, we were mentioning how salon voicemails often only took away from your remarkable customer service. Facebook's response assistant is, on the other hand, a great tool for any salon that can't afford to have a staff member glued to the computer or their phone all day.
Turn On Your Salon Facebook Messages Response Assistant

On your salon Facebook page, you might have noticed a little box indicating how responsive you are to your messages.
There are 5 options to choose from for indicating your Response Time: Automatically set response time, Typically replies in minutes, Typically replies within an hour, Typically replies in a few hours, Typically replies within a day. You can choose the option you think best represents how quickly you reply to messages or have your response time updated automatically.
Facebook's responsiveness integration gives you a rating in terms of response rate and response time. Your response time should only be visible on your Page if:
You visit your Page once a week
Answer 90% or more of your messages.

This responsiveness icon might not seem important at first glance, but I invite you to take a second with me to put yourself in a customer's shoes. Let's say there's was a problem or I'm running late to an appointment, I would prioritise messaging the salon over sending an email. Why? Because emails don't come with automated notifications and I'd imagine someone will see my Facebook message a lot faster than an email. However, I might be reluctant to ask a question through Facebook if I notice that the responsiveness rate is extremely low.
Hence the importance of either trying to keep a high rating OR letting your clients know in advance what they're up for.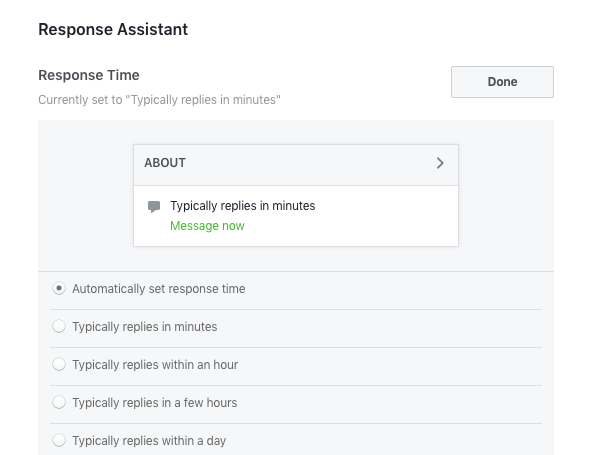 To access the above settings go to Your Page > Settings > Messaging > Response Assistant > Response Time
Away From Device Auto-Reply Message
If you know you can't be replying to your salon Facebook messages but want to let your customers know you will respond as soon as possible, enable your away from device auto-reply message and set yourself to "Away".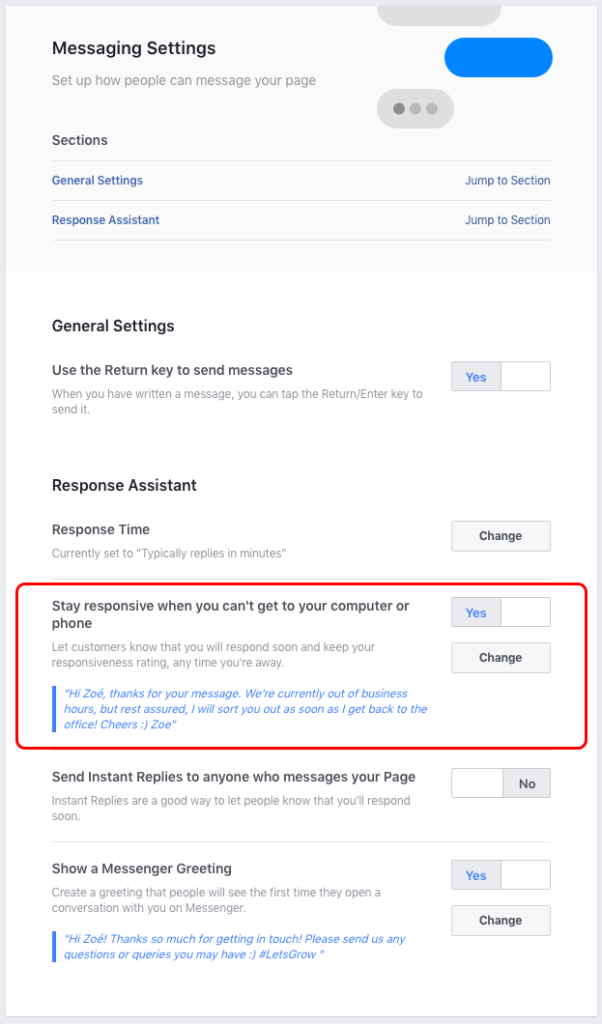 To create an "Away" message greeting for your salon's Facebook page, go to Your Page > Settings > Messaging > Response Assistant > Stay responsive when you can't get to your computer or phone > Enable (YES) > Change.

To set yourself to "Away", go to > Your Page > Messages > Enable the "Away" button at the bottom-right of your screen.
Instant Replies
Another thing you can do if answering your salon Facebook messages quickly isn't possible is turning on Instant Replies. This feature is a great way to let anyone that messages your page (even if you're not set as "Away") know that you'll respond soon.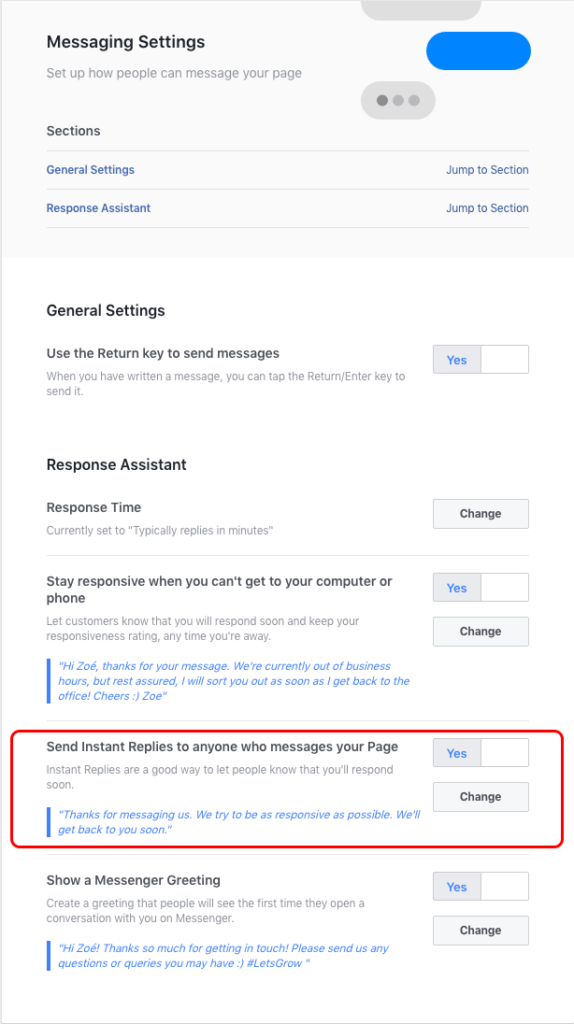 To set your Instant Reply message, go to > Your Page > Settings > Messaging > Enable the "Instant Replies" button (YES) > Change.
First-Time Conversation Messenger Greeting
Facebook's third greeting is for first-time conversations with your page. The message you create in this section will be sent to a Facebook user who goes to write you for the first time. A nice way to welcome them to your incredible customer service! 😉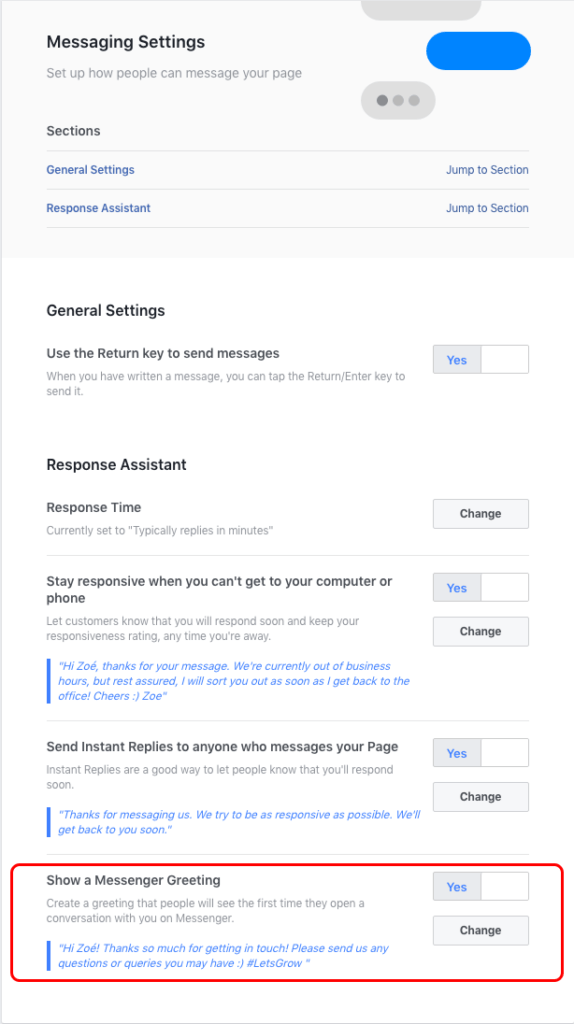 To set your Messenger greeting, go to > Your Page > Settings > Messaging > Enable the "Messenger Greeting" button (YES) > Change.
The key thing to remember here is that Facebook, like your website or your salon's front door, can be the first interaction your future customer has with you. Keeping a good response rate to your salon Facebook messages is also part of your business' customer service and overlooking it can be more damageable than you think. 
Plus, setting up these little hacks are quick and effective. Try it for yourself! Feel free to message us if you run into any trouble setting these messages up: marketing@phorest.com
Thanks for reading,
#LetsGrow
To turn your salon Facebook page into a client retention machine, grab your copy of The Beauty & Hair Salon Owners Ultimate Guide To Facebook today!