I often get emails asking me how to get new clients, keep them coming back and fill empty spots in the agenda. And if there are quite a few methods to do so, there's one opportunity we haven't addressed yet on The Phorest Blog: marketing to mature hair and beauty clients. In this article, I'll be talking about a few ways to wow the baby boomer generation with your marketing and customer service.
A Unique Marketing Opportunity
As you might already know, baby boomers – or people who are between 53 and 71 years old in 2017 – represent one of the fastest-growing portions of the population. Simply put, many countries are facing the growth of an older population.
The median age in a few countries, based on 2017 statistics:
Canada: 40.8 years
Ireland: 37.3 years
United Kingdom: 40.1 years
United States Of America: 38.1 years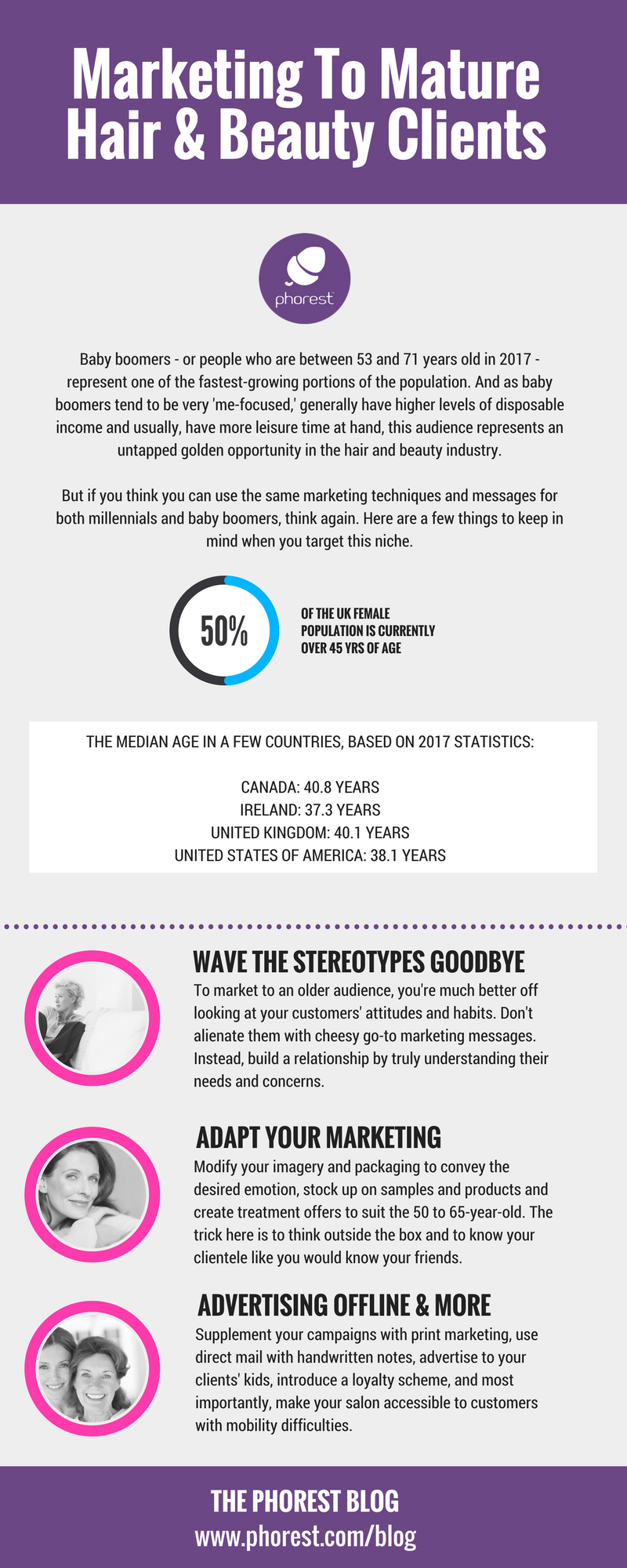 While this reality is somewhat worrying for governments in place, in the hair and beauty industry, this audience represents an untapped golden opportunity. There are a few reasons for this. Baby boomers tend to be very 'me-focused,' they generally have higher levels of disposable income and to top it all off, they usually have more leisure time at hand.
Are you starting to see where I'm going here?

7 Ways To Tap Into This Niche
If you think that you can use the same marketing techniques and messages for both millennials and baby boomers, think again. Here are 7 things to keep in mind when you target this niche.
# 1 – Look Past The Age Factor
First off, say goodbye to stereotypes. Not all women retire to enjoy a zen beach life with their partner. Some much rather keep their look young and glamorous, and you have to tailor your marketing messages to reach them too. To successfully market to an older audience than your 20 to 35 year-olds beauty clients, you're much better off looking at your customers' attitudes and habits. Don't alienate them with cheesy go-to marketing messages. Instead, build a relationship by truly understanding their needs and concerns.
#2 – Get Your Marketing Angle Right
The subtitle says it all. As to how to achieve that, ask yourself a few questions, build a 'persona' for your different clientele age groups. Once you have that, it'll be easier for you to adapt the ways you advertise products or services and grab their attention.
> What are your clients' job roles?
> In what industry do they work in?
> What is a typical day for them?
> What are their biggest challenges?
> What does it mean to be successful to them?
> What associations/social networks do they belong to?
> How do they prefer to interact (email, phone, in person)?
> What publications and blogs do they read?
Tip | For instance, a salon might market eyebrow microblading with a message like this to reach millennials: 'Try microblading for yourself! Get those bold, fleeky brows in the shape you want while saying goodbye to morning eyebrow makeup!" Sent to mature hair and beauty clients, that message will most likely fail.

However, without changing the treatment, the salon could market it like this instead: "Microblading provides rich and filled-in eyebrows, keeps your natural everyday look and makes you feel more confident and beautiful in your skin. Try it for yourself today!"

#3 – Adapt Your Marketing Imagery & Packaging
As for your marketing message, you need to modify your imagery and packaging to convey the desired emotion. Same goes for your product packaging – avoid stereotypes.
And finally, don't hesitate to stock up on samples; they work incredibly well with this niche audience.
#4 -Stock Appropriate Products For Mature Hair And Beauty Clients
Everything doesn't always have to be about anti-ageing! Stock up on feel good/look beautiful products and create packages that can suit the 50 to 65-year-old. The trick here is to think outside the box and to know your clientele like you would know your friends.
#5 – Create Tailored Offers And Treatments
It goes without saying that some of your offers and treatments should be tailored for your mature hair and beauty clients. Advertise them in community newsletters to reach the 65+, don't be afraid to upsell your treatments within the salon and perhaps introduce a loyalty or 'Refer A Friend' scheme if you don't already have one.
Tip | If you choose to target an older clientele, keep in mind that some of your customers might have mobility issues. Make sure your salon and treatments rooms are easily accessible.

#6 – Advertise To Your Clients' Kids
The best time to promote special offers and gifts packages to your customers' children is before holidays! Mother's Day, Father's Day, Grandparent's Day, Valentine's Day, Easter, name it!
One angle you could use to promote these offers is the 'family treat,' and the 'take care of your mom and dad.' Whatever angle you choose, though, make sure you adapt your marketing message (again!).
#7 – Don't Forget To Get Offline!
Not all baby boomers are as tech-savvy as you may be. Don't forget to supplement your website, email and SMS campaigns with print marketing. If you're hosting an event or want to reward a loyal client, using direct mail with handwritten notes has proven to be quite successful with many salons and spas.
Other ways to get offline could be getting a free or paid ad to run in the Yellow Pages and in the local newspaper, associate with other health professionals – such as podiatrists,-  a local charity, or simply, have a printed leaflets at your reception desk explaining your treatments.
Thanks for reading, I hope that helps. If you have any comments or think of any additional techniques, don't hesitate to leave a comment or reach out by email at marketing@phorest.com!
#LetsGrow