Now that it's officially December, the Christmas decorations start coming out in full force. And that one staff member who has been eagerly waiting to put on the Christmas playlist since early November finally gets their turn. If they haven't started already, many salons and spas will be putting up trees, hoisting up the lights and transforming their usual window displays into winter wonderlands.
Bringing some festive decor to your space is a great way to boost team morale and create an inviting atmosphere for your guests–one where they are not just paying for a service but coming for an experience. Make those moments of magic memorable, and they just might make visiting your salon a Christmas tradition.
Related | The Salon Owner's Guide to Black Friday & Christmas
However, as consumers and business owners alike continue to be more environmentally conscious, Christmas time comes with another layer of considerations. For example, we know that between all the food, shopping, and gift wrapping, Ireland generates 25-30% more waste in December. So we've pulled together some ideas to keep the holiday spirit alive and well in your salon without costing the earth.
Here are 10 Eco-Friendly Christmas decoration ideas to use in your salon
But first, a note: from an environmental stance, the best decorations are the ones you already own. There is no point in sending things to the landfill just to replace them with a greener alternative.
1. Opt for a real Christmas tree
Compared to a plastic, artificial tree, a real Christmas tree is a sustainable choice. If you want to take it a step further, investigate tree rental companies which let you borrow a potted tree for the season. Some companies even give the option of getting the same tree back year after year. So you can watch as your tree grows alongside your business!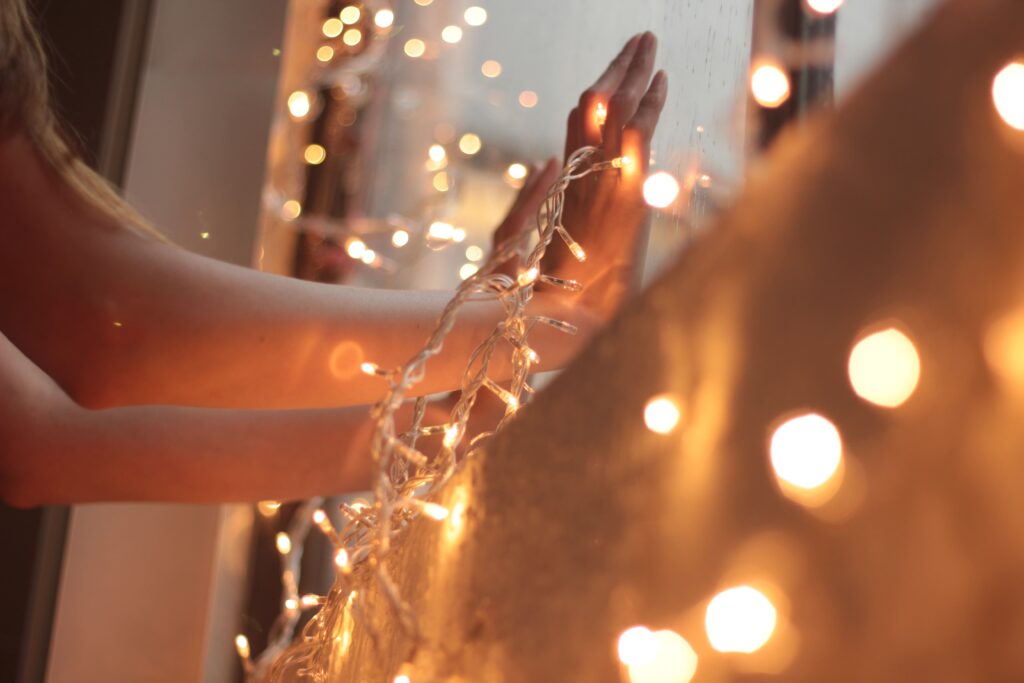 2. Swap for LED fairy lights
Twinkly lights have a distinctly festive effect. With minimal effort, you can flip a switch and have instant Christmas. Save on your electricity bill and use up to 10 times less energy with LED lights.
3. Make a Christmas card display
If you already send and receive Christmas cards from your clients, hang them up around your reception desk or at stylists' stations. You'll be amazed at what you can achieve with a bit of ribbon, wire or string. Bonus points for cutting up the cards and repurposing them as gift tags or paper bunting for next year.
4. Highlight your retail
Who says nail varnish or mini shampoo bottles can't double as Christmas ornaments? Use what you have to hand and lean into the hair and beauty theme.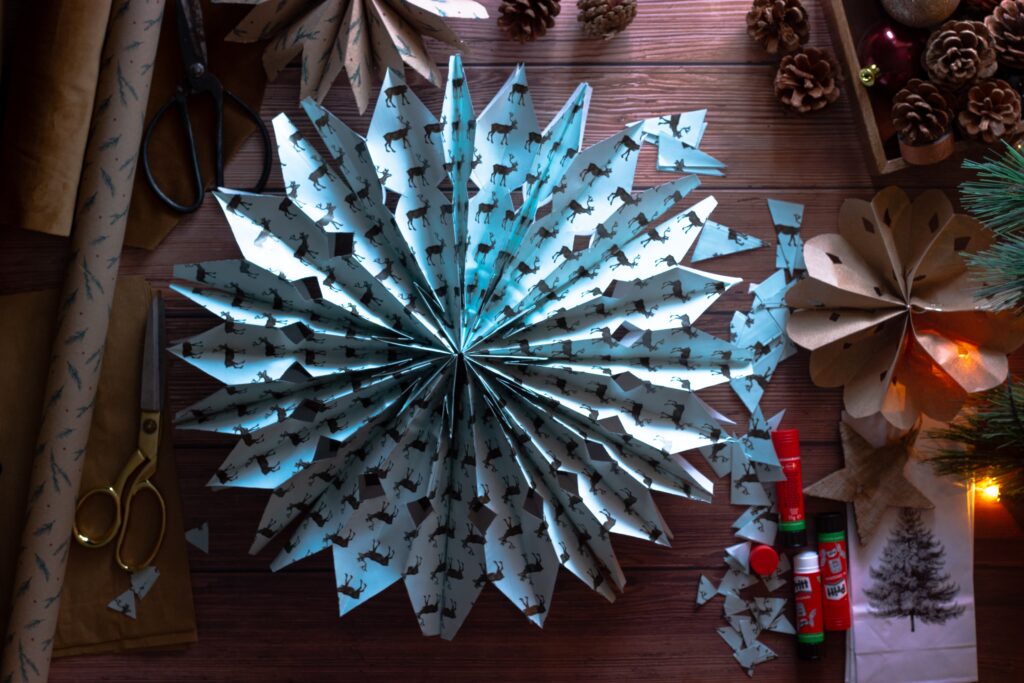 5. Fold some recycled paper stars
Whether you are a full origami master or happy with some simple concertina folding, old book pages, music sheets, or whatever fun paper you can collect can be easily transformed into hanging stars. YouTube is full of tutorials!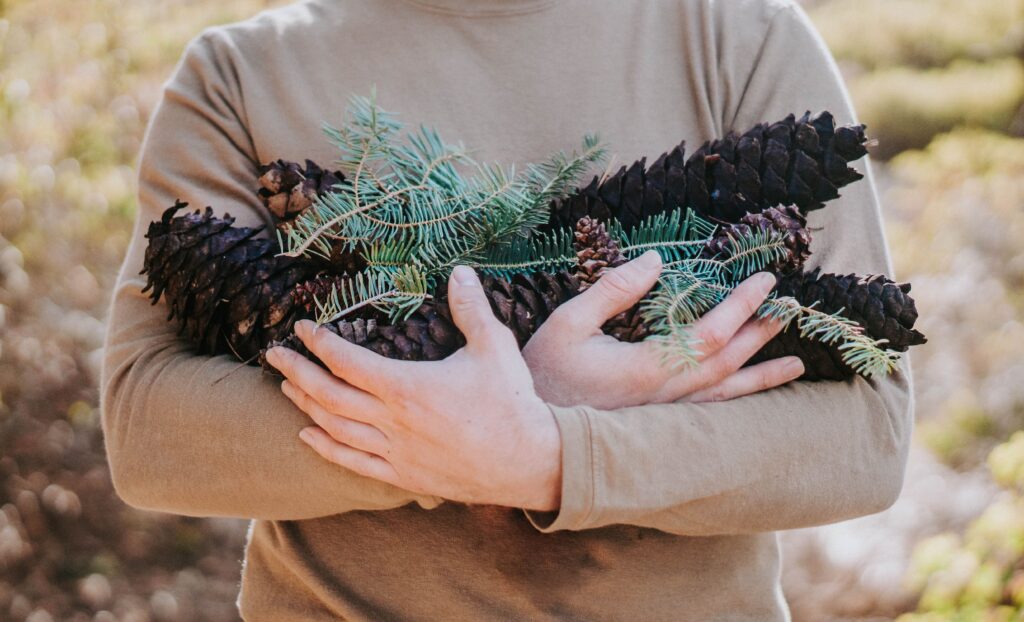 6. Forage materials to create an enchanted forest
Go on the hunt for tree branches, twigs, pine cones and seasonal foliage on your next nature walk. With a little bit of crafting–maybe some biodegradable glitter, white paint and fairy lights–you can create timeless decorations.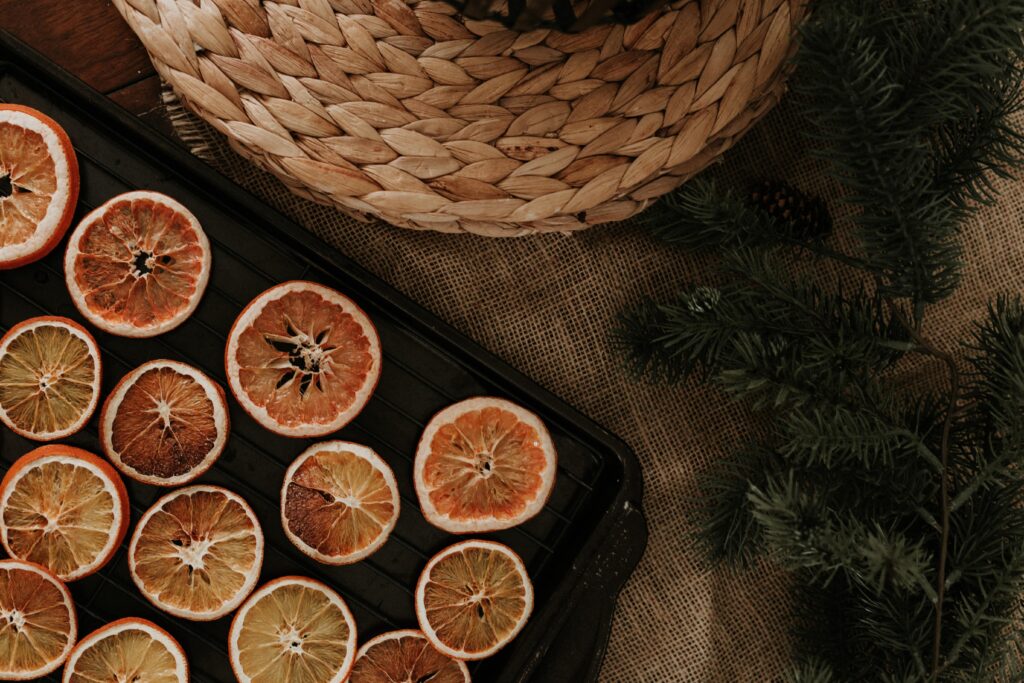 7. Repurpose edible materials
Dried orange slices, rosemary, gingerbread and even candy canes. These symbols of the season not only can bring a lovely scent but can be easily composted (if you haven't snacked on them first) come January.
8. Embrace "new (to you)"
If you are craving something that feels fresh for this year, try hosting a decoration swap with your friends or neighbouring businesses. Keep an eye on local "free-cycle" or "zero-waste" groups online. Alternatively, buy second-hand! eBay is a treasure trove of vintage ornaments if that's your thing.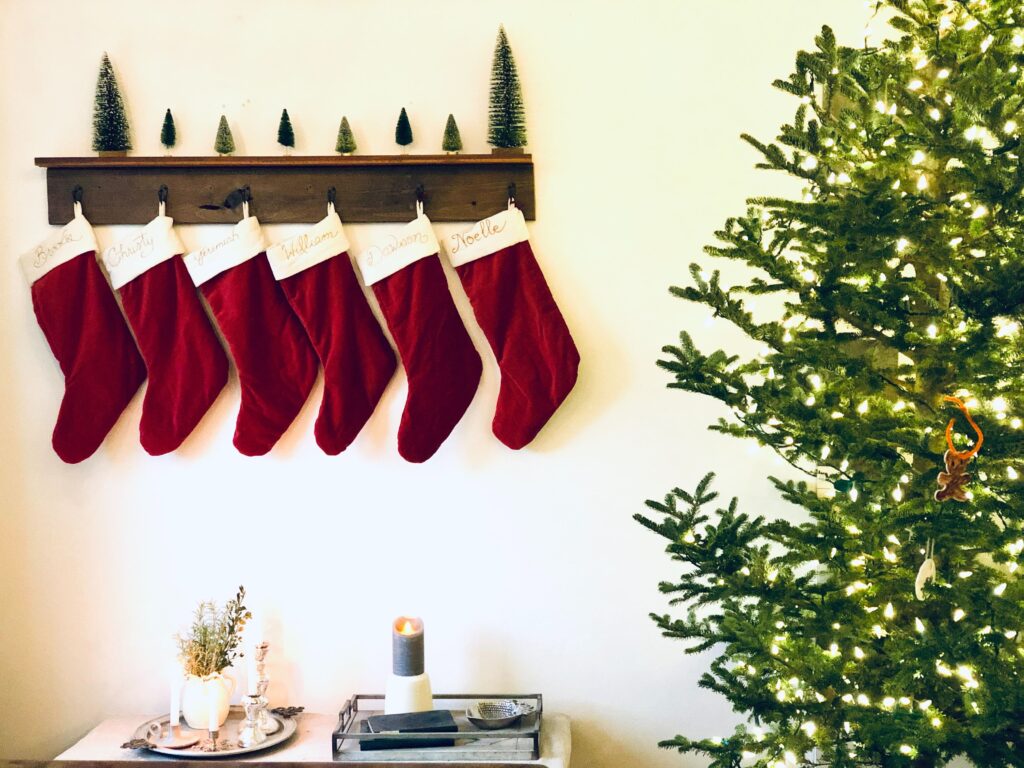 9. Invest in yearly traditions
Focus your attention on a few key focal points that you know will bring your staff and clients joy year after year. Create a festive backdrop for your clients to take photos in front of. Hang a stocking for each staff member to fill with treats. Create an advent calendar on the shelves of your retail display or behind reception for a big reveal every day.
10. Hire a local artist to paint your window
A great window display will capture the imagination of passersby, showing off your community spirit and providing a bit of traditional marketing for your business. This is a great way to change up your Christmas look every year without needing to buy new decorations–good for your budget and the environment.


Remember to be kind to yourself.
If you are a business owner and the thought of pulling out the boxes from storage or decorating another gingerbread house fills you with dread, we get it. This time of year sits at the sweet spot of anticipation and stress, excitement and exhaustion. There are a lot of revenue-generating opportunities to be had, but also a very long to-do list to contend with. At Phorest, we want to ensure you feel supported during the busy season and beyond with software that saves you time and a partner committed to your success.
To learn more about Phorest Salon Software, book a demo with our team.
#TogetherWeGrow