When you set out to open your salon or spa, you had a vision. This vision, you've since integrated it to the look and feel of your space. You've also been communicating it to your staff through your culture, and to your clients via your marketing. Apps, in the digital space, are the next logical step. With roots deep in aesthetics, they help you market yourself in an information-rich and time-poor era. Stand out from your competitors by owning your brand across your digital platforms and booking app. Allow clients to book into your salon 24/7 with Phorest's all-new Salon Branded Apps.
Listen to the audio version of this blog, and subscribe to the Phorest Blog Podcast here:
Table of contents
Why have an app when you already have a website?
Not just great for end users; apps also increase retention and online bookings
The all-new Salon Branded Apps: Your brand, your app, your way
Other key features
Click and play with the Salon Branded Apps
Why have an app when you already have a website?
"What Millennials are doing is what everybody will soon be doing."
That statement was made by Facebook a couple of years ago, and you see it happen now and again when new social media platforms emerge. Think about TikTok, the world's fastest-growing social media platform. Last year, Facebook launched Lasso to compete with the app, but monthly downloads averaged less than 1% of TikTok's. Marketing appeals have shifted, and according to Marty Neumeier's "The Brand Gap," "while features and benefits are still important to people, personal identity has become even more important."
People are looking for experiences that they feel resonate with who they are. And when you consider that by 2025, 75% of the workforce will be millennials — heavy users of social media who are positively disposed towards buying goods or services online — it's no wonder that Millennials are leading online habit trends.
People spend on average over 5 hours a day on mobile devices, and smartphones make up 86% of that time (approximately 4 hours and 25 mins). Of those hours, 3 hours and 25 minutes are spent using apps. Interestingly, while Millennials mostly drive this, moms and multicultural users are also driving the app usage increase. So naturally, as salons continue to grow in the digital space, more and more owners want to turn to an app.
Seamless functionality and great user experience
A branded salon app is an investment, not an expense. In fact, busy customers appreciate businesses that let them book at their convenience, 24 hours a day and 7 days a week. This is confirmed by our most recent research, showing that 46% of bookings happen online, when salons are closed. This data includes findings from hair and beauty salon apps.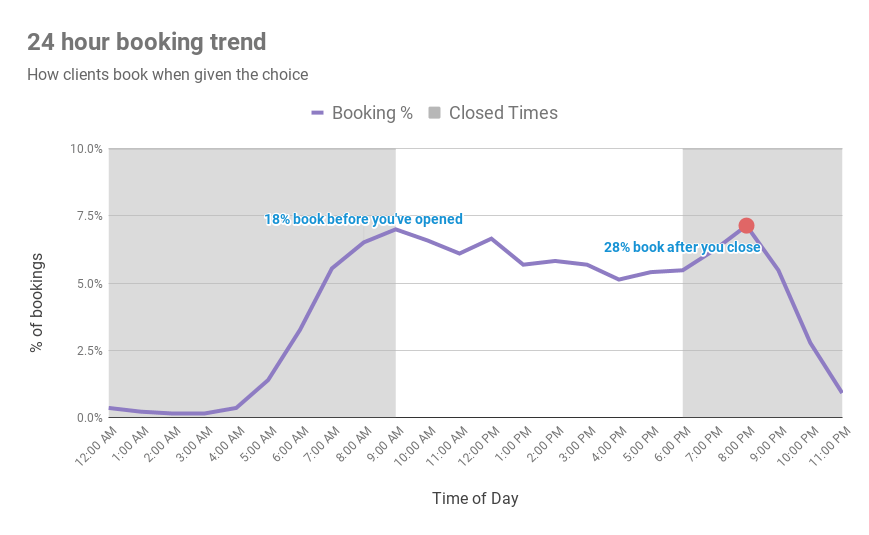 That being said, it's only one of the reasons people turn to apps. The top four drivers of interest include:
Convenience (the ability to book, rebook, reschedule and cancel appointments through the app from anywhere, at any time)
Speed (one-touch rebooking, booking history, etc.)
Personalised experience
Access to more features and capabilities such as push notifications (coming soon in the new Salon Branded Apps)
While most users start out using a website before downloading a brand's mobile app, once a certain level of engagement has been built, users switch over for the reasons listed above.
However, from a business point of view, this might be easier to understand when looking at its impacts on salon revenue and retention figures.
Not just great for end users; apps also increase retention and online bookings
Think of the Salon Branded App as a piece of real estate on your clients' phones, setting you apart from other businesses in your area. To have your salon logo and branding on your clients' phones is invaluable. In a recent survey we did on salon websites, data showed that online bookings had become increasingly vital for salons, with 32% of salon customers flagging it as important to them. What this survey didn't reveal at the time, was that salon apps increase online bookings by 4%.
Even more importantly, retention, as you know is one of the most valuable metric to measure both a hair and beauty business' performance and its customers' loyalty. Well, not only do we know app users come back more often than when they book on the web or in the salon, but Phorest Salon Software data shows that the Salon Branded Apps help increase retention rates by 16%.
Do you want clients who are satisfied or loyal? Hear business coach, speaker and author Jay Williams on the topic:
The all-new Salon Branded Apps: Your brand, your app, your way
Many of you would have been familiar (or have) the previous iteration of the Salon Branded Apps, and so the number one question we're getting through social media is: "What makes this version any different from the last?"
Well, it's meant to help you build trust with your customers, because trust, as Marty Neumeier puts it, "is the ultimate shortcut to a buying decision and the bedrock of modern branding."
With a strong brand, a business tends to be able to command higher price premiums and is less likely to fall victim to commoditisation. And the stronger and more charismatic your brand, the more people believe there's no substitute for it.
With the new Salon Branded Apps, you can deliver a custom-branded experience to your clients, the same way both on iOS and Android platforms. And while app design companies would charge you expensive developer and designer fees, none of that is required with Phorest Salon Software's proposition. We build it; you brand it!
This includes being able to choose and update your graphics and visuals regularly and at your convenience. For instance, you could change the colour of your app as many times as you wanted or until you found the perfect fit through the App section on your Phorest Software. That's another major point of improvement: the app is now fully linked to your desktop software, pulling in all of your business information including multi-branch functionality!
Other key features
Your app's home screen will contain the hero image, which you'll have previously uploaded in your Phorest software. The main feature on the home screen is the "Make A Booking" call-to-action, which kicks off the booking flow, starting at the service list. This directly reflects your online booking menu.
The secondary call-to-action is the "Rebook appointment," button, which appears when your client is logged in (and if they've had a previous appointment).
At the bottom of the home screen are the salon opening hours and tappable Maps, Email and Phone.
The calendar
Using data, we found that approximately 55% of bookings via the apps were for appointments within the next seven days. This meant we could prioritise the calendar week view, but also need to cater to the month view. This is now possible with the redesign of the Salon Branded Apps.
Optimised scheduling
Phorest's intelligent software optimises your schedule, making sure app bookings are booked back to back with your other appointments, with no unnecessary gaps. Bookings happen in real-time, and calendar slots are held while in progress, so there's no chance of double-bookings.
Appointment history
A common request from salon owners using the previous iterations of the Salon Branded Apps was for clients to see more than the last ten previous/upcoming appointments. The new appointment history screen has a "Show more" button to expand the list.
No-show protection
Salon appointments made through your new app will be secured with a credit card, so you always have the option to process a no-show charge. And it might surprise you to learn: that charging your no-shows has been proven to reduce them by a whopping 49%!
Showcase your team
Showcase your amazing staff with your very own 'Meet The Team' section and let them browse the photo gallery of salon pics and before & after shots.
Apart from all of that, you will also have full control over what services, special offers, packages and staff are available/show on app bookings:
Manage the time/frequency of booking slots
Set minimum gap times
State cancellation, patch test and short notice periods
Set multi-service rules
Reward clients for booking through the app with TreatCard points
Allow clients to leave notes
Follow up on incomplete bookings with a personalised email
To request more information on the Salon Branded Apps, please click here.
Click and play with the new Salon Branded Apps
Try out our interactive Salon Branded App prototype and get a feel for some of the features! With cutting-edge technology and impeccable design, this the most advanced bespoke app in the salon industry. Coming soon: more branding themes to pick from, fonts and push notifications!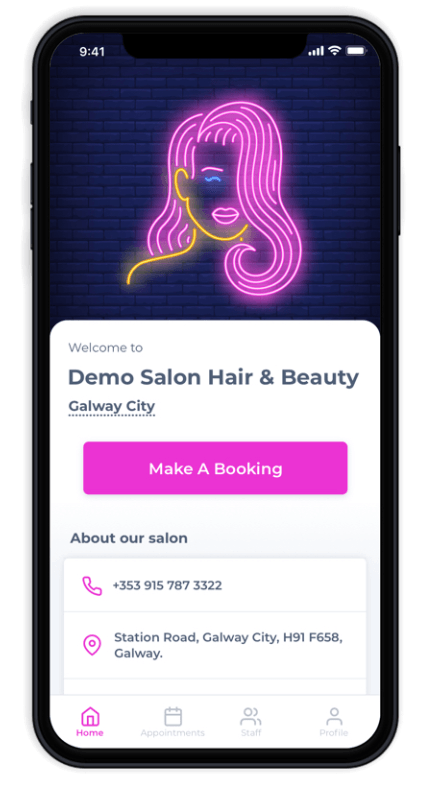 Cash in on clients who want to book, rebook and manage their appointments in their own time. Get a demo or a quote today!
Are you a Phorest Salon Software client looking to upgrade your current app?
At the moment, all clients who have the current App are eligible to be transferred over free of charge, and we expect this to be done before the end of Autumn.
And for any feedback or tips you want to share, let us know either in the comments below or tweet us @ThePhorestWord! (Pssst! We're on Instagram too!)
Thanks for reading! #LetsGrow