Facebook salon marketing –  we've all been there. You take the time and effort to set up a Facebook page, you manage to build a healthy fan following, and yet your daily posts don't seem to be reaching your audience the way you thought they would
This is where most companies find themselves when looking at Facebook salon marketing. Boosting a post can really help clients see what you have to say, but is this right for you?
(For more tips, tricks and ideas for salon Facebook success, click here to get your hands on The Salon Owner's Ultimate Guide To Facebook ebook today)
Facebook – They make Their money From Advertising. Never Forget That.
First off, it's important to remember that Facebook makes its money from advertising. This means that they are going to make it harder for you to reach big audiences without paying.
Did you know that, generally, only about 3-6% of people who 'like' your page will see your updates. The more people that like, comment, and share your posts and photos, the more exposure you get, helping you to break beyond this barrier.
Every post has an impact – you need to make a conscious decision before posting something up on Facebook. Never, ever, ever think 'This is kind of OK, we'll just pop it up on our Facebook page because it needs updating.' For your Facebook salon marketing to excel, you need to give your updates and content a LOT of care. If not, you will see less and less likes, comments, and shares over time.
Facebook Salon Marketing – Should I Be Advertising On Facebook?
This has to be one of the most commonly asked questions I get – 'Should I advertise on Facebook?'. The answer is maybe! Advertising will not turn a bad post into a good one – but it can help you turn a good post into a super one.
Check your Insights. If a post is getting great 'reach' (more people are seeing it and reacting to it) then 'Boost' it as per the button below.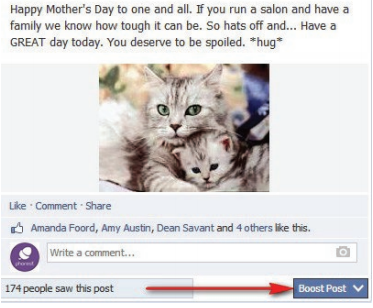 Don't try to Boost a post that you've just posted a few moments ago. You don't know yet if people will like it – once you see that one of your posts has a good reach then boost to your heart's content. Otherwise you may only be paying to show it to people who still won't like it anyway.
TIP: Pick your best performing post lately. Line it up for boosting!
Boosting a Post to increase your reach: Fans and Friends of Fans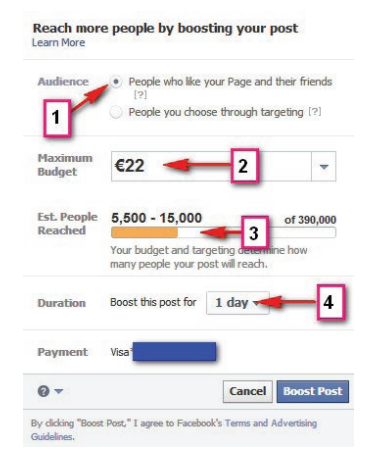 Boosting a post means you are paying a small sum of money to increase the Reach of a post.  By paying for these boosted posts, you have the chance to reach thousands of potential clients. There are two ways to do this:
1. Boosting a post to people who already like your page and their friends
2. Boosting it to people based on location or interests.
Let's start with the first type.
Boosted Facebook Salon Marketing To Fans
Once you have checked your Insights and the post is performing well i.e. you think there are lots more people who could benefit from it, then it's time to click the 'Boost' button.
Here's how this type of Facebook salon marketing works:
1. Make sure this box is checked so it's only promoted among existing fans and their friends
2. Now, set a maximum budget for the day. We recommend setting a budget of about £5-£10 for a post
3. Once you set the budget, you'll be given the estimated Reach i.e. the number of people who will hopefully see the post
4. Finally, pick how long you want to Boost the post for. A duration of 2-3 days for the average post is enough. You can go longer in the instance of something special like the week prior to Mother's Day or Valentine's Day
TIPS: Boosting a post that already works will get great results. If it works well among your fans, Facebook will reward you by showing your regular non-boosted posts to a bigger portion of your audience in the future
Facebook Salon Marketing – Boost Beyond Your Fans & Their Friends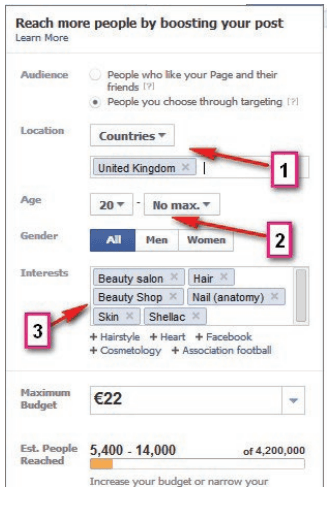 Now how about trying to use Facebook marketing to reach clients that haven't heard of your business yet?
Did you know that you can Boost posts to go beyond your existing fans? To do this, simply select the 'People you choose through targeting' at the top. It's very similar to the ordinary boost except you pick
1) Your location
2) Age that you wish to target and gender.
3) Interests.
Try to identify the type of client that you believe the Facebook post is more suited for (and the people who you feel would walk through your doors).
Then press the Boost button and see how it goes. It IS that easy!
If you are looking for more insight into Facebook marketing for salons, then you should definitely download a FREE copy of our eBook: The Salon Owner's Ultimate Guide To Facebook.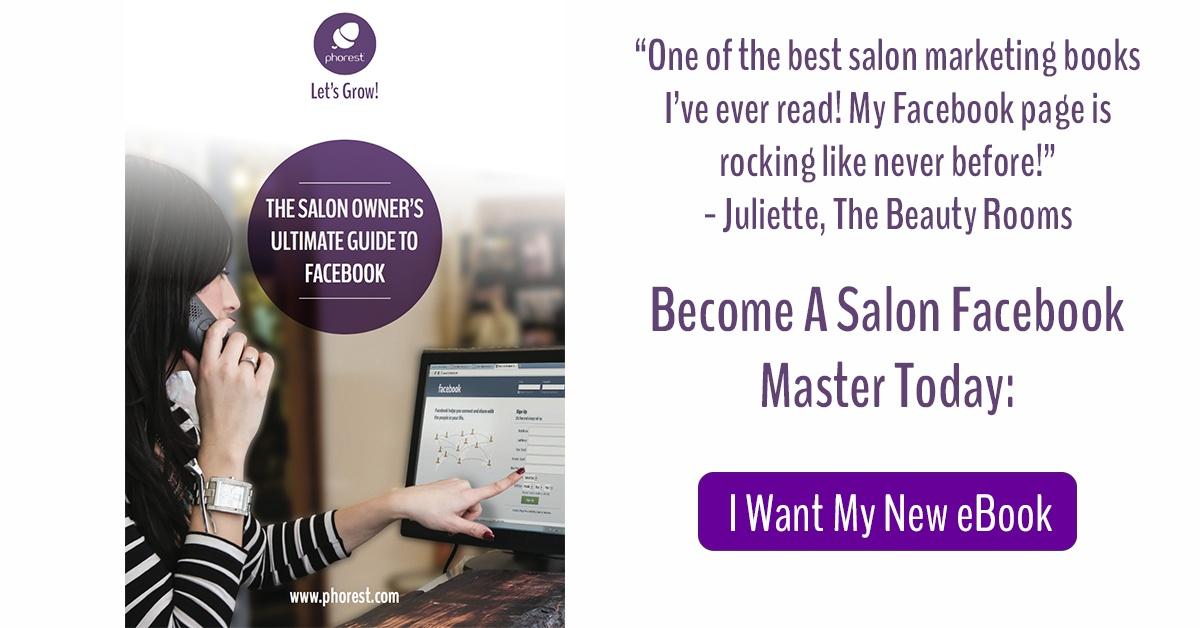 Connor Keppel is Phorest Salon Software's Marketing Manager. If you have a question for Connor, email him right here  – marketing@phorest.com