We're less than 100 days away from Christmas (yes!), which means that we're even closer to the one spooky holiday of the year and the second (okay, maybe third?) biggest holiday most people budget for. So, as usual, we've prepared some Halloween salon marketing ideas to help boost your sales.
This month, expect to receive 2 Halloween email templates – one promoting new offers and the other inviting your client to a VIP event in your salon – 15 spooky icons to add to your email marketing, 10 quote graphics for the 'gram, 3 Halloween VIP event invitation cards and 5 World Students' Day graphics! Hope you enjoy!
Halloween Salon Marketing Ideas: From Online Promotions To On-Site Decoration
Related | Your Ultimate Salon Halloween Playlist
Bake Off & Spooky Colored Drinks
I don't know if you're a bit like me, but one of my guilty pleasures is to sit down on the couch to watch The Great British Bake Off. If you don't know of it, let me tell you: it's a mouth-watering baking competition TV show in which twelve contestants face three cooking challenges each week, hoping to be crowned best baker.
Why not take inspiration from the show and wow your clients with a (quick and easy) dessert and a spooky coloured lemonade or water to celebrate Halloween?
Here's one I found on the Betty Crocker website – now mind you, I love Reese's Pieces. So here it is, The Reese's Pieces Halloween Cookie Bars.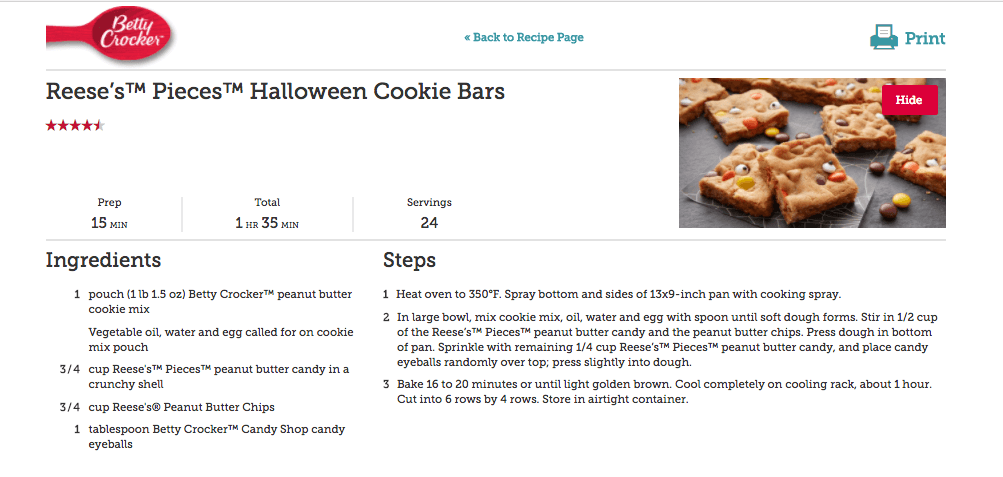 Scratch Cards In The Mail
If you're looking for something to give to clients coming up to Halloween, you could look at getting scratch cards designed. Companies like Printscratchcards.com in the UK can provide such service. They're original and can quickly build up hype for the said holiday, while also ensuring your clients come back to redeem their card's prize.
The choice of offers really depends on you, but here's what the final result could potentially look like. Remember the #1 rule of Halloween salon marketing ideas, however: do NOT undermine your prices! Be smart.

SMS & Email
As usual, you want to make sure you communicate your marketing efforts to your clients. Update your website, your Facebook & Instagram page, send an email newsletter to your mailing list and create Facebook events and send reminder SMS'! We even have a brand new Email Marketing Gameplan eBook to help you out with your campaign (free download below).
Alternatively, download the October marketing toolkit (Halloween Special) at the end of this post and get two email marketing templates tailored to the season.

Salon Decor
One of our clients, Lesley's Beauty Clinic does this every year, and does it so well! So much so we went into her salon just the other day to take photos of her Halloween-inspired decorations! Remember you want the atmosphere to appeal to your clients, so be mindful of too much or too little decorations. Broom parking, anyone?

VIP Event Special Halloween Services
Hosting a special night (or day) in your salon or spa for Halloween is another straightforward way to boost sales. You could do a product demo, have a few special treatments only available on the day, or even simply focus on tailoring your services for everything party related: hair, makeup, etc. Watch our content manager Chris Brennan discuss the possibility on one of our recent Facebook Live videos.
Download the October marketing toolkit (Halloween Special) at the end of this post and get three pre-designed VIP Event Invitation cards.
Related | Trick Or TreatCard, Your Last Minute Halloween Salon Marketing Kit
Additional October Sales Boosters
International Coffee Day | October 1st, 2017
We said it last year, and we're repeating it: International Coffee Day is a classic! Will you introduce a new coffee in your menu? Or will you perhaps, add a little bit of Baileys or Whiskey to celebrate the special day? These things might sound simple, but you'd be surprised just how much your clients will notice the nice touch.
World Students' Day | October 15th, 2017
As I am writing these words, it's the end of the month, and I'm pretty many are looking forward to payday – students just like working professionals. Why not give a bit of a wallet relief to your student clients this coming October 15th? After all, it is World Students' Day… Here are a few simple ideas:
Create special packages for treatments
Offer 3 for 2 on retail products
Host a social media competition for students
Offer double TreatCard points on the day, etc.
Download the October marketing toolkit (Halloween Special) at the end of this post and get five graphics to promote the special day on social media.
Pumpkin Day | October 26th, 2017
The last one this month, but also probably the most fun of all Halloween salon marketing ideas: a pumpkin carving competition! Whether you choose to get your clients or your staff to carve the pumpkins, you're guaranteed a good time and new content for your Facebook and Instagram accounts! To get inspired, have a look at some ideas we put together a while back, click right here.
Don't forget to download your marketing toolkit, designed to work hand in hand with these Halloween salon marketing ideas!
Not a Phorest Salon Software customer? Request a free demo today and see all the other ways we can help you get clients in more often, spending more! If you have any thoughts or comments on these September salon promotional ideas, let us know here or tweet us @ThePhorestWord!
Thanks for reading!
#LetsGrow
---
Featured imaged shot on location of Lesley's Beauty Clinic, in Dublin. © 2017 Phorest Salon Software.