Now that the dark evenings and chilly weather are here, it is time to to take full advantage of the holiday season and get your clients booking their appointments this week! One of the best ways to reach them is to schedule your salon SMS marketing campaigns for November & December!
As you may know, SMS is the only marketing tool that is guaranteed to be read by your clients with a 99% open rate.
The important thing to get right in your salon SMS campaigns is your content. And that's where we can help!
Exclusively for Phorest clients, we have uploaded 4 festive templates to your Phorest system (Think of it as an early Christmas present  ). To access them, all you have to do is click on Marketing and then Compose SMS.  

You will find your templates in here: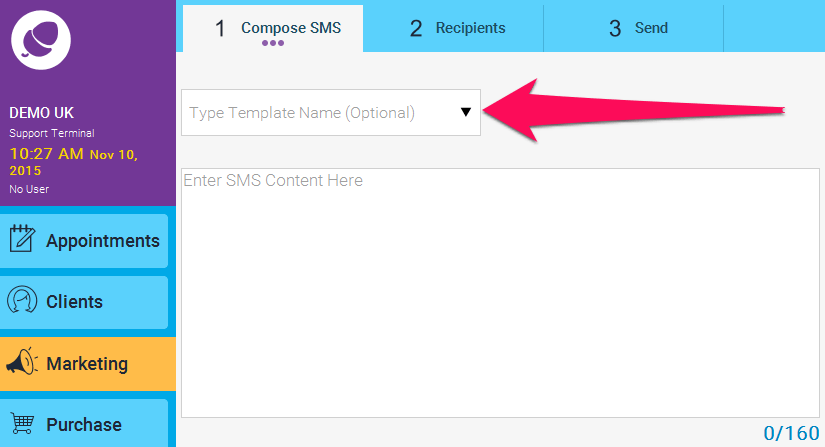 1. Party Night Preparations
Ensure no clients are disappointed for their Christmas parties by booking their Hair & Beauty in advance:
<<clientfirstname>>, Shine Bright like a Diamond! Book now for your Christmas party + avoid the rush;) www.phore.st/<<link>> <<salonname>> Stop 07624801416

2. Escape the Winter Chill
Use the cold weather as an excuse to promote your winter treatments:
<<clientfirstname>>, Escape the Winter Chill! Warm up with Hot Stone/Aroma Massage @<<salonname>> Book for 2x Treatpoints! www.phore.st/<<link>> Stop 07624801416

3. The Stocking Filler
Let your clients know that if they buy a gift set for their loved ones in your salon there will be something special thrown in.
<<clientfirstname>>, Limited Xmas Luxury Skincare sets available now. Buy 2 sets & Get a FREE mini manicure gift card <<salonname>> NUMBER Stop 07624801416
4. The Attitude of Gratitude
This one is designed to push the unique Christmas gift idea for December bookings so that your January will be just as busy:
<<clientfirstname>>, Our X-mas gift for you! £15 Gift card if you visit in Dec. Book Now – limited spaces www.phore.st/<<link>> <<salonname>> Stop 0868680002

And there you have it! Your winter salon SMS templates, designed specifically to get your clients back through your doors over the next 2 months.
If you would like assistance coming up with your own salon SMS template or perhaps would like to begin using SMS marketing to connect with clients like never before, simply click this link, fill out the brief form and Louise from our Grow Team would be delighted to contact you about it!
Thanks for reading.
#LetsGrow