78% of consumers now search online before choosing a new salon to visit, according to Phorest research. This means having an online presence isn't just important, it's vital. Whether you're an indie salon serving your local community or a well-known, multi-location franchise, if you want to attract new clients and delight your existing base, your online presence needs to be a positive reflection of your business.
While the idea of a thriving online presence sounds fantastic, it leads to the question; how do I successfully show up online? The answer, in short, is local SEO.
What is SEO?
SEO (also known as "Search Engine Optimisation") is a way of writing content and organising your website to give yourself the best chance possible of showing near the top of Google's search results. It refers to content that reads well for people while also performing well in search engines.
The baseline of good SEO is knowing what kind of searches you want your business to rank for. For example, some salons may want to show up when a consumer types in "best hairdresser near me" while others may want to show up and rank high for a search like "nail bar specialising in acrylics in <insert city here>".
While SEO search placement is never guaranteed, there are a number of steps you (and/or your web developer) can take to ensure that everything representing your brand online is optimised and gives you the best possible chance of ranking.
There are three core pillars for great SEO:
Content – You can't rank for something if you're not talking about it on your website. Does your website have useful, unique content about the services and products you want to rank for?

Authority – the internet is called the 'web' for a reason. It is an ecosystem of websites linking to one another. Search engines think of each link to your website as a 'vote' of confidence from another source. But all links are not created equally. You'll build more authority from well-known and relevant websites in your industry or locality (like a local newspaper or a brand you stock) than you would from a little-known blogger.

Technology – is there anything in the code of your website that is stopping search engines or users from finding your website or the information within it?
We'll take you through ways you can improve your website in each of these areas.
Site Auditing is a Good Place to Start
Before even starting to develop an SEO strategy, it's important to consider what kind of online presence you currently have and how it's performing. If your website has been created by a professional, it could be SEO optimised already, and all that may be needed is some maintenance work. If your website is outdated, or perhaps doesn't exist at all, it may require a total overhaul before you can start successfully ranking high up in Google's search results.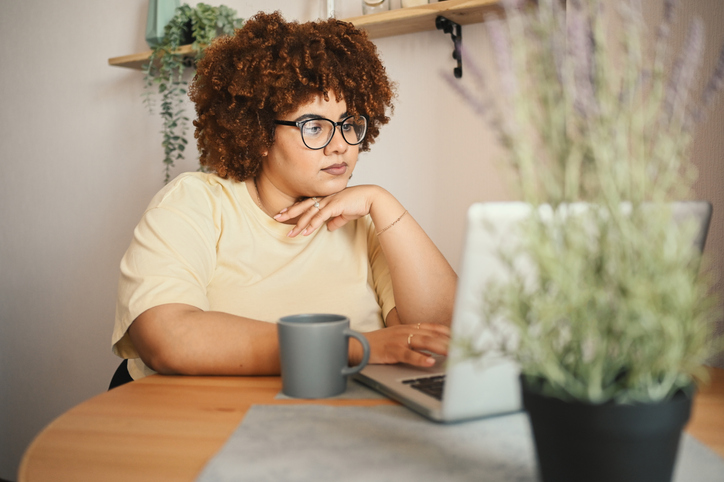 While many third-party agencies offer website audits at a price, it's also something that you can do yourself using one of the many free tools out there. Examples of these include Google Lighthouse and Semrush's free tools. Although some of these tools may not give you an extremely detailed audit as part of their free plans, they will flag some of your website's main issues. This can give you a good starting point when it comes to developing an SEO improvement process that you can share with your web developer. A key area to look at is the speed of your website. Speed is a ranking factor, meaning if your website is slower than your competitors, search engines will likely rank them above you. And from your clients' perspective, according to Google, the probability of them bouncing out of your website increases 32% as page load time goes from 1 second to 3 seconds.
Keywords Form The Basis of Everything You Do
One of the most important elements of good SEO is ensuring that you're aware of, and ranking for, the keywords that matter most to your business. Keywords are the words your clients are searching in Google when they are looking for services or products like yours, that you want to be found for. They can be short, such as "nail salon", "local hairdressers" and "barbershop nearby" or they can be longer, like "aesthetic clinic specialising in anti-wrinkle treatments" or "budget-friendly spa near me".
In general, you'll know best what kind of keywords will relate to your business, however, using keyword-generating tools to see what's trending in your locality and industry is an important step to take to ensure that you're not missing out on the real-life searches that people around you are conducting. Google offers a completely free tool to help you research keywords and their estimated search volume. As a local business, focusing on location-based keywords (your city, town, or locality) alongside keywords that define your speciality is a fantastic way of boosting ranking.
While it's important to mention your keywords in the text on your site, it's just as important not to overwhelm your site with these words, as this is known as "keyword stuffing" and can jeopardize your Google ranking.
Another effective way of generating keyword-rich content without overwhelming your on-page text is by ensuring your meta title and description, alt information and H1/H2 tags contain certain keywords. This can be done in the back-end of your website by yourself or by a website developer, who will understand the best way to implement the keywords across the front and backend of your website for you. See the example below of how Phorest's meta information shows up on the Google Search Results page.

If you structure your website well and regularly write high-quality content that reads logically and contains keywords describing your business, you should notice a positive increase in your Google Ranking. Make sure your service and product pages are as descriptive as possible, written using your own words (not copied from a brand website for example). Another way to boost your authority and keyword visibility is to keep your website updated with insightful and relevant blogs that your clients would be interested in reading.
Ask Clients for Reviews
Did you know that asking clients to leave a review can drastically improve your online visibility? The salon industry thrives on online reviews. In fact, research conducted by Phorest discovered that 94% of consumers would be influenced to choose a business based on positive reviews.
While reviews obviously enhance your brand authority, they also serve an important SEO purpose. Google is more likely to push your GBP listing higher up in the local/map search results page when you have more high-quality online reviews. This is because these reviews show you are a valuable and reliable business- just the kind that the Google algorithm wants to promote.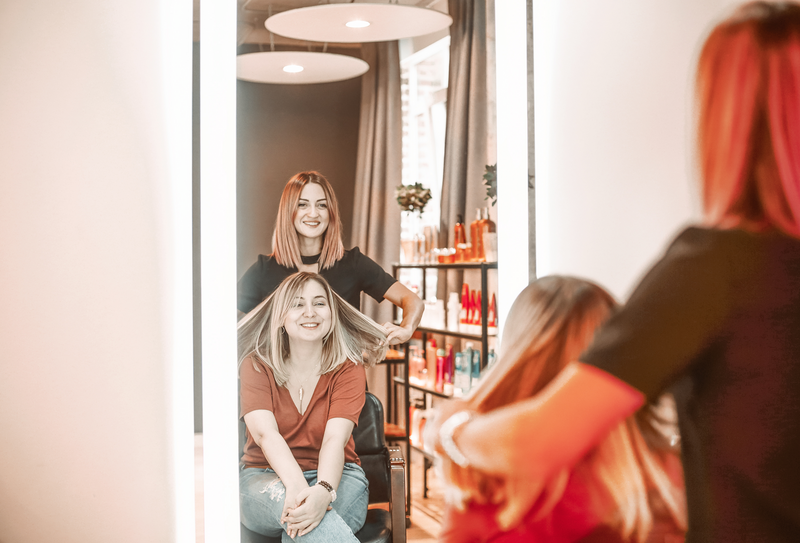 While it may seem overwhelming to manage so many different review platforms when you add sites like Facebook and Yelp to the mix, there are tools out there to help. Phorest's Online Reputation feature is designed for this reason specifically, automatically prompting clients to leave reviews while also allowing you to manage, reply to, and publish reviews from one place on the system.
Phorest's Online Reputation Manager integrates with Google and Facebook, allowing you to publish 4 and 5 star reviews publicly for the world to see, while keeping the constructive criticism of 1-3 star reviews for your internal eyes only. The more your salon is reviewed online, the better your online presence looks.
Create & Update Your Salon's Google Business Profile
If you don't already have one, creating a Google Business Profile (GBP) for your salon can instantly boost your local SEO. When searching for any business online, GBPs are one of the first things that the search results page shows. As well as containing plenty of valuable information that genuinely benefits consumers, GBPs are a Google product, meaning they will always be pushed forward first by the Google algorithm.
Your GBP should contain as much information about your business as possible, including:
Opening hours
Location
Reviews
Unique selling points
Contact details
Special offer updates
Call-to-action buttons
Regularly updating your GBP should be a key part of your content and SEO strategy. When Google recognises that a business is offering accurate and updated information to its customers, it rewards this with a higher-ranking placement on the Search Engine Results Page. With higher ranking comes more visibility and, in time, more clients for your business.
Build a Social Media Presence For Your Brand
According to Statista, the average person now spends 145 minutes per day on social media, amounting to almost 17 hours a week. If you consider this from a sales point of view, that means 17 hours of opportunity for you to show up in someone's feed and entice them into your salon. Building a strong social media presence is so important for salons, no matter your size or location.
Social media is your unique opportunity to target potential clients without having to spend a lot of money on marketing. Social media allows you to use imagery, videos, clever captions, and relevant hashtags to create a brand that people love. Tagging clients, sharing real-life transformations, commenting on posts and engaging with your following can build your brand in a healthy and authentic manner. The more active you are, the more followers and engagement you will generate, and the more hype you will create about your brand. As well as helping to boost awareness, focusing on social media is a fantastic salon marketing strategy that will help your business grow authentically.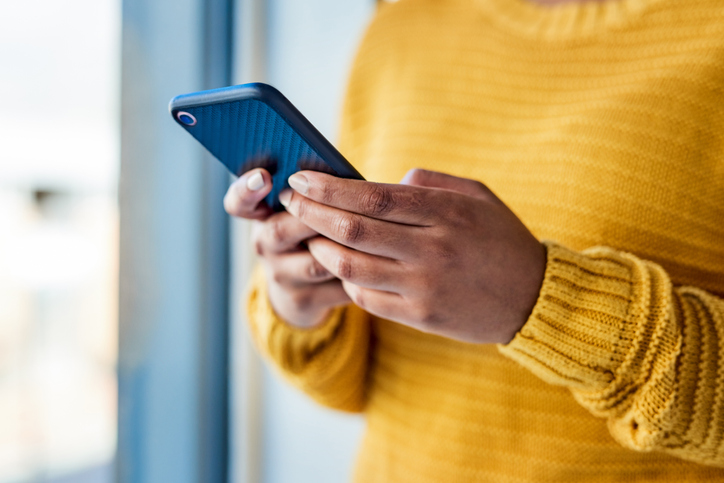 In terms of SEO, social media does not have a direct impact on making your website rank any higher in Google. However, indirectly, building an online brand that clients will search for will boost your branded searches, ie; web users who search for your salon or brand name specifically when on Google. When your social profiles rank for those branded searches alongside your website, this will fill up that Search Engine Results page real estate with content that you can control.
Consider How Your Website is Written & Structured
One of the most basic and traditional ways of boosting your salon's SEO is by writing your website in an informative, engaging, and search-friendly manner. Populate your site with everything your clients need to know in a straightforward manner that is easy to access and understand; both on mobile and on desktop.
Most salon websites work well when only the most relevant pages are visible, for example; a homepage, an "about us" page, a services and pricing page, a booking page, a gallery page, and a contact page. Link your socials via easy-to-use widgets for brand consistency. If you have more than one location, it's good to mention these throughout your on-page content and back-end structure. Otherwise, make your address visible on every page via the footer of your site.
When it comes to website writing, simplicity is key.
Write in a simple and straightforward manner with the aim of creating content so easy that even a school-aged child could understand it.
Insert plenty of CTAs, such as "book now" buttons that lead to your online booking platform, or "contact us" buttons that link to your phone number or email address.
Use high-quality images of real people and your actual salon interior to show that you are a unique and authentic business. The more genuine the content, the better.
Sometimes, going back to basics is the easiest and most impactful way to improve your SEO quickly. Always keep in mind that clients are likely visiting your website to see your services and prices, view your gallery, and book in. Don't make it overly complicated.
Check out this post where we detail exactly what your clients want to see on your salon website.
Where Do We Go From Here?
While all the above steps can be done together or individually, something to remember about SEO is that it's an ongoing process and rarely produces instant results. Search algorithms are always changing, meaning that efforts to optimise your site and make it as Google-friendly (and user friendly!) as possible can always pivot unexpectedly and may take time to become impactful. After starting work on your SEO strategy, it's important to implement regular tracking and auditing on your website to keep an eye on how you're ranking and gain valuable data that can drive future SEO efforts.
While many salon owners won't have the time or resources to manage SEO themselves, having an idea of it as a concept is a good starting point when explaining to your web developer or third-party marketing agency what you expect from their service. Knowing how Google Search Results work, and the best way to optimise ranking, ensures you have control over how your business is perceived online. This is one of the best ways to ensure your online voice is representing your in-salon experience as authentically as possible.
SEO gives you the opportunity to showcase just how amazing your salon is, and is not just a complicated algorithm to crack. In time, and with genuine SEO effort, your business will reap the rewards.
Resources
Whether you're doing it alone or getting assistance from a third-party agency, here are some of our favourite resources that can be used to smash your SEO goals and get your business ranking on that much-coveted first page of google:
Google Search Console– A Google solution that lets you monitor, troubleshoot, and update your website's presence in the Google Search Results.
Semrush– An extremely popular SEO solution offering data on how your site is ranking compared to competitors as well as providing information on keywords, links, site health, broken pages, and more.
Yoast– A WordPress plugin designed to help you optimise the meta-information, content, and keywords on your site.
Moz– An all-in-one SEO solution designed to help you monitor links, keywords, and ranking. Moz also offers a range of helpful beginner's SEO educational resources for free.
Ahrefs– A tool designed to help monitor your website's overall performance, taking into account keywords, links, on-page content, shares, links, domain ranking, and more.
Google Keyword Planner– Offers in-depth information about keywords, including related keywords, keyword competition, keyword ad prices, and keyword monthly searches.