As a business you really can't afford to ignore social networks. Whether you embrace it or not conversations about your brand are occurring all the time. A lot of salon owners are wary of using social media and after talking to some of you, there appears to be a common misconception that you have to be extremely tech-savvy to be able to implement these sites. In actual fact these sites are extremely user friendly and once your clients start liking or following you it becomes a great and free method of keeping your clients up to date with salon news.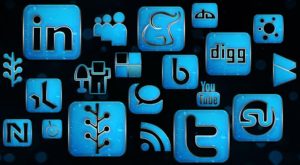 One of the biggest mistakes a lot of salons make is getting someone else to run their page for them, as it's very rare that this other person posts in a way that truly reflects your business manner. Make sure your Facebook or Twitter is in the hands of someone you can really trust or better still manage the page yourself. You can even schedule posts on Twitter and Facebook so not enough time is no longer a valid excuse!
Remember, your clients choose to go to your salon because they like the professional service you give and they enjoy the atmosphere, this is the kind of environment you want to recreate with your social media. Discuss the same things online that you would with your clients offline on a daily basis like local news, celebrity looks and in house developments. Train your employees on the type of voice and image you want to portray on Facebook and Twitter and teach them how to respond to complaints. Transform your employees into brand ambassadors for your salon and ask them to start interacting with the page. When people see that your page is a hub of activity where conversations are commonplace the more likely others will join in.
If you're still a bit wary, Phorest runs bespoke Twitter and Facebook consultations where you can learn exactly how to manage these sites from a salons perspective and also give you marketing tips on how to tackle special offers and other ideas to create engagement on your page. See how your social networking can be managed easily in house instead of outsourcing it to someone who does not know your customer base and values.
Jessica Lalor is a Marketing expert at Phorest. She is currently completing her masters in Marketing at the UCD Smurfit School of Business. Her speciality is in Online and SMS marketing. If you would like to contact her please email jessica.lalor@phorest.com